Whoever coined the term "typical day" never had a six month old.  Between shooting and writing for TEC, styling projects that always come up at the last minute, and being a mom to a rather adorable babe each day's agenda is different from one day to the next!  I wouldn't dare call it "typical," but here's a little peek of what working mom life looks like these days:
9:00 a.m.: The babysitter arrives.  She's the best, so I don't feel guilty at all as I pass off my chubby cheeked babe and dart out of the house.  Today is a mixed bag so my outfit needs to play chameleon.  I'm wearing these tights and this jacket from Athleta, my go-to Rag & Bone tank, some chunky heeled sandals, and toting some slides and a tank in hopes of squeezing in a work out before the end of the day.
9:45 a.m.: Arrive at Blue Bottle downtown to grab a quick almond milk latte—my current drink of choice.  Confession:  I wasn't a huge Handsome Roaster fan and couldn't have been more excited when I learned this coffee outfitter was moving to the neighborhood.  Sometimes you just want a little decaf or some sugar in your coffee, am I right?
 10:15 a.m.:  Meet up with Mary, photographer extraordinaire.  We've been shooting together for a year and a half now and I'm so grateful to collaborate with her.  She has such an amazing way with natural light and always adds her own fun twist to photos.
10:30 a.m.: Begin shooting this style post.  If I'm going to be constantly multi-tasking, I need my clothes to do the same.  I love the idea of mixing more dressed up pieces with high-end active wear to create a look that's functional, but still feels high fashion.  Oh, hey, Athleta chaturanga tight!  Lookin' good!
11:30 a.m.: Wrap shoot, say goodbye to Mary, and head over to meet my assistant Kat at LA Chapter for a quick bite and to go over details of Halloween shoot I am styling and creative directing.  We work remotely a lot more often now that Parker has arrived, but there's nothing like a face-to-face meet up to lock in final details.  Plus, they have this pomegranate and ginger beer mocktail that's so good you won't even miss the good stuff.
1:15 p.m.:  Switch out of my Rag & Bone tank and heels and into this tank and some slides just in time to squeeze in a Soul Cycle class.  I hosted an event for them last month and got hooked.  It's the best workout and super fun!  Taylor Swift's "Shake it Off" is my jam!
2:30 p.m.:  Walking in the door just as Parker is waking up from her second nap.  No time to shower, but I switch into a clean tee and we settle onto her rug surrounded by her current fave selection of toys.  I'm not sure if it's the endorphins from class or the fact that I was able to check off a few projects on my to-do list, but I'm feeling rather accomplished and ready to slip into mom mode.  Some days it's exhausting, but I wouldn't trade this juggling act for anything!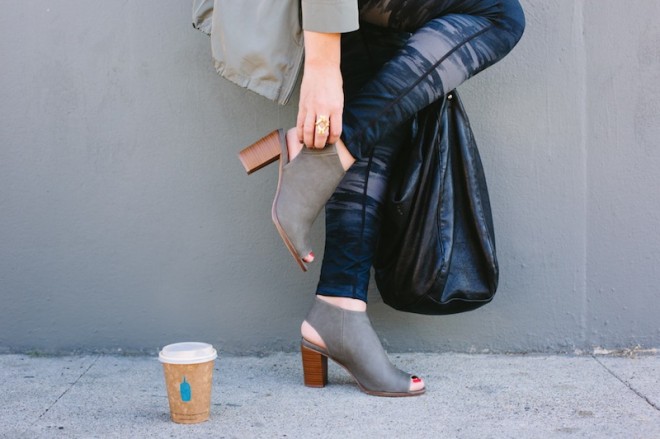 Get The Look //
  1. Tank, Rag & Bone (Similar) / 2. Tights, Athleta / 3. Jacket, Athleta / 4. Slides, Adidas / 5. Shoes, Call It Spring / 6. Necklace, Bauble Bar /  Photography by Mary Costa
This post brought to you by Athleta, the premier fitness fashion brand for women.