10/16/2018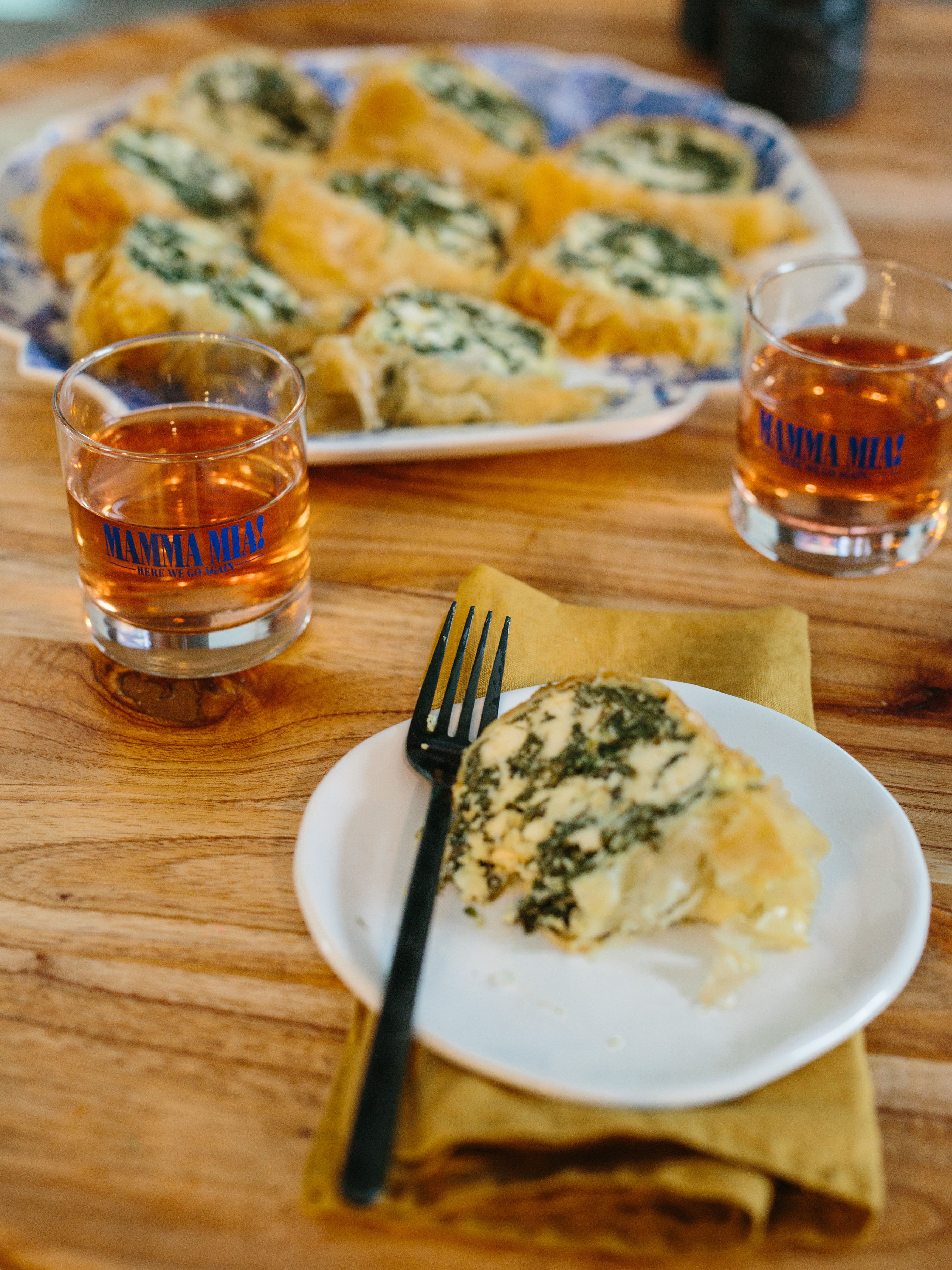 (This post is sponsored by Universal Pictures Home Entertainment)
When I think of our first night in Bangkok, I'm instantly transported to a noisy restaurant with green upholstered booths and a steaming bowl of Pad See Ew. The same thing happens with Rome: twinkling lights al fresco and pass the carbonara please! While Greece has long been near the top of my must-see list, I have yet to wander its meandering cobblestone streets or ogle the whitewashed architecture in person. One bite of my mother-in-law's Spanakopita (translated as 'Spinach Pie'), though, and I can imagine all of the Greek women who came before her looking on with pride. To celebrate the release of Mamma Mia! Here We Go Again, available now on digital, and on Blu-ray and DVD October 23, we imagined what a fun night in with friends would look like and coaxed Parker's very generous Yia Yia into sharing this special recipe with us. With Aaron's busy travel schedule, I've been dreaming of a low key night in and this food and movie combo feels like a perfect way to unwind this weekend.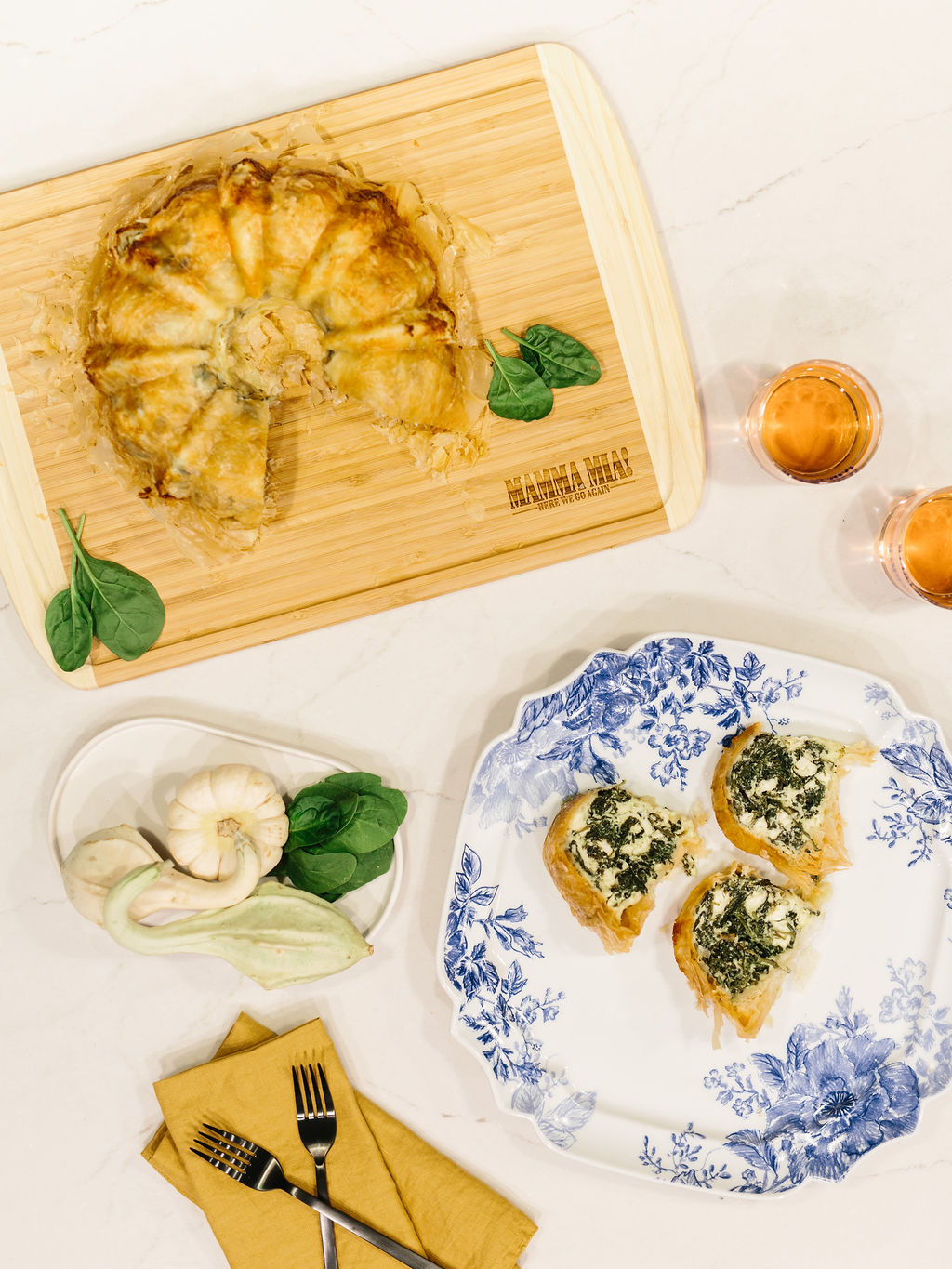 Did you see the movie in theatres? I loved it! It's so fun and I'm such a fan of any movie that includes great dance music! I'm always weary of seeing the sequel to a movie that I love, but this one did not disappoint.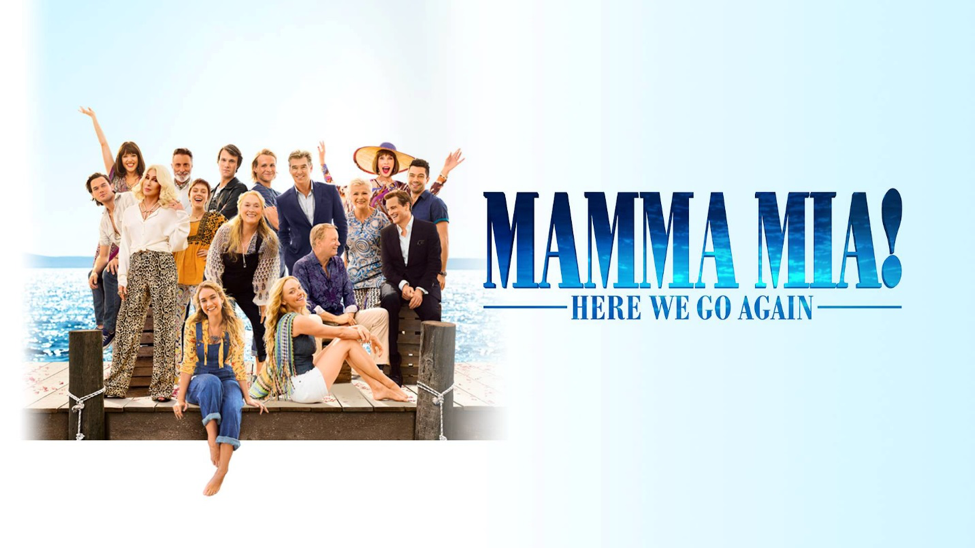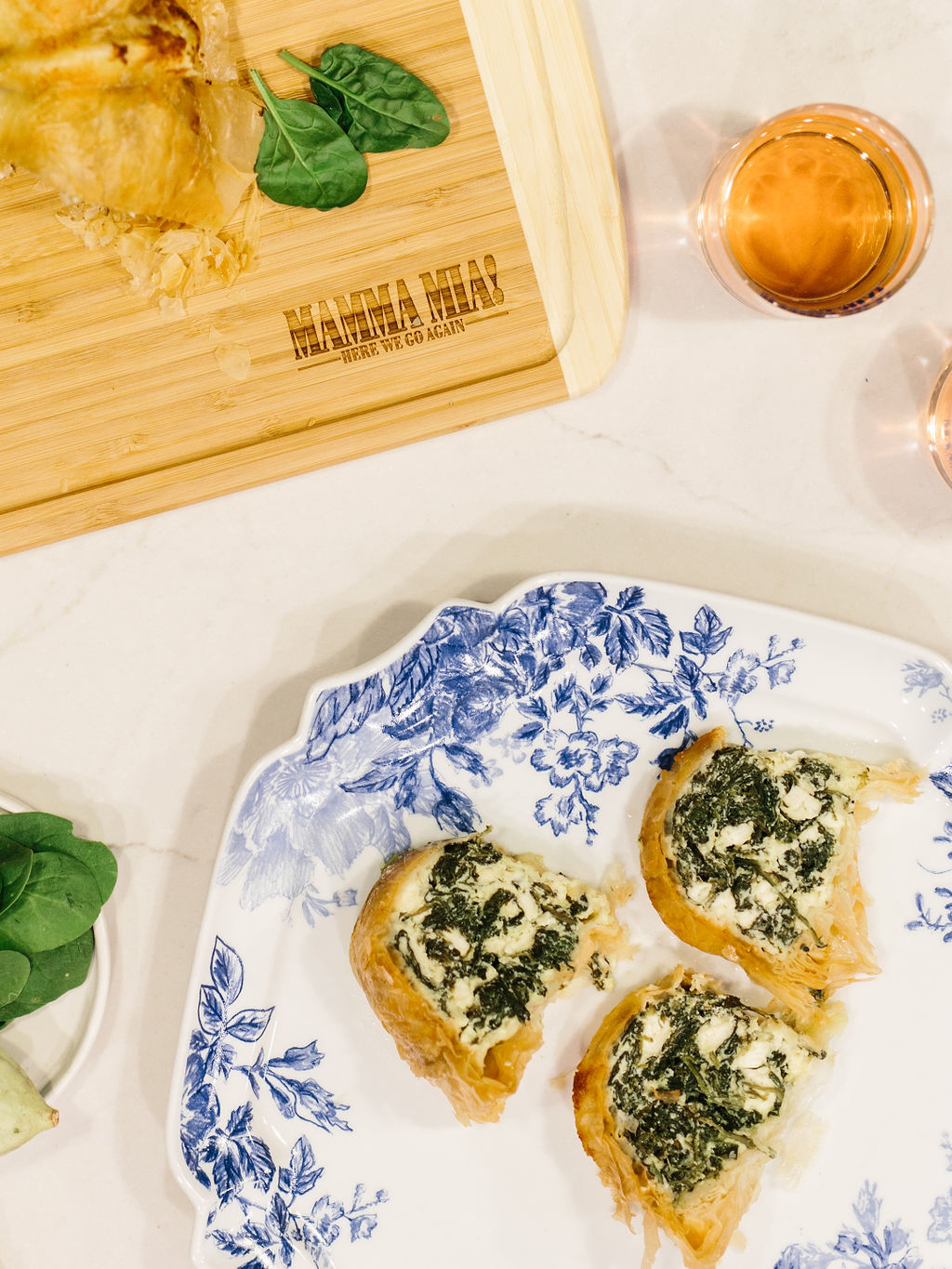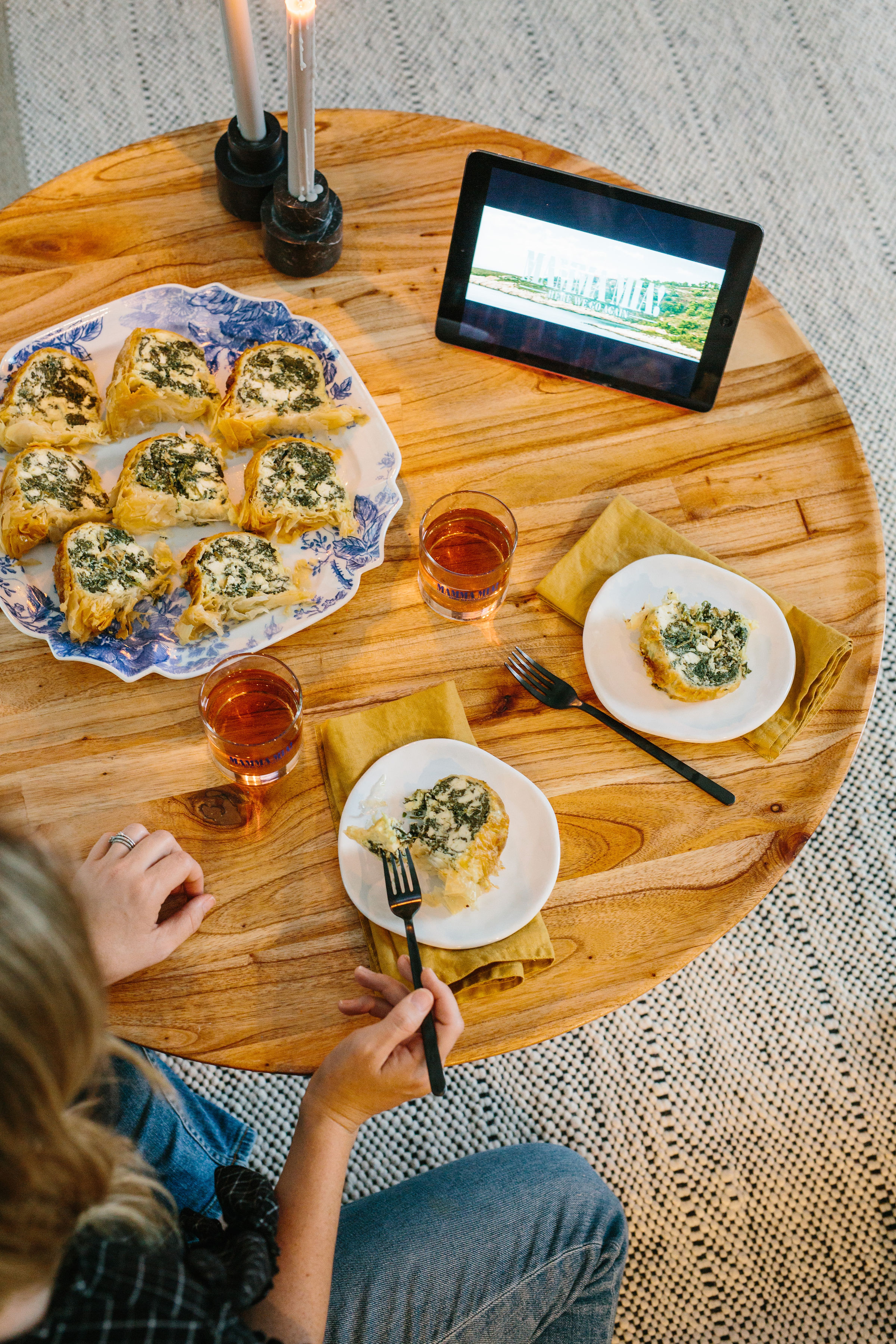 I've witnessed this recipe being made at least a half a dozen times, but have never attempted it myself. It looks so fancy and difficult and right up until the point when we flipped the bundt pan over, I was convinced it was all just going to fall apart, but guess what? Nailed it on the first try and it wasn't difficult at all! (This would actually make a great holiday party appetizer or side dish, too!)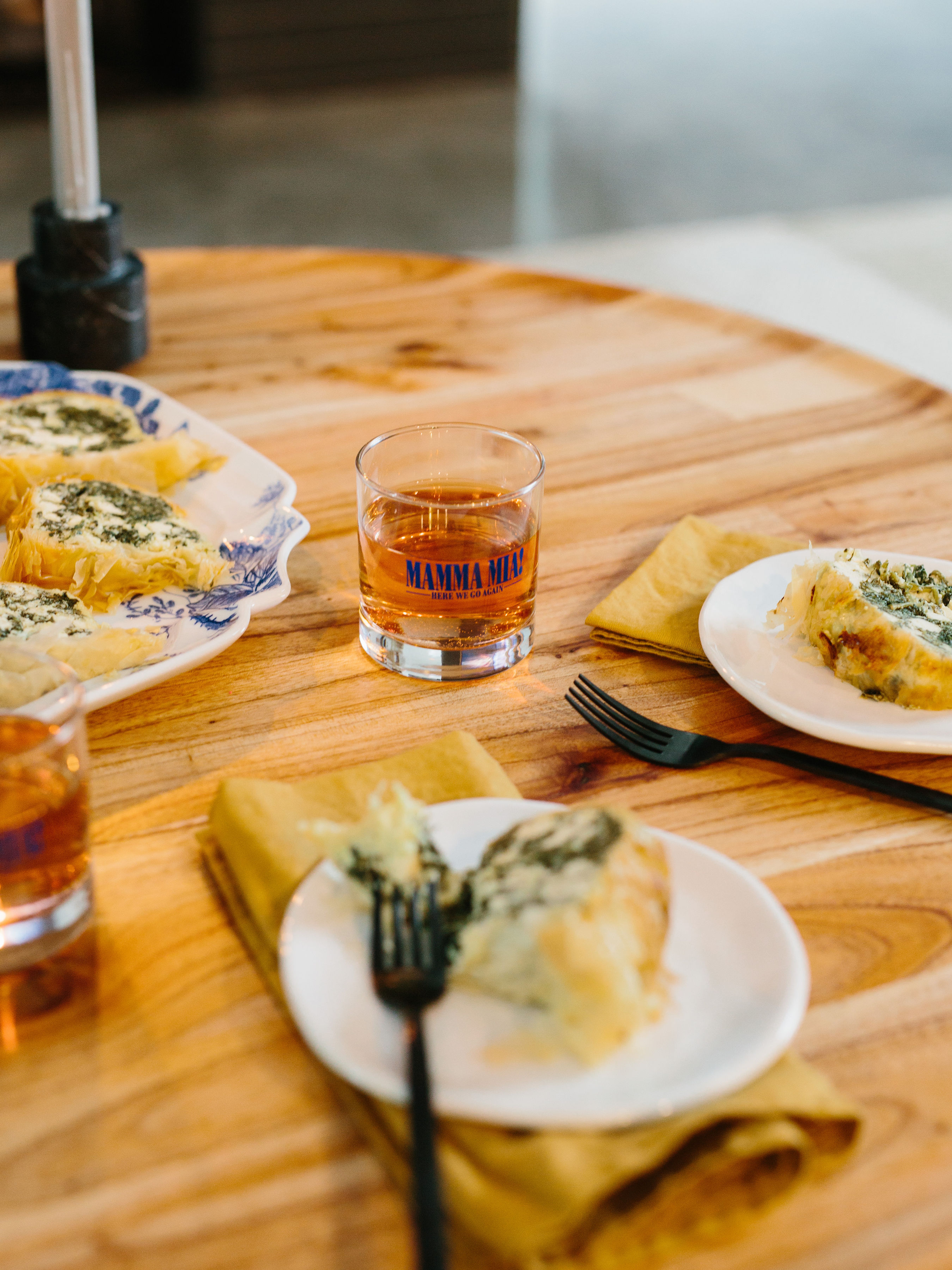 Print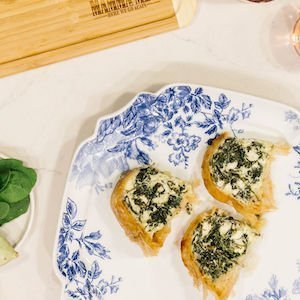 My Greek Mother-In-Law's Spanakopita Recipe
---
Scale
Ingredients
2 lb. fresh organic spinach ( i normally use organic)
1/2 c. chopped scallions
1 stick of butter
8 oz. ricotta cheese
1 lb. feta cheese – crumbled
6 eggs, beaten
1 tbsp. fresh dill – chopped
½ tsp. salt
½ tsp. pepper
1 pound phyllo pastry sheets (make sure its defrosted in the refrigerator for at least 24 hours )
---
Instructions
Preheat oven @ 350 degrees
Rough chopped spinach and cook over a medium heat until wilted. Very important to drain the spinach after cooking. (I have a squeezer, but paper towels work, too.)
Melt two tablespoons of butter and saute scallions until tender.
Mix together the spinach, scallions, and all remaining ingredients with the exception of the phyllo in a large bowl.
Melt the remaining butter, and butter the inside of your bundt pan
Open your phyllo and unfold and keep under a dishtowel so it doesn't dry up
One sheet a time, start layering your bundt pan buttering each piece lightly. You want to leave part of the phyllo sheet hanging over the side of the bundt pan so that you can cover the top of the spanakopita at the end. Continue to layer and butter as phyllo sheets start to overlap. Use all of your phyllo.
Add spinach mixture to the bundt pan, then fold over the layers of phyllo to center, Until spinach filling is covered. Cut out the center of the bundt pan.
Place the mold on a baking sheet and bake in pre heated oven until golden brown, approximately 60-75 minutes. Let cool for 10-15 minutes for unmolding.
---
Let us know if you make the recipe by sharing and tagging #TECkitchen! Don't forget to have your own movie night with Mamma Mia! Here We Go Again now on digital and on Blu-Ray and DVD Oct 23!