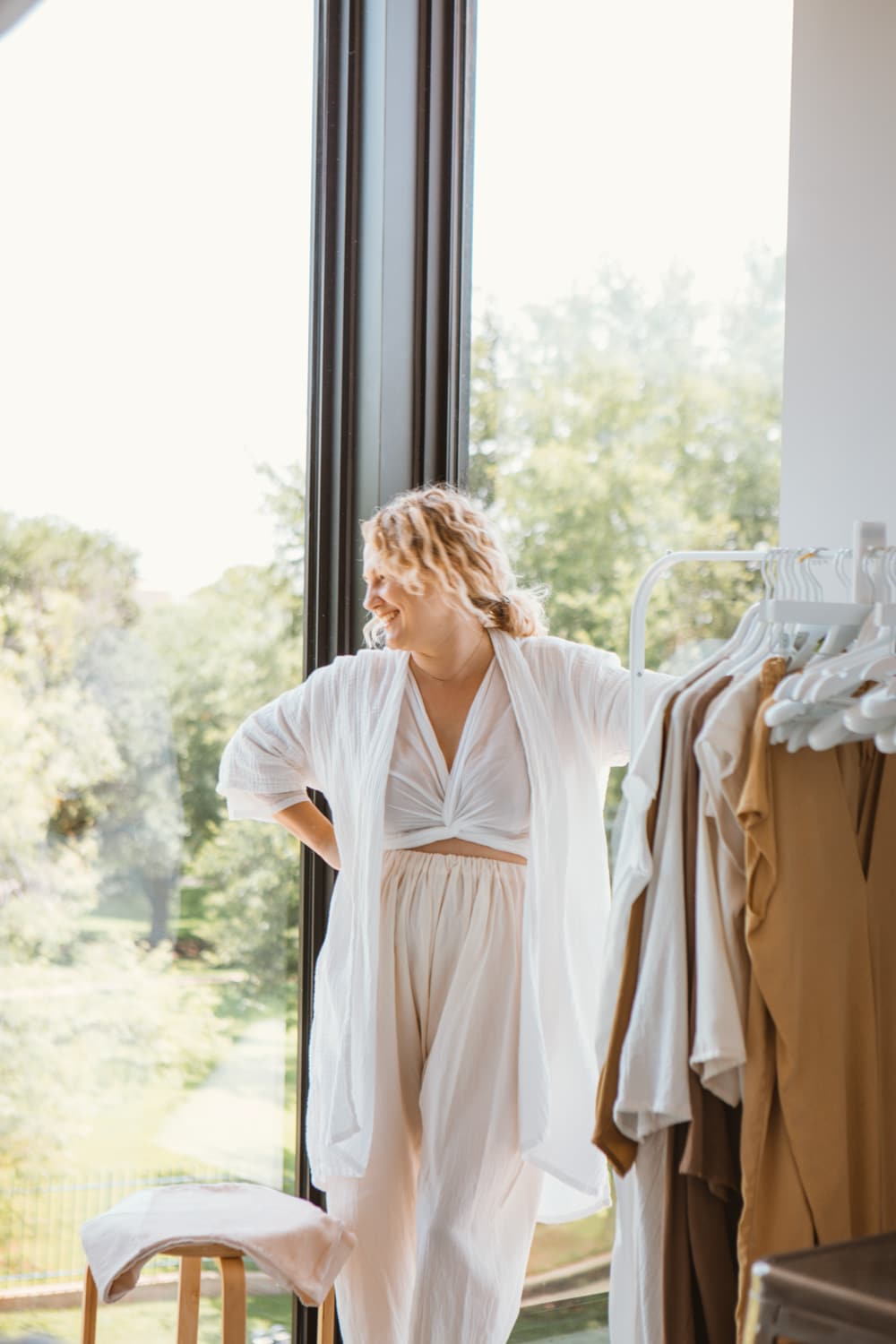 Fashion and the environment often times seem to be at odds with each other. For a time it seemed like many consumers (myself included) were oblivious to the effects of our wardrobe choices on the planet. Then, with the help of eye-opening documentaries we became enlightened. Now it can feels like we're living in the age of eco-conscious messaging, but behind the marketing strategy is a lack of follow through. What designer Miranda Bennett is doing here in Austin is the very antithesis of that. Her thoughtfulness towards every step of the design process is next level. Her namesake collection of modern, plant-dyed apparel is dyed, cut, sewn and shipped within a 4 mile radius in Austin, Texas. She also manufactures exclusively with Open Arms, a social enterprise of the Multicultural Refugee Coalition (MRC). Furthermore, the MBS Zero Waste initiative is a collection of actions that accomplish the mission of diverting every scrap of our textile remnants from landfills. You guys! This isn't even the half of it. (You should definitely go read more here-- it's super inspiring!) It was such an honor to catch up with Miranda and hear more about her daily uniform...
JP: Tell us about yourself! What's your name, where do you live, who do you live with, what do you do?
MB: Hi! My name is Miranda Bennett. I live in Austin, Texas with my husband, Justin, and our two pups, William and Blue Jeans. I am the founder & CEO of Miranda Bennett Studio, an apparel and lifestyle collection committed to versatile, considered clothing and goods for home & life. We plant dye our textiles in-house and manufacture all of our products with a local nonprofit creating jobs for Austin's refugee population.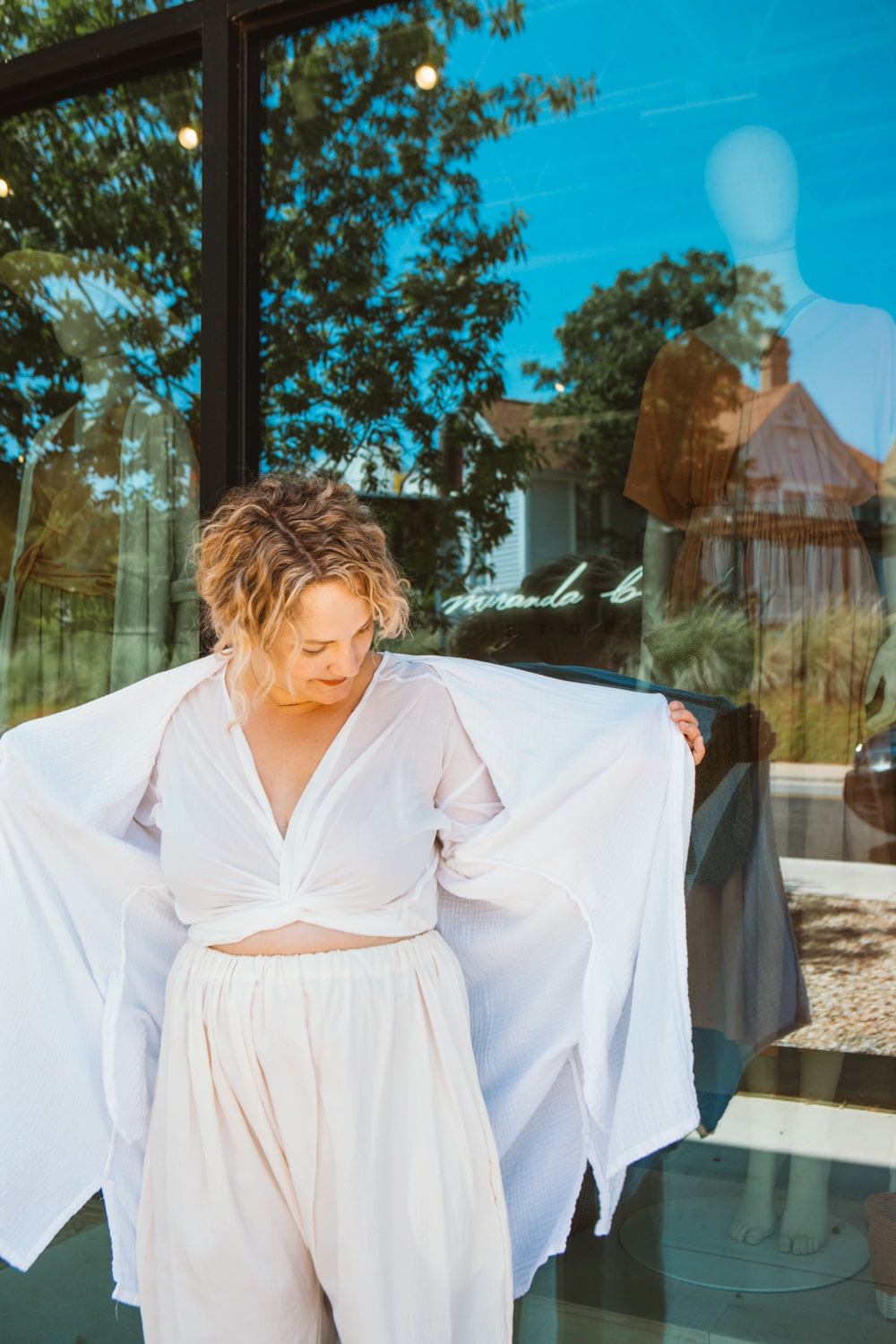 JP: What does a typical day look like for you?
MB: Typical has been hard to come by these days! Some days I am working with our dye and production team at our North East Austin studio, developing new or refining existing natural dye formulas and apparel styles. Some days I am on-set styling or providing creative direction for our campaign shoots. Other days I am buying for our East Austin flagship location, meeting with our retail team, moderating a panel or coordinating one of the many community events we host there. The one typical is that I am pretty much always behind on email, (sorry!).
JP: Tell us about your daily uniform:
MB: I am wearing my MBS Wrap Top in a new Silk / Cotton blend - it is the most incredible weight and combination of sheer yet durable. The Wrap Top is definitely one of the biggest workhorses in my closet since it can be worn so many ways (+ facing either direction). It is paired with the MBS Kusama Pant, another staple for me. It doesn't matter how my weight fluctuates, if I have stress belly bloat or am feeling lean and active, I always feel comfortable, free and like myself in these. The version I am wearing today is in another new fabric for us, a cotton & Lyocell blend that has a really unique quality of feeling breathable and substantial, with the coolest texture. Layered on top is the petite version of our Bardi Duster in Cotton Bubble Gauze. I like to play with wearing items from our collection in all different proportions, and will often opt for the petite iteration when I want to create a counterpoint to a roomier cut elsewhere in my look. Rounding this all out are my byJAMES sandals, handmade in the Yucatan, and Pala Sunglasses, a really wonderful ethical company with a give-back model. We carry both in my shop, but cannot keep the Pala sunnies in-stock! 
JP: Have you always had a very strong personal style point of view? How has your style evolved over the years?
MB: Yes! I have always felt a very emotional connection to my clothing, and so off when I don't feel like myself in what I am wearing. As Bill Cunningham said, "Fashion is the armor to survive the reality of everyday life." I definitely lean on my clothing in this way, whether it be an outfit that provides the confidence I need for an important meeting, or a boost when I am feeling tired or blue. 
My style has evolved more into uniform dressing over the years as I have honed in on what works for me and what doesn't, but I still always like to include flourishes and surprises along the way.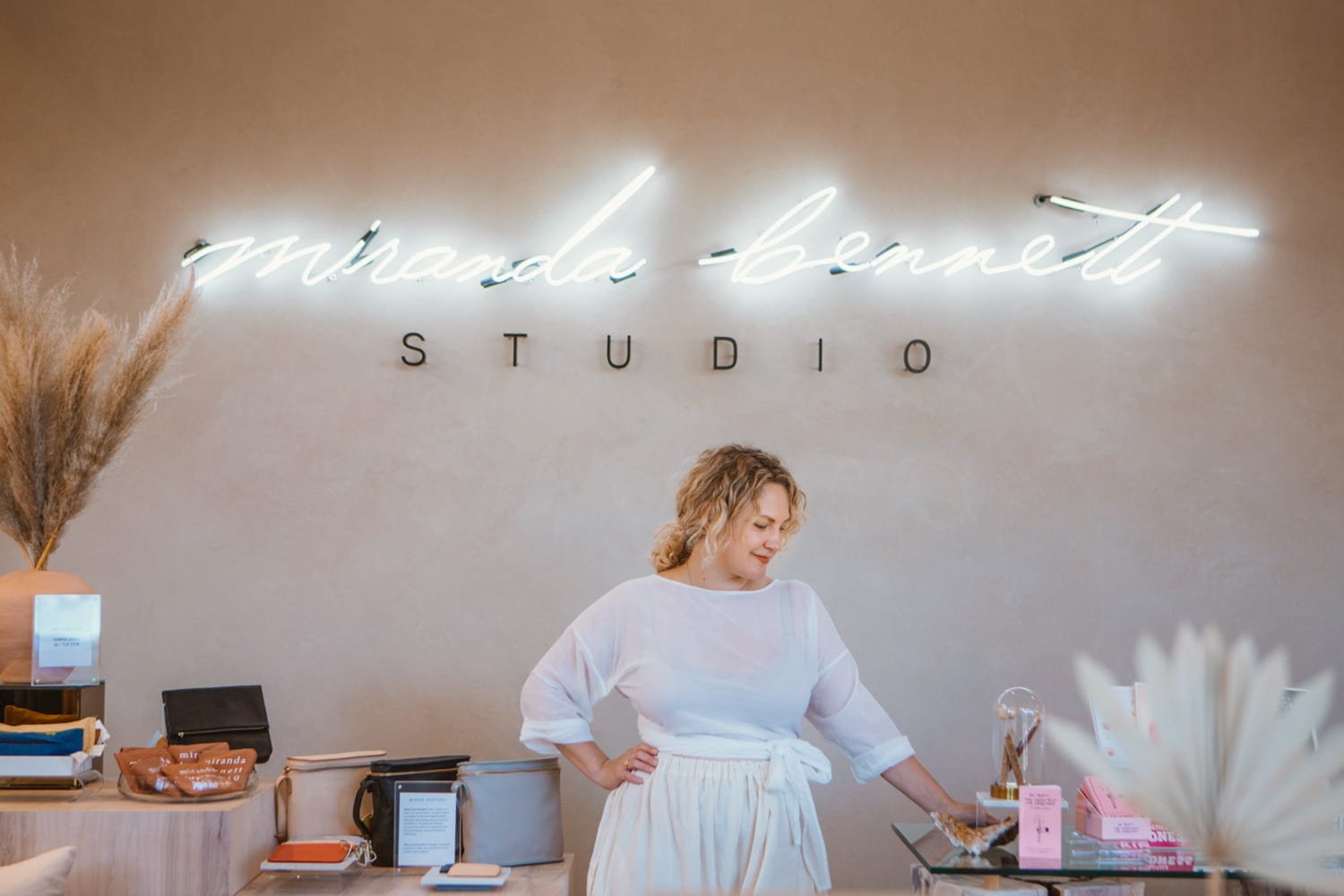 JP: What's the one thing you own in multiple color ways?
MB: To be honest, a lot of items from my collection! The top three being the Wrap Top, Kusama Pant, and the Muse Dress. The Muse is a sleeved interpretation of our Everyday style (that I refer to as the North Star of our collection), with a bit more of a cocoon shape. It's amazing what changing the fabrication can do, so I stock these for my personal wardrobe in a mix of silk charmeuse for events, silk noil and linen for work, and bubble gauze for play/days off.
JP: What's one thing we will never find you wearing?
MB: Those sneakers the the little cutouts for your toes? They make me so uncomfortable!
JP: Favorite place to shop in Austin? Favorite place to shop out of town?
MB: In Austin, I love Apt. F for the most incredible selection of vintage and handmade rugs and thoughtful home goods. Out of town, ABC Carpet & Home in NYC is a source of endless inspiration, and a place I love to treat as a gallery, looking at each and every thing.
JP: Best style advice you could give to someone who is struggling with their personal style?
MB: I really don't believe in lots of rigid or lofty rules for personal style, but my big one would be, do what feels good! And don't stop until you find it. I totally understand that for some folks, and during certain times or seasons, dressing can be a real challenge. Clothing is capable of so much -- channeling different moods, emotions and occasions, but at the end of the day, what it really should be doing is making you feel like the best version of yourself. If it's not, it's time to move on and find what does. Be adventurous, do your research, ask for help, but don't settle!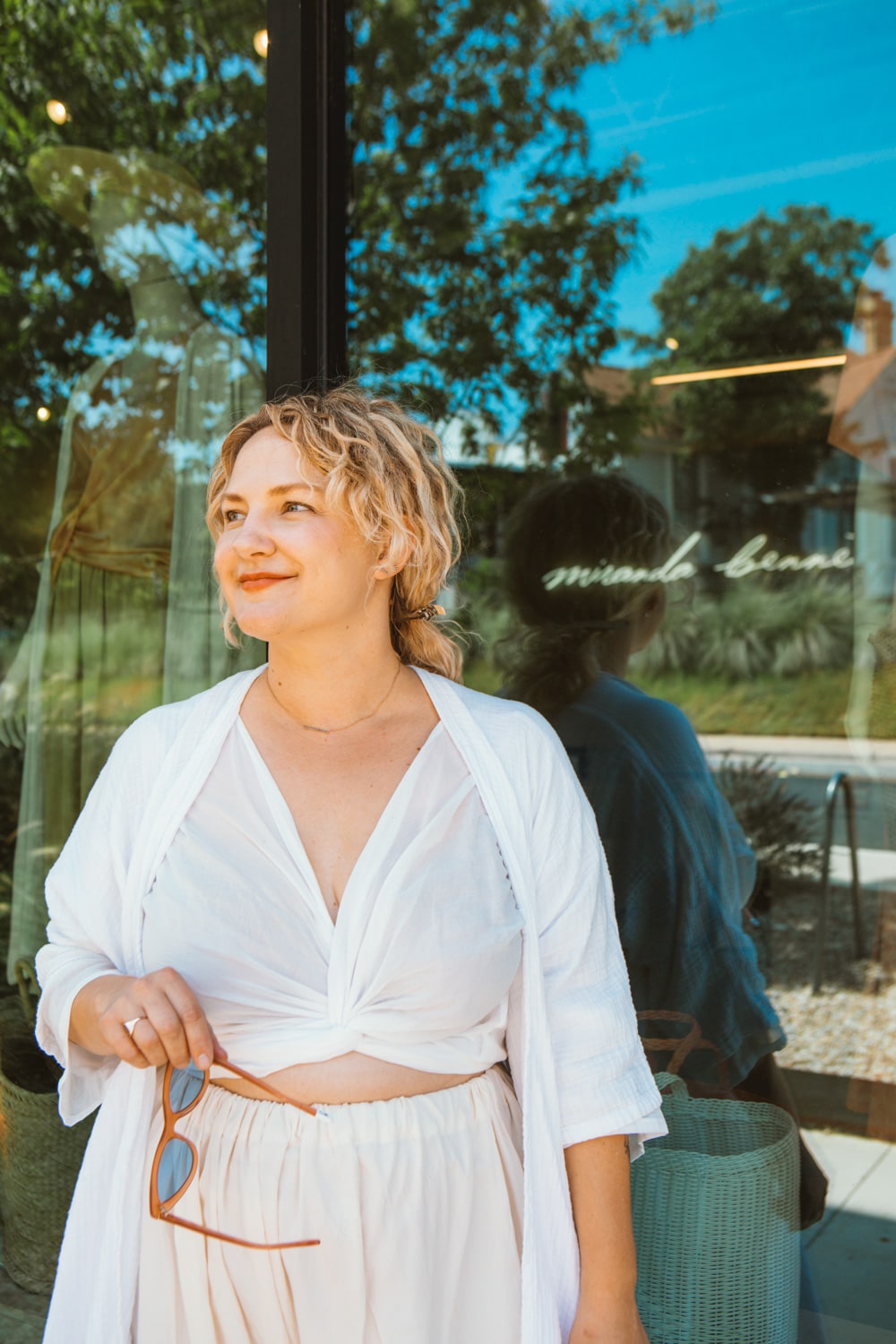 Photography by Kelly DeWitt