It's not super often that I can remember the EXACT moment that I met someone that I have known for years, but I actually can do just that with my friend Anne Sage! The year was 2012. We were both at Alt Summit, a conference that at the time was for bloggers or brands wanting to work with bloggers, and were introduced by a mutual friend at one of the night parties. It just so happened that Anne needed a wardrobe stylist for an upcoming shoot and it just so happened that I was a wardrobe stylist who had just left the show she had been working on full-time and now had time to take on more freelance work. We worked together shortly after on what was one of the most fun shoots ever (Rue Mag x Gap!) and not too long after that Anne moved to Los Angeles and we were able to see each other more frequently. Here's the thing you need to know about, Anne. She is someone who always feels so at home in her skin. She's brilliantly creative and her attention to detail is unparalleled. (Just look at her Instagram feed!) She's an incredible stylist and champion of other women and I'm just really excited for you all to meet her here today if you aren't already familiar!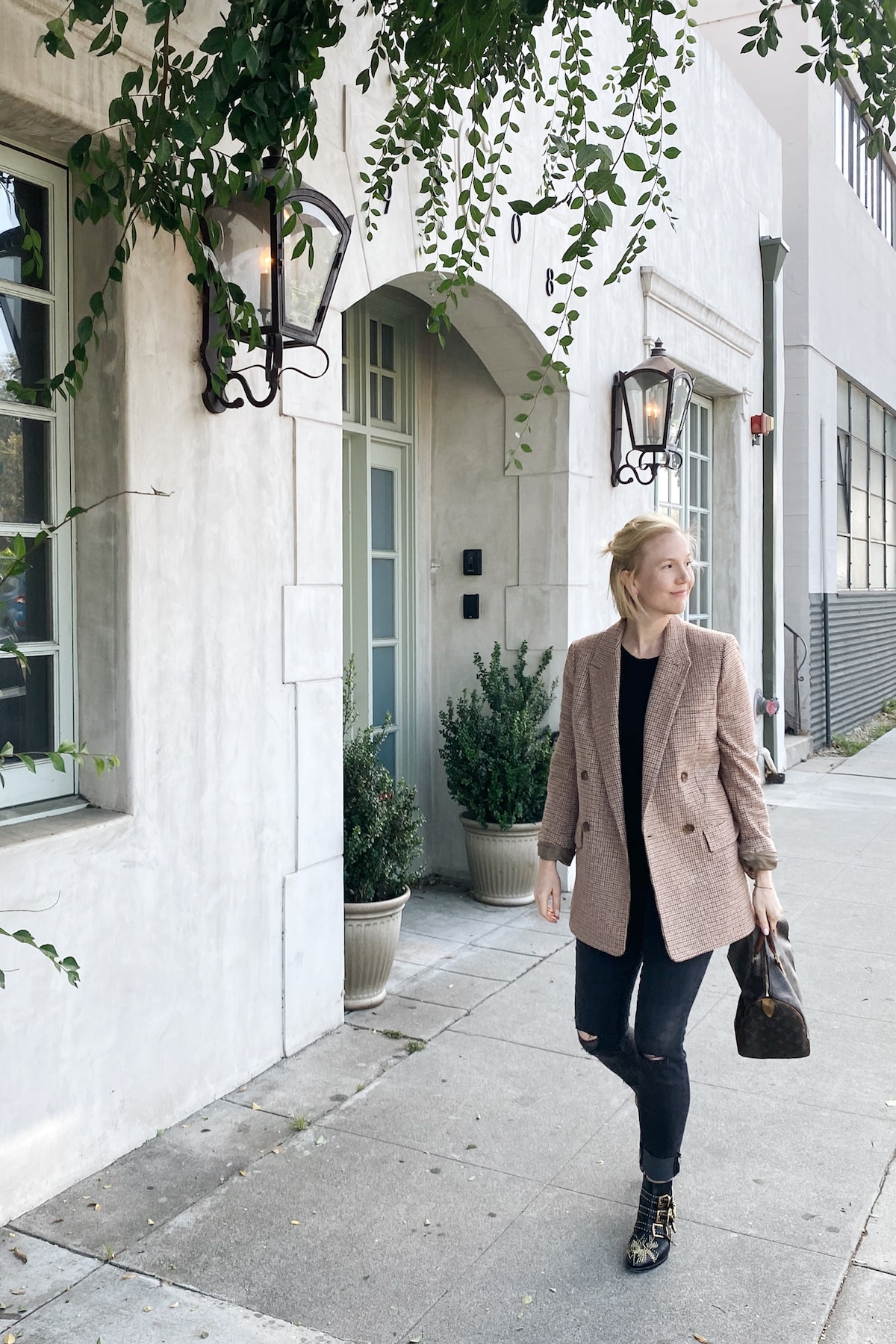 Jen Pinkston: Tell us about yourself! What's your name, where do you live, who do you live with, what do you do?
Anne Sage: My name is Anne Sage and I live in Los Angeles with my husband, two cats, one dog, and a baby on the way! I wear many different hats (among other things, I run my blog and Instagram, I manage the creative studio I co-founded, and I do interior design for clients) but all of them fall under the category of "lifestyle entrepreneur"!
What does a typical day look like for you now? What projects are you currently most excited about?
There's no typical day, but in a given week I'm generally styling and shooting photos for my social platforms, running around town for meetings, showroom visits, and client product pulls, sitting at my desk answering emails and Instagram DM's for hours on end...the list goes on! Lately, since I'm six months pregnant, I'm finding my energy poops out around 4:30 or 5, so I try to wrap things up by then and spend the rest of the day reading and doing domestic things with my husband.
Tell us about your daily uniform.
My body is changing so much with pregnancy that every day brings new surprises and new challenges for getting dressed! But a perennial go-to combo is a great blazer with a tee, statement ankle boots, comfy jeans, and a well-loved bag. This houndstooth blazer from Everlane is boxy enough to be street style cool but doesn't overwhelm my shape. Lately I'm living in Madewell's maternity jeans—the ones that go over the belly are my preffered option, since anything under-the-belly feels way too much like Britney Spears circa 2001. My tee is from an up-and-coming brand I'm obsessed with called BLDWN. They do elevated basics so well. As for accessories, I bought these Chloe Suzanna Booties for half price at a store closing sale last year, making them my greatest fashion coup ever. The hardware jingles as I walk and makes me feel seriously badass. This Louis Vuitton Speedy 30  has been in my wardrobe since college—it's the first big designer purchase I ever saved up for!—and although it's showing its age, it's such a classic that I'll never retire it. Finally, jewelry wise, I'm too scatterbrained to remember to switch it up very often. These gold hoops are by incredibly gifted jewelry artisan named Devon Pavlovits, and I don't think I've taken them off since I bought them. They go with everything!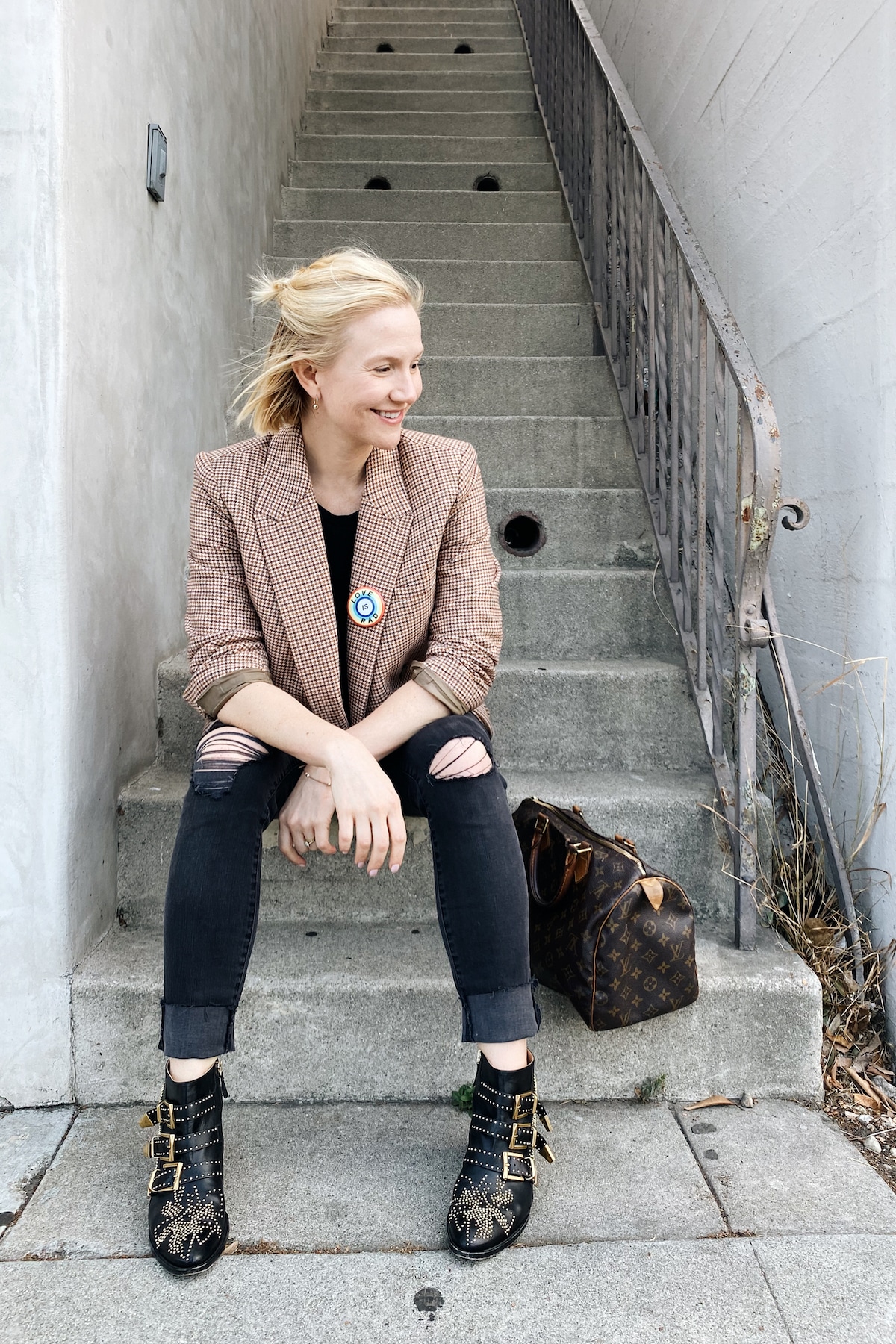 How has your style evolved over the years?
Over the years I've honed in on what I'll ACTUALLY wear, versus what catches my eye in the moment but would just gather dust in my closet. I'm much more consistent in my palette (mix-and-match neutrals!) and have learned that if something is uncomfortable or questionable in the dressing room, its flaws will only be magnified when I get it home! I still love dressing for trends and update my wardrobe seasonally with a few key pieces, but always with a mind towards quality and longevity.
What's the one thing you own in multiple colorways?
The Freda Salvador Wit d'Orsay Oxford is one of my favorite shoes of all time. It's comfortable, elevates every outfit, gets TONS of compliments, and comes in solids and patterns galore. Plus that d'Orsay shape is very flattering to the calves and ankles. I'm embarrassed to admit how many pairs I have, so let's just say it's more than one and leave it at that.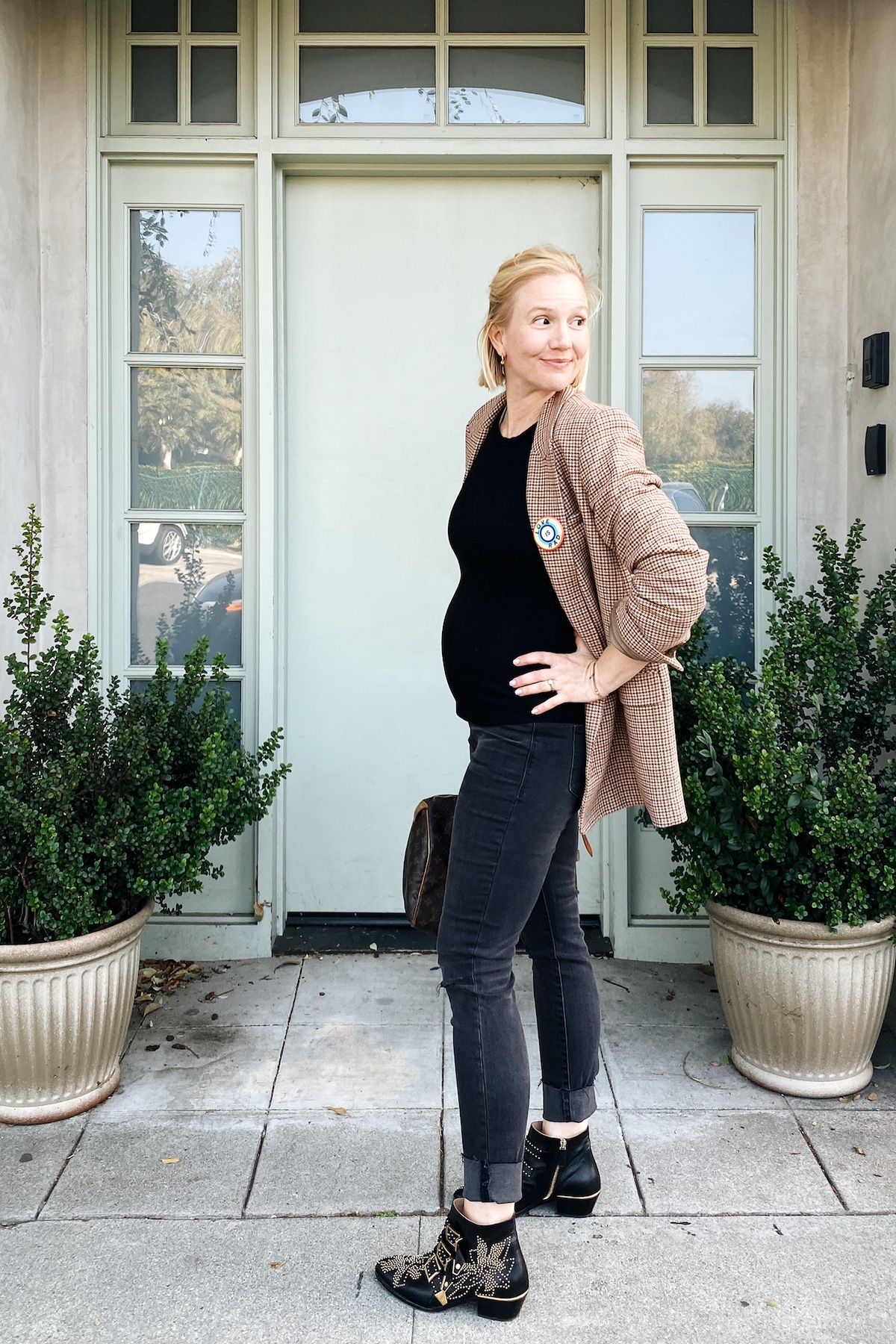 What's one thing we will never find you wearing?
I'm a pretty busty gal, which I somehow manage to forget every time ruffled tops are having a moment. I absolutely love the look of a flounce or a bow on other people. But once I try a ruffled piece on myself, I remember that I have enough natural volume up top and don't need to add any with my clothes. Ha! 
Do you have any tips for someone struggling with figuring out their own personal style?
I love following fashion influencers on Instagram and find the "saved images" tool to be brilliant for narrowing in on my own personal style. I'll scroll through my fashion folder for an overview of what I'm loving lately, and inevitably I see patterns start to emerge: a particular silhouette that appeals, a color I'm drawn to, a key piece that's popping up again and again. We're flooded with so much one-off inspiration all the time, so stepping back and analyzing the big picture of what you like is a great way to quiet the noise!
Photography of Anne Sage by Caroline Lee