If you've ever been just a girl, staring into the depths of a shallow closet, asking herself what am I going to wear today, this post is for you. Every time I get the answers to these interview questions back, I always find myself resonating with the challenges, transitions and stories of every new person and today's interview with Abianne Falla is no different. She's an entrepreneur and a mother (and yes I refuse to blend those two words together), and her take on getting dressed has evolved to a point that is so strategically simple and inspiring all at the same time.
Tell us about yourself! What's your name, where do you live, who do you live with, what do you do?
Hi, I'm Abianne Falla. I'm lucky enough to live in Austin, Texas with my husband (whom I imported from the UK), my 8 month old daughter Isla (who is growing up way too fast), and our sweet lab-mix Seve (who is responsible for Adam and I meeting in DC over 8 years ago!).
I am the co-Founder of CatSpring Yaupon. What's yaupon? We like to say "it's Texan, for tea." It's the only caffeinated plant native to North America. We sustainably wild harvest our yaupon in Cat Spring, Texas. We share the yaupon tea with restaurants, hotels, spas, kombucha makers, other tea companies, and online. We also create dignified employment in our community through our People First Employment program.
I've sought to incorporate Isla into my work with CatSpring Yaupon, to share the magic of this community with her, and to surround her with strong women role models.  This inspired me to write a children's book set behind the yaupon hedges in Cat Spring, Texas with a team of talented women that will be ready just in time for Christmas this year.
What does a typical day look like for you?
Every few weeks with Isla brings a new "typical". She wakes us up around 6:45 for breakfast. Till 9 am, I am intentional to have a slower morning as a family. I've learned in this hectic, over-stimulated time how to prioritize family time without the distraction of the inbox and chores.
I go to the office a few days a week to find more collaborations and partnerships for yaupon. It's life giving to partner with many talented producers whether it's someone who makes great tea blends, a chef that curate a unique menu, or a kombucha maker that adds their own spin on the ancient recipe.
The rest of my time, I spend with Isla.  We take walks, visit the neighborhood pool, and run errands before her early bedtime.  After she's down for the night, my husband (who is a much better cook than I), my mom (who lives in our back house—the dream!), or I cook dinner.  I round out my day with work and a glass of wine or an exercise class before I'm off to bed.
Tell us about your daily uniform:
I make what feels like 100 decisions every hour, and I have to minimize my decisions before I get to my desk. I eat the same breakfast, pack up the night before, and wear similar outfits every day. Recently, my daily uniform staples are high-wasted jeans with a short-sleeved button down.
Since Isla was born, I've been in a "wait, who's body is this?" stage and the daily uniform looks a little different. My Rent The Runway Unlimited membership has been a life-saver in this stage as I can borrow different pieces to change my style throughout the month.
Today, the shirt is a Jil Sander woven shirt with fun sleeves and a flattering yet playful tailored look. The jeans are Madewell and borrowed from a friend who had a baby a few months before me. Straight up Sisterhood of the Traveling Pants. I wish I could remember the brand of my boots, but I bought them in a close-out sale from a shoe shop in Oakland about 5 years ago and they've been resoled twice. My watch is a Garmin VivoMove. I wanted a smart watch that didn't look like I had an iPod on my wrist. With it, I use my phone less since I receive notices on my wrist. I don't have to check for a missed call and end up on Instagram 2 hours later. The earrings were a gift from a friend but I think they're Noonday! And the necklace was a gift from Adam from Eliza Page.
Has your style evolved over the years?
My style has had quite an evolution. I had a preppy style when I worked for J.Crew and Ernst & Young in Washington DC after college. Then I worked for lululemon and only wore workout clothes. Once I left the clothing company, I realized that all I wanted was a clean style, flattering cut, and quality materials. I like my jewelry and shoes to have a story – whether they're a gift or a fun find. And it turns out, I need a lot less when I have a few good things and when I rotate pieces from Rent The Runway in the mix!
In the past, what has been your biggest challenge with getting dressed? How did you work through it?
I struggled with the sense that I had to build an outfit from scratch every morning when I opened my closet. Every day was started with a huge decision and half the time I was overwhelmed and would wear workout clothes because I couldn't decide. It impacted my psyche because I feel better when I dress better. I cleaned out my closet to have fewer but nicer pieces in the colors that work for me – grey, white, black, and denim/blue. Now everything coordinates and I can wear anything in the closet. Add a few rental pieces every week to spice things up and I feel better. I get dressed faster, am happier with what I wear, and feel comfortable all day.
What's the one thing you own in multiple color ways?
I have at least 10 great white tees from a few brands that I love: Cuyana, Everlane, Emmerson Fry, and All Saints.
What's one thing we will never find you wearing?
I can't pull off anything one sleeved or skirts cut on the bias. Something about my body does not like asymmetry! And most warm colors, yellow or red or pink, aren't in my closet.
What's your style mantra?
I think coco chanel said it best – "less is more!"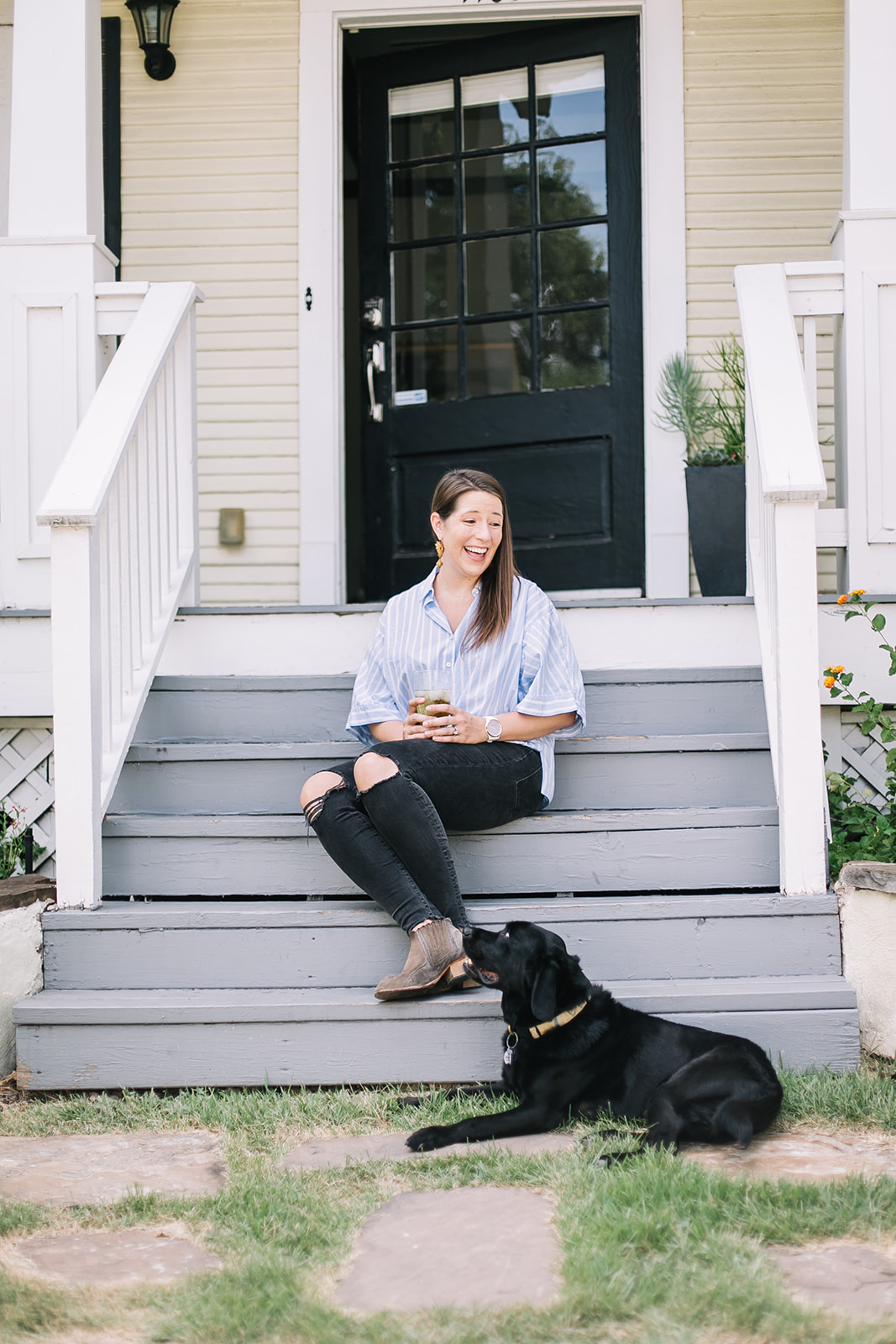 If you enjoyed this post, be sure to check out the rest of our My Daily Uniform series!