If you've ever finished a renovation of your own, then you know just what a labor of love it is. We have so enjoyed revealing the update that Joe and Jessica Honegger did recently here in Austin and are excited to continue today with their Moroccan-Inspired Bathroom!
I was so thrilled that you guys loved the reveal of Jessica's pool room just as much as I did. I truly believe that to end up with a space that you love, you have to go with your gut and choose the things that make you happy, even when they aren't the trendiest or break with traditional design rules. The result is something that feels so much more unique, just like each of Jessica's spaces. Without further ado, welcome to the most fun, Moroccan-Inspired bathroom you ever did lay eyes on!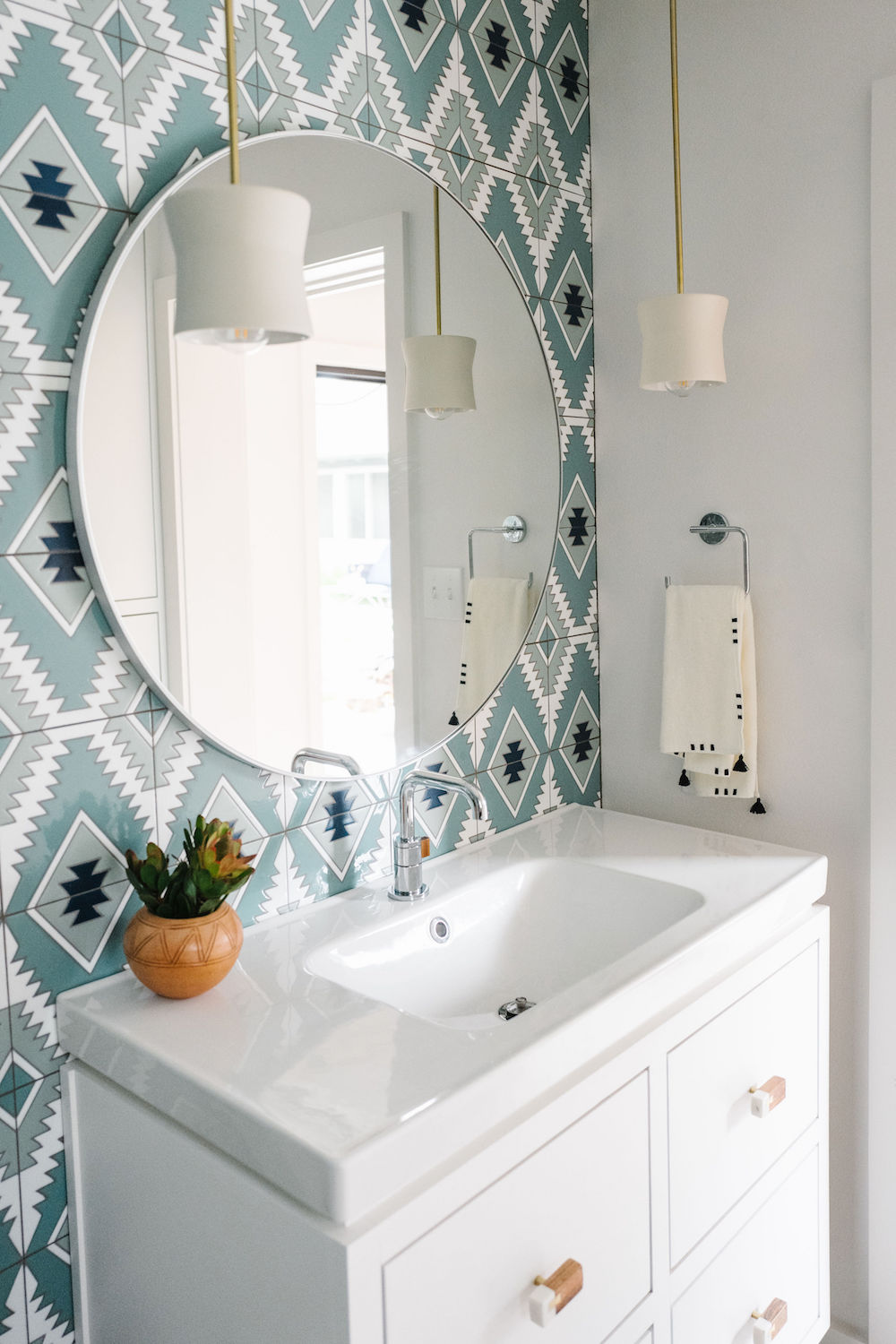 First, let's talk about the elephant in the room: That Fireclay Tile is incredible! Talk about a statement piece. How did you choose the style and color? What was the process like with Fireclay?
I have absolutely loved working with Fireclay! I travel internationally for work quite a bit, and this tile we chose for the poolroom bathroom reminded me of a motif I often see represented in textiles from all over the world, whether it's a market in Guatemala or Uganda. The customization tool on the website was also incredible and allowed us to create something that felt true to our tastes.
I love the flooring in here! What is it exactly? I love how well it complements the more stand-out wall tile, but also isn't boring.
It's block greige by Marazzi, cut to custom size. The flooring extends into the pool room because we wanted the whole poolroom area to feel like a seamless space. We chose the color because a simple grey floor meant we could go wild with color elsewhere!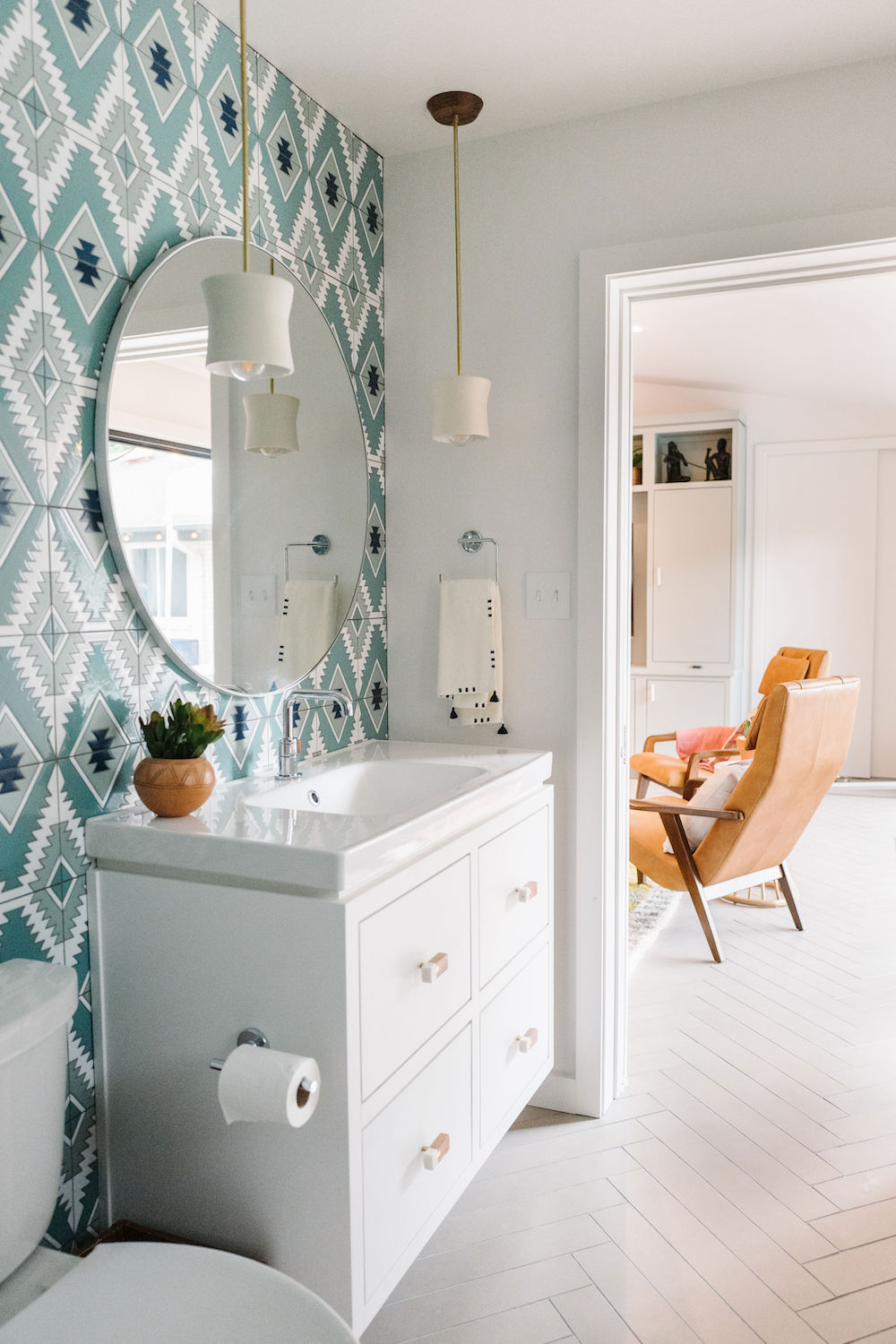 Did you encounter any challenges along the way? I feel like bathrooms can be tricky!
One challenge was that as part of the renovation of our boys' rooms, we lost our big beautiful guest-bathroom with the bathtub my mother-in-law loves. She and my father-in-law are from out of state and come stay with us, so we wanted her to still feel at home and be able to enjoy a nice bath! In a pool room you would normally do a shower, but we opted for the bathtub too for that reason.
We also had to be mindful of space, which is why we chose a pocket door for the shower. We didn't want a shower curtain, so we chose a pocket door instead because they make a smaller space feel so much more utilized.
How did you make sure this bathroom functions for real life?
This is our guest bathroom, and we have guests over almost every weekend hanging out and enjoying the pool—which we love, and which was our intent for our home! So, we wanted everything in the bathroom to be tile because we wanted things to be able to get wet and not have to worry about it. We want people to be able to hang out and enjoy the space, and I think we've been able to accomplish that here.
Photography for Moroccan-Inspired Bathroom Reveal by Katie Jameson
Sources: Vanity, Ikea || Pendants, Cedar and Moss || Wall Tile, Fireclay || Floor Tile, Greige by Marazzi || Hardware, Anthropologie || Faucet, Brizio || Cane Shelving, vintage from Round Top