What's chic and fresh and pink all over? My sister's new bathroom makeover, that's what! Keep reading for all of the details on this modern pink bathroom renovation...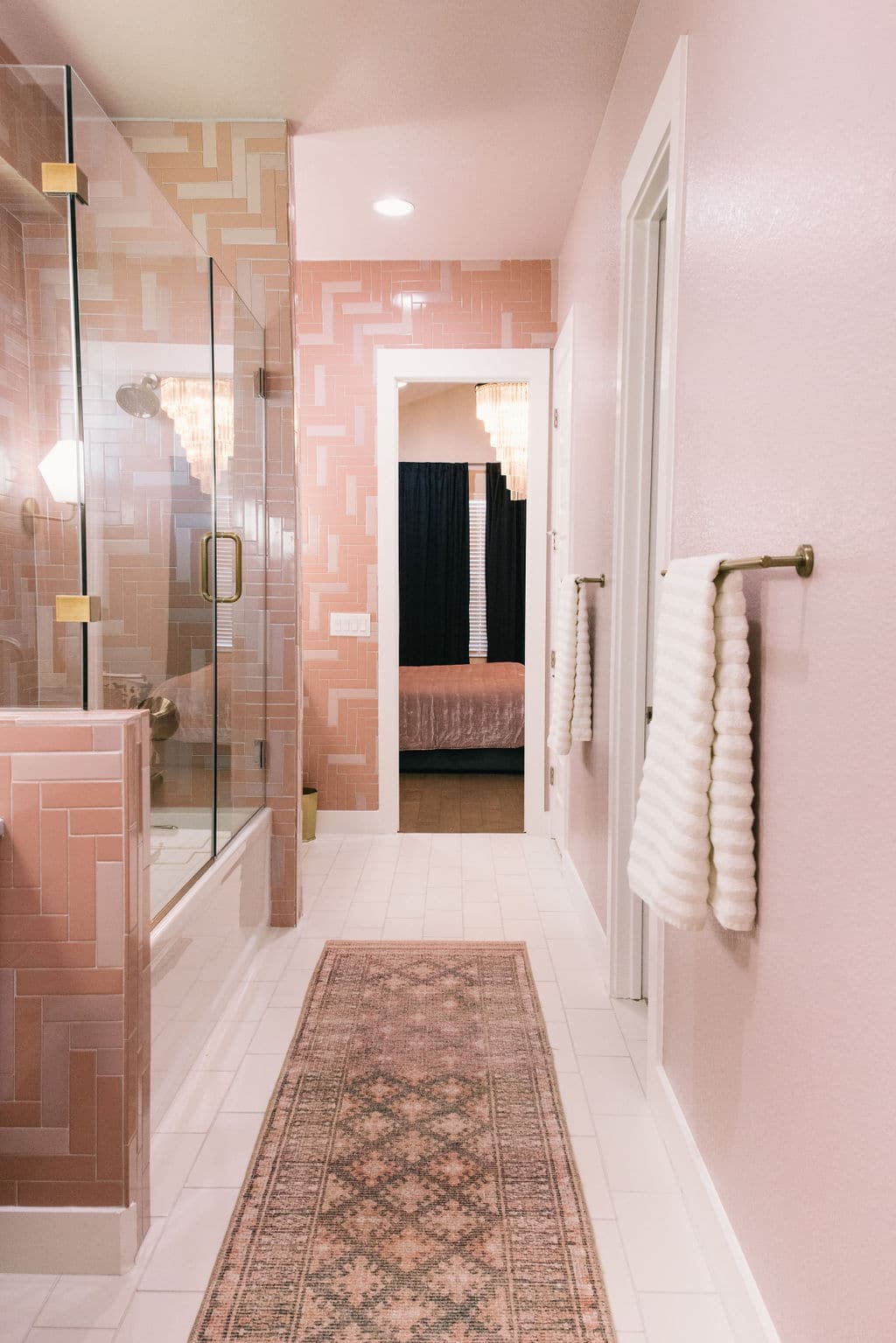 When Aaron and I bought our first house, the first thing to go was the square pink and burgundy tile from the 1940s. If you're picturing something cute, don't. Cute it was not. The truth is, I love a modern pink bathroom! If you don't believe me, just see this one for proof!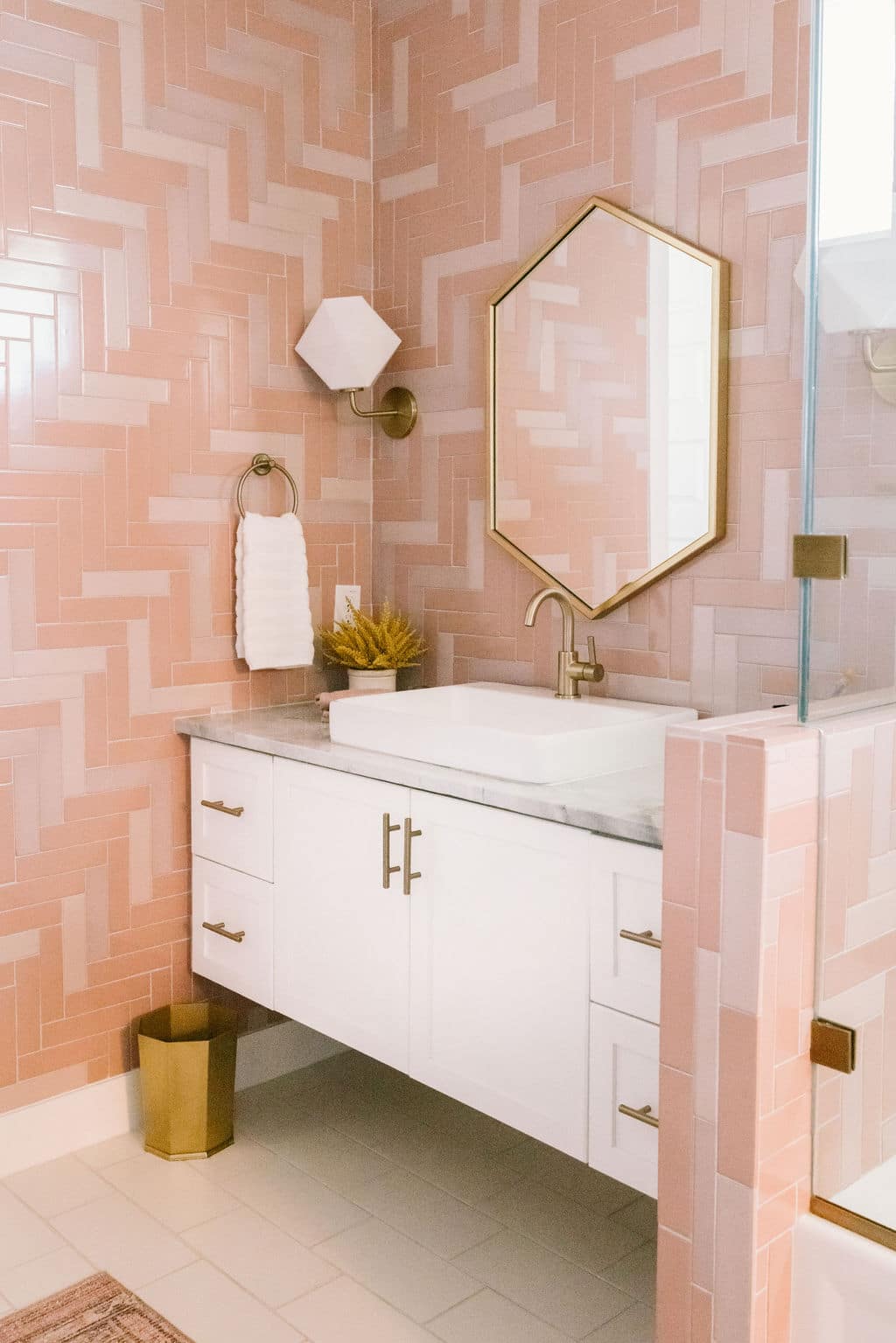 When my sister asked for help updating her bathroom from the bland builder specs that had been there when they purchased the house to something that more fit her own aesthetic of her wife Christy and her, I jumped at the chance to plan a renovation that I didn't have to pay for! Keep reading for the process and all of the juicy details!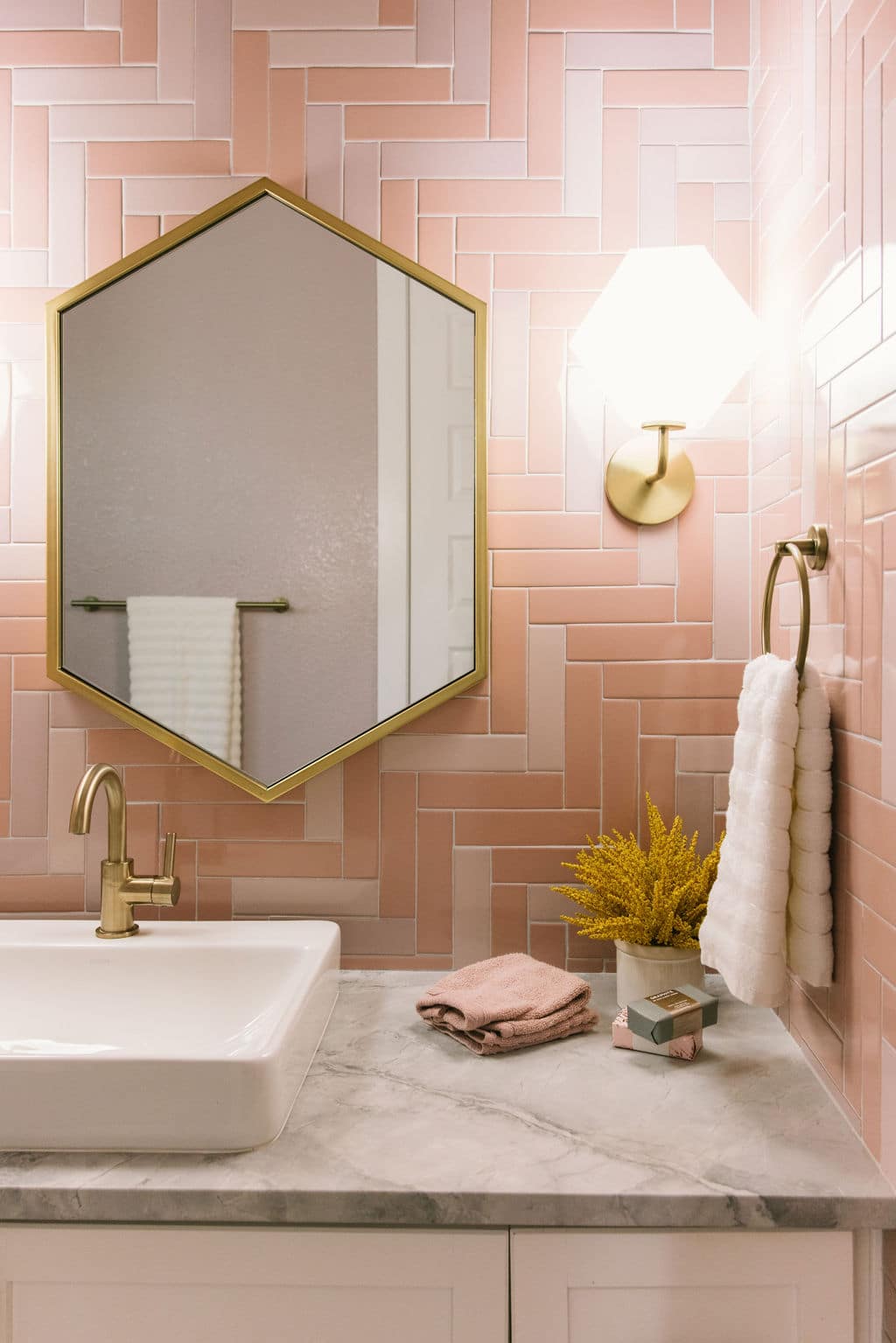 THE BEFORE: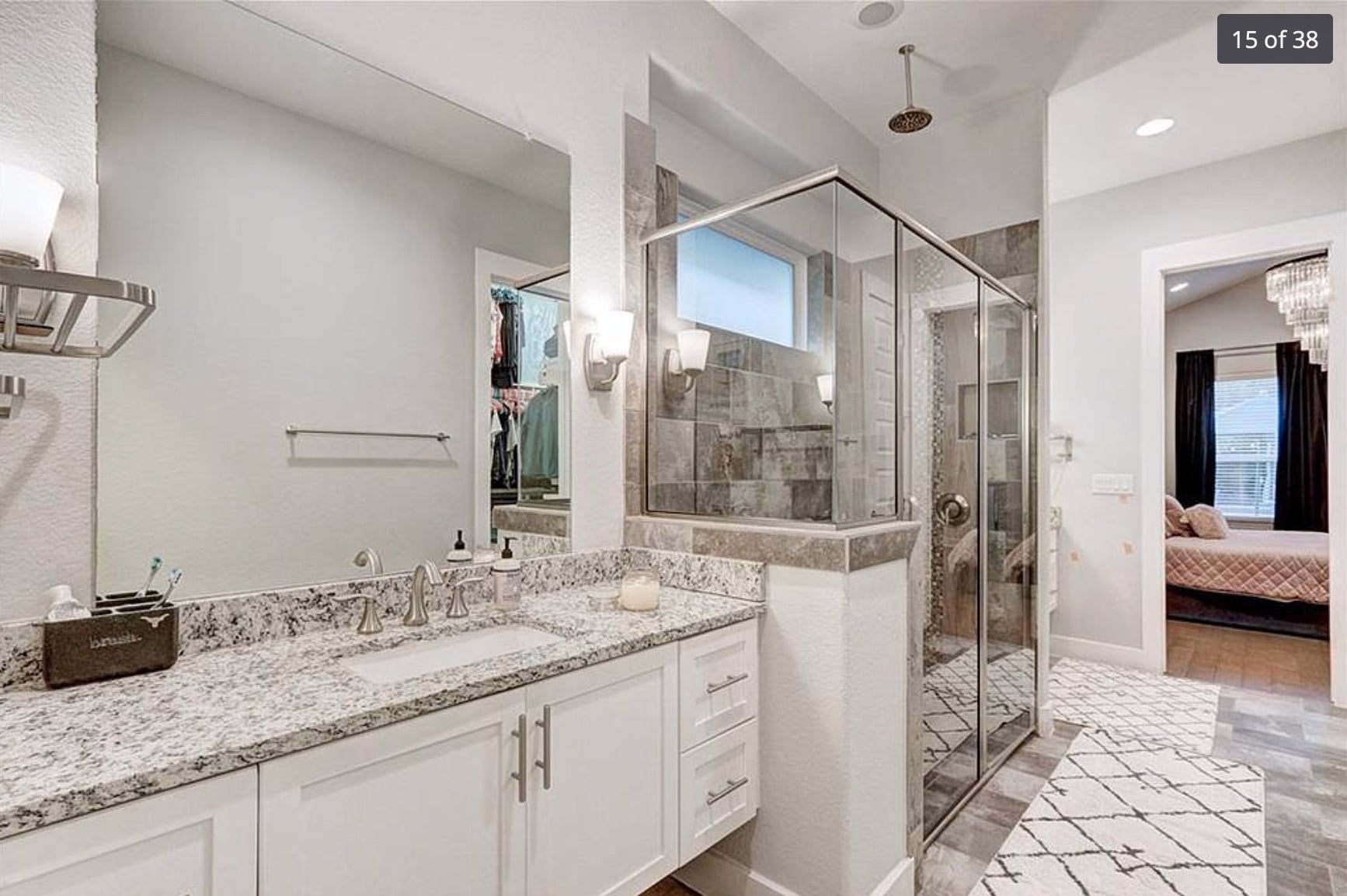 As I mentioned, this house was a builder spec home when my sister and her wife bought it. Typically that means that the builder, looking to sell fast and maximize profit, will choose something highly commercial that a lot of people will like that doesn't cost a lot. This bathroom was wonderful and had great bones, but, as my sister puts it, "It just never felt like something we would have chosen."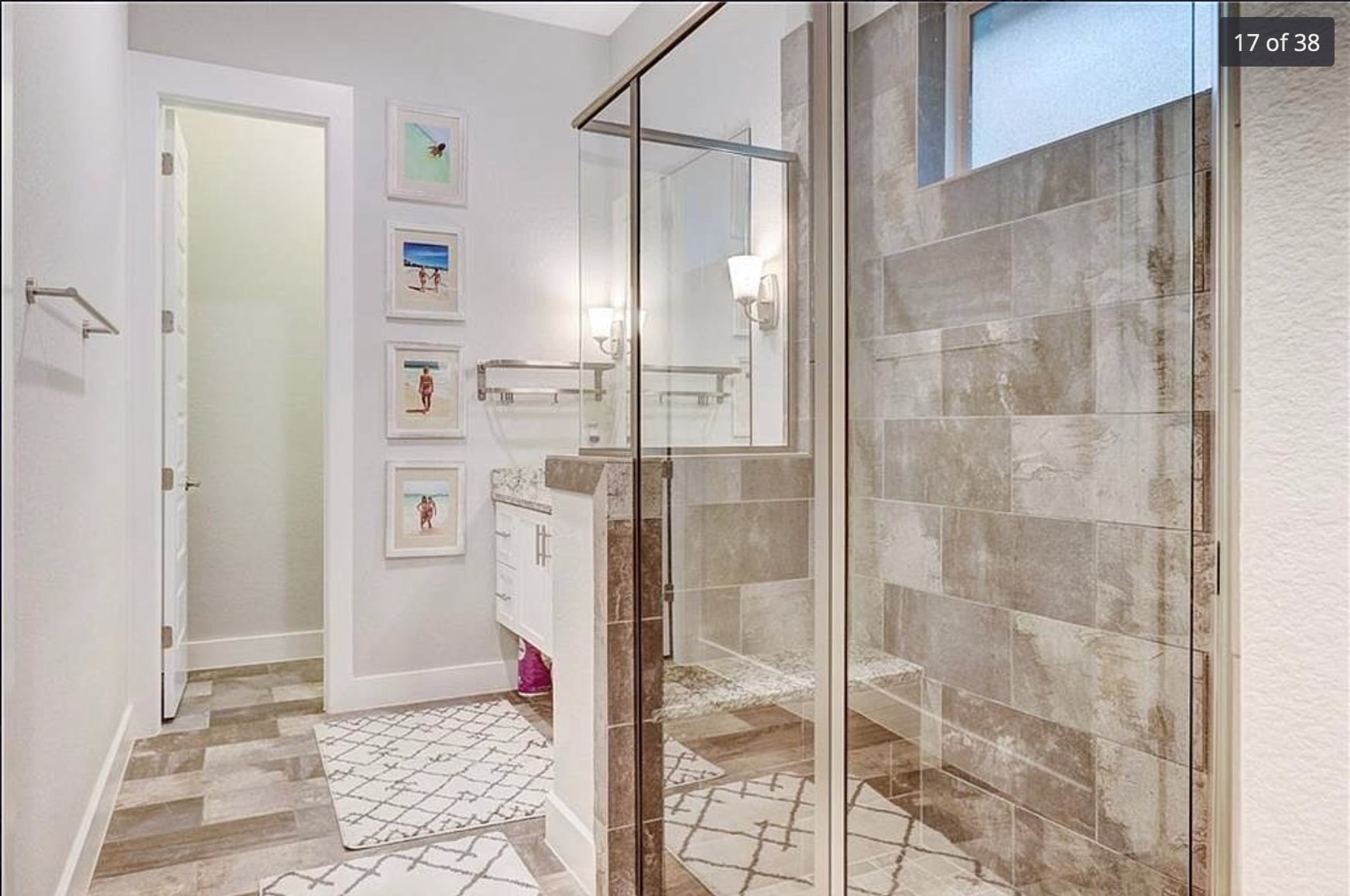 The first thing I did was reach out to Fireclay for samples so we could set a color scheme. I have used them for all of my bathroom projects since our very first primary bath project almost 8 years ago! A modern pink bathroom was already on our radar, but we looked at a lot of other things, too!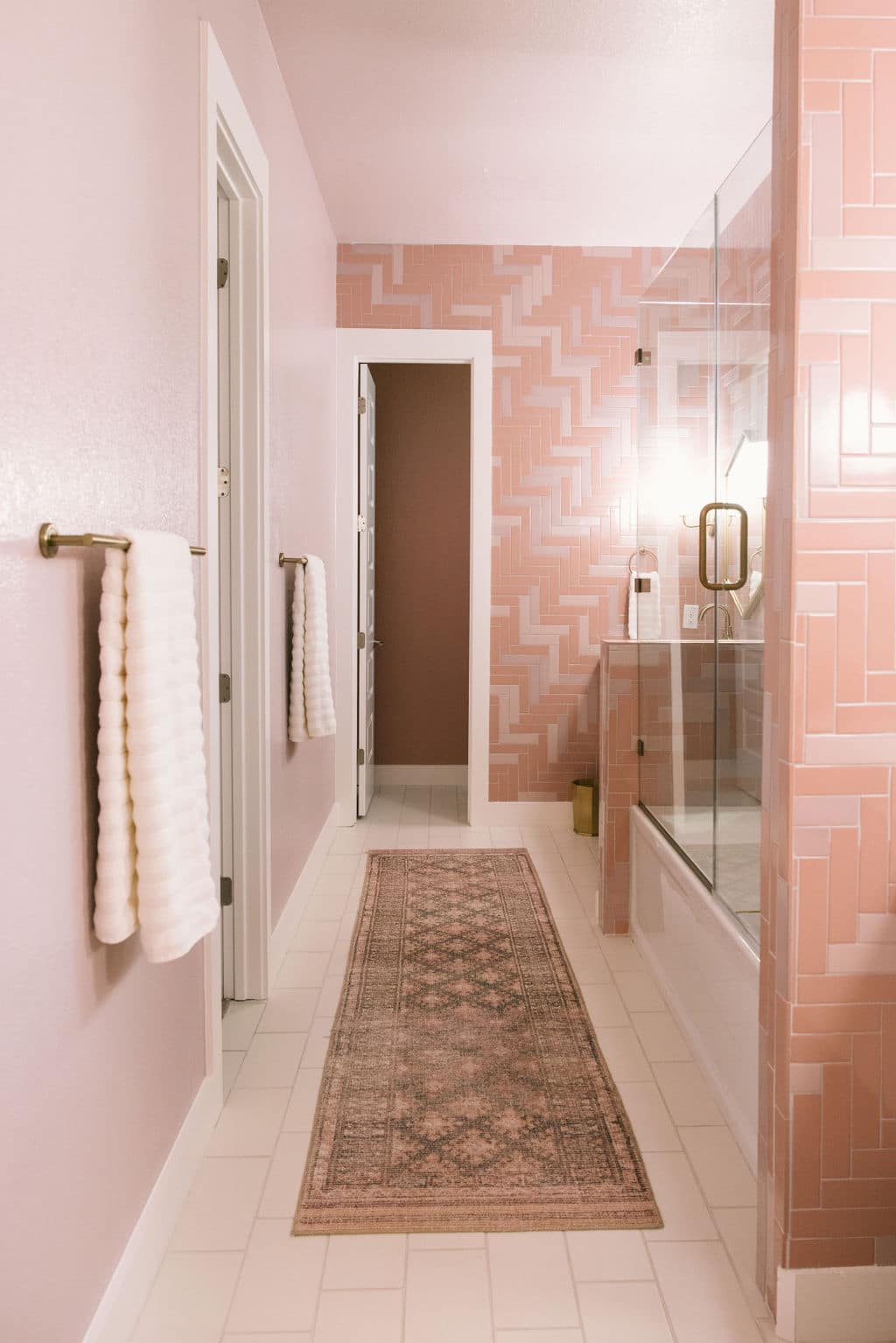 Choosing a Finish for Bathroom Tile
Tile comes in a variety of finishes, not just colors. There's matte, glossy and satin which is somewhere in between matte and glossy. Then there's also patine and englobe finished for even more texture. We mixed glossy and satin for this project and really enjoy the added dimension, but finish is definitely something to consider when choosing your tile!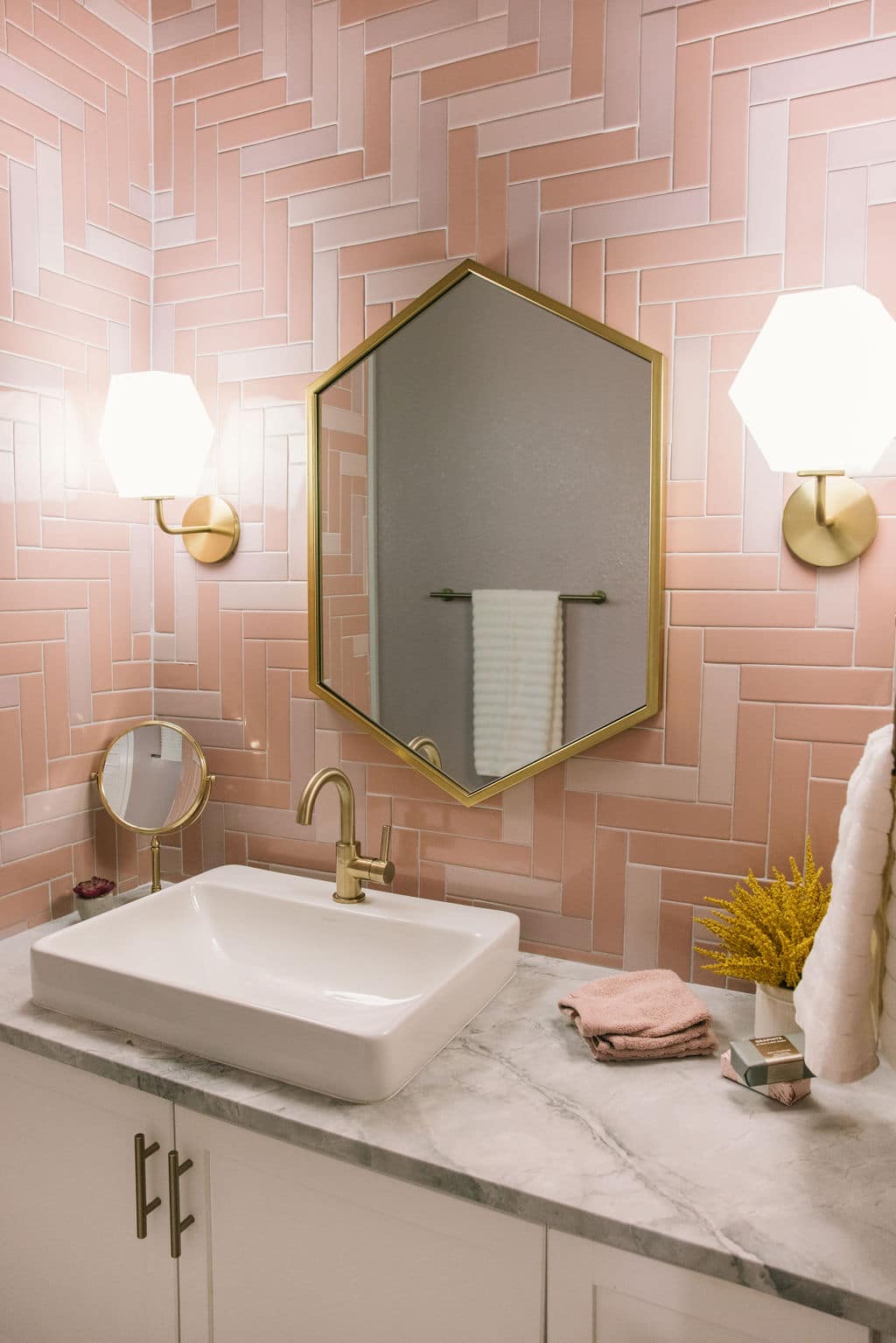 Keeping the Layout of The Existing Bathroom
One way to keep the cost of a bathroom renovation down is to use the existing footprint of your bathroom. That generally means not having to move plumbing so toilets, sinks and showers all stay in the same place. One thing my sister really wanted to add though was a bathtub. They were able to accomplish this without changing th footprint by reducing vanity space and increasing the space where there was an existing shower. The original dream list included changing up the closet space, which would have moved everything around and added tens of thousands of dollars to the project. This was she still got her bathtub, but stayed on budget.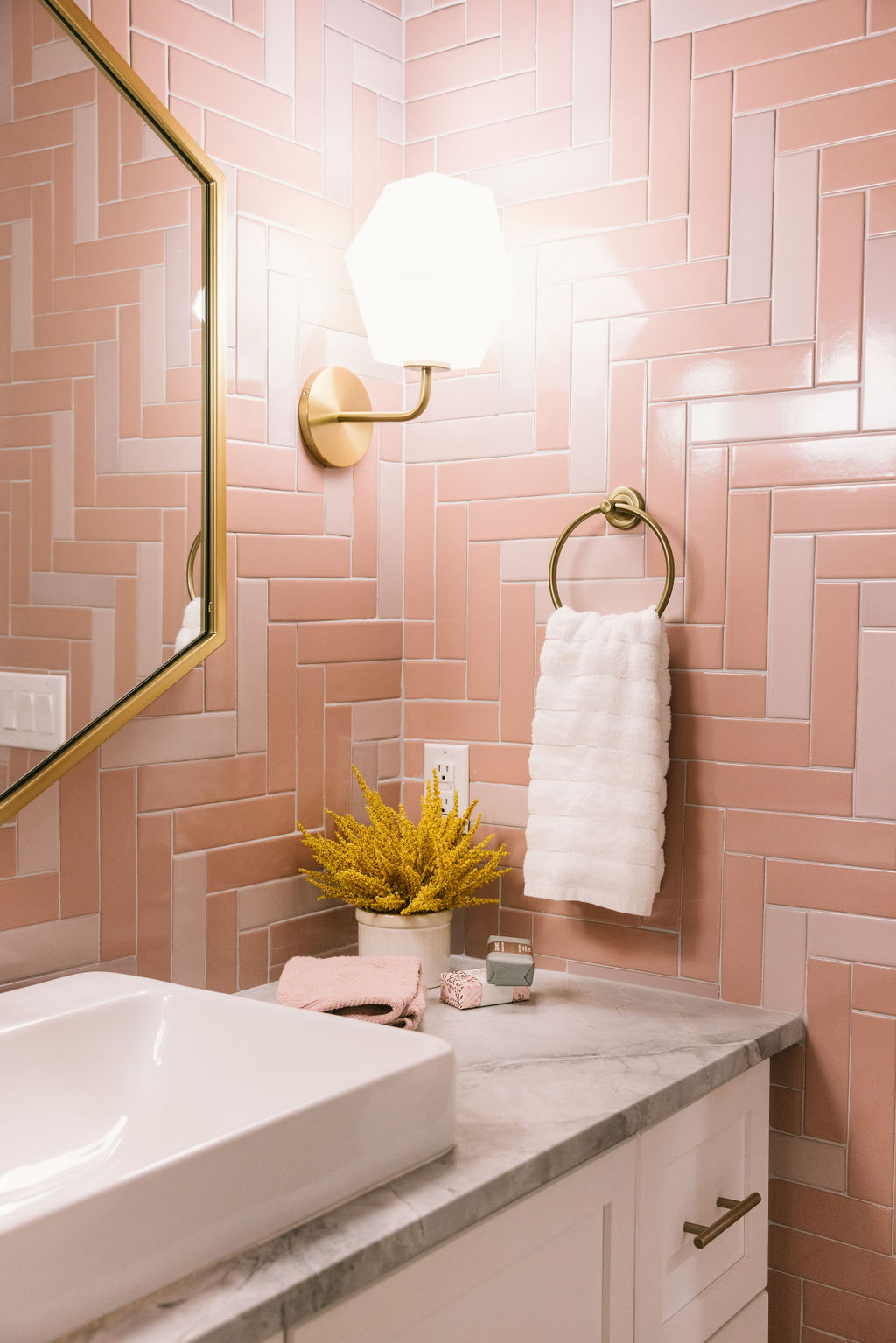 Achieving a Random Look with Different Color Tiles
It's so funny, but sometimes the only way for something to look truly random is for it to actually be random! We had the tile installer place everything in a section and then we would come through and make sure nothing looked off. We would swap a few tiles here and there and then move on with the next section and then grout.
The Installation Process

I can't recommend using a quality installer enough! We have had some nightmare situations where people had to come back 3 and 4 times to get it right. Also, always use grout release on your tile before grouting! It will help to keep the grout from staining the color of the actual tile. If you're worried about staining or cracking, epoxy grout is a grout for tiling that does not use portland cement or water in the mixing process. It features a hardener, pigments, epoxy resin, and silica fillers. Epoxy grout is less porous compared to the cementitious grout making it easier to clean! (For complete installation guide, see here!)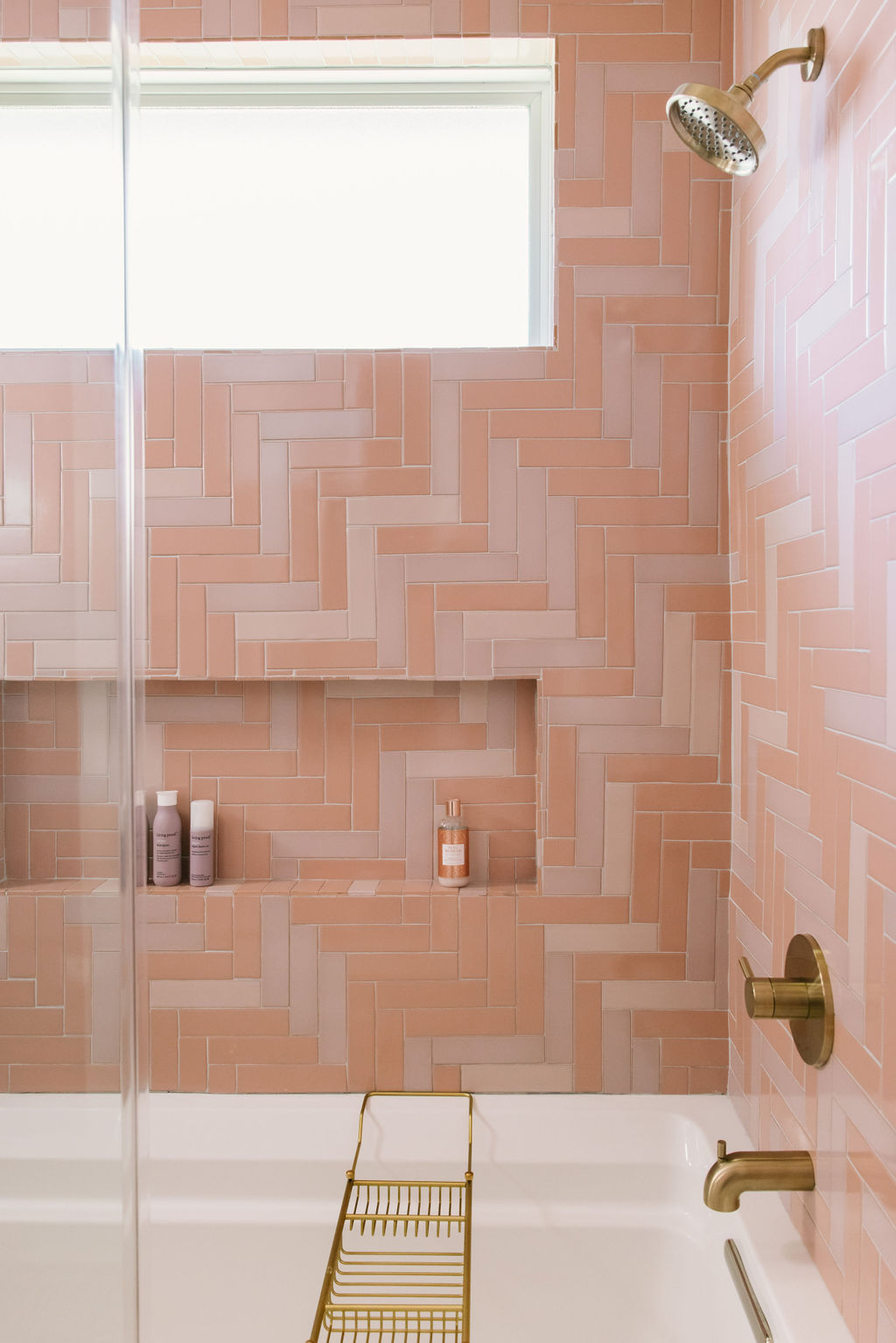 Tile colors used in this Modern Pink Bathroom:
Wall: 2x8 tiles in Mesa, Adobe and Painted Sky. Mesa was the dominant color. For every 4 Mesa tiles we used 1 Adobe and about the same to slightly less of Painted Sky. The grout is warm gray and brand is Prism.
Floor: 6x12 in Halite with Arctic White grout, Prism brand.
Photography by Katie Jameson