Where do I even begin?  It has been two weeks today since Parker made her very dramatic debut.  Since then, it feels like there was never a time she didn't exist.  Pregnancy seems so long ago and the only thing that feels relevant are these days spent with her now.  This is our first picture together.  After laboring for 34 hours and pushing for another 3.5, she finally made her way out into the world to be greeted by a room full of doctors from pediatrics, NICU, and labor and delivery.  When my water broke, they discovered that there was meconium in it and that she would need some immediate attention.  It's pretty common and for some reason didn't worry me too much.  I think I was rather out of it after laboring for two days with very little sleep, no food and an epidural that only worked on the left side of my body.  I didn't even know that was a possibility?!  She came out and wasn't crying-- which I was very aware of, but still some how I had this sense that everything was fine.  They immediately began sucking the meconium out of her system and got her breathing after 45 seconds and I got to hear that beautiful cry for the first time from across the room.  Before they whisked her away to NICU we got to have a couple of minutes of snuggles and time for this quick photo.  It was love at first site.

Aaron went with her to NICU and as soon as all of the doctors left my room I called up there to check on her.  "Guess how much she weighs?" is the first thing he says when he answers the phone.  Before I can even respond he bursts, "9 pounds and 3 ounces!".  I had a feeling from the very beginning of my pregnancy that she would be a big baby.  I was 9'1 and Aaron was 8 something.  My doctor assured me that she was average in size though and our 36 week ultrasound even confirmed that she was in the 49th percentile for weight. A mother's intuition > technology.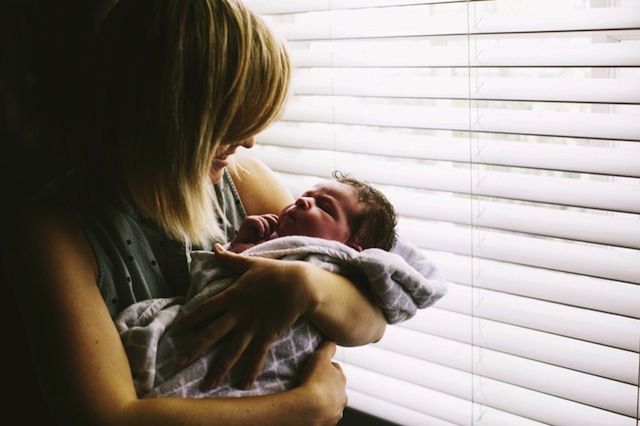 The next morning, when I could finally stand on my own two feet again, we went up to NICU to see her for the first time.  It was amazing.  She was doing so well.  She was off of oxygen and fluids by 9am that morning and back in our room with us by 7 that evening.  We were discharged the next night and finally arrived back home just in time for bed.
It was a pretty traumatic birth experience, but we ended up with one amazing gal.  She's a pretty great sleeper, for a newborn at least.  And when she is sleeping there is no waking her up.  We once vacuumed her room while Aaron drilled a hole in the wall in hopes that it would rouse her from her slumber and she didn't make a peep. She is also quite the eater.  I have a feeling I am going to lose years of my life to breastfeeding in the glider in her nursery.  She loves the carseat, a fortunate thing for parents of an LA baby.  She's not a huge fan of baths, but loves the part where we wash her hair.  She loves her crib-- it's her favorite place to sleep.  She also had a pretty fancy birth announcement which you can watch here.  We are doing great.  After two weeks, I am feeling so much better and she is growing like crazy.  My mom leaves tomorrow and I'm not sure who is going to be more sad, me or Parker?  I am so grateful for these 2+ weeks she has spent here with us.  Taking care of me and baby girl, making dinner, and even finishing up a landscaping project in our front yard.  I feel like that about covers the baby updates for now, though, I am sure there will be more as she grows.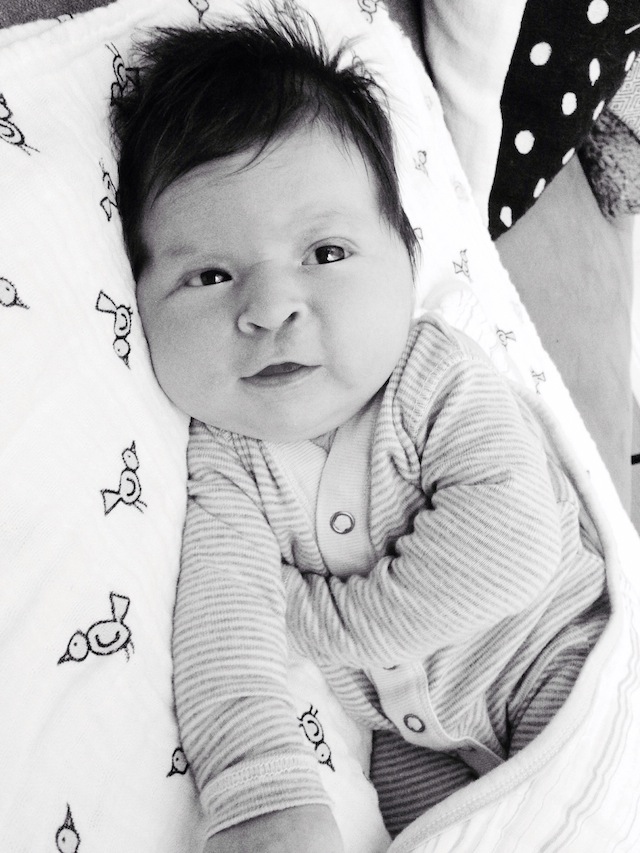 Oh, and this little smile?  It melts me.
All photos by Aaron Pinkston