I have always loved hosting the holidays, but, as Parker gets older, I'm finding myself looking forward to them even more!  My memories of Easter in Austin are all very fond-- egg hunting on my aunt's lawn with all of my cousins, a honey baked ham that seemed to never end, and plenty of chocolate for even the biggest sweet tooth!  Growing up, though, I couldn't wait to graduate to the adult table.  My entertaining goal in life is to make the kids table so much fun that the grown ups find themselves looking over with envy!  Not only are the fun and games entertaining for kids, but it buys the adults a little more time to enjoy the meal and good conversation while letting the kids be kids-- everybody wins!  Letting kids be kids is exactly why I love Hanna Andersson's clothing for Parker.  It's bright and fun and incredibly well made.  When I was growing up, Easter was all about a new frilly dress and white Easter sandals.  For this year's Easter party, though, I decided to let the kids choose their looks-- something comfortable that they would love and wear well beyond one egg-travagant Sunday!  Pops of color, pattern play, and fun layers galore!  (Not to mention shoes that I wish they made in my size!)  Keep reading for all of the details on this year's fashionable Easter bash!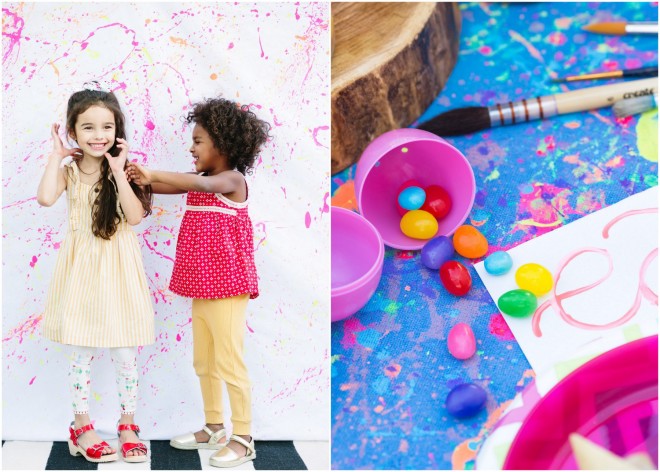 What You'll Need:
-canvas drop cloth for table cloth
-flat sheet for photo backdrop
-5 x 7 card stock (as many pieces as you have kids)
-paint brushes (at least as many as you have kids)
-washable paint in individual sizes
-3 glass jars for jelly beans and flowers
-plastic easter eggs-- can be used for fruit, snacks, or paint!
-an empty egg carton or cartons to hold plastic egg halves
-wildflowers-- the brighter and wilder, the better!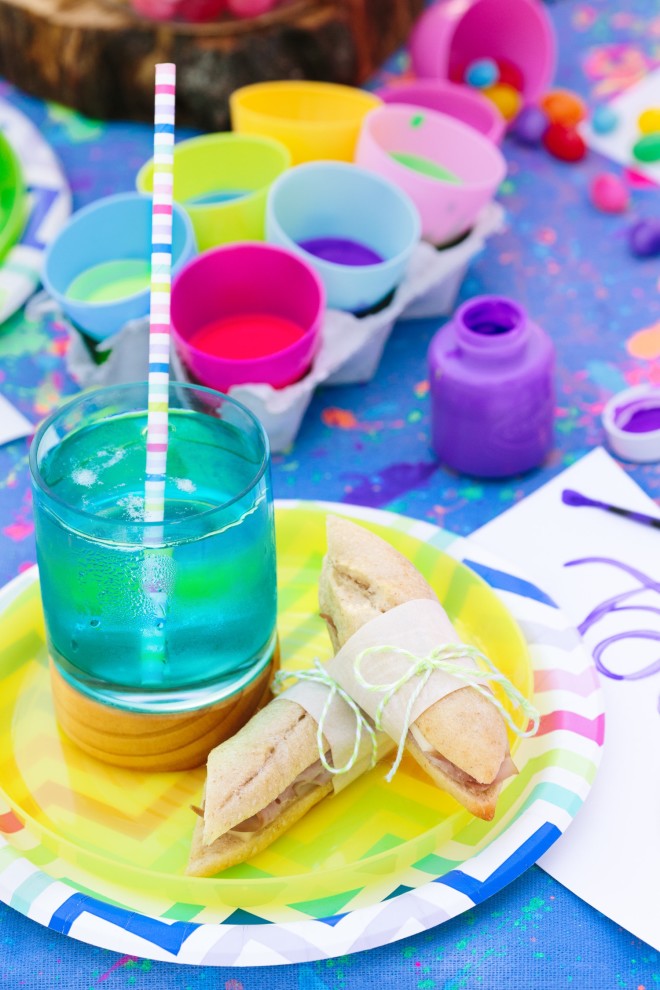 Personally, I love making finger foods for kids. Less silverware to wash and more free hands for painting their place cards! I made the mini croque monseiurs by using mini baguettes from Trader Joe's, honey baked ham slices, and mozzarella cheese. I brushed both sides of the bread slices with rosemary olive oil and topped each with a sprinkling of pink himalayan sea salt. It's Easter in sandwich form!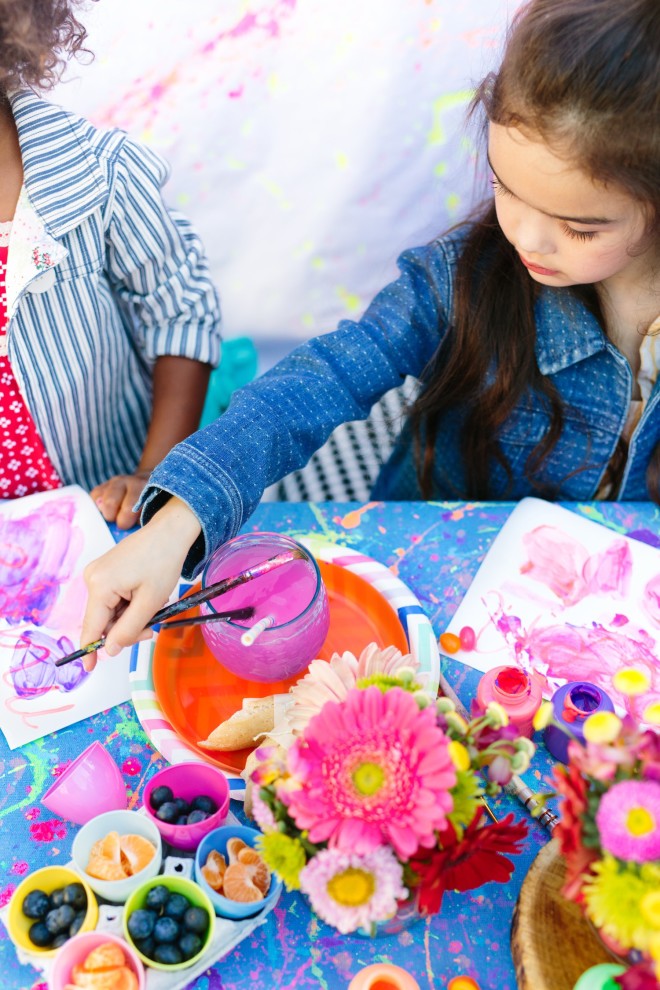 When it comes to choosing kids clothes, I love pieces that can mix and match with ease. Just about every pair of leggings and pants could have been swapped with each of the different dresses and tops. Same went for the shoes! The girls were trading pairs until they each found their favorite! My only regret is that the railroad jacket doesn't come in my size! The floral lining is everything!
Our prop stylist, Corrie, who has three daughters remarked that the Hanna Andersson clothes were often the only ones she could pass down as hand me downs because they were always still in such great condition. It's true! Parker has pajamas that she has been wearing for over a year and they still look brand new! Hannas always stand the test of time, dirt, paint splatter and multiple washes-- which are inevitable since they're usually Parker's favorites! Here's how we created the tablescape: (The good news is you probably already have a lot of these things at home!)
What are your plans for the holiday? I hope you'll share your own epic Easter kids tables and tag us in them!
On Macy: fun footless capri tights, it's a playdress it's a daydress, gerda glitter sneakers, bow headband
On Kyleena: fun footless capri tights, ruffle love dress, swedish sandal clogs, bunny bow scrunchie
On Truly: ribbed cropped pant, swedest slipover top, paulina espadrille
On Eden: so soft chambray pants, popover and play top in chambray, swedish clogs
On Tristan: supersoft polo, straight leg twills, flip flops
On Maxwell: all play sweatshirt, wind at your back anorak, win win chambray shorts, Nils Chukkas
Photography by Mary Costa
Creative Direction by Jen Pinkston
Set Design by Erin Miller Williams
Prop Styling by Corrie Sullivan
Wardrobe Styling by Kat Garner
This post was sponsored by Hanna Andersson.  One of my favorite places to shop for Parker!  I can't recommend their clothing enough!  Thanks for supporting the brands that support this site.