03/23/2018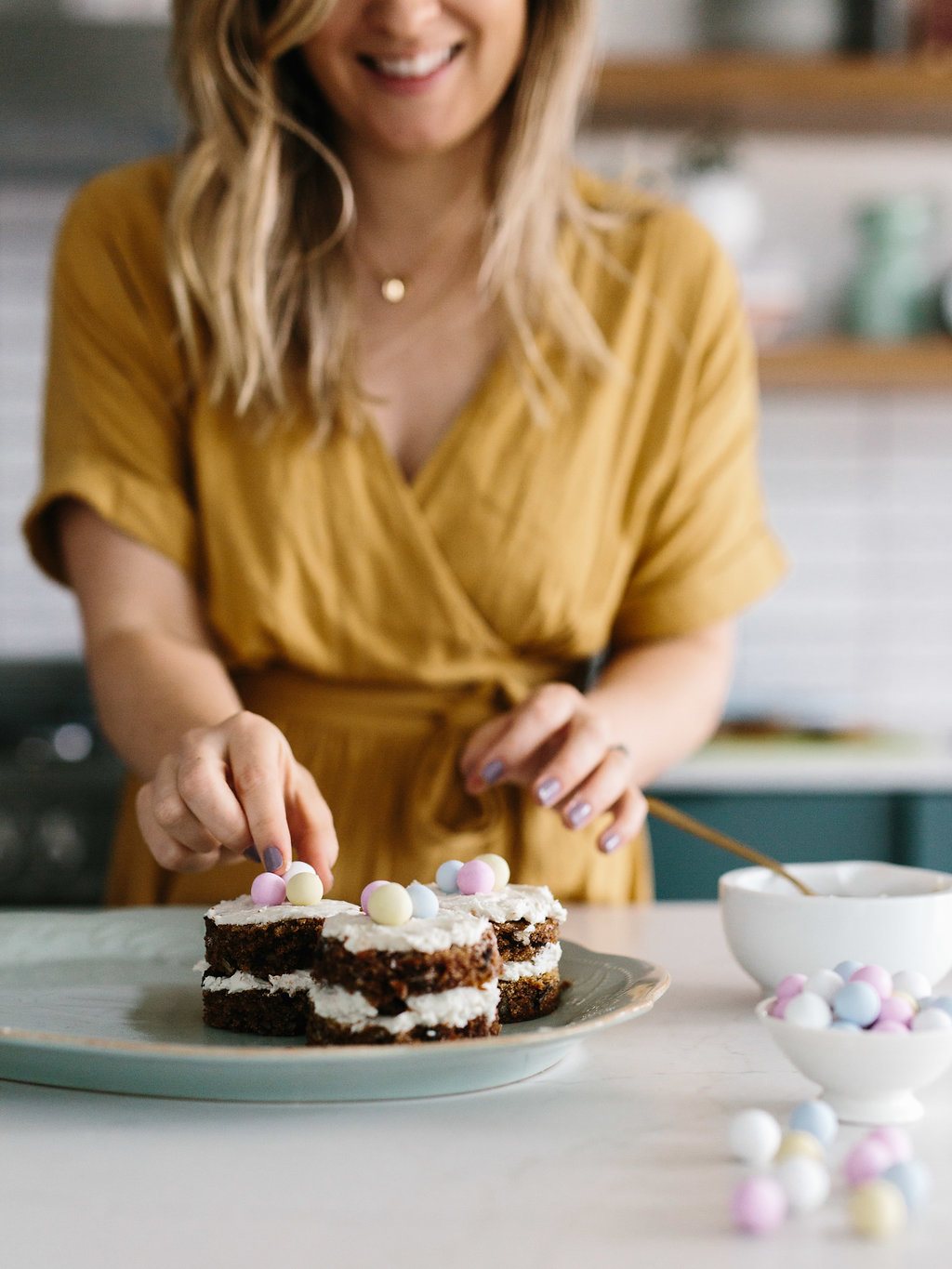 I'm not sure how things are feeling in your backyard, but here in Austin it's safe to say that spring has sprung! I went from cozying up to a heat lamp outside at a dinner party to storing all of my coats upstairs in Ever's closet in a matter of days.  We celebrated the recent warmer temperatures with a day trip to the lake house last weekend and I've been feeling this spring season ever since!  With Easter just a little over a week away, I figured it was time to break out some new baking recipes, too. (You guys, I seriously just got over my pumpkin bread kick. I was obsessed. I baked so many loaves of pumpkin bread, trying new ingredients every time until I perfected the recipe and very oddly never posted it here! Check back in September for that one maybe?!)  Anyways, today's recipe is super fun for a lot of reasons. Reason #1: It's really easy and hard to mess up.  This is Junior Varsity cake baking y'all so no need for fancy supplies or a plethora of skills  Reason #2: It makes nine mini naked layer cakes so you can let each of the kids partake in the decorating if you wish!  Reason #3: I've teamed up with some of my favorite blogger pals to share our favorite Easter recipes and projects so be sure to hop over (pun intended) and check out those posts too:
Freutcake || Julie Blanner || Inspired by Charm || The Sweetest Occasion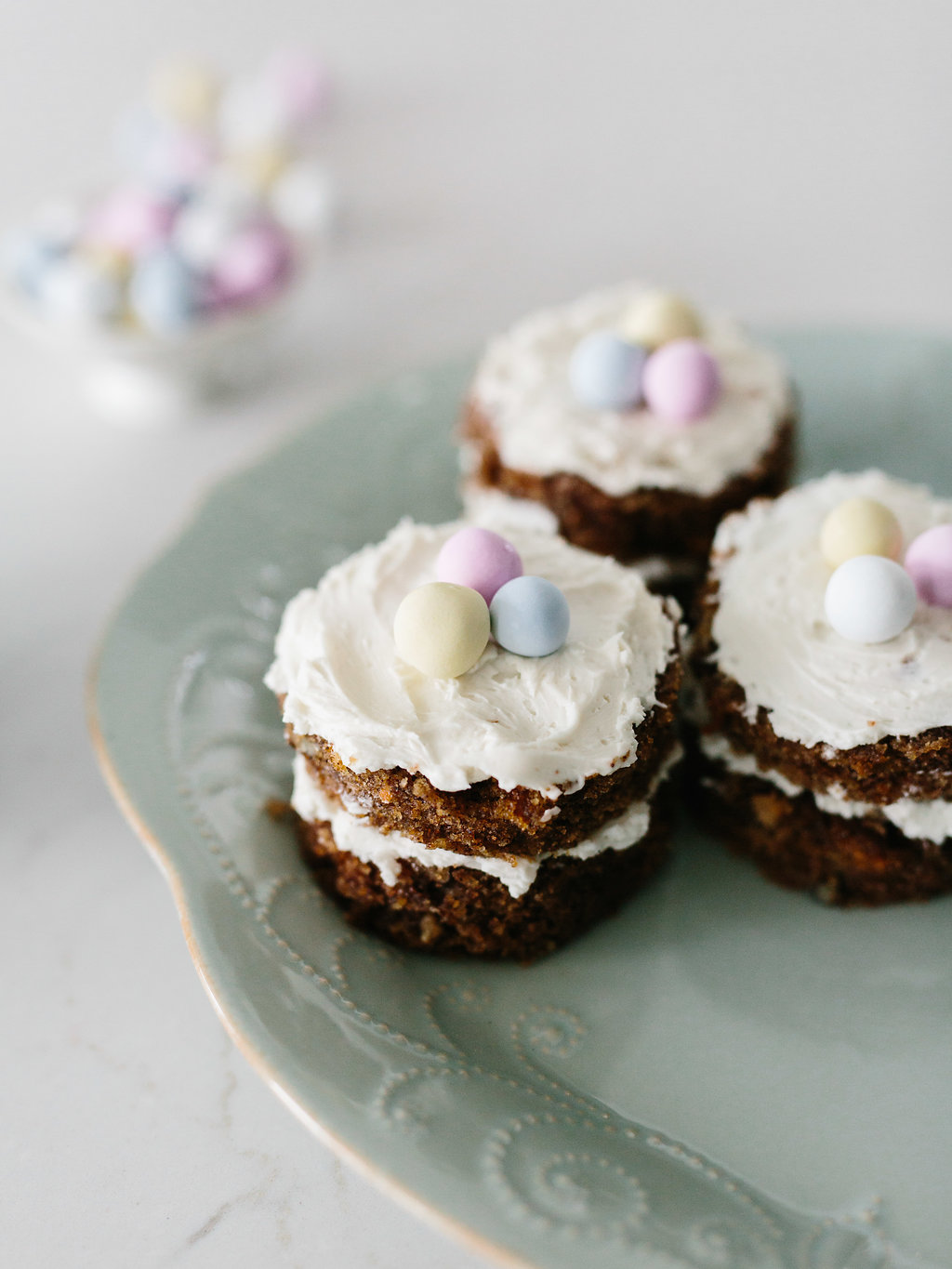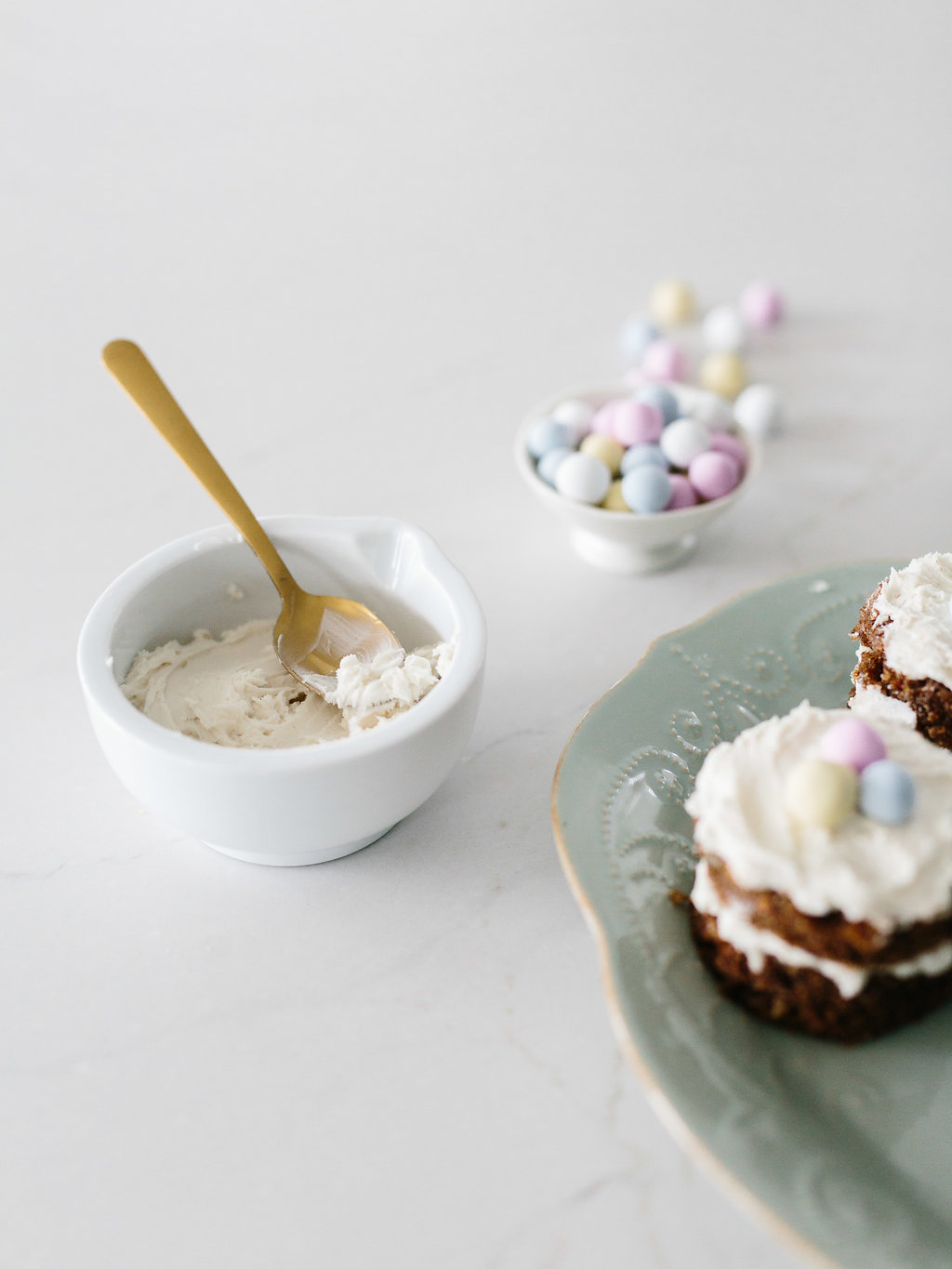 Print
Mini Easter Naked Layer Carrot Cakes
Author:

Prep Time:

30 minutes

Cook Time:

50 minutes

Total Time:

1 hour 20 minutes

Yield:

9 mini cakes

Category:

Desserts
---
Ingredients
for the icing:
---
Instructions
For the cake:
Preheat oven to 300 degrees F.
In a mixing bowl, mix sugar, vegetable oil, and eggs. In another bowl, sift together flour, baking soda, salt, and cinnamon. Fold dry ingredients into wet mixture and blend well. Fold in carrots and chopped nuts until well blended. Distribute batter evenly into 3 (9-inch) oiled cake pans. Place in preheated oven and bake for 50 to 60 minutes. Cool layers in pans, for approximately 1 hour before removing.  To remove layers from baking pan, turn upside down, tap edge of pan on a hard surface.
For the frosting:
In a suitable bowl of large mixer, place powdered sugar, cream cheese, vanilla, and butter. Beat at medium speed until thoroughly blended.
For the assembly:
Using a bread knife, carefully cut each cake across the middle making two complete circles, instead of one. Once you have done this to all three cakes, you will have 6 full circles that are half their original height.  Using a 3″ circle cookie cutter, cut out three circles from each cake.
Assemble on a serving platter, icing each layer in the middle and topping with a generous heap of icing. You can garnish with candy, sprinkles, coconut or any topping of your choosing.
---
Photography by Katie Jameson