07/05/2017
Are you dying over this braid like we are?!  Here's the back story:  Back in April, Britt and I were styling a lookbook shoot on what ended up being a very hot day in San Antonio, Texas (where very hot days are, of course, the norm), when Mel Dominguez who was doing the hair on set decided to help a sister out and braid Britt's hair to get it off of her back.   The result after a mere two minutes of twisting and pulling and securing with a hair tie? This mermaid braid that we were all dying over! It is seriously so much easier than that picture makes it look and such an effortless way to pull your hair back this summer without looking like you tried too hard.  Keep reading for the full tutorial… and, yes, we all have hair envy too over Ashley's gorgeous brunette locks!
Mermaid Braid Hair Tutorial
1. Section hair in a tear drop on crown of head and secure this section with a ponytail.
2. Pinch and pull the hair on top of the rubber band to give it texture, so that it's not super slicked back to your head.
3. Braid the ponytail into a simple three strand braid and rubber band at the bottom. (The point is to hide the three strand braid and tuck the hair into that braid.)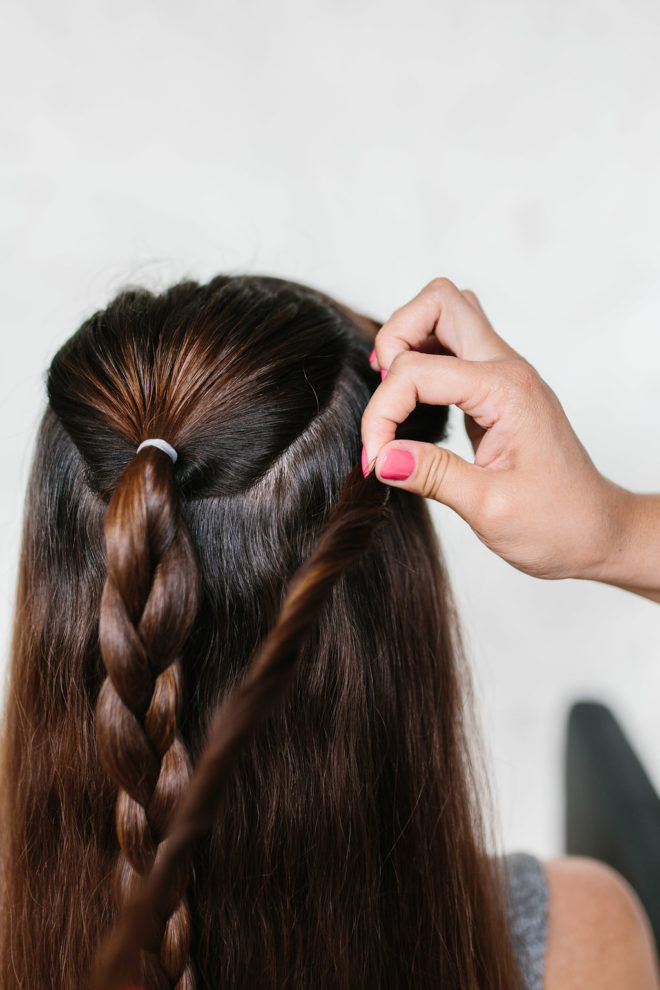 Mermaid Braid Hair Tutorial (continued)
4. Section off a small piece of hair from the front of your face, twist it as shown in the above image and then tucking the twisted piece into the simple braid, holding the twist at the end with your fingers, no need to secure with a rubberband.  (To add texture, pinch and pull pieces of hair out of the twist before tucking which will give it a messier look.)
Mermaid Braid Hair Tutorial (continued)
5. Repeat on the opposite side and then continue until all of the hair has been twisted and tucked into the braid.  On Ashley's hair, this meant a total of three twists on each side.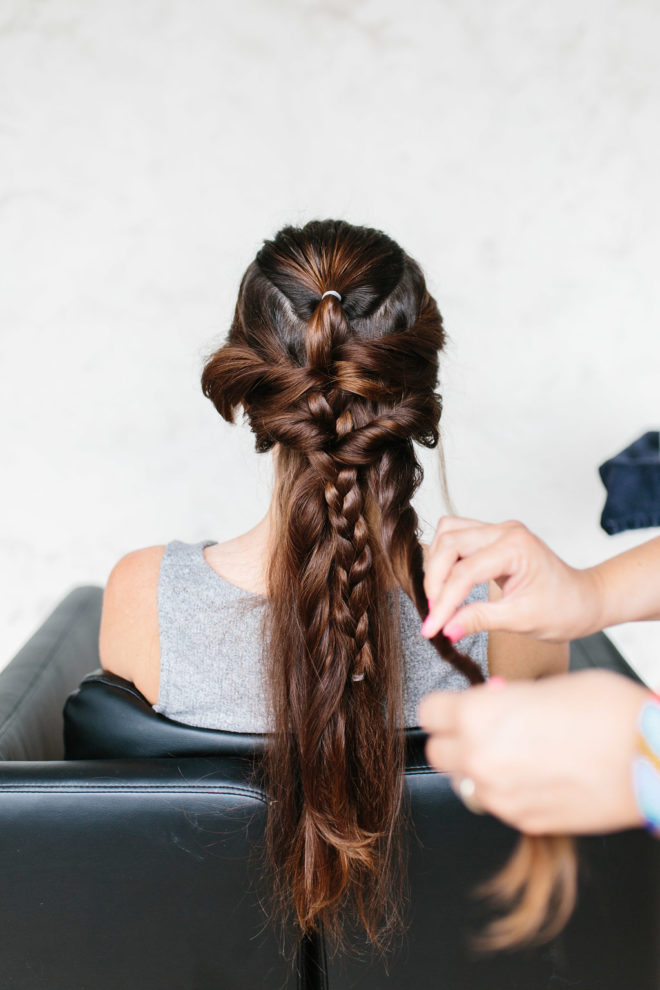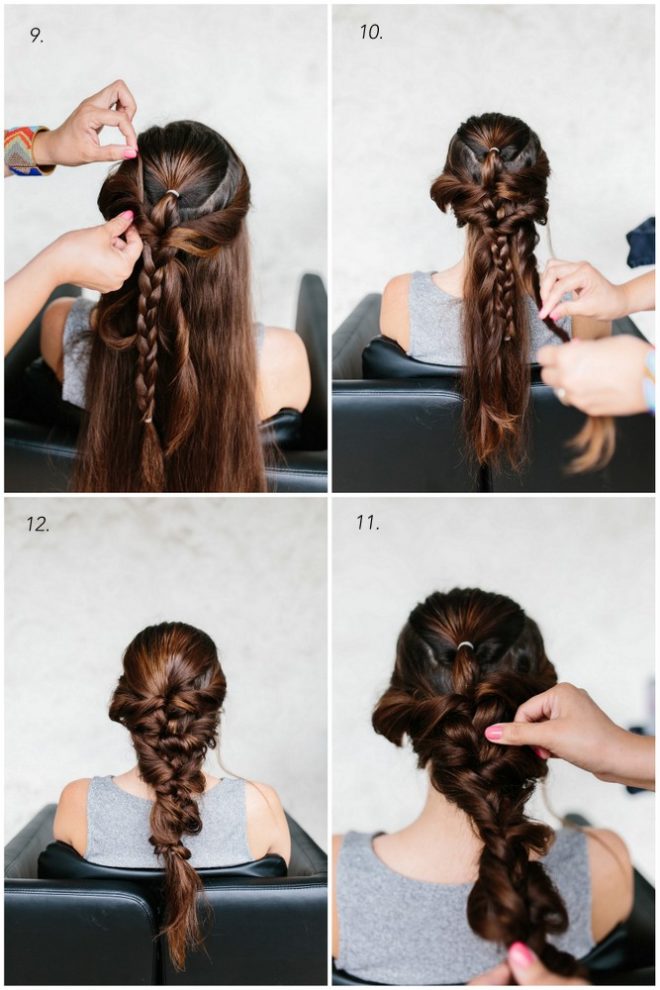 Mermaid Braid Hair Tutorial (continued)
6. When done, pinch, pull upwards, and fan outwards to distress the braid.
7. Back comb the end of the braid below the pony tail holder to add texture.
8. Lastly, cut out elastic holding braid together on top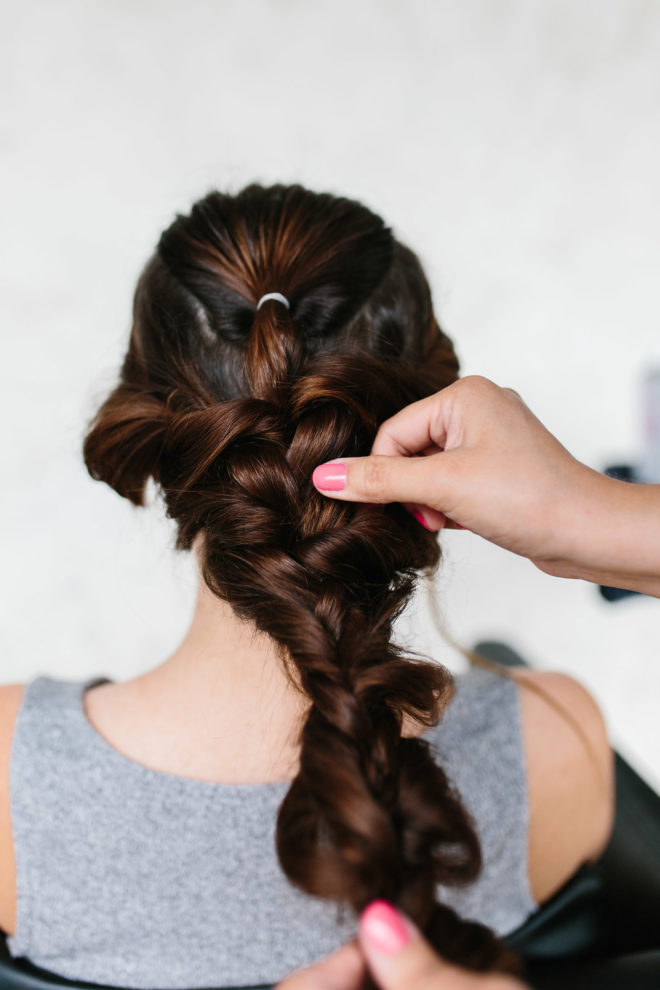 Photography by Katie Jameson
Mermaid Braid Tutorial by Mel Dominguez (To book an appointment with Mel, email BookWithMelD@gmail.com)
(Click here for more hair tutorials we love!)