07/13/2017
We celebrated 34 weeks of being pregnant with this babe yesterday which seemed like as good a reason as any for a maternity style walk down memory lane.  My style has changed sooooo much since my pregnancy with Parker!   I don't want an empire waist, I don't want ruching on the sides of my clothes, and I don't want anything clingy… it is 100 degrees and humid, after all.  What I have really enjoyed, though, is that I feel like I've been able to maintain my pre-baby style throughout the pregnancy.  I've lived in dresses like this one, this one, and this one. (Thanks fashion universe for the billowy silhouettes and chunky low heels.)  While there are so many things that I won't miss about being pregnant, there is something pretty special about this time, knowing that the final member of our family is growing inside of me and with me wherever we go.  I'm sharing tips for putting together a maternity capsule wardrobe that fits your style and makes getting dressed a breeze below, but first a little stroll down memory lane…  (And most of it is actually not maternity, so no need to be with child.)
Bracelets, Noonday Collection || Sunglasses, Loft || Top, Loft || Jeans, Paige Maternity (Same style, different wash + Non Maternity version Here) || Shoes, Swedish Hasbeens
dress, Trove (For free shipping just enter EffortlessChic at checkout)|| sandals, Coach (similar + similar) || bag, Kayu St. Tropez Tote (in yellow)|| tassel bracelet, Natalie Borton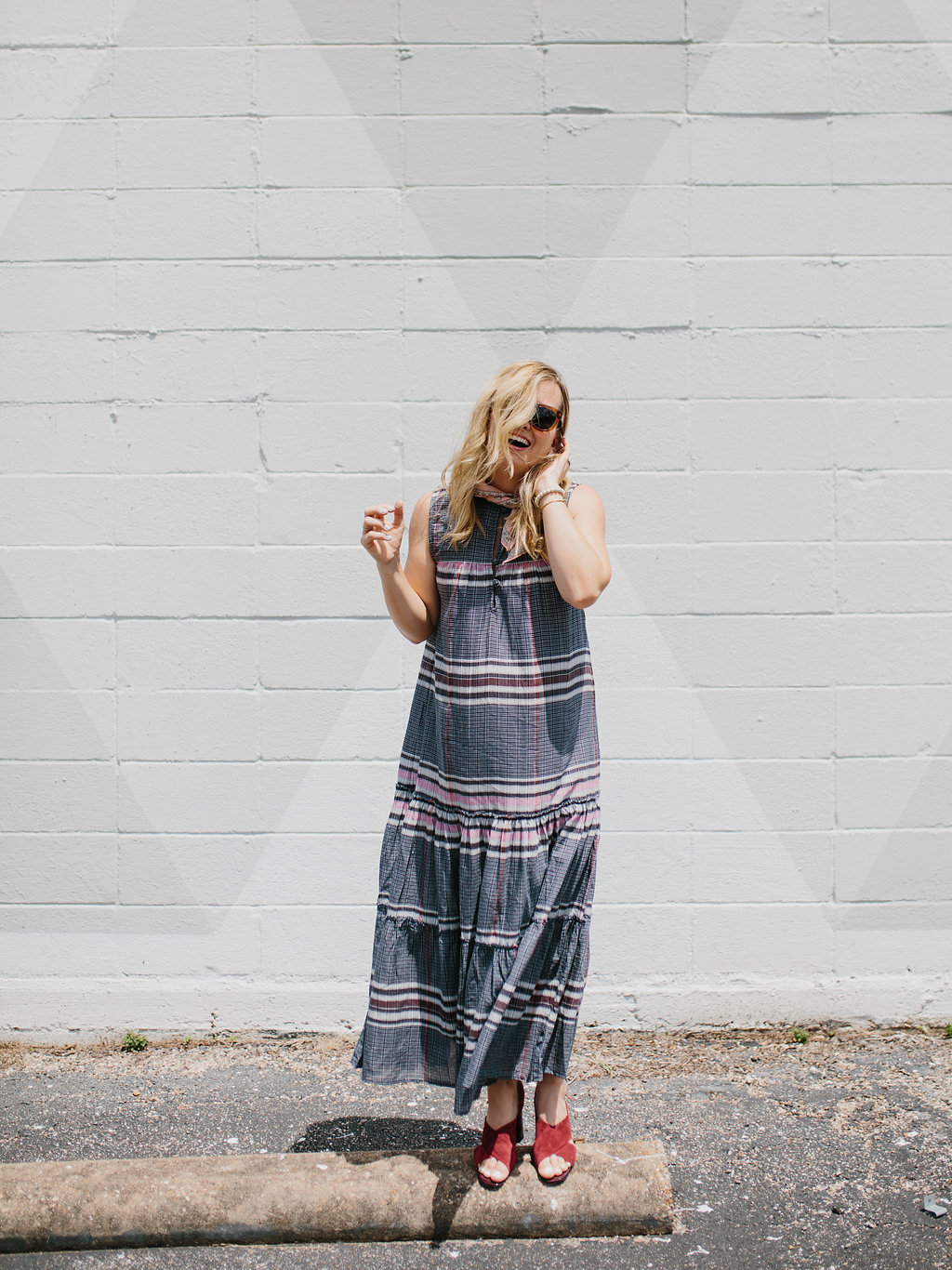 Dress, Apiece Apart || Heels, Kate Spade || Sunglasses, Warby Parker || Neck Scarf, Madewell || Tassel Bracelet, Natalie Borton
(A black dress is a maternity capsule wardrobe must!) Dress, Who What Wear for Target || Hat, Madewell (similar) || Necklace, Noonday Collection || Sunnies, Warby Parker || Espadrilles, Anthropologie (Similar) ||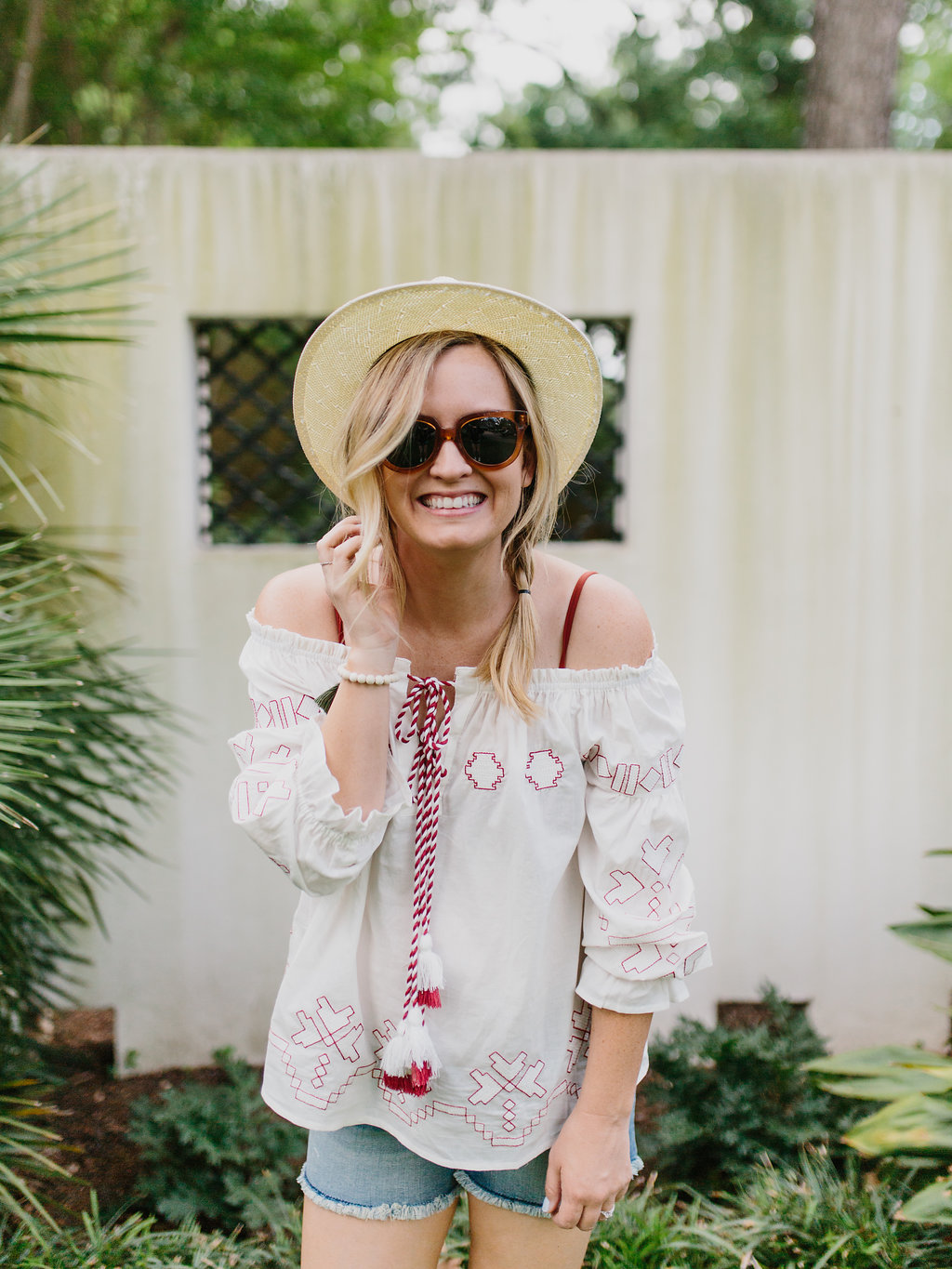 top, Anthropologie || shorts, Target || hat, Madewell (similar + similar) || shoes, Twist & Tango (from Stockholm)|| bracelet, Natalie Borton || swim top, J. Crew || sunnies, Warby Parker
Begin to create your maternity capsule wardrobe by making space in an extra closet or dresser or investing in some under the bed storage bags for things that you won't be needing any time soon.  If it doesn't fit, it gets stored away.  In the beginning a lot of your current wardrobe will still work. (Bras and jeans are usually the first things that you grow out of.)  As you grow, though, don't over complicate things by leaving garments hanging that you can't wear anyways.
Don't wait until the last minute to buy something. You're going to need maternity jeans.  Rather than forcing yourself into your pre-pregnancy skinny jeans or opting for the rubberband trick, invest in a great pair of maternity jeans! You'll be much more comfortable and you'll end up getting more use out of them.
You don't have to shop strictly maternity. Look for looser fitting dresses and longer tops that you can wear now and later. You can also wear longer midi or maxi skirts up high on top of your bump.  85% of what I have been wearing this pregnancy isn't maternity and I love that I'll keep wearing most the pieces after baby, too.
If you intend to breastfeed your babe, look for pieces that you can wear now but will also accommodate that phase as well.  I remember being so excited to wear all of my summer dresses after giving birth to Parker in April and then realizing how impractical most dresses are for breast feeding when I was sitting in a nursing room at The Grove in only my undies.  Dresses that have a looser fit or are stretchy with a scooped neckline usually work or dresses with a couple of buttons at the top like this one.
A couple of extra long tanks go a long way.  You can layer them under tops that are borderline too short
Keep in mind, your maternity capsule wardrobe will look different depending on your due date, the weather where you live, and what your professional dress code looks like.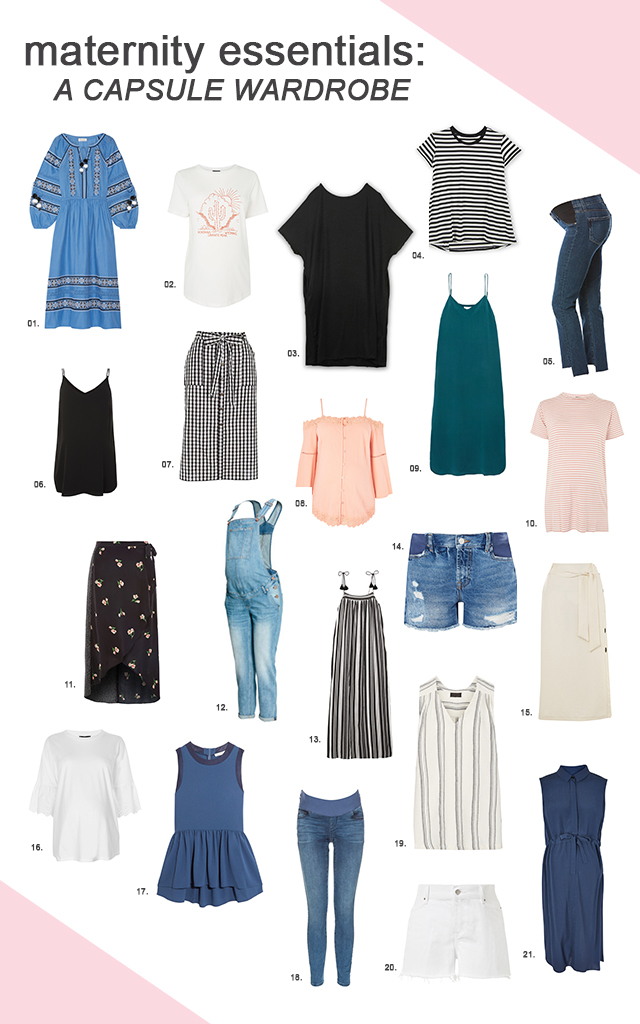 01. || 02. || 03. || 04. || 05. || 06. || 07. || 08. || 09. || 10. || 11. || 12. || 13. || 14. || 15. || 16. || 17. || 18. || 19. || 20. || 21.
(For all recent outfits, see here!)