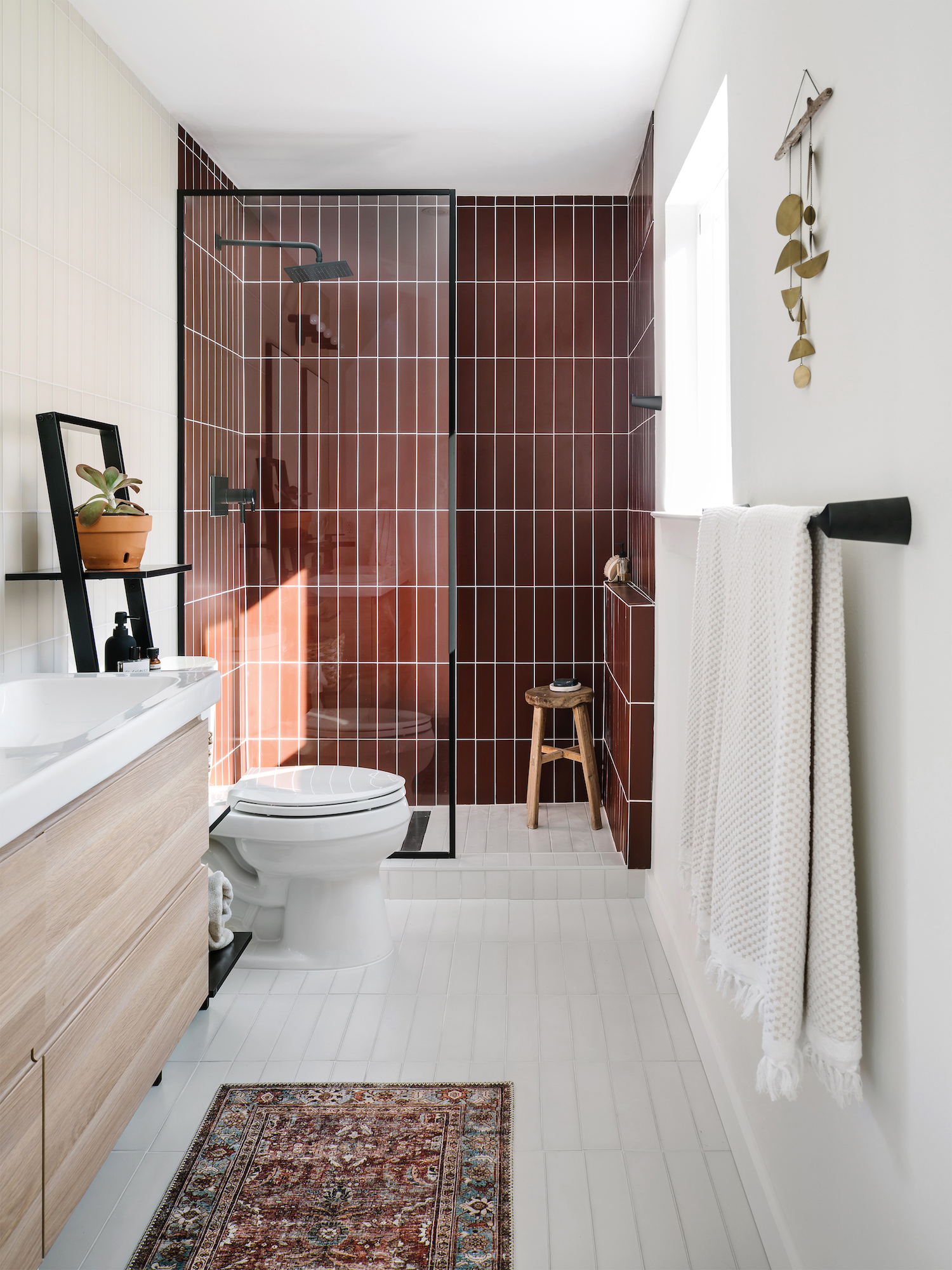 Before we jump into shower heads, tile selections and all things master bathroom remodel, I (Lauren) feel some background is necessary. In November of 2018, Chase and I bought our second fixer upper home (Yes, we may in fact be crazy). You can see a tour of our first home here. After quite a few months of casually house shopping, a 1970's house in a great location came up and we couldn't not go for it. It just had too much potential. In Austin the process of buying a home goes a little something like this: a house lists on Friday, you see it Saturday, bids are due by Sunday evening--and most bids are over asking price. It's an insane market, so it was a quick decision and a risk because it needed a lot of work (aka- full cosmetic remodel). Plus, we would have to list and sell our home.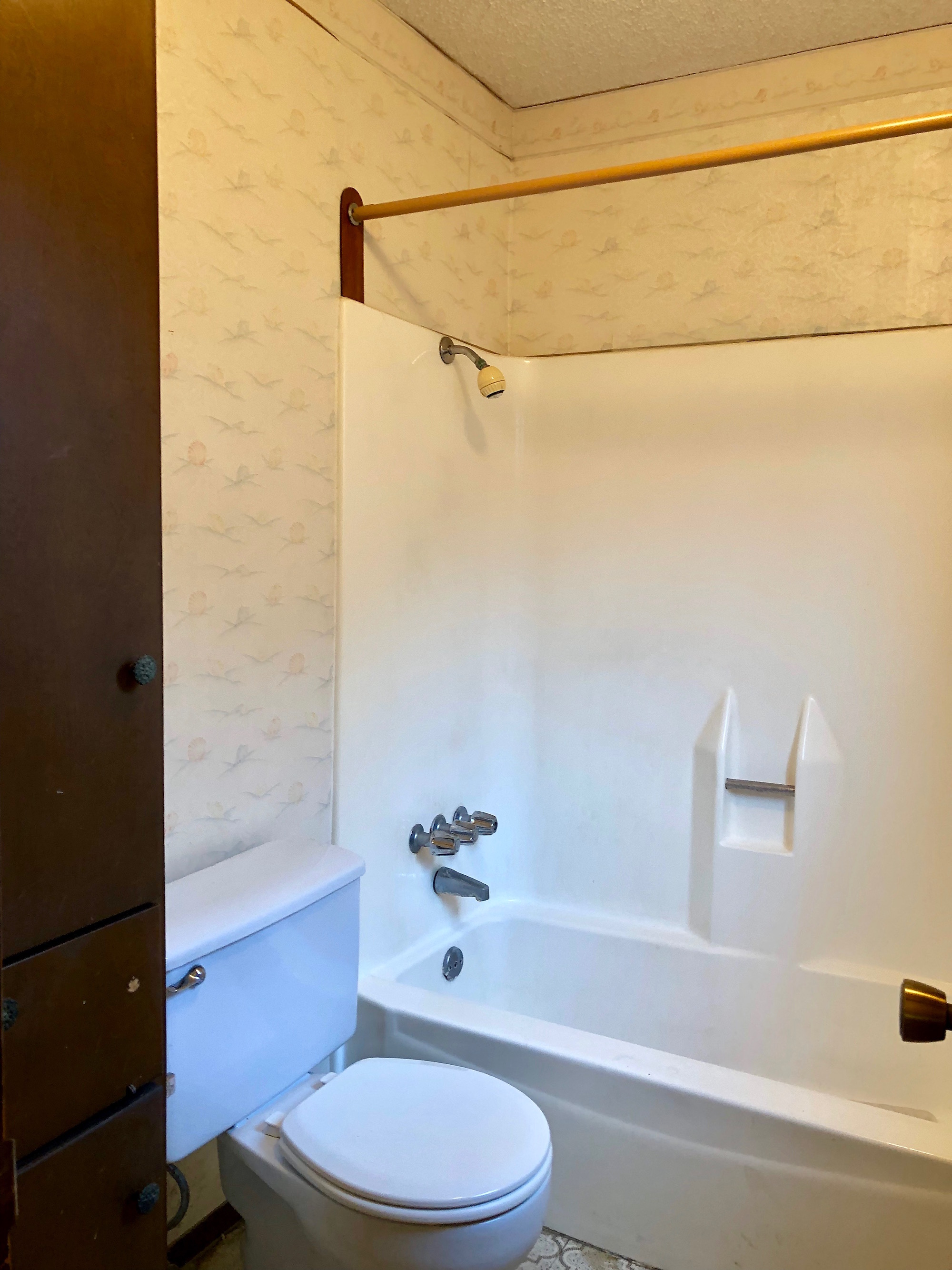 But when you know, you know. This house felt like our foreseeable future home. (I try to stay away from things like "forever home" because life is full of variables and circumstances that can't be predicted.) It was larger than our current home and in an incredible neighborhood-- it's across the street from the sweetest neighborhood park. Most importantly, the bones were there for an incredible home. We took the plunge and here we are four months later and it's feeling less like a work-in-progress and more like our home.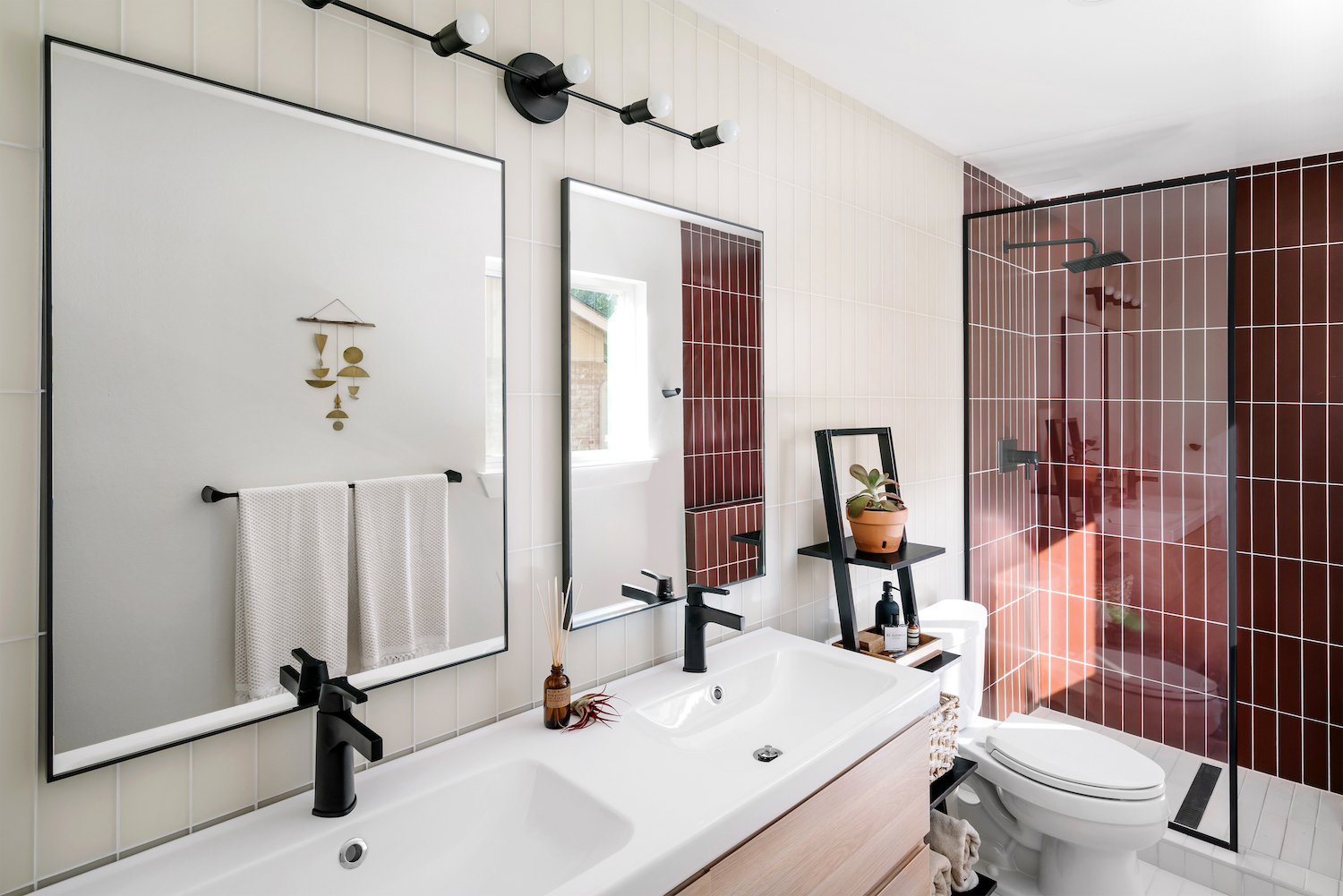 PS. This reveal is just the beginning! We look forward to sharing a few glimpses into the before and afters of this quaint abode. We will do our best to walk you through what it's like to see a house for what it could be, not for what it currently is: popcorn ceilings and awkward layouts. Besides a good room tour, I'll do my best to share more about how we made decisions to move out of construction mode as quickly as possible.
It feels a little odd to be starting our home reveal with the master bathroom, mostly because it is the room that has taken the longest to finish. We have been using only our hall bathroom up until a couple of weeks ago. I feel like we made decisions about this bathroom quickly but the process of waiting for product to come in, getting the plumbing, tiling, fixtures, and all that fun stuff finished was more time consuming than we anticipated. I will say now though, it was worth the wait. The direction of this bathroom was modern and clean with a splash of bold. This home as a whole carries a warm, modern vibe as we were making those major household design decisions, I think this bathroom was naturally born from that headspace.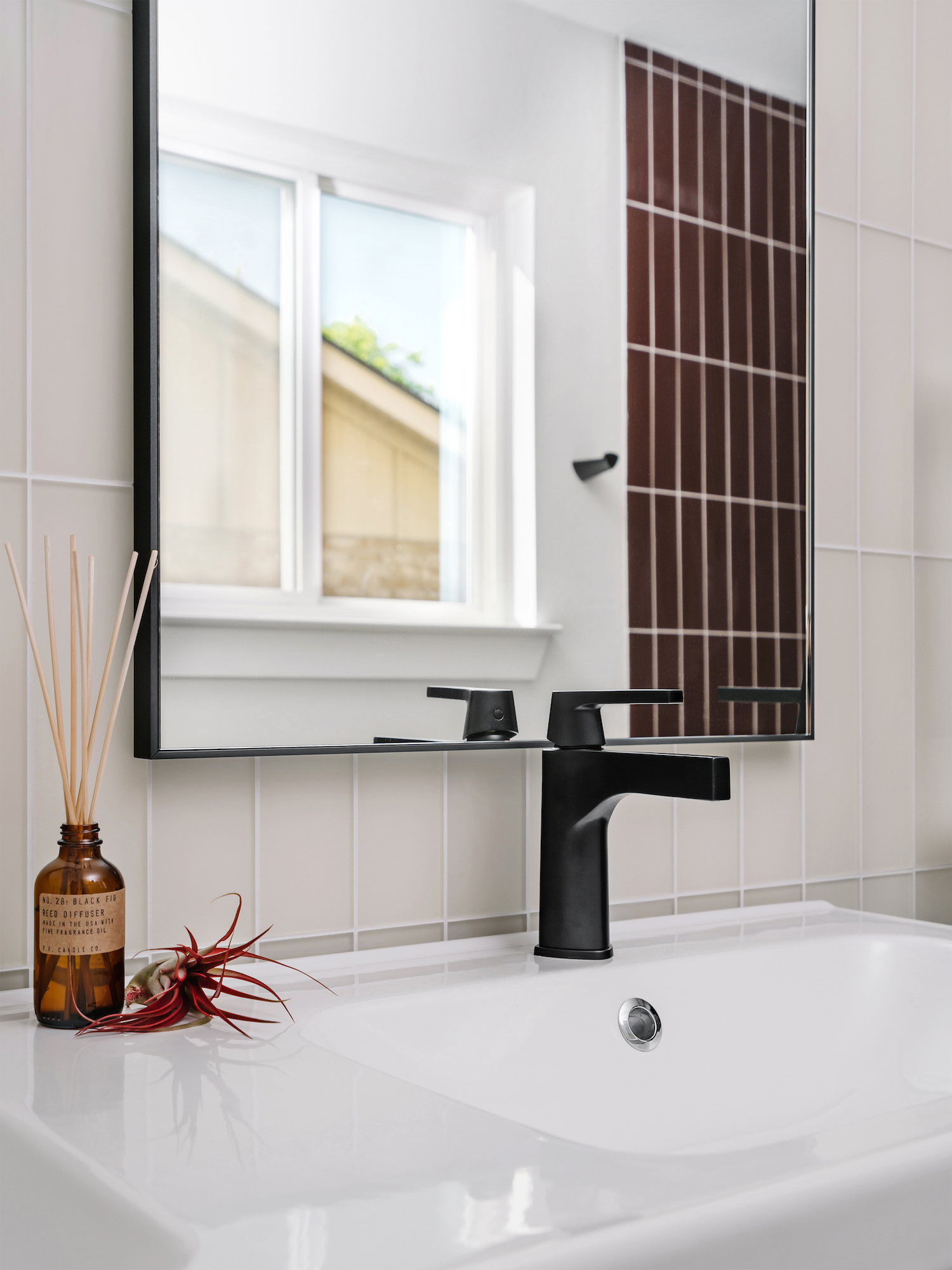 The old layout of this master bathroom had a wall and door separating the vanity and the shower/toilet area. There was also a small cabinet storage next to the toilet. We removed the wall and cabinet and, well, basically everything else. Next we framed out a door, this helped it feel a lot less 70's. Though it's not huge, we used some large mirrors to help the space feel bigger than it is.
We mixed two Delta Faucet collections to get our ideal look for the fixtures. For a bold feel, we went with the Matte Black finish. The Zura Single Handle Bathroom Faucet perfectly captures a contemporary and geometric look. As a complement, we also chose these towel hooks and towel bar. We love their modern, clean feel.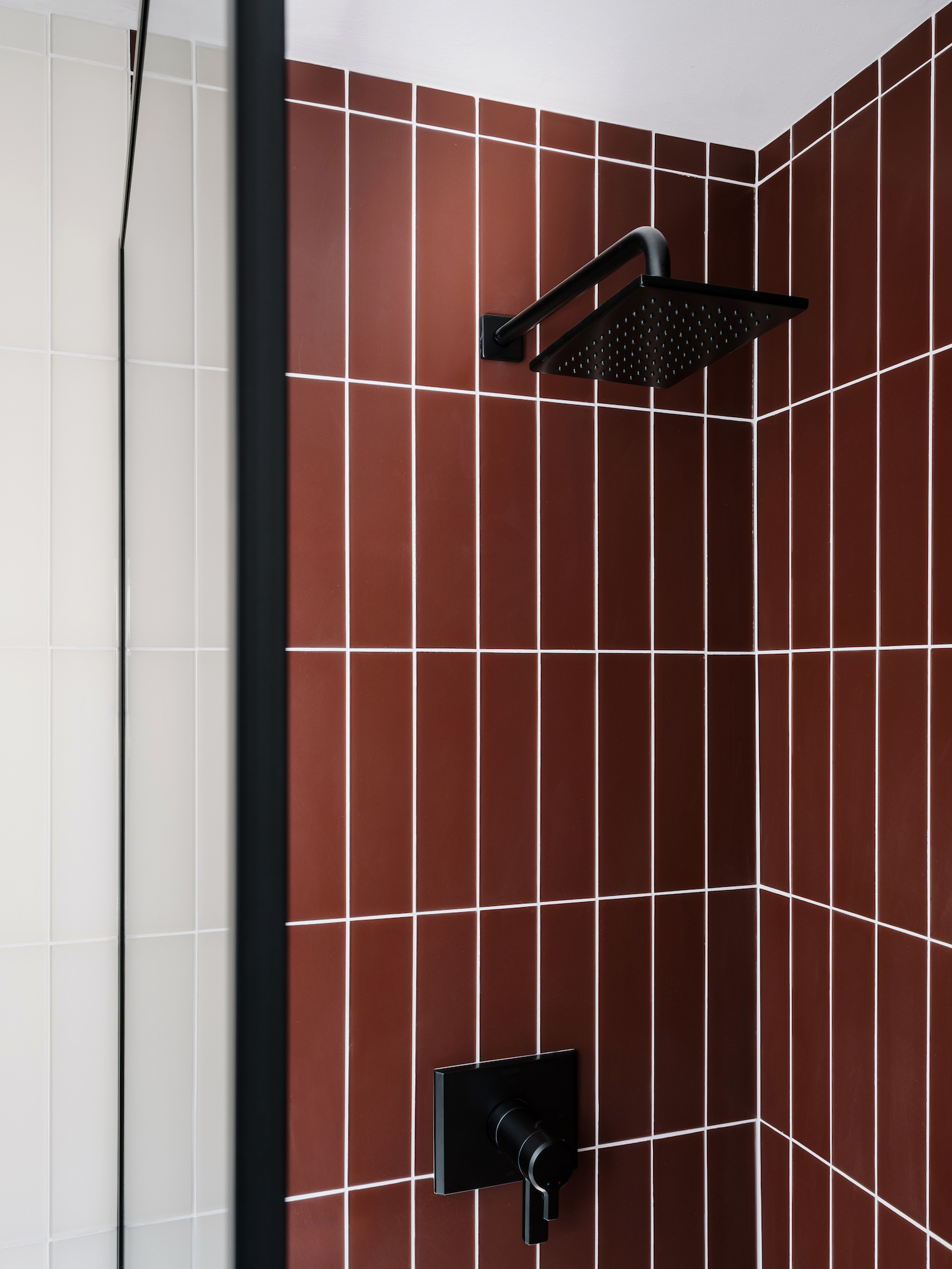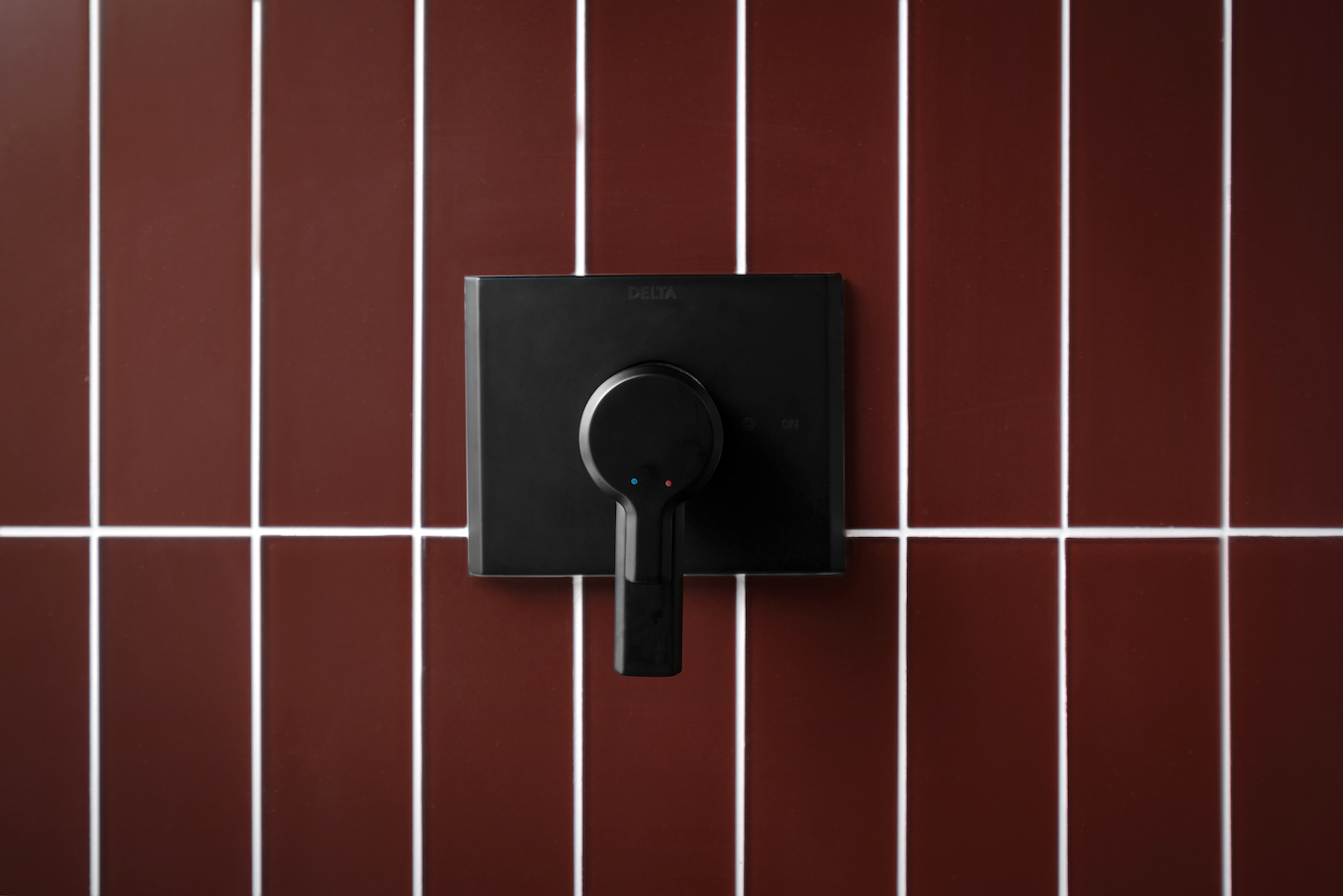 The shower trim from Delta is really striking. Since we knew we would do a glass enclosure, we wanted the shower fixture to it make a strong statement, which the raincan definitely does. Plus, the handle has this cool feature where you can turn a separate handle to set the water to the temperature you like (extra hot, please), so next time you get in there's no working to find that magic spot, you just climb in and it's already at your perfect temp. I mean, whoa. I also love this product because the H2Okinetic shower head controls the speed, movement and droplet size of the water, so it feels like more water without using more water.
We knew for sure we wanted to use Fireclay Tile. Our last bathroom featured their incredible hand glazed triangle tiles in these gorgeous warm greens. That was the first time I asked myself if it was okay to love a bathroom, now I know for sure it's okay because I love this one too. Fireclay just launched these incredible glass tiles, which are available in glossy and matte and we immediately fell in love with the matte glass. Like our old bathroom, we wanted some color. We tend to lean very neutral in our pallette choices but we also feel like a bathroom is the place you can have a little fun. So with a deep breath and fingers crossed we went for a bold color called Pheasant in the shower. The color is like the perfect cross between a deep burgandy and a rich rust. It is gorgeous. We complimented it with a floor to ceiling creamy white matte glass tile called Sparrow on the wall. For the floor we went with a simple white (Halite) ceramic tile. Since it's not a huge bathroom we used a vertical stack bond pattern with 3"x12" tiles to trick the eye into seeing long lines.
The vanity decision was an easy one, we loved our Ikea vanity from our last house, so we went with almost the same model, just a larger one since there was more room in this bathroom. And instead of the sleek white, we went with a wood veneer to add some warmth to the space. This is a really good example of an easy decision when working with a fixer upper. Sort like the cliche "if it's broke don't fix it", if you love something about the space you're in now, make note and carry it to your next place. We had so many decisions to make on this house, if I could make it easier, I did!
There's not a lot of decor to add to a bathroom but sometimes the little details are key and the rug is that for me. This Loloi rug perfectly brought the tile color to a central place in the bathroom. I absolutely love the rich colors and vintage feel.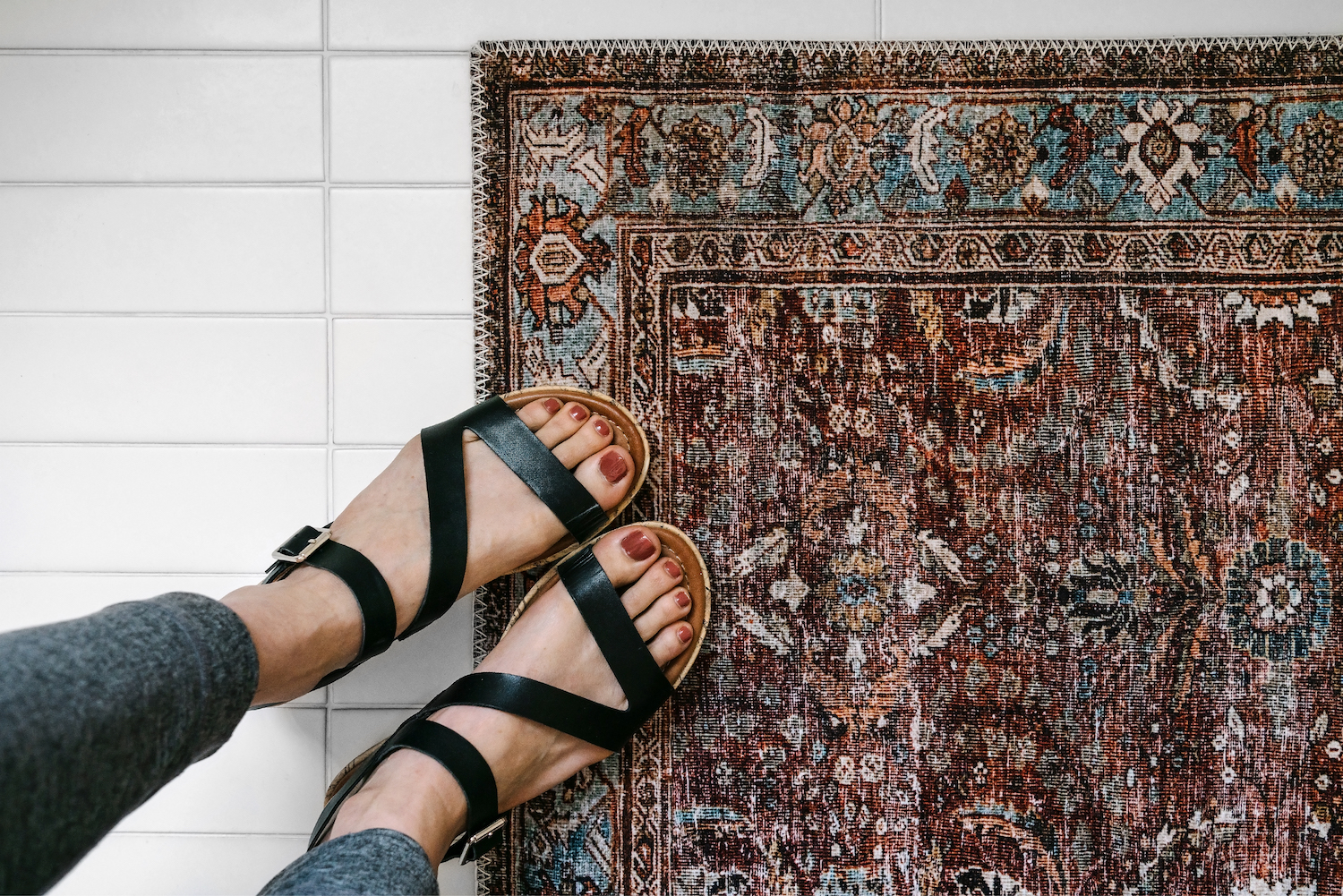 Last but not least was lighting--crucial, I know. Centered in the room is a can light, but we needed some good lighting above the vanity. We went with a maker out of Houston, who does incredible custom fixtures. Illuminate Vintage also created the gorgeous fixture over our sink in the old house, so again, it was an easy decision to use him again because we knew we would be getting a quality fixture. I love this five bulb fixture, it's the perfect amount of light, plus it's linear and sleek with a matte black finish. Like the rest of the bathroom, it def carries the bold modern feel.

Master Bathroom Remodel Photography by Chase Daniel