Meet Madison McKinley Isner. I first met her not in person but through her work, better known as Madison McKinley Designs. (Literally the only time you'll find me not wearing her moon necklace is when I'm getting massage or facial and I'm currently coveting her shell pieces from the Spring Summer 2019 collection!)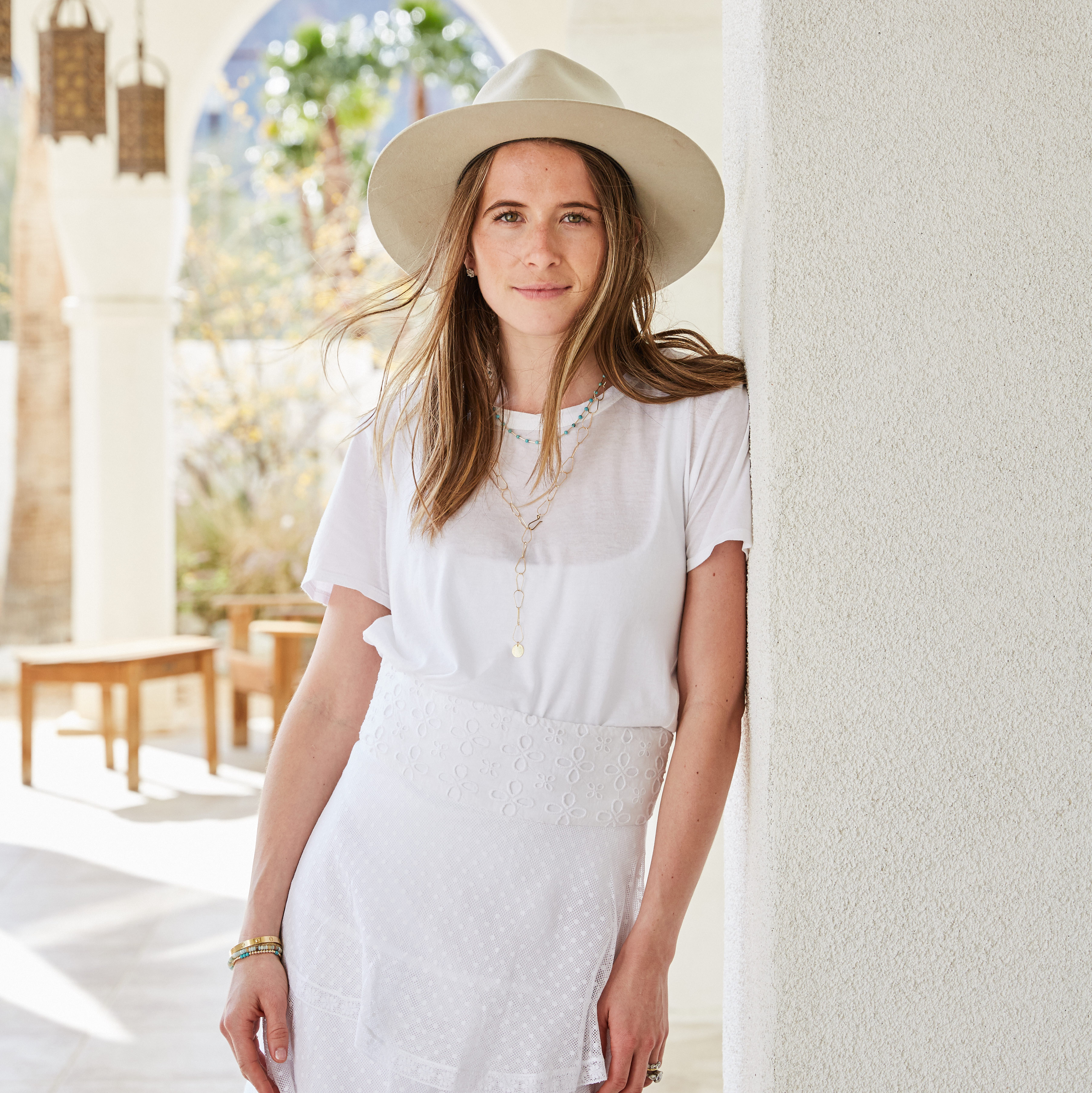 Madison resides in Dallas with her beautiful baby girl, Hunter Grace, and her tennis playing husband, John Isner. (John is currently ranked the #1 tennis player in the U.S., no big deal!) What really caught our eye, though, is her cool girl style and the effortless way that she mixes ultra femme and classic utilitarian for a look that's all her own. Keep reading for our full interview with Madison McKinley Isner...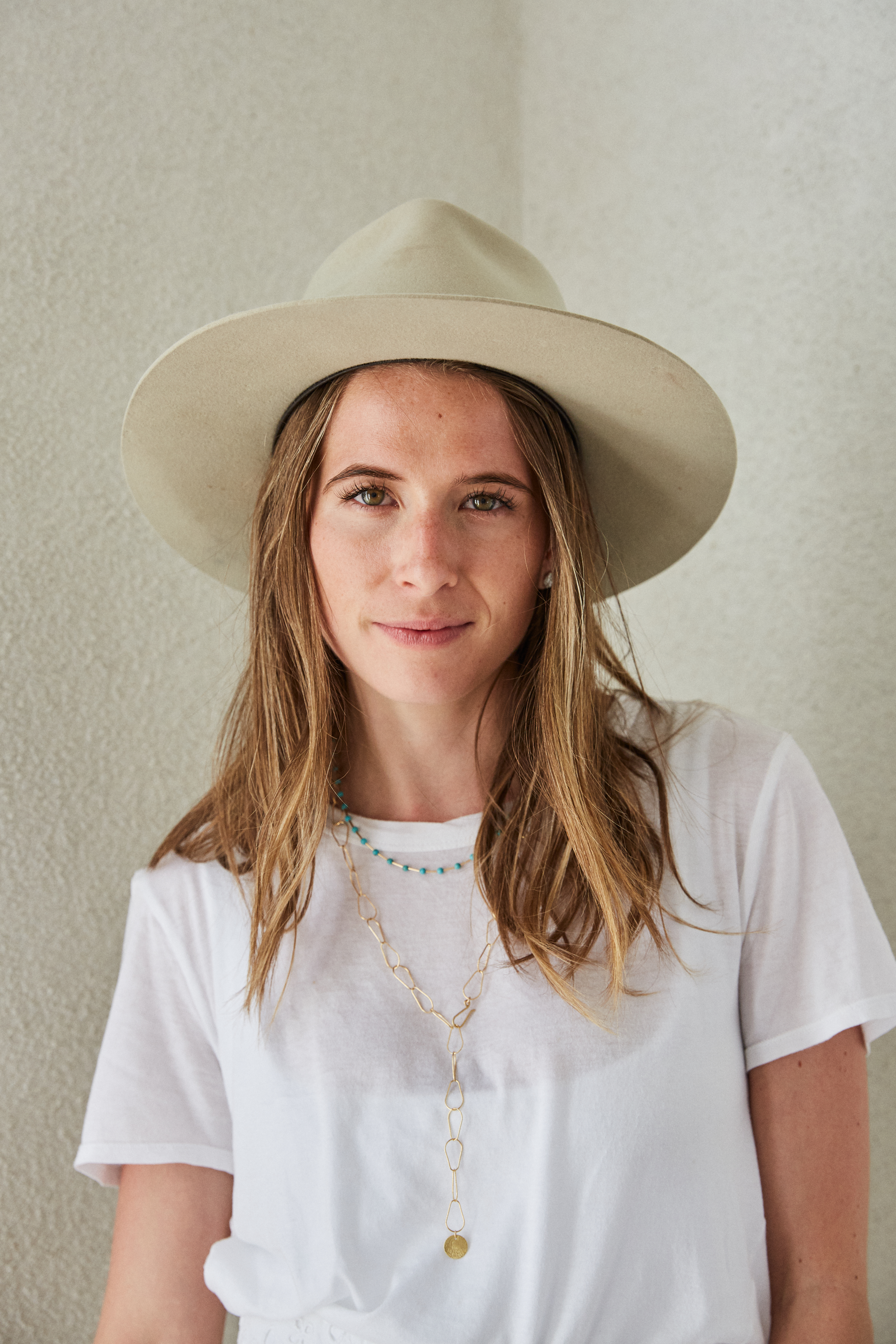 What's your background? How did your past career path lead you to founding Madison McKinley Designs?
I have always had a love and passion for arts, design, and culture. I've been fortunate enough to spend a lot of time traveling to different countries, which has allowed me to expand my knowledge of various cultures and arts around the world. My grandmother Mimi was an artist and I have always looked up to her. She inspired me to become an artist and creator and is to this day my biggest role model. Designing allows me to bring my creativity to life and do what I truly love. For college, I pursued a fashion degree at Parsons School of Design in New York, and interned for Elizabeth and James Ready-To-Wear team while I was there. I learned so many valuable things during my time there but realized I wanted to finish school closer to home, so I transferred to The University of Texas where I studied Fine Art.
After school, I knew I wanted to start my own company. When I was in high school, I designed a jewelry collection for a local Dallas company, Koch. I had so much fun working on that project and knew I wanted to be able to create like that forever. Once I graduated in 2016, I moved to Wyoming for 6 months and worked on a ranch. I had the opportunity to meet with an incredible artist in the area and explore different medians and was truly inspired to design my own collection. Madison McKinley was founded a year later, in 2017.
Describe a typical work day for you.
To be completely honest, every day is different. I am a new mom and still learning how to balance my time between my newborn and work. That being said, I do not have a set agenda for my days. I normally wake up, feed my baby, and try to have 30 minutes of alone time before starting my work day. Depending on the week, I could be gathering inspiration for mood boards, working on designs for a new line, or meeting with my team to discuss logistics.
Since it takes a few weeks to get designs completed, I really rely on my team to handle the day to day things when I am designing a new collection so that I can put my full heart and thought into it. I put a lot of trust into my team and don't know where I would be without them! My team currently works all throughout the United States, so I touch base with them for weekly meetings to make sure we are on track with everything. I handle anything that happens locally in Texas, whether it's a meeting, trunk show, event, etc., since I live full time in Dallas.
 Tell us about what you're wearing and why it's your daily uniform of choice.
Because I never know where my work day is going to take me, I like to wear something comfortable that can easily go from casual to dressy with a simple accessory change. My go-to look here is my favorite Re/Done t-shirt with a Place Nationale skirt and Chloé boots. I own the t-shirt and boots in almost every color! Throwing on a white tee with boots is the easiest and most comfortable base to an outfit. I can always dress it up with my jewelry and a skirt, or just keep it simple with a pair of jeans.
Here I'm wearing some of my favorite MMD pieces: the Mary Ann Necklace and Chris Necklace paired with the Victoria, Alice, Reed, Nellie and Biddy bracelets. My hat is a vintage piece that I found in my grandmother's closet. It makes me feel like I'm back on my ranch while also helping me out with some crazy hair days. It's definitely an accessory that gives a basic tee something extra.
 What's your current favorite pair of shoes?
Golden Goose sneakers. I'm obsessed with the sparkly ones! I recently purchased a pair to match my daughter, and I'm anxiously waiting for her feet to grow so we can wear them together.
What is the most practical work-wear piece in your closet? How does this improve a typical work day?
The Alix body-suit I'm wearing here underneath my tee. It's so easy to throw on under things when you're on the go and moving around. It keeps me from worrying if my shirt or jeans are out of place from bending over for shoots or holding my baby.  Knowing that I have my go-to pieces makes it so easy for me, especially being a new mom. I always know I can throw on my uniform and have a great day without having the stress of picking something out.
 If someone is feeling like their closet is getting stale and they're tired of repeating the same outfits, how would you advise them to re-fresh their looks without buying a whole new wardrobe?
I highlight recommend cleaning out your closet each year and either selling or getting rid of things that you don't wear. Instead of buying a new wardrobe, I think it is so great to add new accessories to it instead. Believe it or not accessories can make an outfit look new and fresh! Mixing and matching pieces that you normally wouldn't wear together is another way to change it up. Having a clean organized closet is KEY, otherwise it is impossible to see your options.
Photography for our Madison McKinley Isner feature by Kristen Kilpatrick
(Enjoy this post on Madison McKinley Isner? Pin it to Pinterest for easy reference and see here for all of our My Daily Uniform posts!)