Before we move on to 2013, it seems fitting that we pay homage to the great year that was 2012. It began my first full calendar year as a freelance stylist after leaving my full-time gig the previous June.  It was chock full of great adventures, exciting new jobs and plenty of long days and hard work.   January started off with a bang after I attended  ALT Summit and was inspired to make The Effortless Chic a stylish online destination for everything from fashion and interior design, to hosting and baking, all the while balancing the act of being a full-time stylist.  That same month I signed with a new agency and began partnering with Rue Magazine to style these bright and punchy Gap ads...
From L to R: Geri / Bri / Emily / Joy
February marked four months in our first home and the projects were still going strong... We removed a mac-and-cheese colored fireplace and updated our guest room with help from Home Depot.  By the summer we were in full planting mode with beautiful DIY succulents.
In March, we launched our series Cocktail Hour with the help of photographer, Jess Koehler.  Obviously the first cocktail du jour had to be the French 75!
As long as the warm weather held out, we continued to mix, shake and shoot...
In April, we did this fun post for the Glitter Guide...
Soon after, I partnered with Denise Crew to create the series, My Life, Styled for Camille Styles. Six months later we're still going strong!
While work was buzzing at a quick pace, it was summer, so some r + r was definitely needed.  Rather than fly across an ocean, we kept our trips this year short and (relatively) local, exploring Palm Springs, Vancouver, Wilmington, NC and Charleston, SC.  (The year ended with a trip that was a little more exotic-- Puerto Rico to shoot for Ritz Carlton and Departures Magazine!)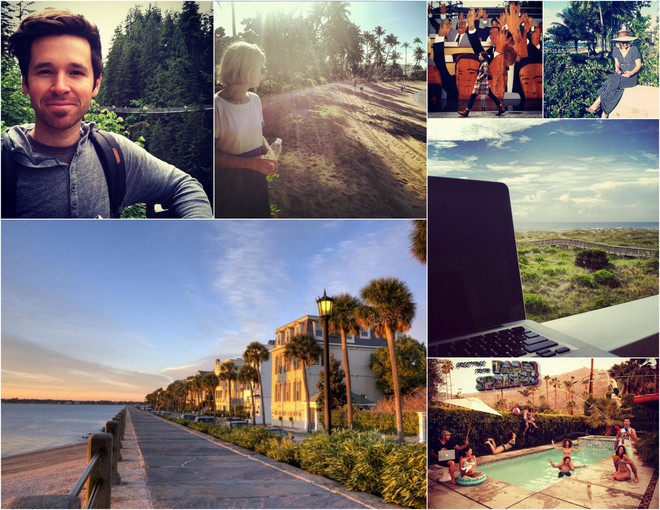 In between these short jaunts, I did my first on-air segments for Bethenny Frankel's new talk show and had so much fun!  So much fun in fact that I now do regular style posts for her site which you can see here and here and here!
This year we also launched another original series, Her Style, and had the opportunity to interview stylish gals from all over the country to find out what influences their personal style.  I know I'm not supposed to pick favorites here, but this series is fast becoming mine!
L to R: Erin from Apartment 34 and Chanel from Camille Styles
Oh, and how could I forget The Savvy Girl's Guide written by Emily Westervelt that has had you all sending in your own questions and suggestions for topics!  Half of the things we covered were by YOUR request!  Speaking of fun collaborations, I loved styling this shoot for Ban.do, shot by Max Wanger:
In September we celebrated our first birthday here at The Effortless Chic with Sprinkles cupcakes and a trip to New York for some fashion week festivities...
... but made it back just in time to launch an exciting new music series with music supervisor, Matt Mugford.  For the last three months he has introduced us to new bands and great music.  Be sure to check them out if you haven't already!  Also this fall we began our Friday 5 for $25 series to an overwhelming response-- I had no idea so many of you enjoy a bargain as much as I do!
As the holidays quickly approached, we put on our aprons and started talking to our favorite foodies in Around The Table.  My taste buds were stretched to try things for the first time and I was immediately inspired to delve into making some new recipes of my own!
And in our final shoot of the year, Denise Crew shot this lighthearted holiday scene to cap the year off in style:
Kind of a whirlwind year, right?!  As busy as the juggle between styling projects and keeping up with all of these series here can become, I love what we have here and am constantly energized and inspired by the conversations we get to have here and all of your encouraging comments!  If you have a quick second, drop us a note and let us know what you particularly enjoyed here this year.  Some series will be ending and new ones beginning over the next few weeks, so be sure to tell us what you love best and what you would like to see more of.
Have a wonderful weekend!  We will see you here Monday when Matt reviews the top albums of 2012 just in time before the new year!