Cold and flu season is lingering and there's never been a better time to boost your immune system with these ginger shots than now! We've added lemon, turmeric, elderberry and more for the ultimate wellness blend. They're cheap and super fast to make-- under 3 minutes! Keep reading for the full recipe...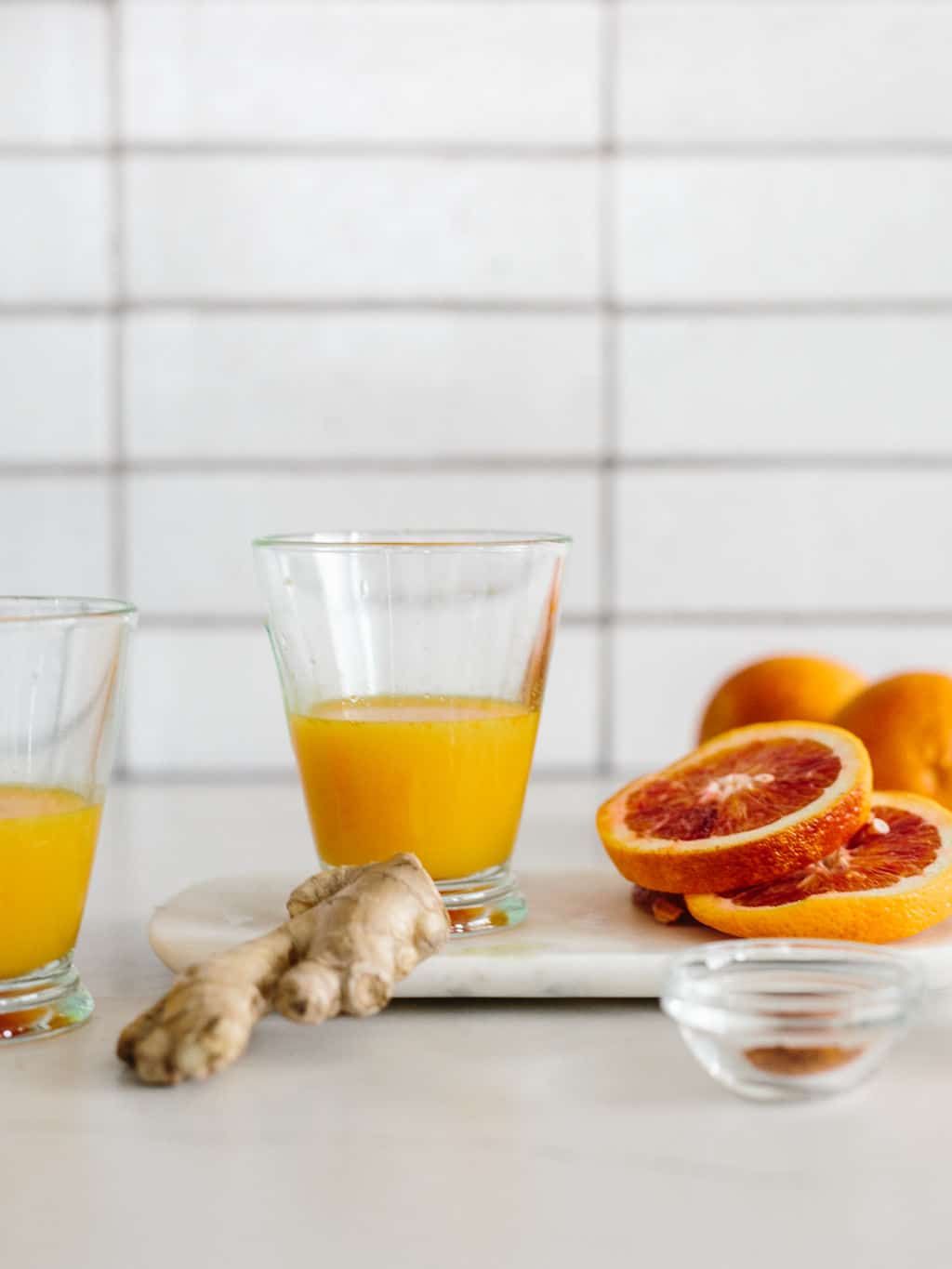 Back in December our whole family got the flu. On Christmas Eve, as I was lying awake in the twin bed next to Parker's in her bedroom when I did something I had never done before while sick: I made a spreadsheet. I labeled it meal plan and began scouring the internet for healthy recipes. Once better I subbed my morning espresso for matcha and have been making these wellness shots twice a day ever since. I remember in that moment thinking, "I can never be sick like this again!" And so far, I haven't...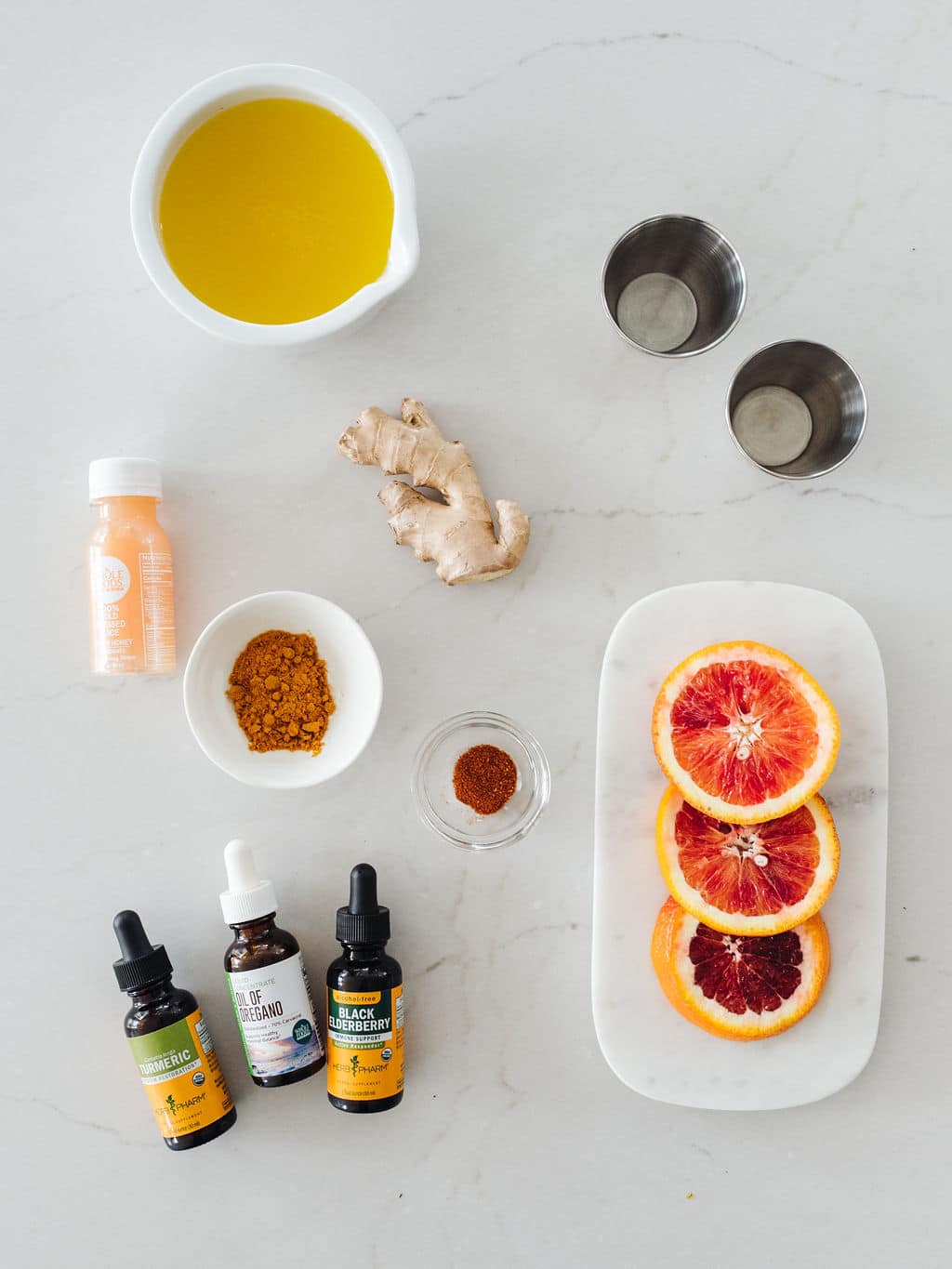 There are a lot of wellness shot recipes on the internet, but I knew that in order for me to make twice a day shots a part of my routine, I needed them to be quick and easy to make. I also wanted them to pack as many immunity-boosting elements as possible which is why I chose this combination of ingredients: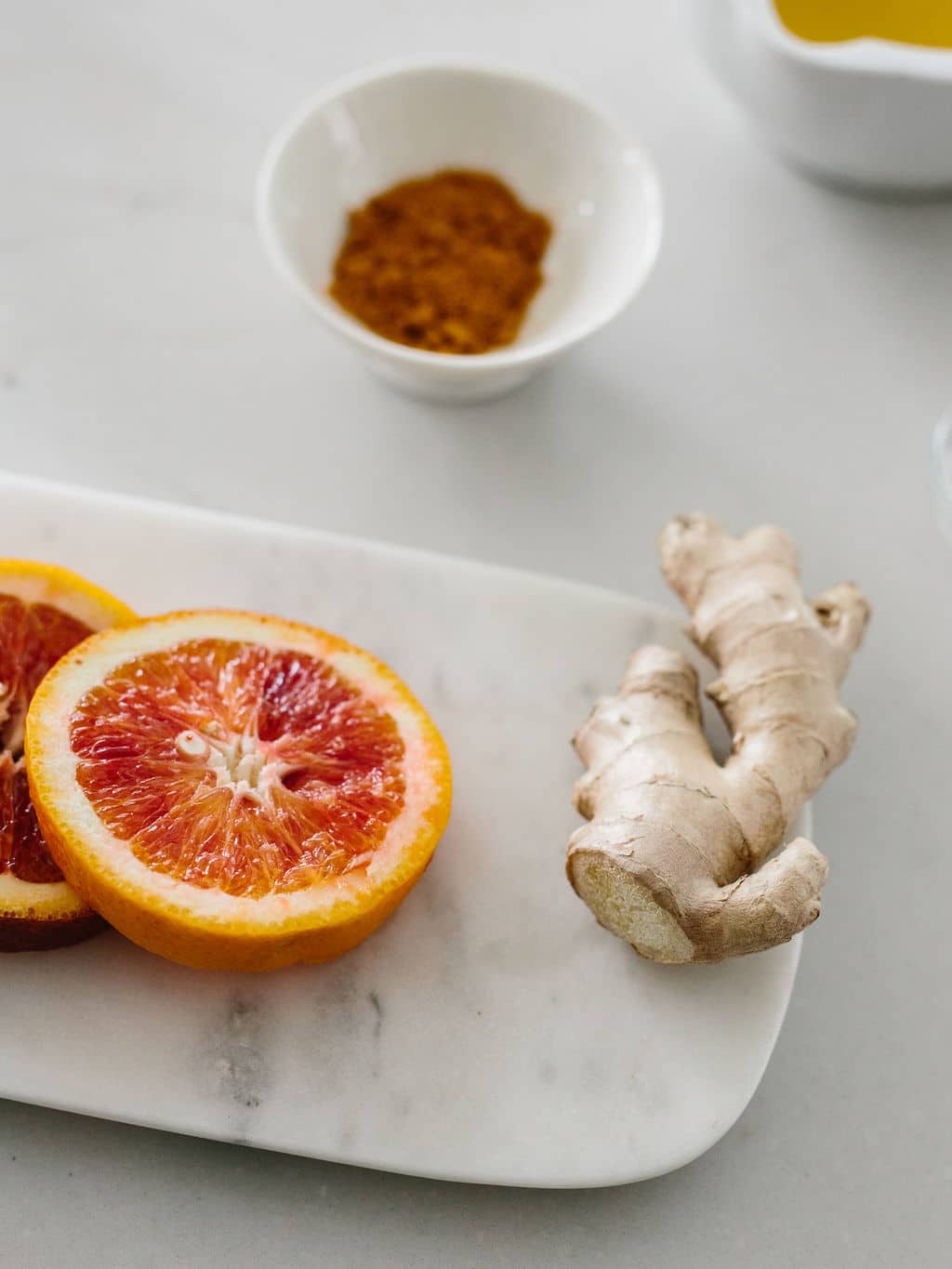 The Benefits of Lemon Juice:
Lemons are a good source of vitamin C, an antioxidant that helps protect cells from free radicals and commonly thought to help prevent the common cold. (Though there are conflicting studies on this.)
The Benefits of Ginger:
Ginger is a superfood that has been shown to alleviate nausea, prevent heart disease, and many more. It's also a powerful anti-bacterial and has been known to be effective against everything from oral bacteria to RSV.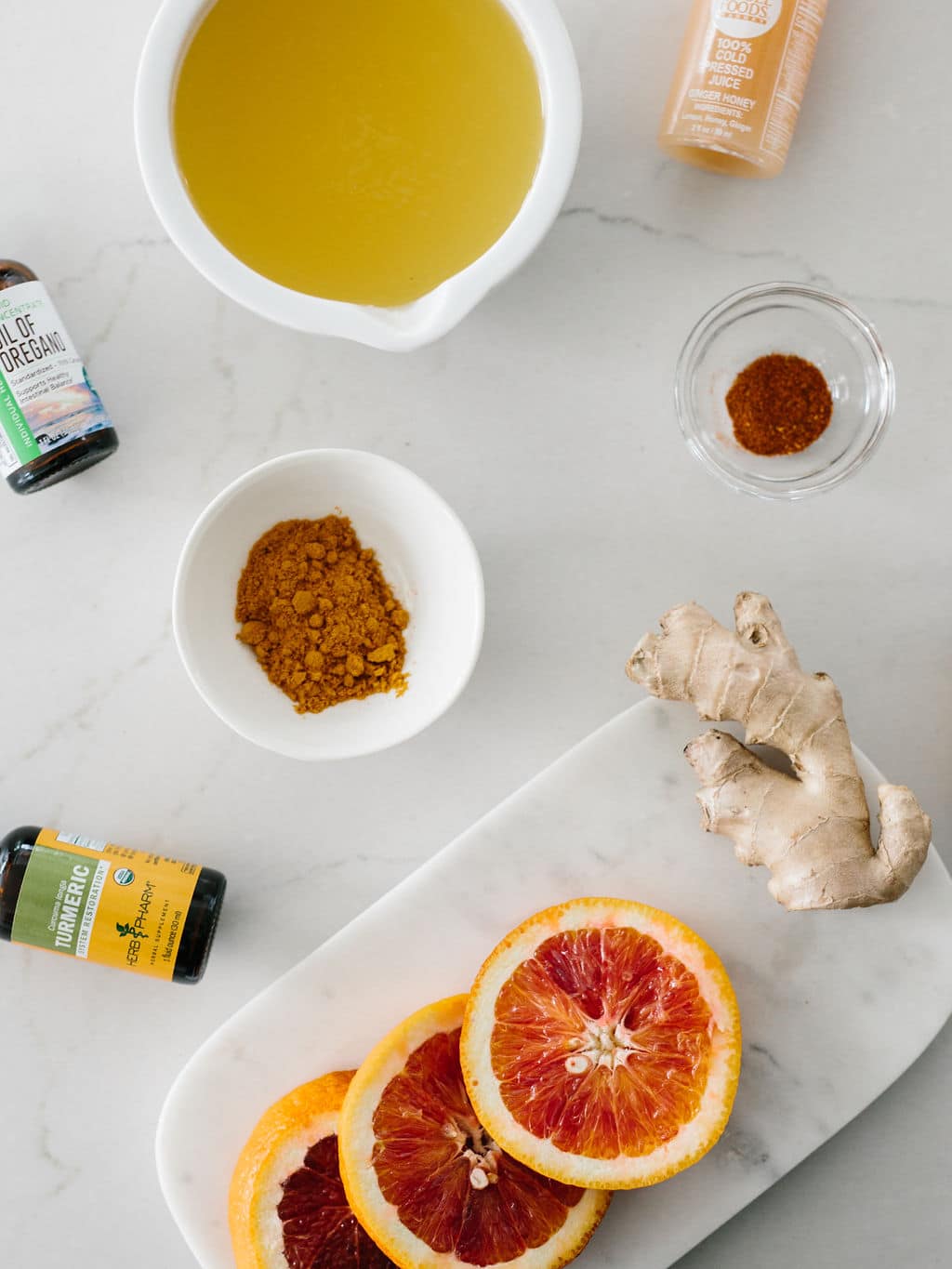 The Benefits of Turmeric:
Turmeric has been used in India for thousands of years as a powerful medicinal herb. It's thought that the common household use of turmeric in Indian cooking is to thank for the lower instances of cancer in the Indian population. Turmeric is an extremely effective anti-inflammatory which is important because scientists now believe that chronic inflammation plays a role in everything from heart disease and cancer to metabolic syndrome, alzheimer's and other degenerative conditions.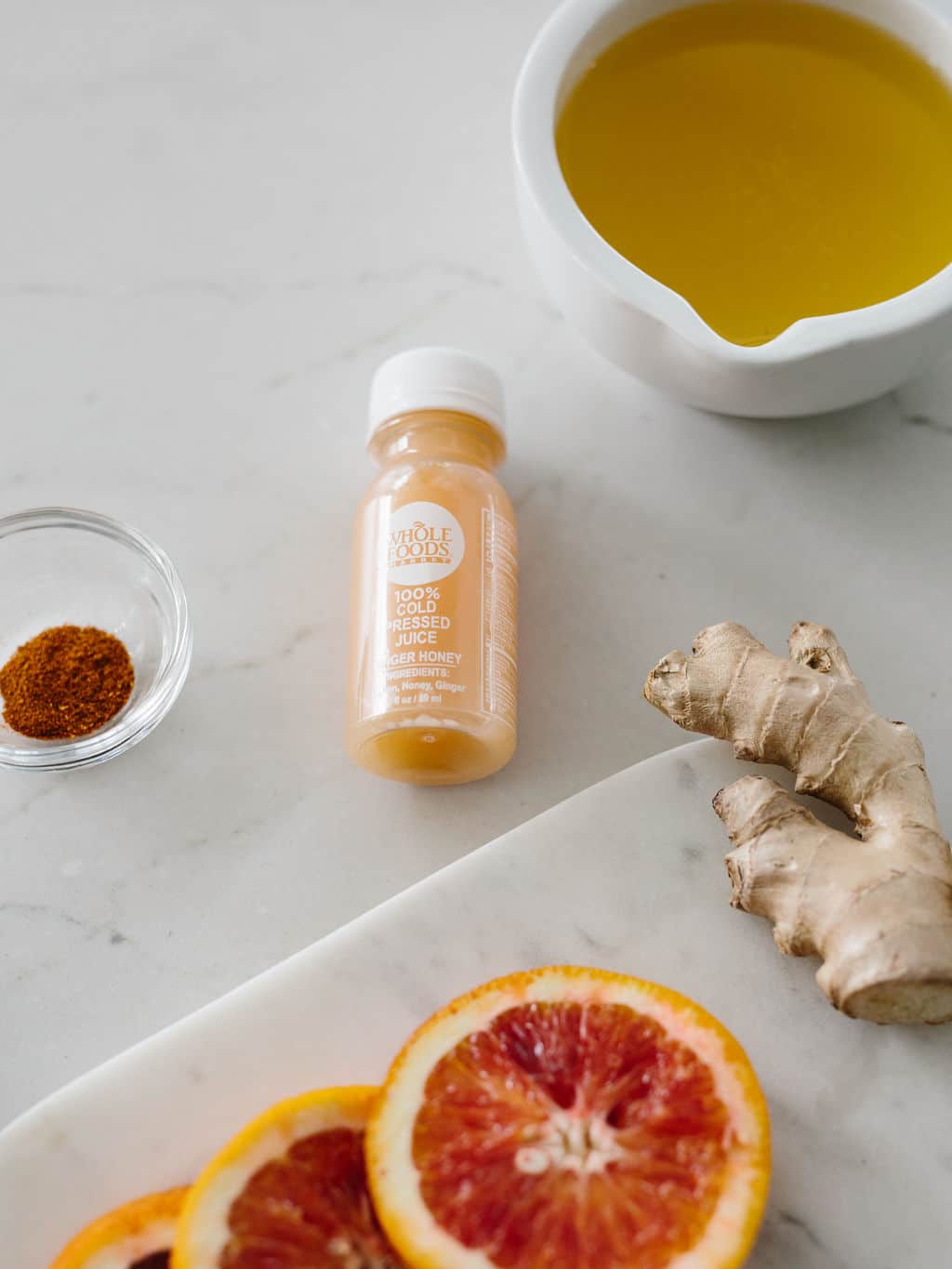 The Benefits of Oil of Oregano:
Oil of Oregano is a powerful trifecta of antibiotic, anti-viral and antioxidant. It's widely believed to be an effective treatment for an early ear infection and other ailments.
The Benefits of Elderberry:
Elderberry has been used for its health benefits for hundreds of years. Both the leaves and berries of Elderberry contain antioxidants and are believed to relieve colds, fight the flu and boost the immune system.
What You'll Need / Ingredients :
orange juice
lemon juice
ginger juice
liquid turmeric
oil of oregano
elderberry
cayenne pepper (optional)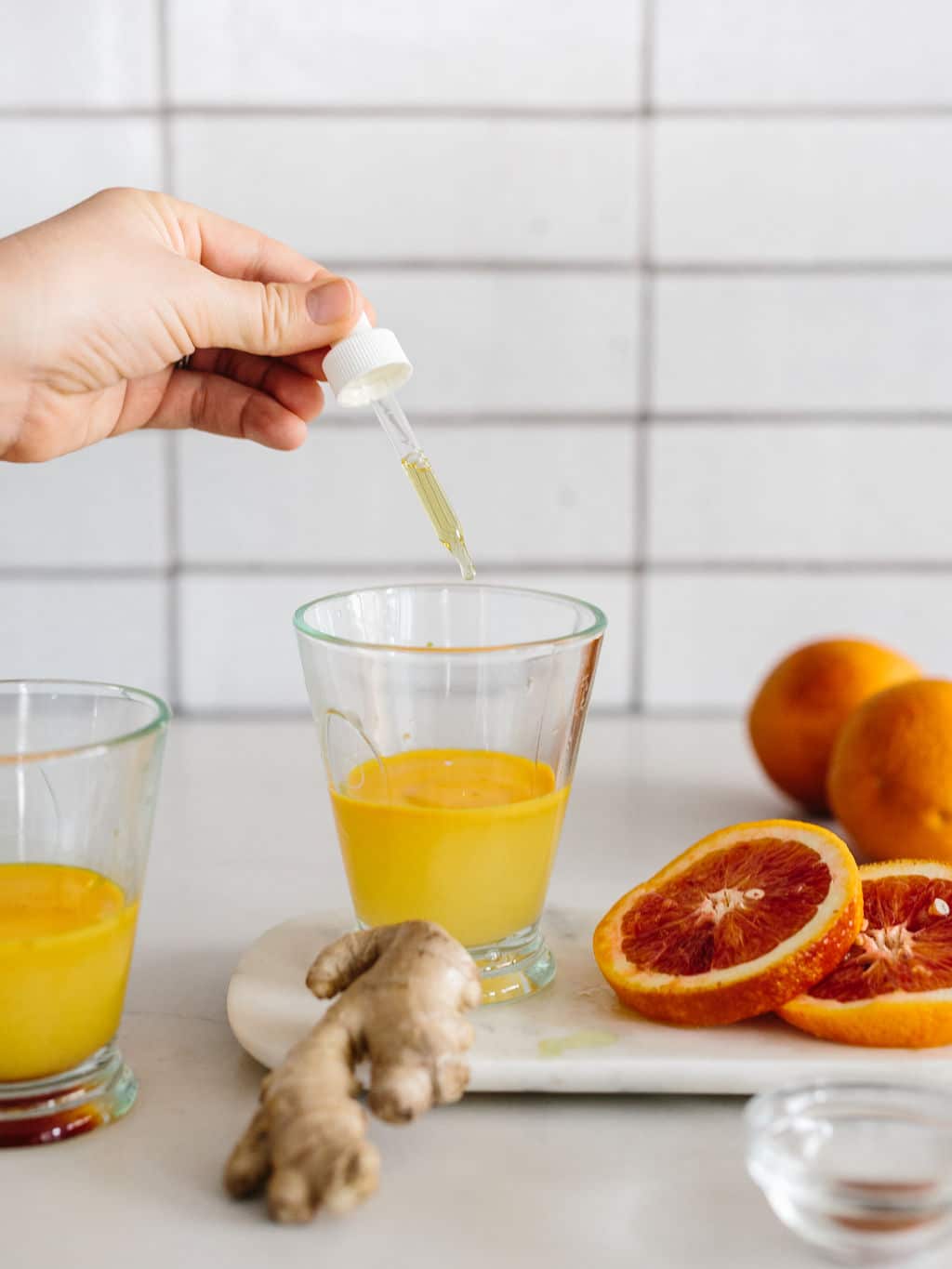 Like I said before, the best part about this recipe is that all of the ingredients are extremely pure and fresh and ready to be mixed. That means that you don't need a blender or a juicer to make these ginger shots and they will only take about three minutes to combine the ingredients.
Why Do Many Wellness Shots Have Cayenne Pepper?
Cayenne Pepper is thought to aid in the digestion of and absorption of nutrients making sure that you get the most benefit out of your wellness ginger shots!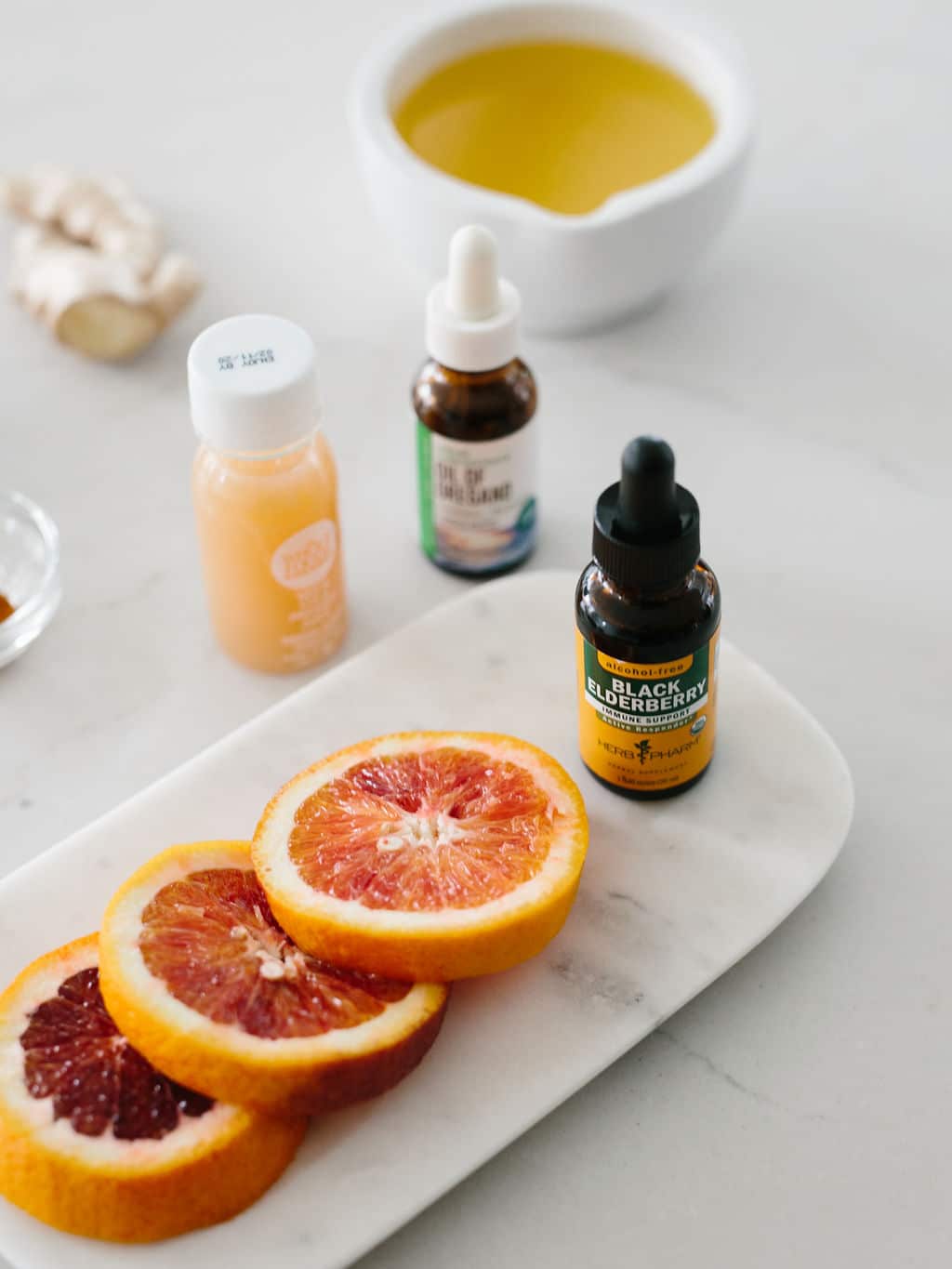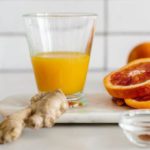 Wellness Recipe: Lemon Turmeric Ginger Shots
These lemon turmeric ginger wellness shots are great for boosting immunity and also have a host of other benefits including anti-inflammatory properties and lots of vitamin c! The best part? Make them in less than 3 minutes!
Ingredients
¼

cup

orange juice

fresh squeezed

1

tablespoon

lemon juice

organic, not from concentrate

1

tablespoon

ginger juice

1

full squeeze

liquid turmeric

4

drops

oil of oregano

liquid concentrate

1

full squeeze

black elderberry

alcohol-free

⅛

teaspoon

cayenne pepper

optional
Instructions
Add all ingredients to a glass

You can sip the shot slowly or take all in one gulp. This doesn't change the effectiveness.
Nutrition
Nutrition Facts
Wellness Recipe: Lemon Turmeric Ginger Shots
Amount per Serving
% Daily Value*
* Percent Daily Values are based on a 2000 calorie diet.
If You Liked This Recipe for Ginger Shots, Be Sure to Check These Out, Too:
Healthy Lemon Garlic Chicken Recipe
Detox Dinner Recipes You Will Actually Want to Eat
Brazilian-Style Grilled Shrimp Marinade and Recipe
Photography by Katie Jameson