01/03/2018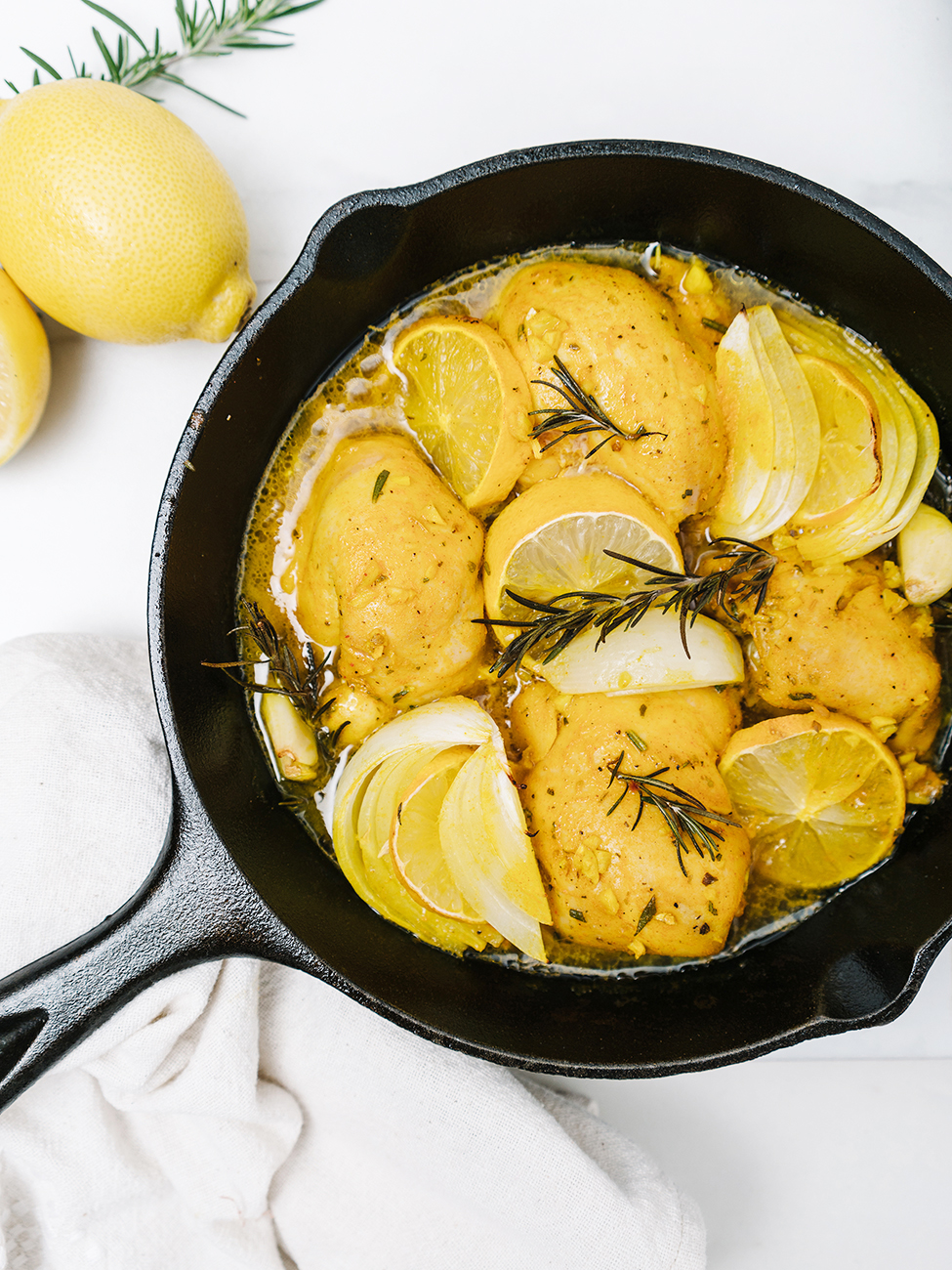 I (Lauren) don't know about you, but after the holidays I feel like I'm in need of a serious detox. Don't put chocolate, treats, or big meals in front of me for at least a month. After 5 days of constant snacking, plus overeating delicious meals over Christmas vacation, I was in desperate need of something refreshing and clean.  I have played around a bit with this recipe and feel like this is the perfect time to share it. Clean, bright and chock full of nutritious ingredients, it's perfect for that after-holiday detox we could all use. It starts with turmeric which, be warned, will turn everything in your kitchen bright yellow if you're not careful. But it's not just known for its bright color, this ingredient has been credited with fighting inflammation, is a powerful antioxidant, and may give your brain a boost. If that's not enough, I've teamed it up with lemon and garlic, each known as natural immune system strengtheners and cleansing to the body. This is not a trendy "clean eating dish", it will actually help cleanse you from the inside-out! Not to mention the flavors are so delicious and satisfying. Even my husband the sceptic (and not a fan of lemon) thought this dish was the perfect palate refresher after our vacation.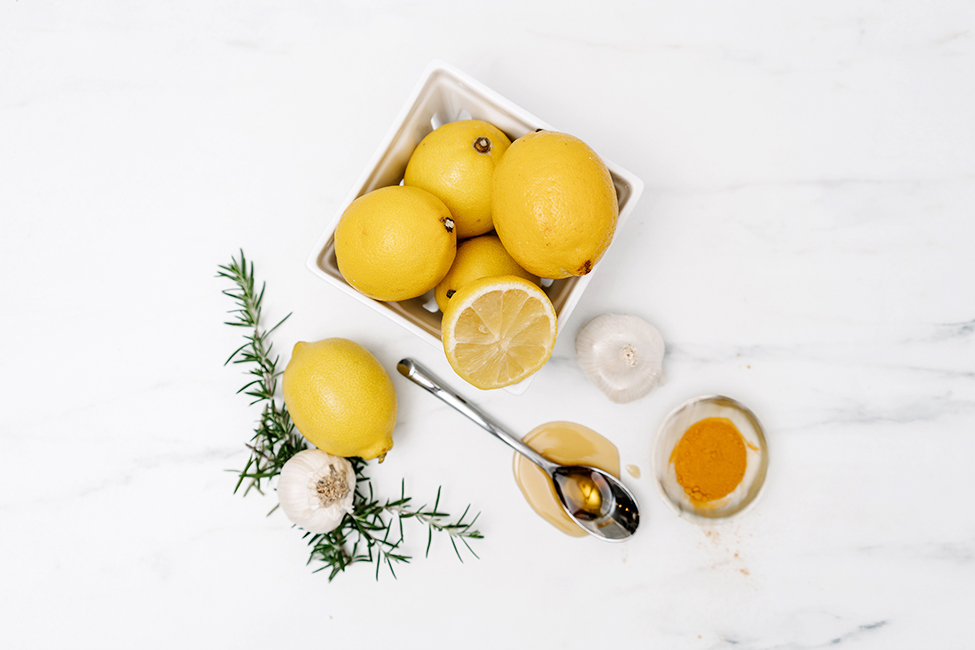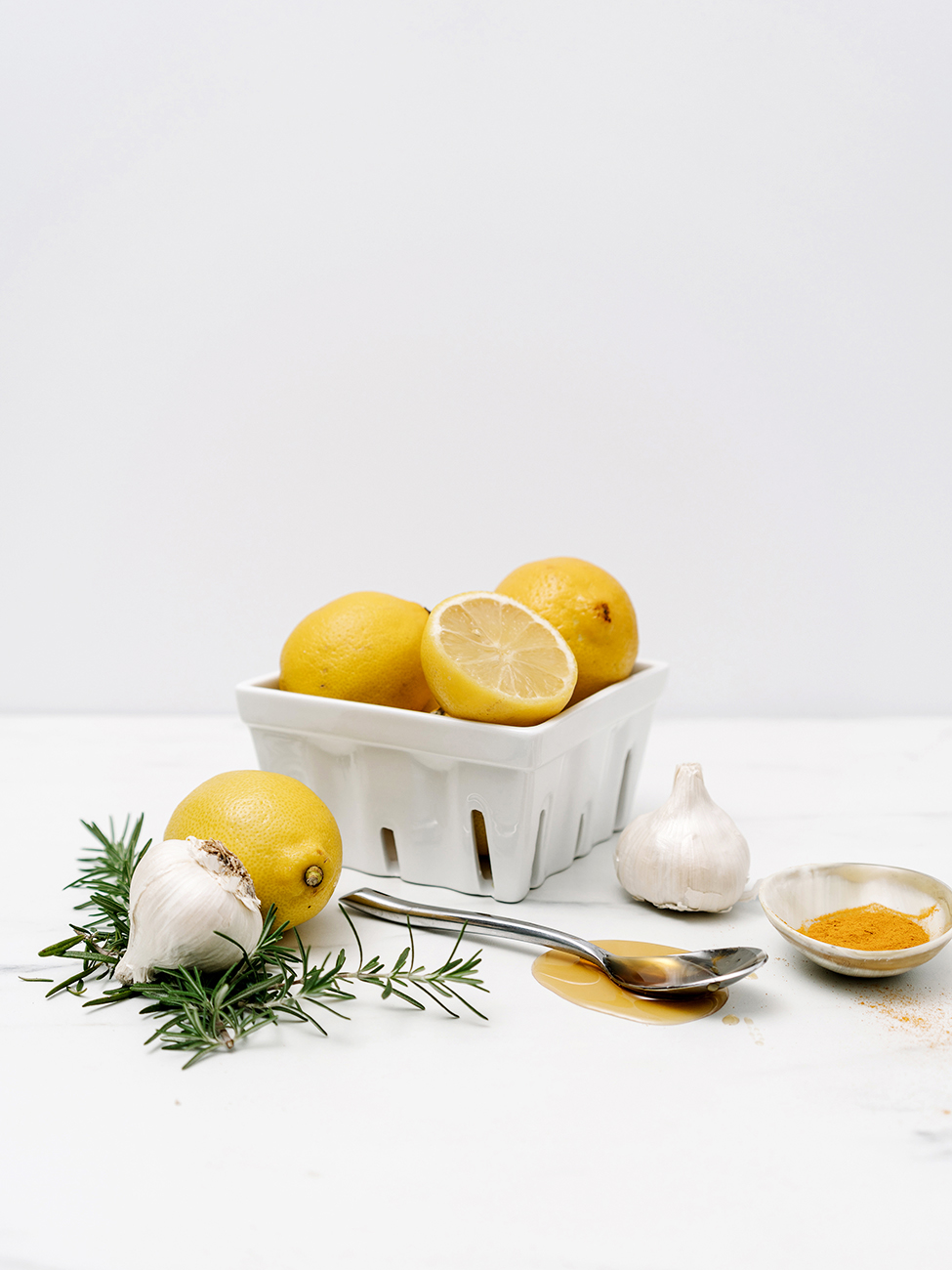 Lemon Garlic Chicken with Turmeric
2 Servings
Ingredients:
1 lb organic chicken thighs (breast will work too)

2 tbsp avocado oil

4 tbsp fresh organic lemon juice

1 tsp lemon zest

2 tbsp raw honey

3 cloves organic garlic, chopped

1 tbsp dried organic turmeric

1 tsp organic rosemary

1/4 tsp cumin

1 tsp kosher salt

1/2 tsp. ground pepper

1 small onion cut into wedges

Lemon slices for garnish

Rosemary sprigs for baking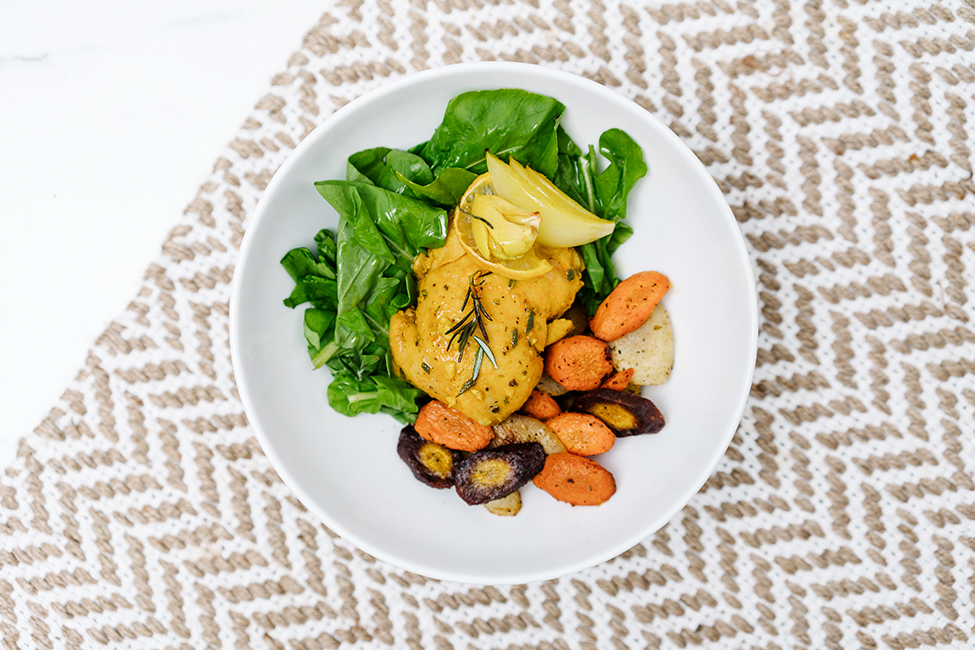 Instructions:
Preheat oven to 375 degrees.
In a small bowl whisk together avocado oil, lemon juice, lemon zest, honey, garlic, turmeric, cumin, rosemary, salt, and pepper.  
Pour the turmeric marinade over the chicken and allow to sit for a minimum of 1 hour.
Place chicken in a cast iron skillet (or an oven safe pan) along with the wedges of onion, lemon slices, and extra rosemary sprigs.
Pour about half of the marinade over the chicken and onions.
Place chicken in the oven and bake for 25-30 minutes or until the chicken is cooked through. (About halfway through the cook time, I like to spoon some of the marinade from the pan over the chicken to baste it a bit and to keep it moist.)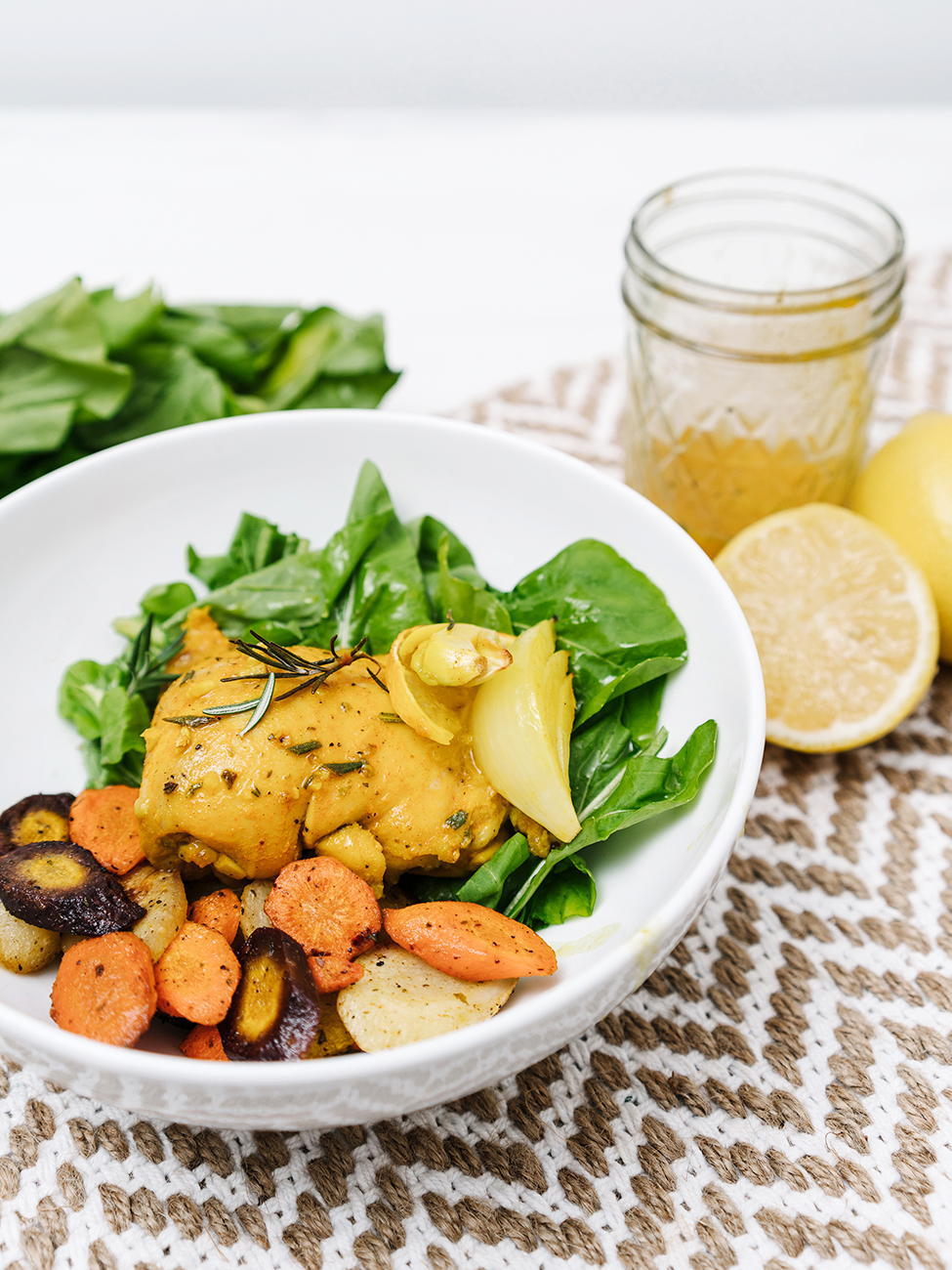 Notes:
I served this with roasted spicy rainbow carrots (olive oil, cumin, chili powder, cayenne and salt/pepper, roast at 375 for 20 minutes) and fresh arugula salad (so simple-just add salt, pepper and olive oil).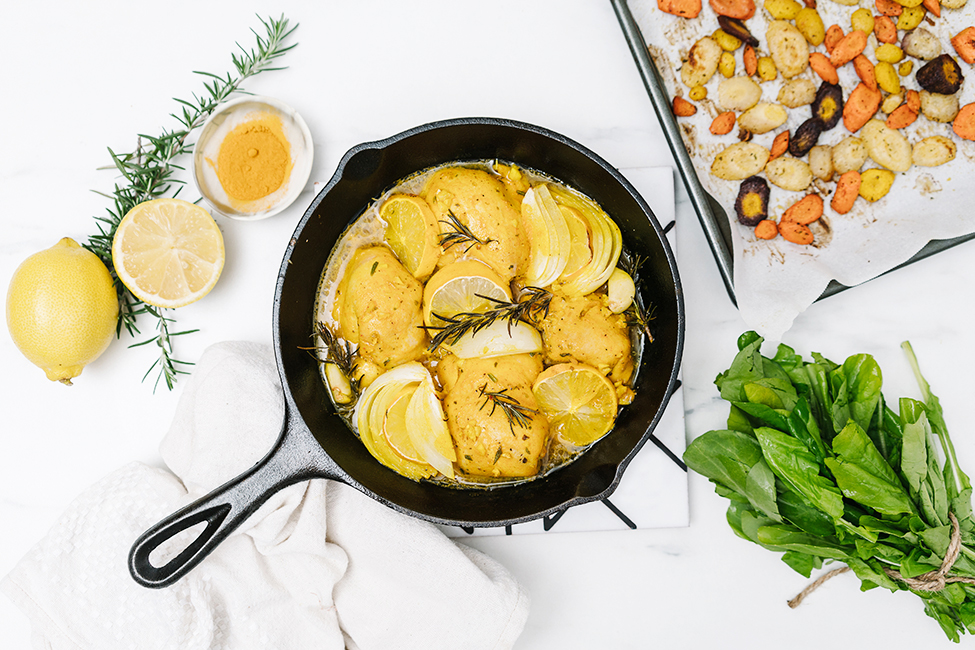 Photography by Chase Daniel