I've already said it, but I will say it again: Our daily uniform series is probably my favorite thing we do here! I'm forever grateful to all of the women who have opened up their lives and closets to us! Keep reading for Lauren Block's daily uniform.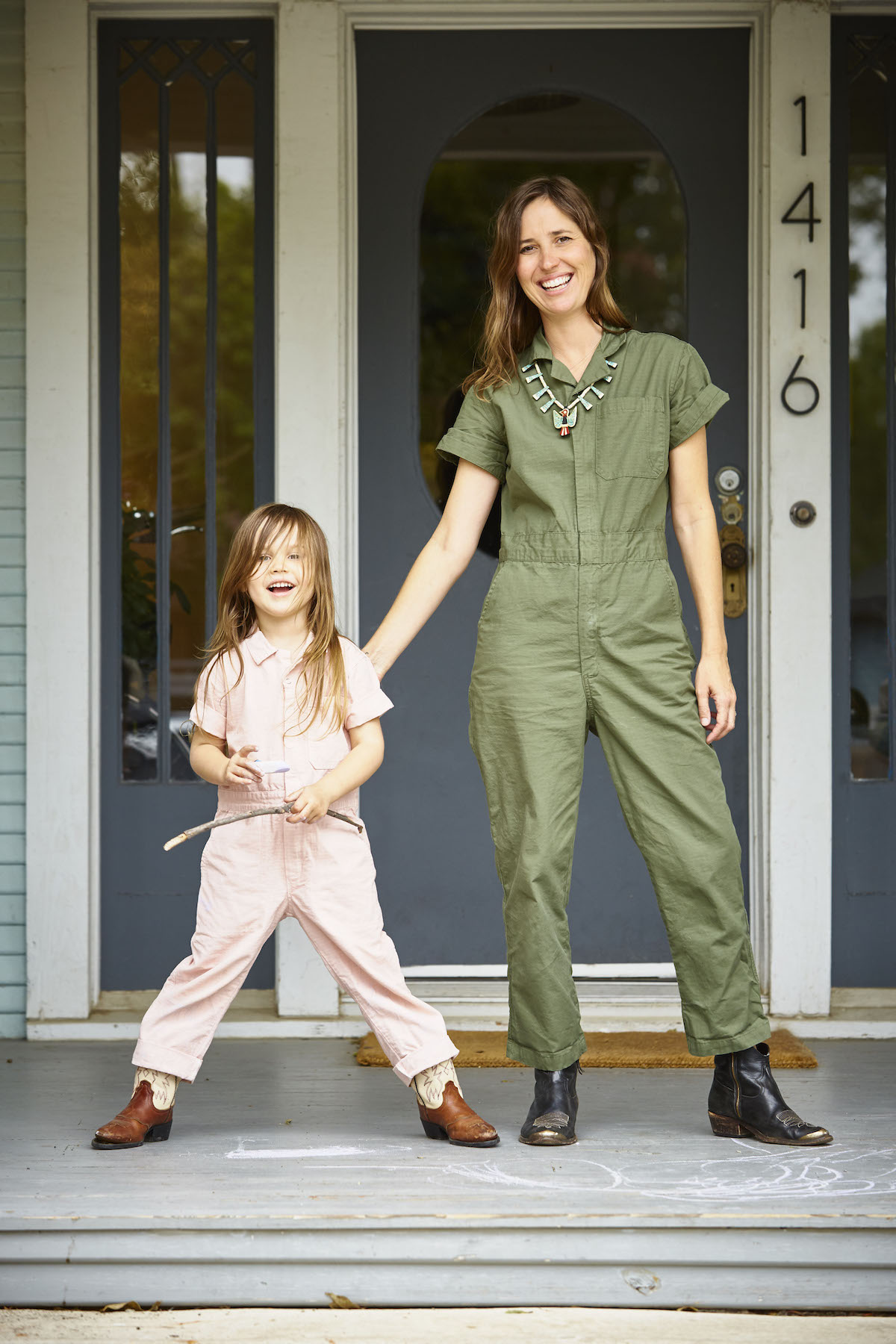 The first time I met Lauren, it all made sense. Lauren Block is the founder and designer of Hey Gang, the children's line that launched in the summer of 2018 and quickly made waves for it's inimitable tomboy aesthetic. In that moment when we met I realized that Lauren was the line. Her effortlessly stylish tomboy aesthetic was evident at first glance and her casual, laid back nature meant I could have stayed at lunch chatting for hours! It's no wonder that she has expanded Hey Gang's offerings into women's pieces with the creation of the Women's Coveralls. We caught up with this busy mama and designer to get the skinny on her personal style journey, tips and tricks and of course, her daily uniform.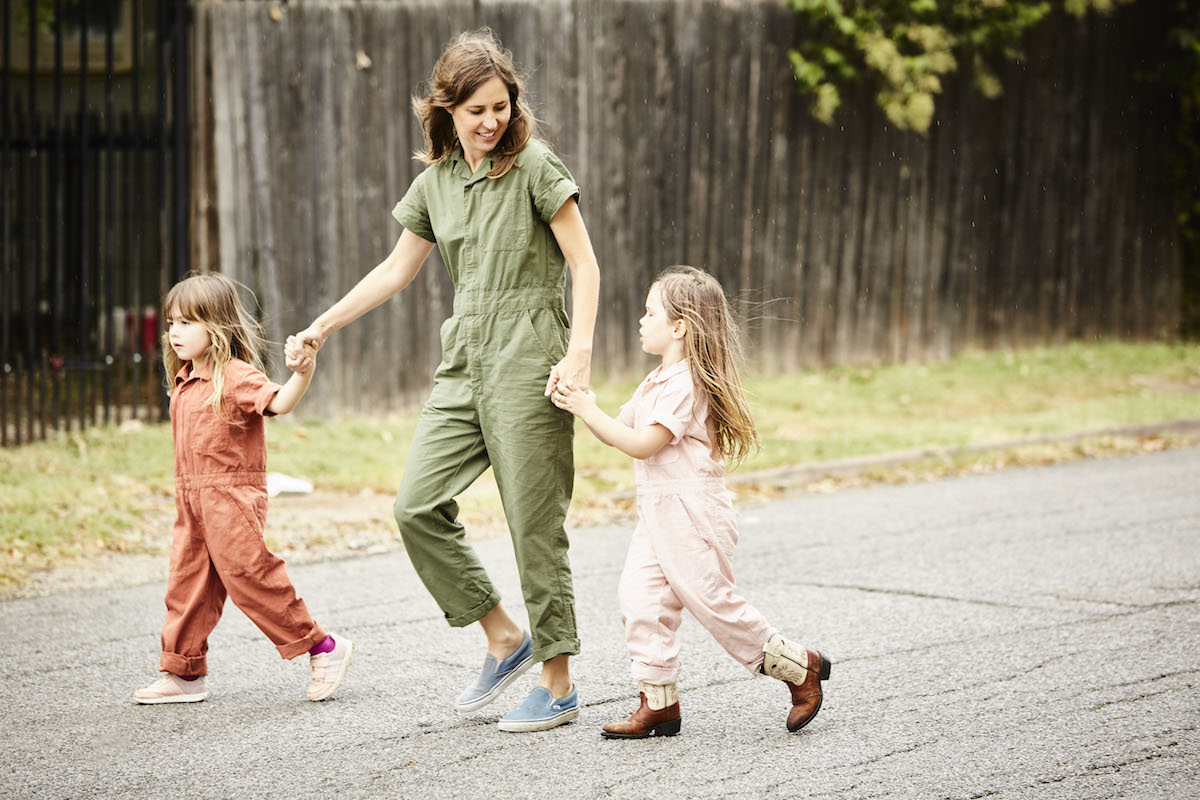 Tell us about yourself! What's your name, where do you live, who do you live with, what do you do?
My name is Lauren Block, and I live in Fort Worth, TX with my husband, Josh, my Daughter Birdie, and our Bluetick Coonhound, Hattie!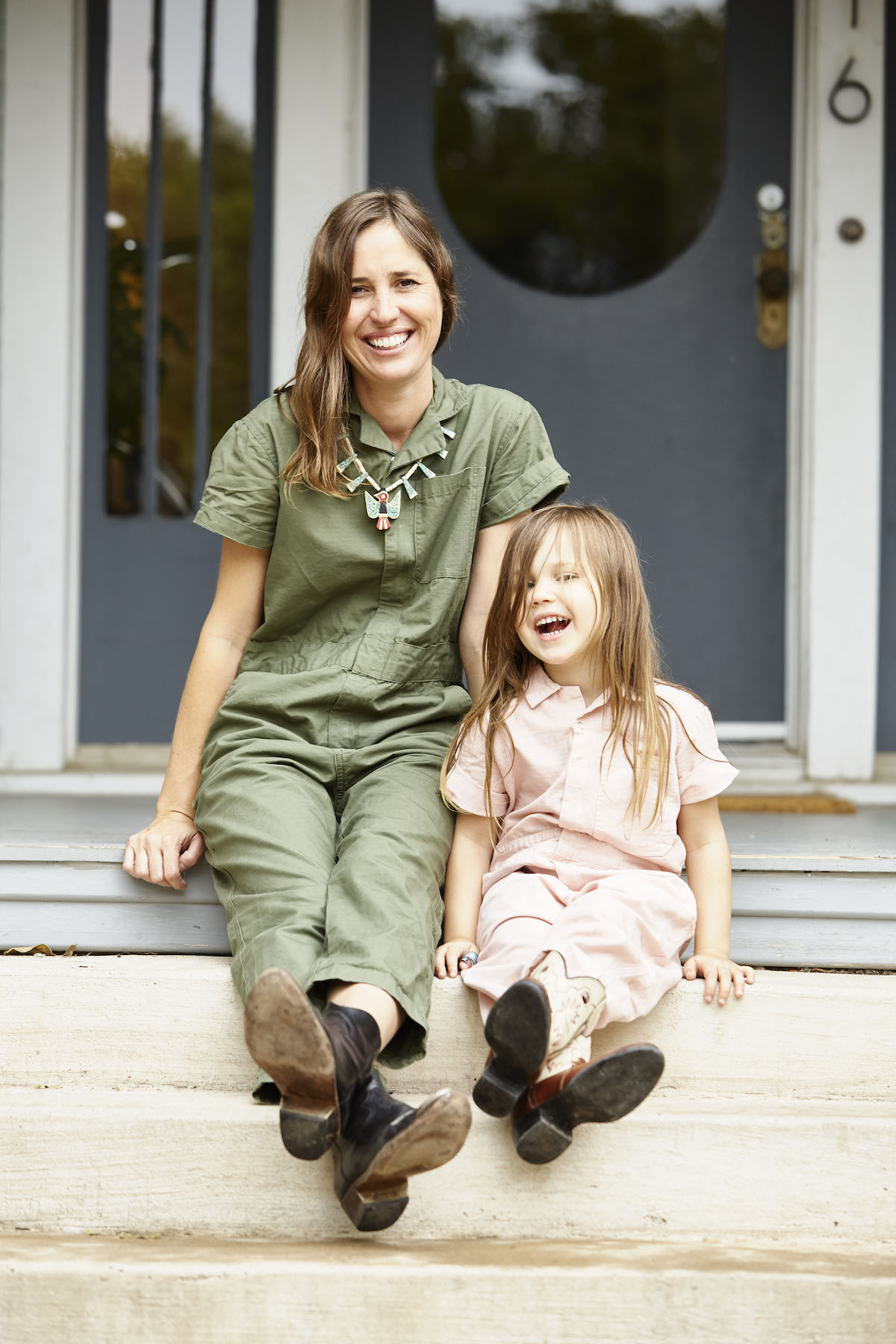 Your children's line just celebrated its first birthday this summer! Congratulations! What led you to start Hey Gang? What skills did you bring from your past experiences and what skills did you have to learn along the way?
I started the idea of Hey Gang when my Daughter was around a year old.  I was working from home part time in a marketing job, and felt ready to do something creative again, I felt totally isolated as my day consisted of working from home on email all day, all of my colleagues were in Detroit or New York, so it was really just me and a baby all day! Previously I had owned a men's and women's clothing shop in Austin called Bows + Arrows, and then I headed up wholesale in the US for specialty stores for Shinola, a men's and women's watch and accessories brand, and then transitioned into a marketing role after I had my daughter.  That said, I had lots of experience in the fashion world from buyer to wholesale to marketing, and none at all from a production standpoint!   So I most definitely had a lot to learn, and am still learning every single day.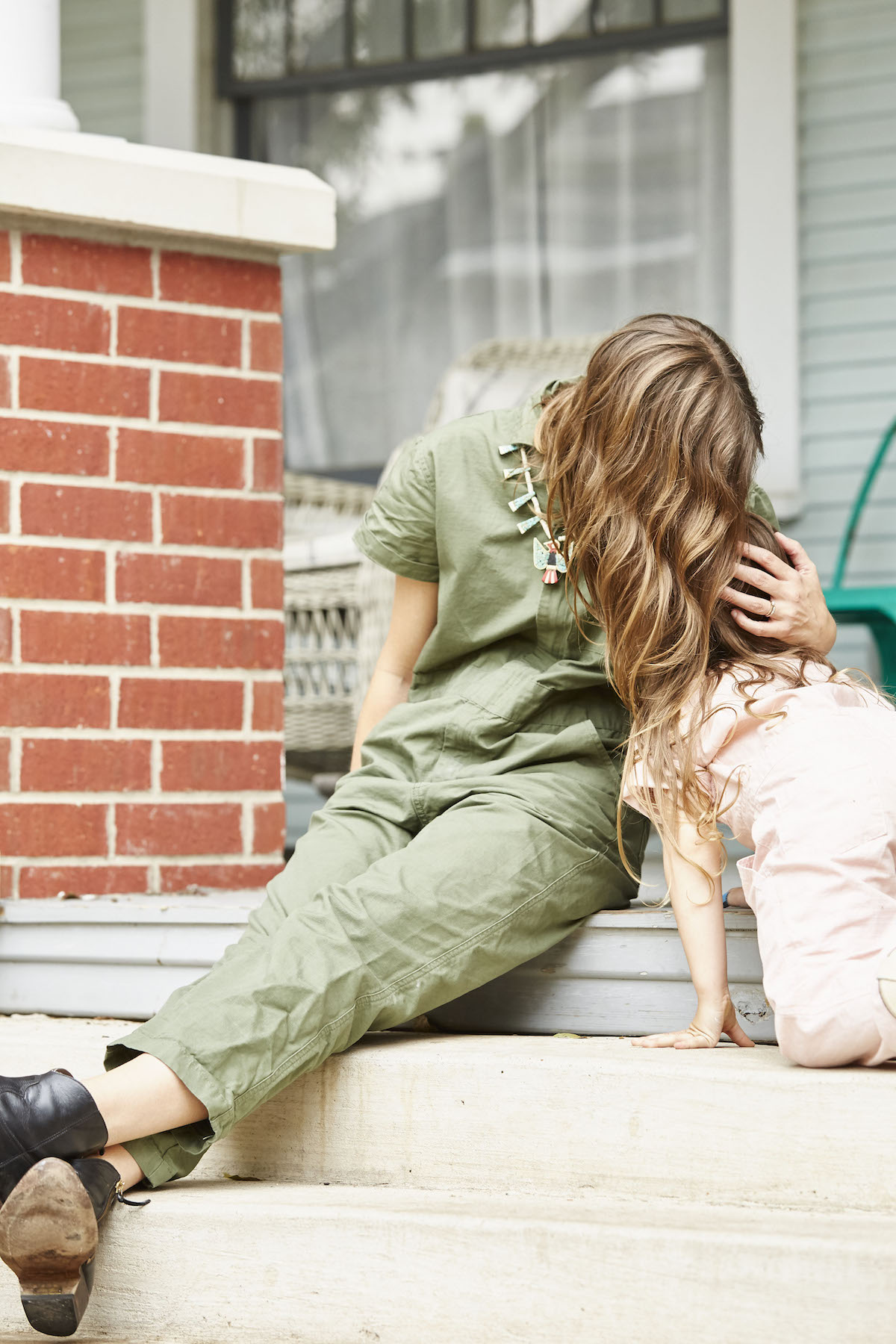 What does a typical day look like for you now?   
My daughter is in school 3 long days a week 9am -5:30 pm.  So those days are my "work week". The other 2 days during the week are a complete toss up - I usually have so many plans of what needs to get done work wise, and how it will get done, and they usually just fly out the door the moment she wakes up!  During my work week, I wish I had a more consistent schedule, but there are usually so many different kinds of things to do they tend to be less organized than I would like.  I usually start with answering emails, it's an easy and direct starting point.  Then I plan out any social media posts I'm going to do that day.  Sometimes that consists of me having an idea for an outfit and figuring out a way to photograph it in order to translate the vision I have.  I am not a photographer so I feel like this usually takes me longer than it should. Then it's shipping out orders, ordering production materials, checking on production, analyzing web traffic, maybe creating an email blast,etc… the list goes on and on…. Research and development kind of pops up randomly along the way, I usually get an idea in the middle of the night or in the shower in the morning.  I feel like most of the collections have actually been designed in one day for the most part, it's a big "A-HA!!" moment, and then they flesh out from there.  The days are really an un organized roller coaster, with so many things to do, and being a one woman show wearing every hat, it's hard to keep them consistent!  Hmmm maybe I need to hire someone 🙂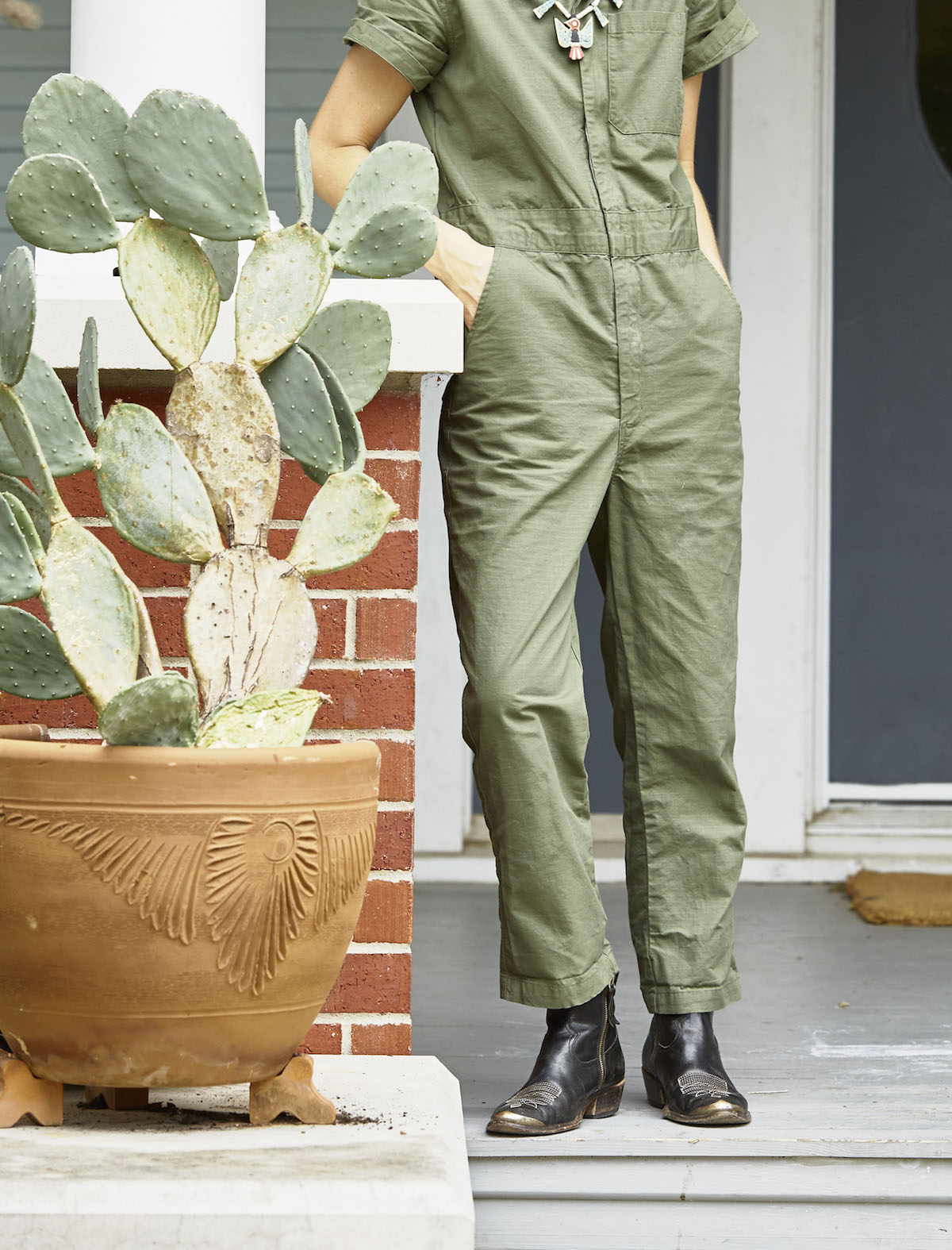 Tell us about your daily uniform:
My daily uniform has changed a lot since I had my store (I miss all that access to clothes!!   At cost!!)  and working in an office, I'm not around anyone most of the day, and I'm doing a lot of moving around, I'm pretty casual and comfortable.  I wear a lot of denim, which I guess that has always been the case, but a lot of jeans and t shirts, overalls and floral tops, and lately my Hey Gang Women's coveralls.  I literally want to wear them everyday.  I don't know how I haven't had a pair before!  They're so comfortable and so perfect for moving and shaking AND hustling a toddler around.  For shoes it's usually Vans, Birkenstocks, or Cowboy boots.   All are easy and comfortable, and go with everything.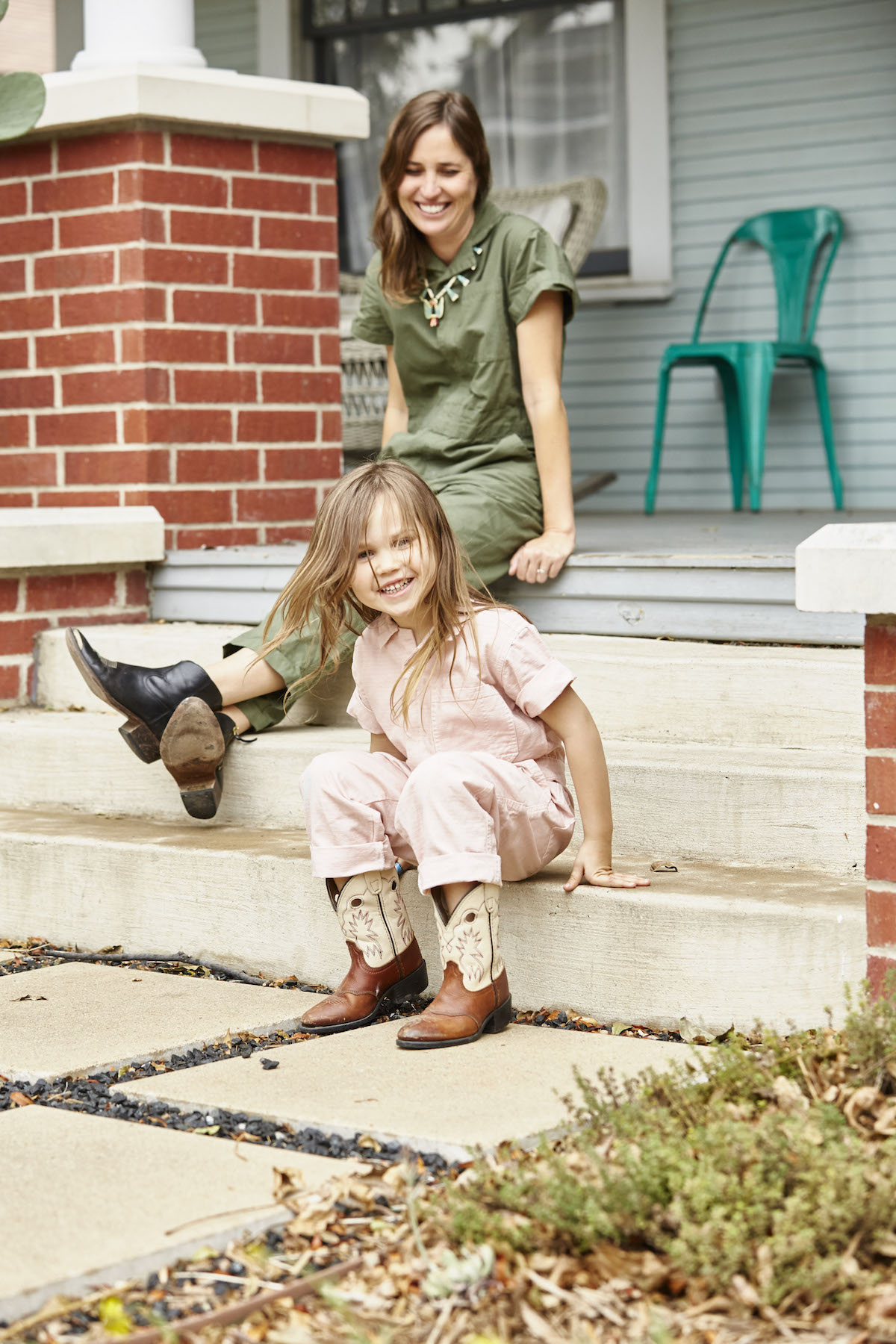 Have you always had a very strong personal style point of view? How has your style evolved over the years?
I have had a strong personal style point of view since I was very little.  I was an 80's baby, and I just wanted to be Punky Brewster.  I would tie bandanas around my jeans and only wanted to wear "hard jeans" which were like those cardboard Wrangler or Lee jeans.  They had to be so uncomfortable!  I've always been into what I wear, and my style really hasn't changed all that much over the years, it's been pretty consistent.  My brand is actually the same, its really just a mini extension of myself.  I'm excited to include more women's and men's into the assortment - chore coats coming next!  My dad was full on Ralph Lauren and George Strait when I was little, and my grandfather raised cattle and had a ranch on the side, so he was always wearing denim, overalls, cowboy hats, boots, and actual workwear.  I also grew up going to Santa Fe, and my dad collected Historical Native American artwork, rugs, pots, paintings etc…. So that has had a profound influence on me.  He was really into style, actually voted best dressed in High School!  So I've always been aware of style, and not in a shallow way, but as an actual creative expression.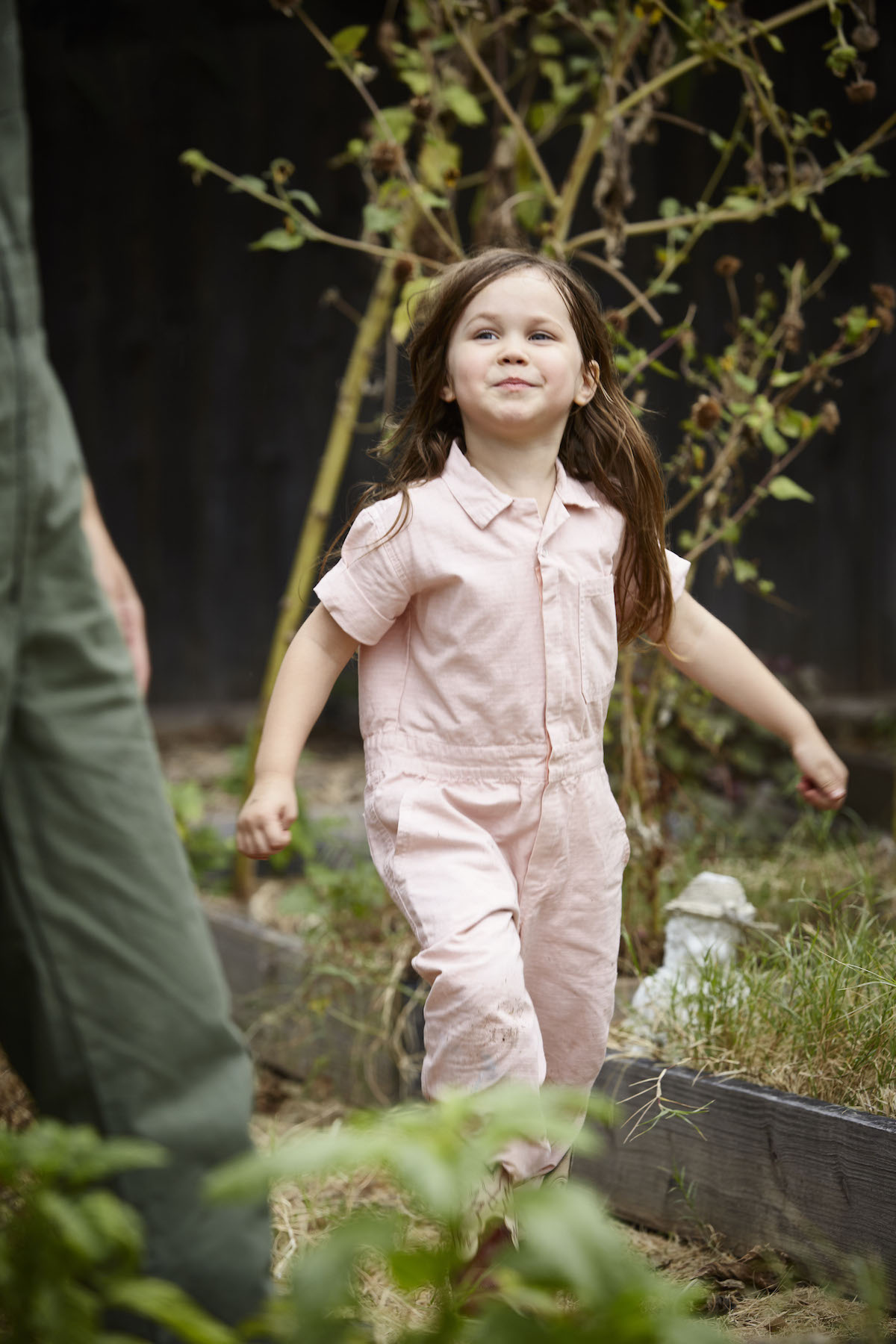 What's the one thing you own in multiple color ways?
Denim, Denim, Denim everything and white and black tees.  Also floral tops and dresses, I love mixing them in and is my way of adding a little feminine touch. 
What's one thing we will never find you wearing?
That's a hard one!  I'd have to say ballet flats, I've tried, they just don't work into my wardrobe, or I guess the way I like to see shoes on my feet.
Favorite place to shop in Dallas or Ft. Worth? Favorite place to shop outside of DFW?
Fort Worth - You Are Here They have a great little collection with brands like Ulla Johnson, Golden Goose, and Re/Done Jeans. 
Dallas - V.O.D.  I can't actually buy a lot there but I sure do want to !  They have an amazing assortment of R13 which is one of my favorite brands, and Isabel Marant, Vanessa Bruno, and some really beautiful brands that I don't even have a place or occasion to wear them to, but they're so fun to look at! 
Rest of the world - My favorite store in the US is RTH in LA, I always pick something up when I'm there.  He doesn't have much of an online presence so its super special when you're there!  His styling perfection, and it's such a unique perspective, feels so fresh!  I also just discovered 180 The Store in NYC.  It was founded by one of my favorite showrooms I used to shop at for my store, and the curation and styling is perfect.  They carry a huge collection of Chimala, which is also one of my favorite brands - her denim is beyond amazing.  I also LOVE Caron Callahan. Her collections are always the perfect mix of workwear and Feminine.  I mostly shop online or when I travel.  My world is so much home + studio these days though, I really only buy super special pieces, and invest in things that I love.  I think a minimal wardrobe is important, fewer and better pieces take you a really long way!
PS. You might also enjoy the daily uniforms of Madison McKinley Isner and Kathryn and Lizzie Fortunato.
Photography by Gustav Schmiege