01/17/2019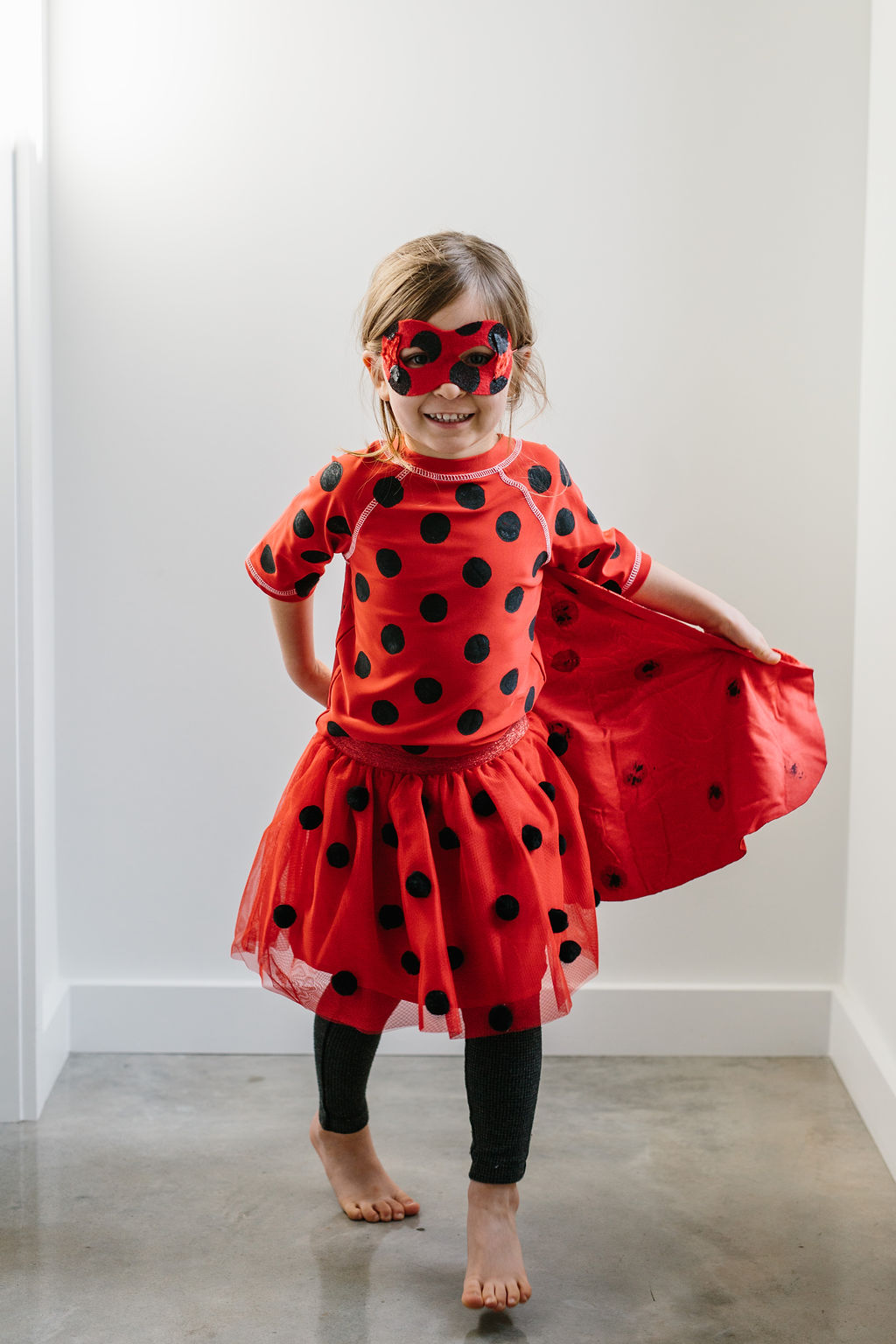 (This post and Ladybug Costume DIY is sponsored by Miraculous Ladybug, a television series featuring two Parisian teenagers, Marinette and Adrien, who transform into the superheroes Ladybug and Cat Noir to protect the city from supervillains.)
In early November, with no warning at all, Parker woke up not feeling like herself. She normally awakens with a breakfast request on the tip of her tongue but on this particular day she quickly snuggled up on the couch instead. An hour later it was apparent that the stomach bug had found us. I grabbed her iPad from high on the office closet shelf and tucked her back in bed with the show Miraculous Ladybug cued up on Netflix and a fresh water bottle next to her bed.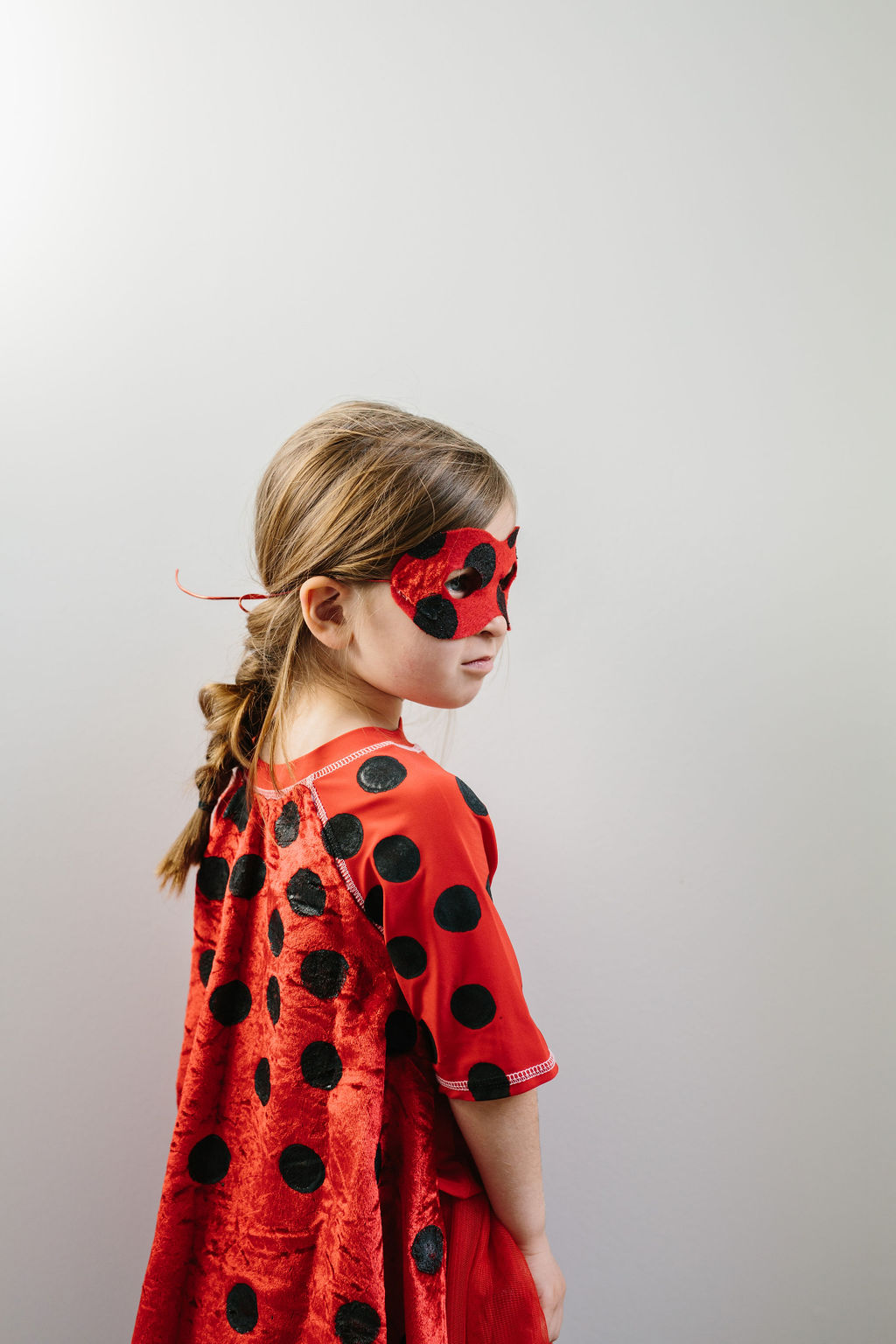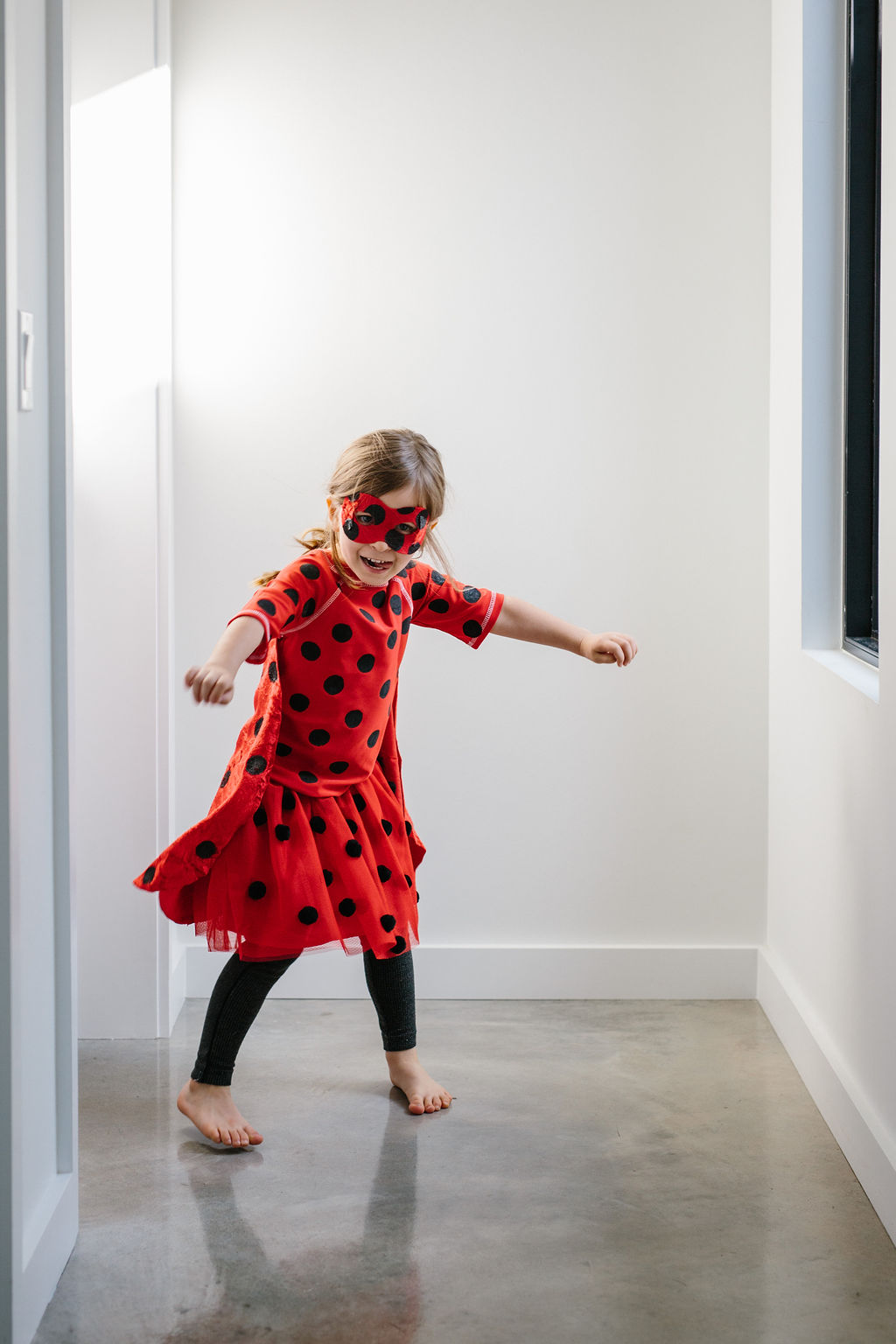 She eventually dozed off, but when she awoke she couldn't wait to tell me about this new show. "And then she transforms into a ladybug, mom! And she runs so fast, and also she flies and she helps everyone who needs help," I was told. I watched along for an episode and also became endeared to Marinette, the miraculous ladybug character who does indeed use her quick wit, resourcefulness and creativity to overcome obstacles and help those in need. (Also, I was very grateful to have a show that we can watch together that doesn't make me roll my eyes on repeat.)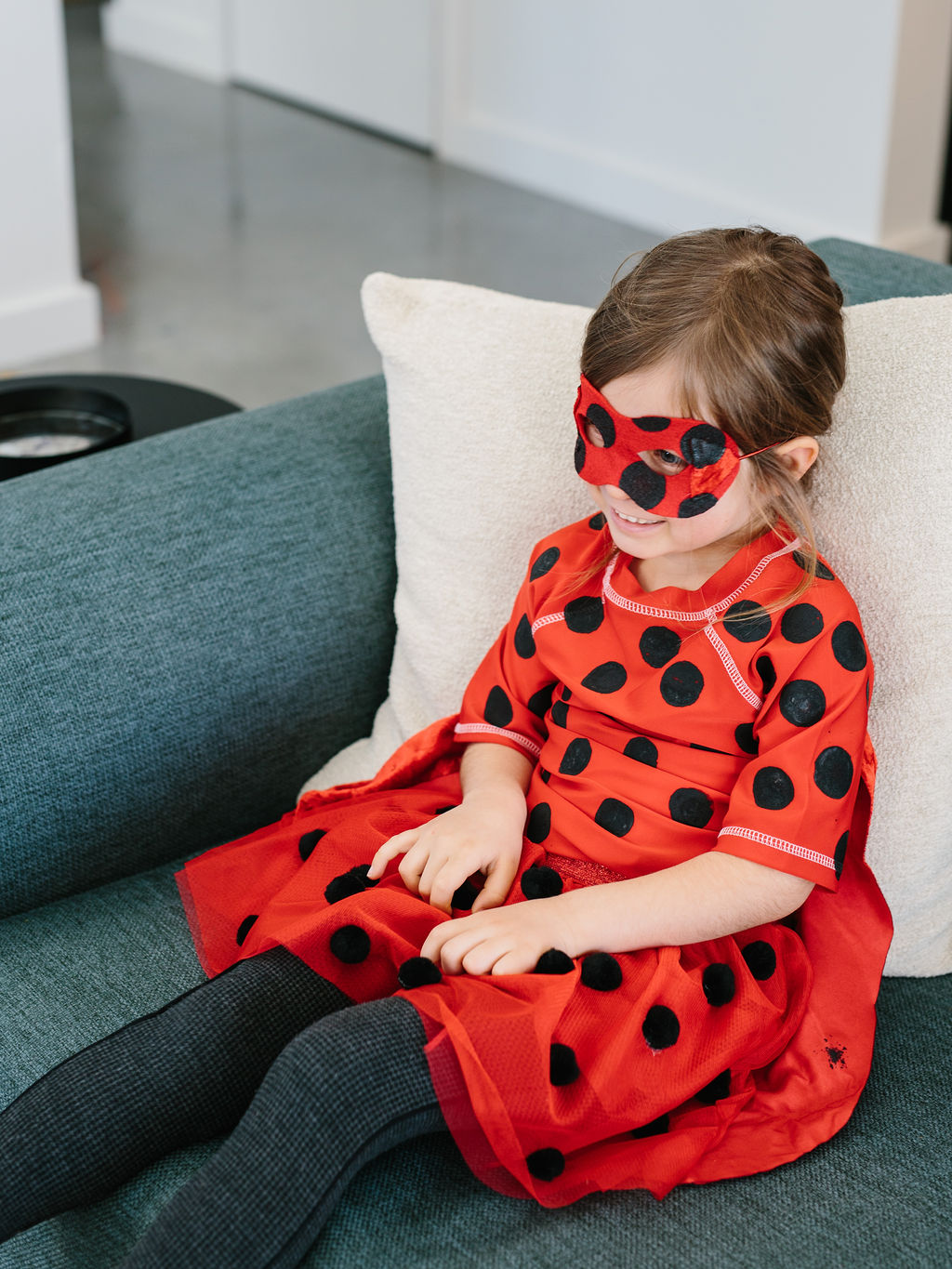 To be honest, though, we don't watch a ton of television around here. We limit it to weekends only, usually while Ever naps and sometimes entire weekends can go by where we unintentionally just leave it off. However, I loved how much she loved this ladybug character and wanted to bring it to life for her.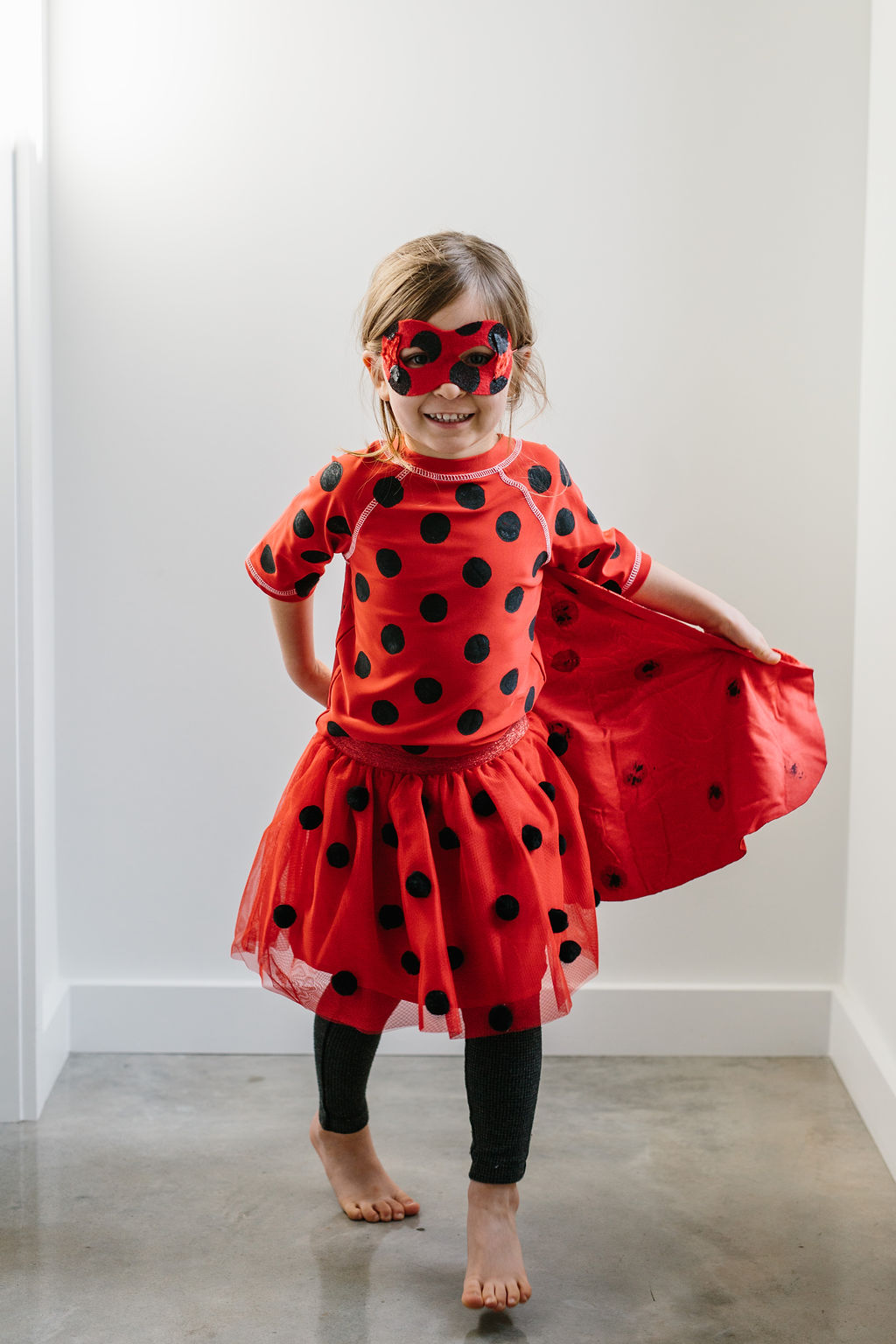 As so many of us are trying to limit screen time in some way, I really love the idea of taking these very dimensional tv characters and allowing kids to bring them to life with their imaginations through costumes. So many of these characters have been written to encompass many traits that we want our kids to possess—team work, kindness, courage, honesty, and resourcefulness, just to name a few.
When I showed Parker this ladybug costume DIY, she was giddy with excitement, immediately putting it on and not taking it off all day. It went to school, to the park, out to dinner and was removed only when she knew that it would be promptly washed and could be worn again soon.
Keep reading for the full costume tutorial: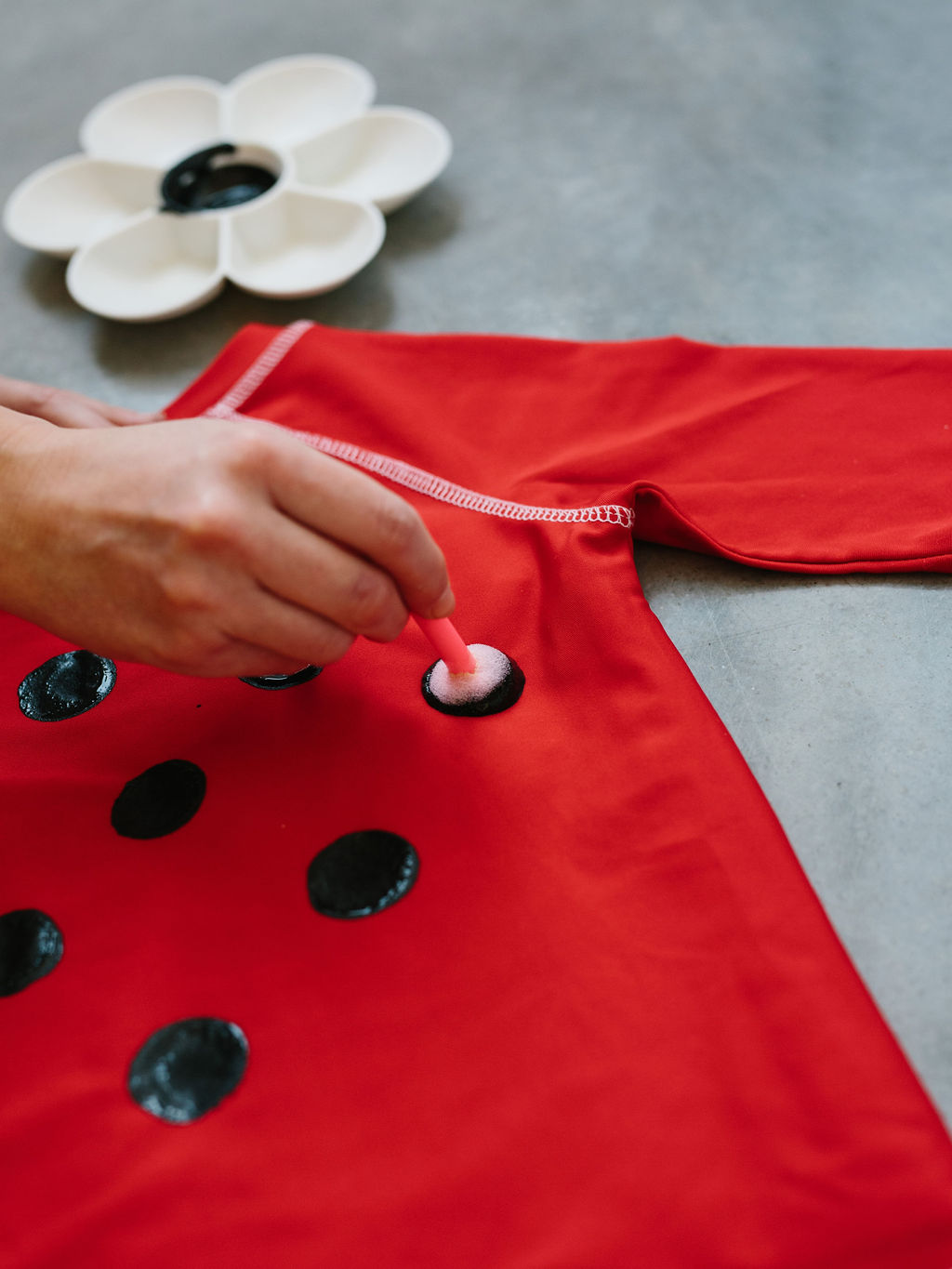 What You'll Need for the Ladybug Costume DIY:
red athletic shirt (this one is a rash guard, so it's stretchy and thick)
red tulle skirt
1yard red velvet fabric for cape
1 felt sheet- red
24 black pom poms
black fabric paint
round sponge paint brush
glue gun and glue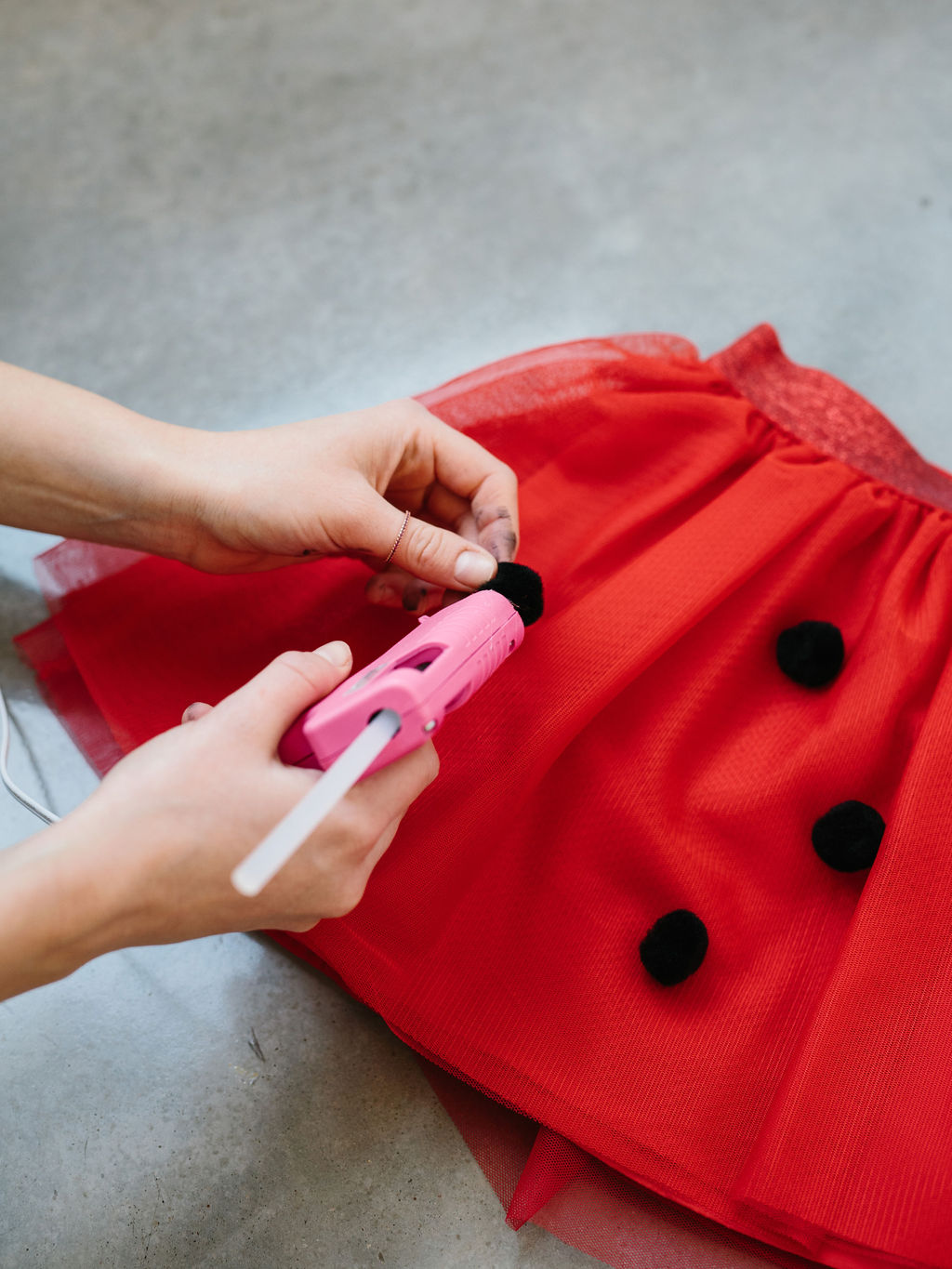 Ladybug Costume DIY Instructions:
Line inside of shirt with paper towels or grocery bag and use black paint to sponge spots onto the shirt. Let dry.
While front of shirt dries, use a hot glue gun to glue pom poms onto tulle skirt.
Once front of shirt dries, flip over onto garbage bag or grocery sack.
Trace the shape of the shoulder and neck seams from the back of the shirt onto the velvet cape fabric. Cut outwards from armpit seams on cape fabric, then round the bottom to hang down from shirt at desired length. (Use lighter to melt edges of cape fabric if fraying is an issue.)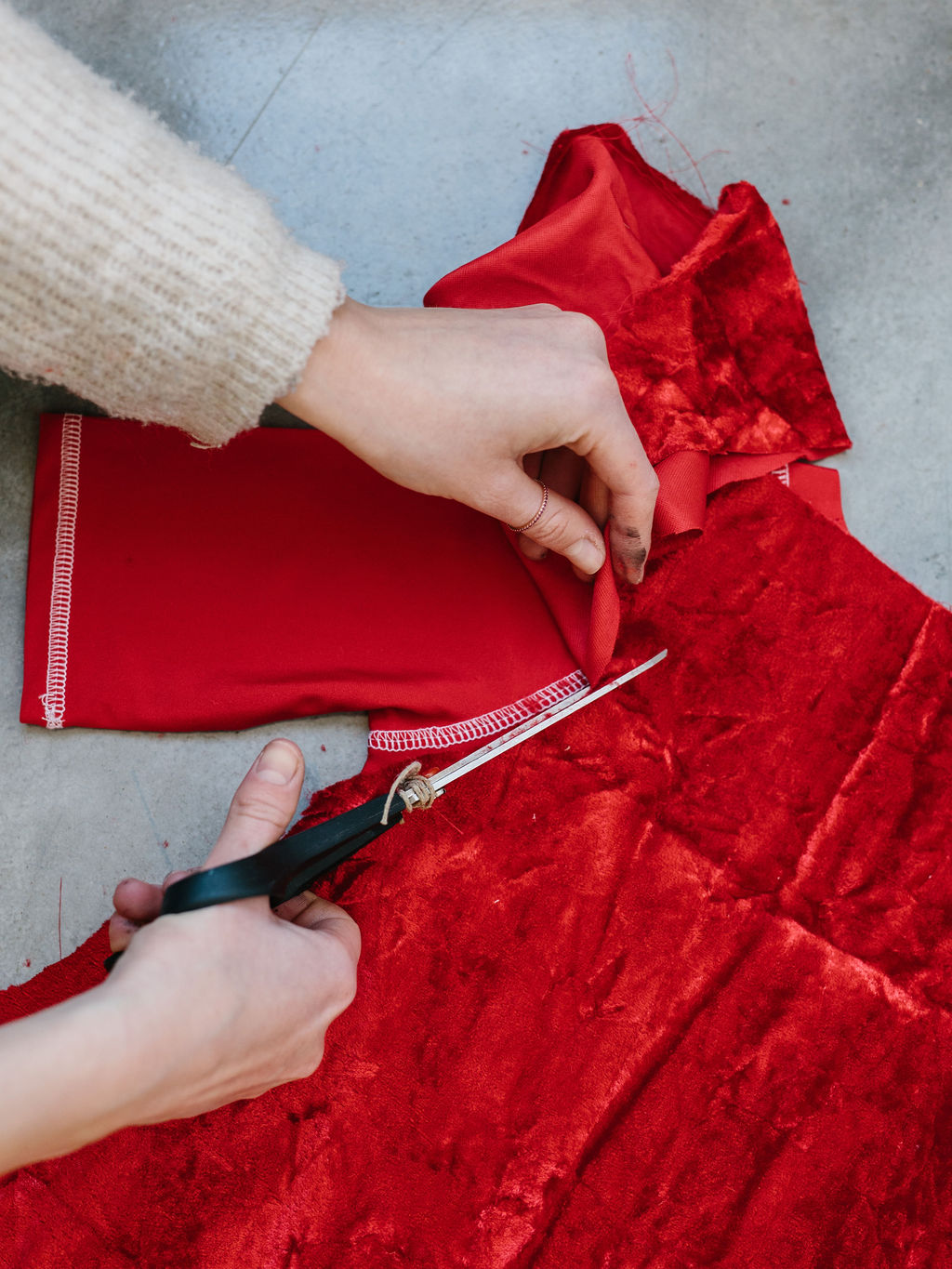 5. Use glue gun to glue the edges of the cape onto the seams of the shoulders and back. Paint black dots onto the cape and back of sleeves using sponge brush. Let dry.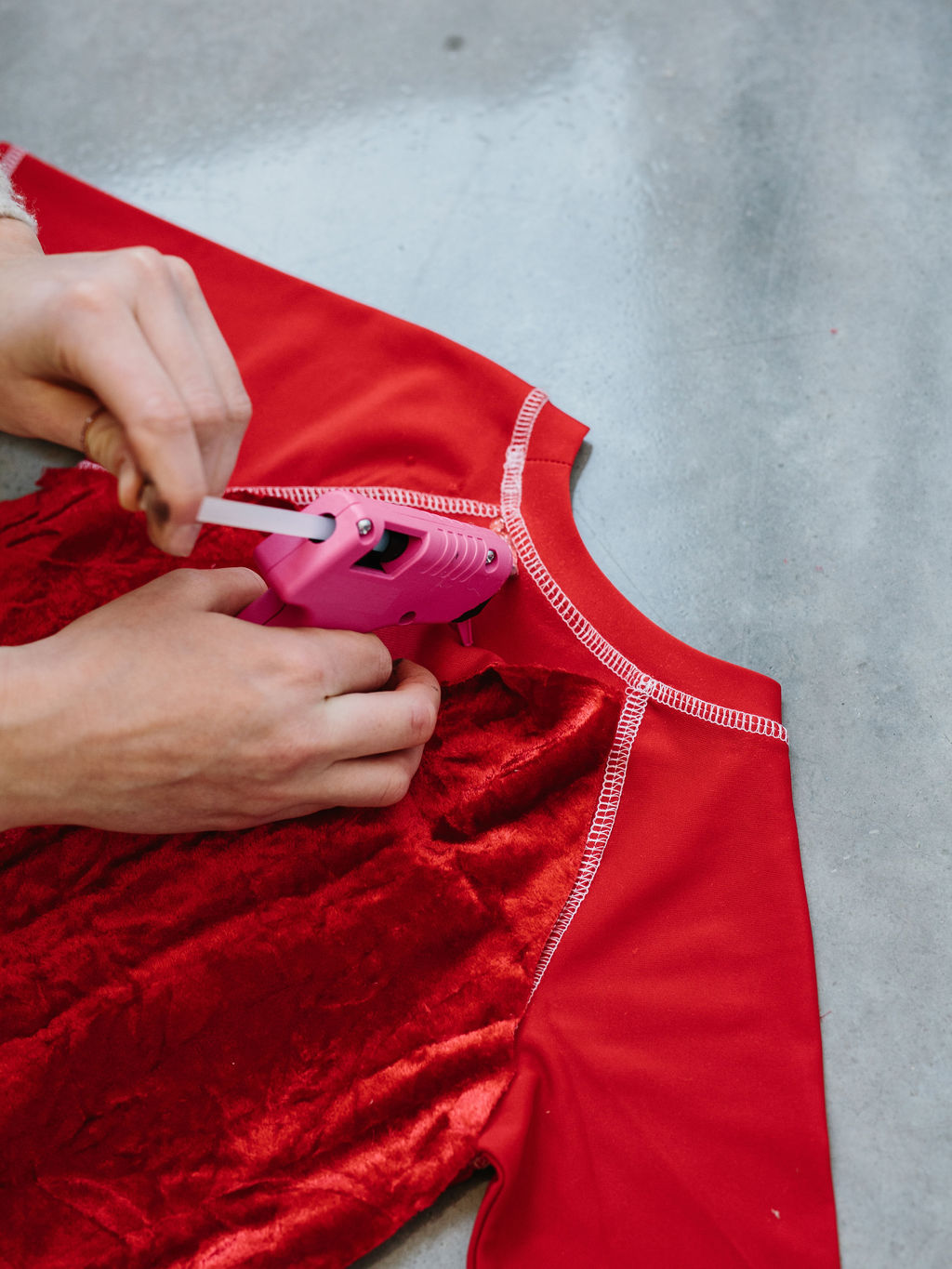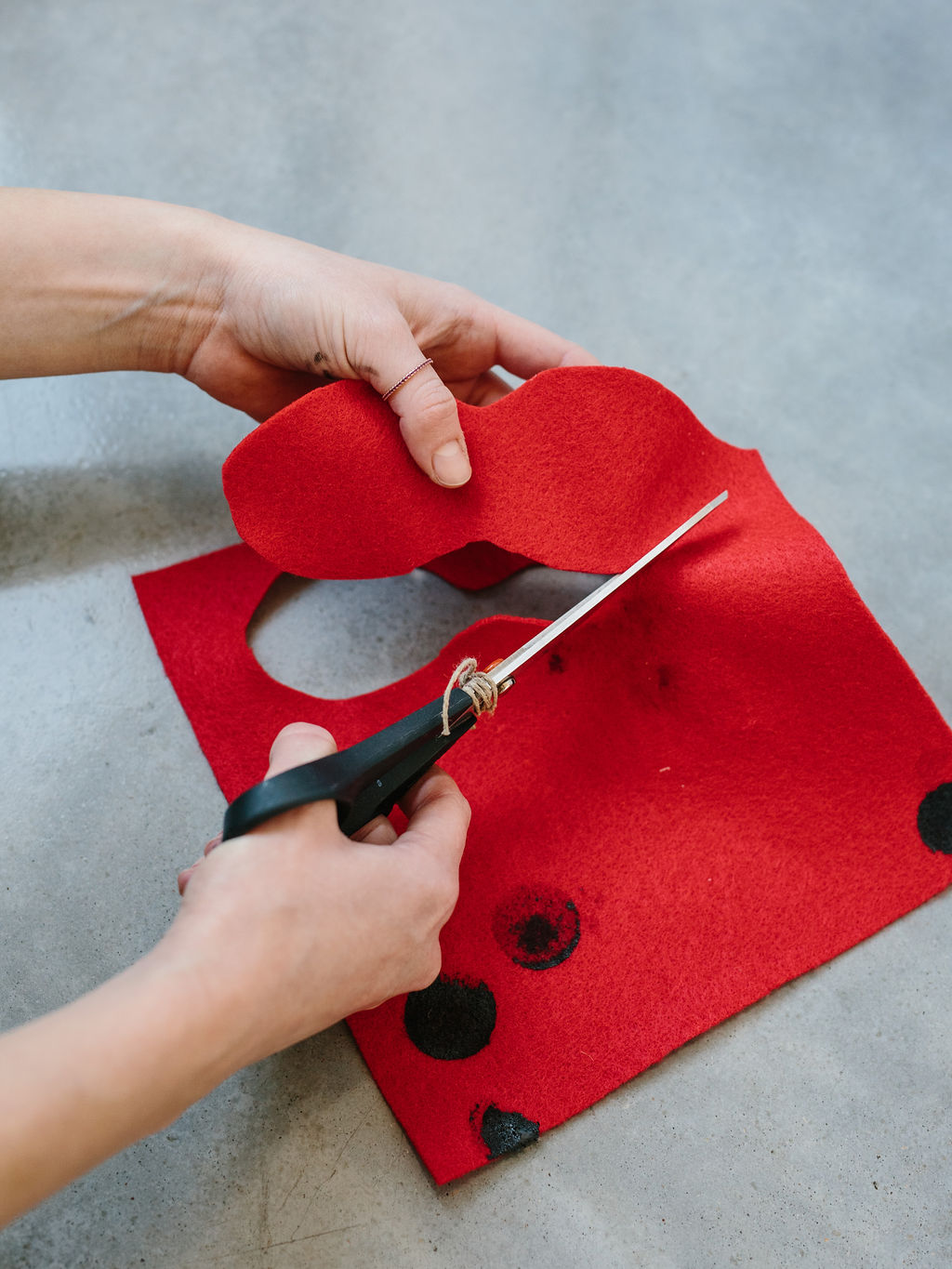 6. Cut out an eye mask shape using red felt. Then cut two triangles out of cape material to glue over red string at corners of mask. Use the sponge brush to paint black spots onto the mask. Let dry, then cut out two circles for eyes in the mask.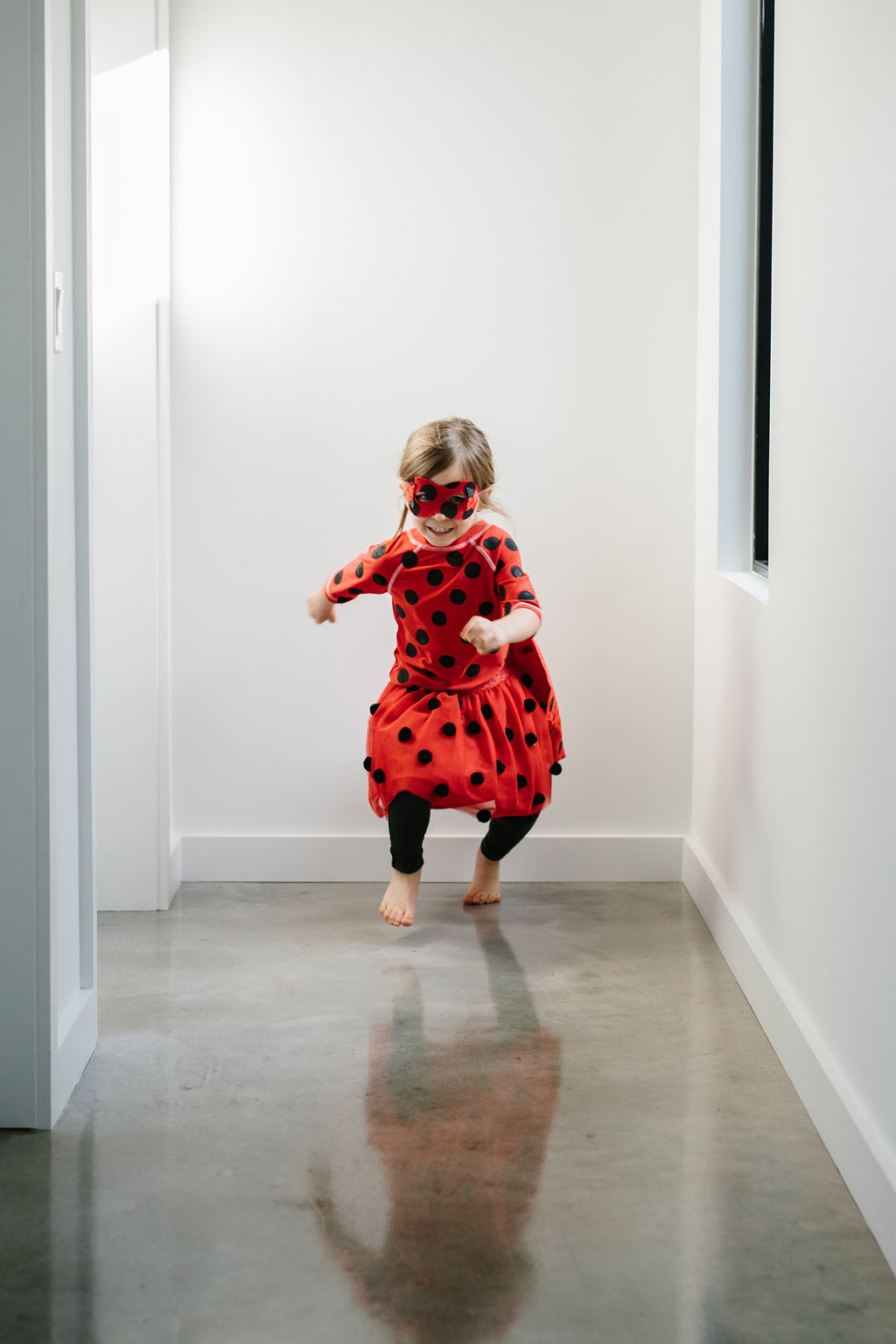 If you haven't already checked out the show, Miraculous Ladybug for your kiddos, I highly recommend it!
Photography by Katie Jameson
PS. For more DIY costumes, click here!