(This story of Anna Marie and her Alpaca Farm is the latest in our series of small business stories in partnership with Gracie Byrd Jones. You can see more here.)
When we hear about the impetus of many new businesses, there's often times a storyline of community. It's true of Starbucks, of Barre3, and so many countless others. Kindred Fiber Farm, a budding business located in Fredericksburg, Texas, is no exception.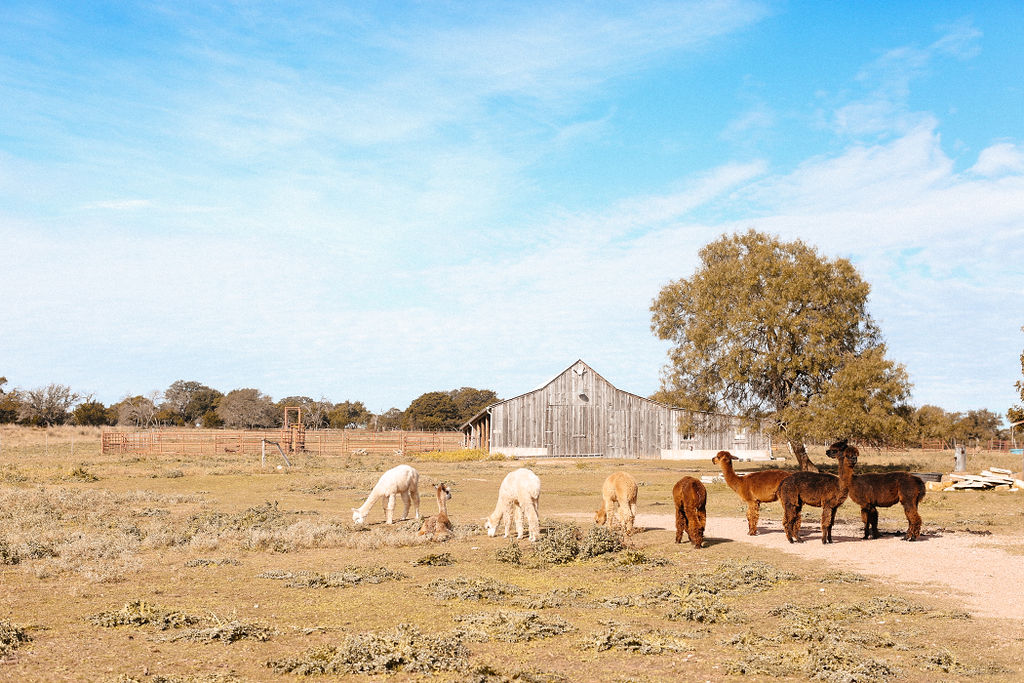 I got the chance to chat with Anna Marie about her beautiful alpaca farm. I wanted to hear how she got her start, as she is the only alpaca farmer I currently know and was also so curious about the vision for her business. Keep reading for the full scoop and if you need me, I'll be planning my trip to Fredericksburg and to visit the alpacas!
Jen: How did you get started with Kindred Fiber Farm? What was the first step you took to go from idea to actually starting a business?
Anna Maria: I started knitting in college as a way to make handmade gifts for family and friends, and really enjoyed learning a new craft where I could make something on my own. I think there is something so special about spending time to make something with your own two hands for someone else! From there, I would get calls about my knitted items and requests for custom orders. I remember feeling so much excitement that someone wanted to buy something I made. Fast forward a few years, I was visiting a farm that had alpacas, hoping to purchase the alpacas fleece so that I could spin my own yarn to incorporate in my knitting. The farmer needed to sell several of her alpacas and asked if I would be interested. I remember calling my husband that day so vividly, asking him if we could buy these alpacas (and his response was "wait... what?"). I wasn't looking to open an alpaca farm, but I continued to say yes and follow my instincts that were telling me that this could lead to something really great.
J: How long has your alpaca farm been in business? What has the growth been like over that time? What's your ultimate goal for the business?
AM: I have had Kindred Fiber Farm for two years, although I've been making custom knitted items for more than eight years. The Fredericksburg community truly values hand crafted goods and I've found a lot of success through selling locally at markets and pop up shops. I've recently started workshops, teaching others how to make gifts and tap into their creative side. My ultimate goal is to connect customers knitting with our yarn or wearing our knitted goods to our alpacas. I dream of a day where we all know where our wool clothing comes from, how the animals were cared for, and that the farmer raising their herd is supported through our purchase. I'd love to push the connection of the consumer to the farm so that hopefully we can get there one day.
J: Why an Alpaca Farm? What makes alpacas unique?
AM: I've always had a big heart for animals. So when a local farmer needed to rehome part of her herd, I was so eager to take the alpacas on even though I had no clue what alpacas were like! But since then, I've learned that alpacas are such a special animal. They are gentle, intelligent, and playful not to mention so cute! They don't damage the pastures they graze on and their manure is incredible for gardens. The fleece they produce is extremely warm, dries quickly and is hypoallergenic because it does not contain lanolin. With their gentle nature, they are great around children and I am so excited to raise my little girl around them.
J: What's the best way for someone to learn how to knit? Is it pretty easy to pick up?
AM: I'm such a visual person, so I struggled with learning how to knit by simply following a pattern. I tried watching YouTube videos but what really helped me learn to knit is because I found myself at a local yarn studio asking for help. I'd spend hours there, knitting and asking questions until I felt confident with the skill. The thing I love about knitting is that you can make it as simple as you would like it to be or as complicated. You are able to choose the pattern, knowing your skills and comfort level. There are so many amazing yarn stores in Texas that are so kind to help.
J: If you weren't running Kindred Fiber Farm, what else would you be doing? What's one thing you aren't doing now that you would like to be doing in five years?
AM: If I didn't have Kindred Fiber Farm, I would like to have a co-working type studio where local creatives could come together and work on their craft and have community. Something I would like to do in 5 years is open up our farm  for groups to come visit and learn about our story and why we are passionate about our animals and process. I would love to have a farm open house and workshop, where we teach classes like spinning, knitting, weaving, embroidery and natural dyeing- all things that we do on the farm currently. My hope is to educate others on the process and why it's so important to support your local farmers and help others tap into their own creativity and learn a new craft.
Photography by Gracie Byrd Jones)