Flying with toddlers or young kids? Read this packing list before you go! It's everything you might want to consider packing before you're wheels up!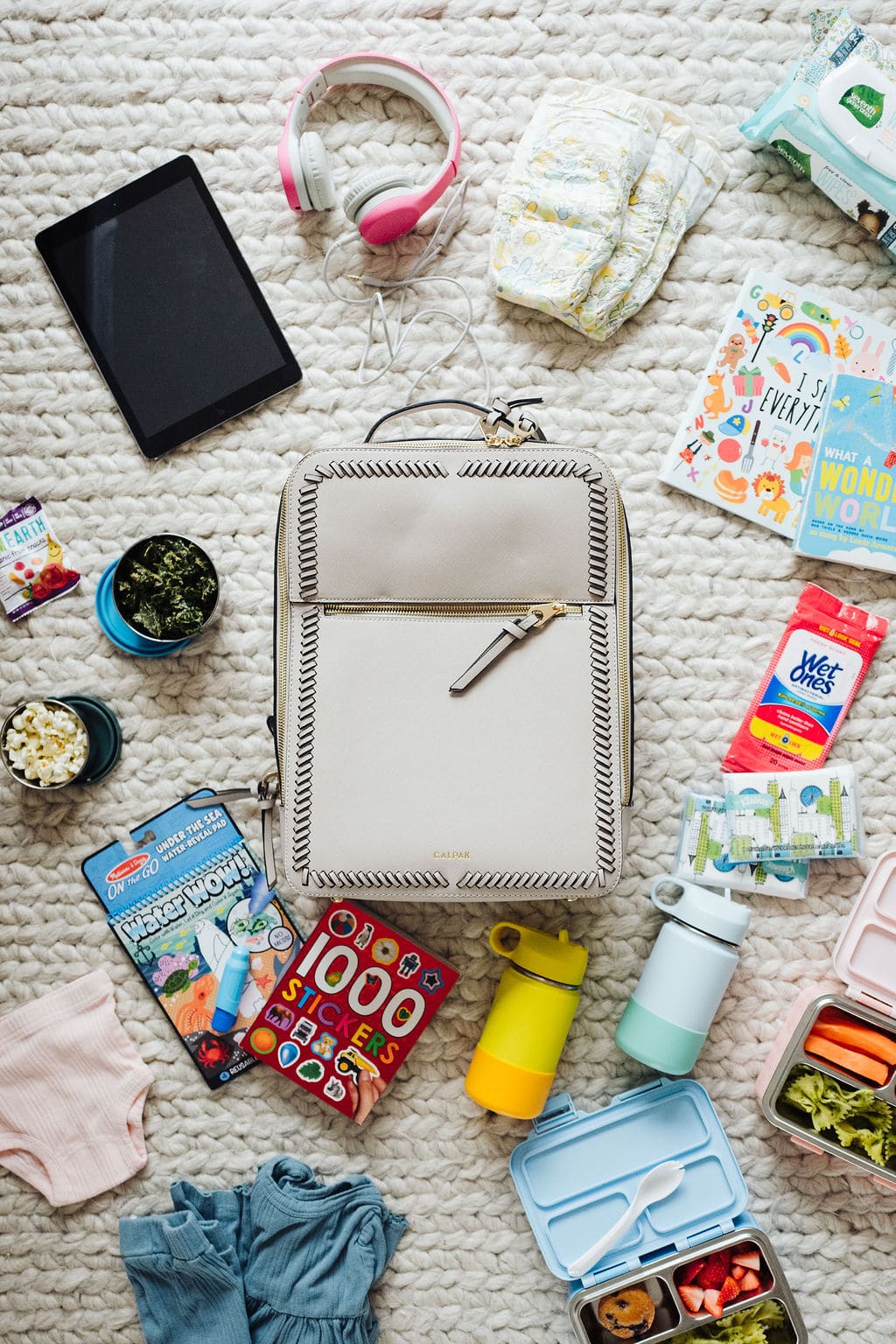 I have very distinct memories of my first mommy and me experience when Parker was a baby. It was early summer and almost every mom had the same question: "Help! We are traveling soon and I don't know what to bring on the flight for the baby!" Now that Ever is a full blown 2 year old toddler and Parker is in elementary school, our list looks a little different. I also like to think that I have refined the list to near perfection after a couple dozen flights with the kids. Below is the packing list that includes exactly what I take on the plane for my kids now as well as my favorite carry-on backpack ever for traveling with kids!
(Here is the link for my travel backpack for those who have been asking! This post was originally published in February of 2020, the irony is not lost on me!)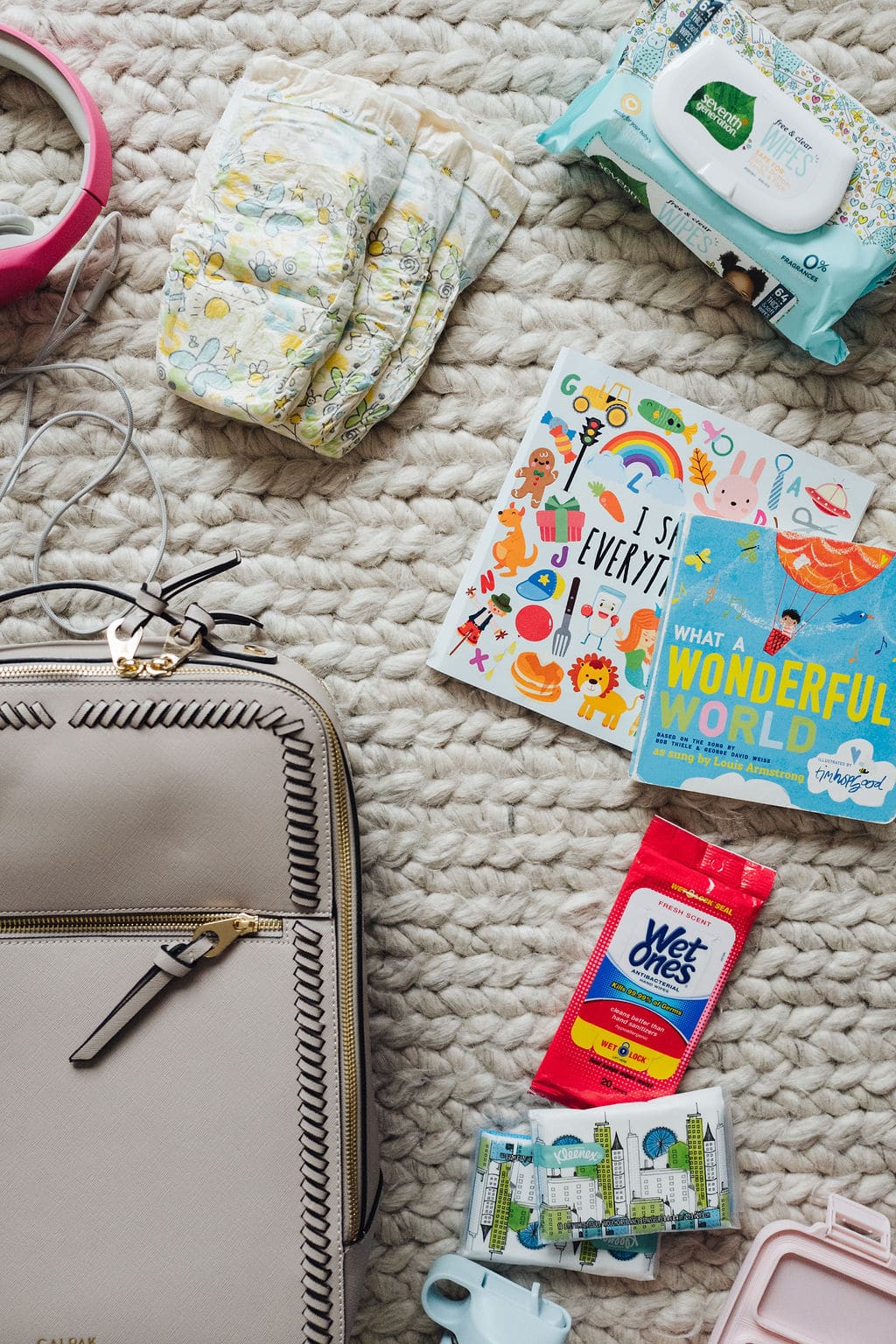 First, just know that travel with children is like the hiking the Himalayas-- the highs are higher and the lows are lower. With every travel hiccup I've learned from my mistakes and try to do my best to prevent them from happening again, but they're inevitable. Sooner you can breathe through it and adapt to the situation, the happier you will be!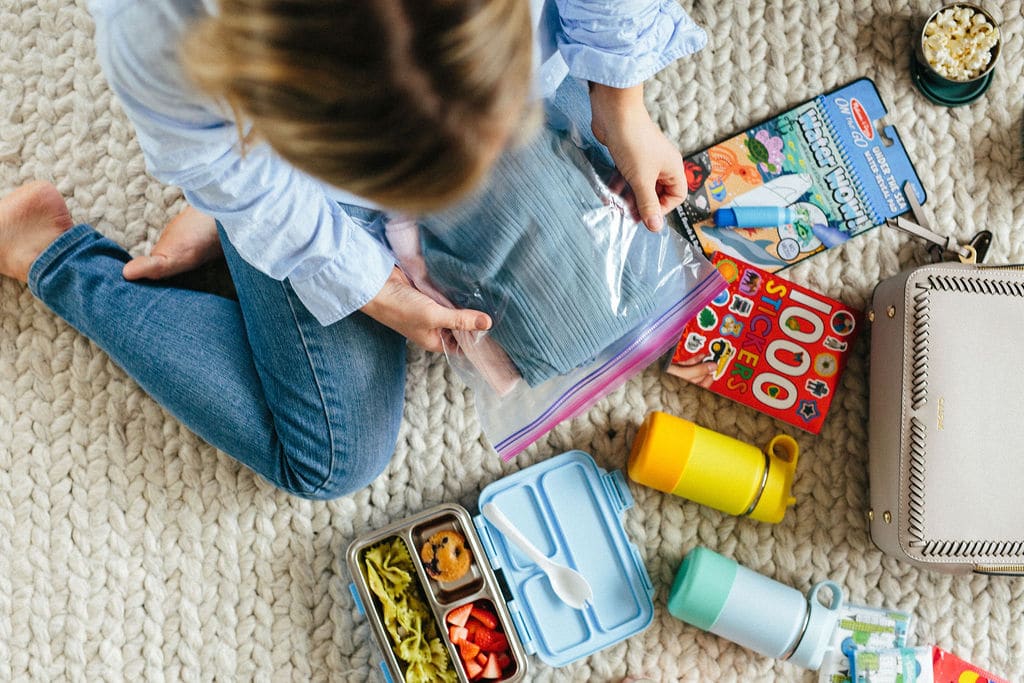 First a few frequently asked questions about packing for kids:
Can a child have a carry-on?
Yes! On most airlines, each ticketed passenger including children are allowed one carry-on bag and one personal item like a purse. Be sure to double check with your airline first. I choose not to pack a separate bag for any child that can't or won't carry it themselves. It's more efficient for me to pack that child into my own back than for me to carry two separate bags.
Can you bring food on the plane?
Yes, you can take almost any food on the plane. The only rule is that it can't exceed 3.4 ounces of liquid material. I pack a lunch for the girls every time we fly and I have never had any problem getting it through security.
Can you bring your own water bottles on the plane?
Yes, I always pack each of us our own empty water bottle on the way to the airport. Once we are through security, I fill each of them up at the water station. It saves plastic bottles as well as $5 each on water!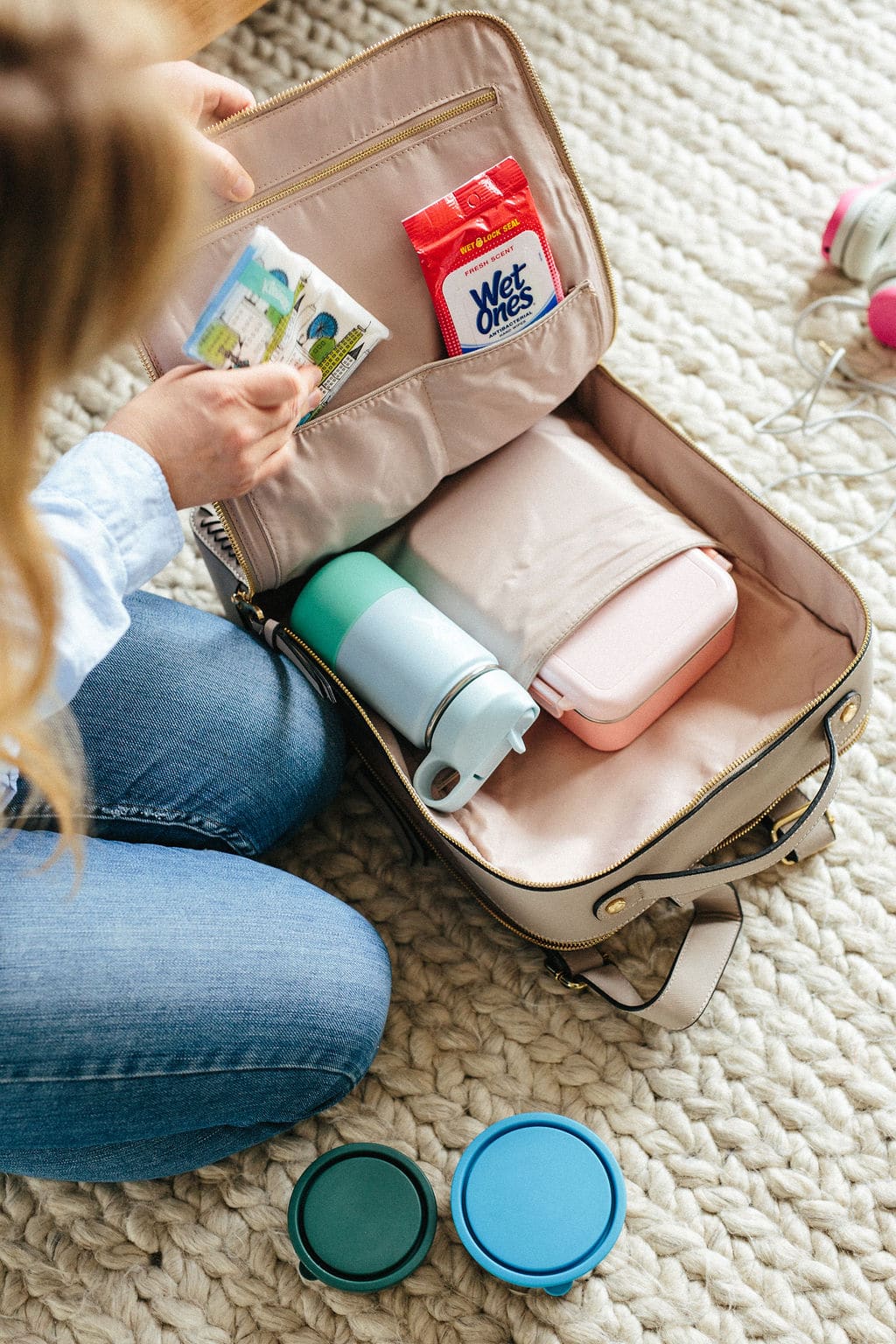 The following items are exactly what I pack in my carry-on when I travel with my kids:
empty water bottles that I fill up after security
a bento box with real food
headphones
iPads
extra clothes for Ever (2 years old)
diapers
wipes
sanitizing wipes
extra plastic bags
tissues
2 board books
stickers
coloring activities
gummies for bribes only!
air pods (for me)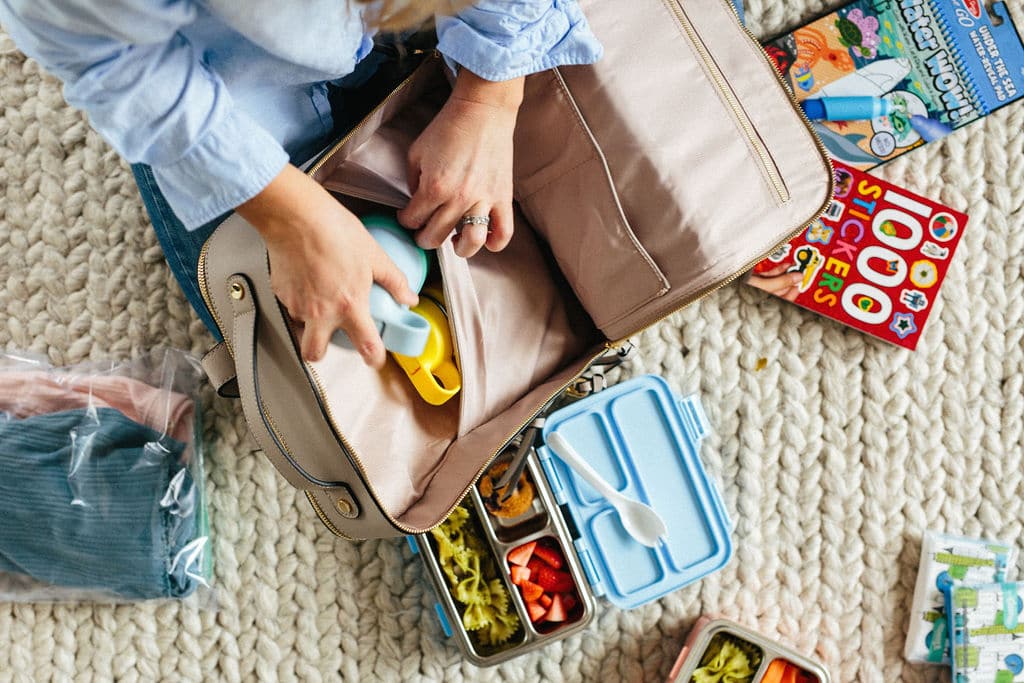 Empty water bottles that I fill up after security: We currently have these that I love, but I might get these because the slimmer shape will fit better in my backpack.
A bento box with real food: It's so easy to eat only sugar and carbs when you're traveling, but then we so often feel terrible. The same is true for kids! I try to pack their food for the plane like I do for school so that they also get plenty of fiber, protein and whole foods. I pack each girl a bento box and then have a couple other snacks separate that I can pull out. We use these and these for their bento boxes. Neither has ever leaked on us.
Headphones: I love the foldable headphones for space purposes. The volume range is also geared for kids so that they can't play their favorite shows at dangerously loud volumes.
iPads: Aaron and I pack our iPads for the kids. This will be Ever's first flight with an iPad. Any rules we have about screen time go out the window on a plane. We load them up with their favorite shows a couple nights before and make sure they're charged and ready to go before the flight. Make sure to turn the iPad completely off before packing in your carry-on bag. You would hate for it to turn-on while in the bag and drain the battery.
Extra clothes for Ever (2 years old): We probably should also pack a change of clothes for Parker, but at some point you do run out of space so we just pack extra clothes for our youngest and have never had a problem. For younger children, or potty training children pack a couple of extra sets. Parker notoriously pooped through three sets of clothes when she was 3 months old on her first flight. Must have been something about the elevation or cabin pressure!? It was crazy but she was dressed in just a t-shirt and socks by the time we landed!
Diapers: I pack most of our diapers for the trip in my suitcase and try to limit just what I'll need for the flight in my carry-on. One thing to note about changing a diaper on a plane: Always ask a flight attendant for a bag for dirty diapers prior to changing the diaper. They'll usually want to dispose of it in a separate trash can from the bathroom so that it doesn't stink up the entire plane. Change the diaper, drop in the bag, tie it up and then inquire about the best place to dispose of it.
Wipes: These are so multi-purpose! Perfect for sticky faces and hands as well as diaper changes.
Sanitizing Wipes: You might think this is crazy, but Aaron always stands in the aisle with the kids while I sanitize the entire row- seats, arm rests, seat belts, the windows and oh my gosh especially those tray tables! I also remove all of their seat back pocket memorabilia and put it away until we land so that they don't destroy it or contract the coronavirus. (JK, but not.) If I'm not traveling, you'll find me with those all-natural Whole Foods wipes. Not here! I go full on disinfectant when planes are involved!
Extra Ziploc Bags: I am so anti-single use plastic for everyday life, but sometimes on a plane you just need a Ziploc. It can come in handy for leftover food, dirty clothes, something that accidentally gets wet, dirty diapers and so many other things!
Tissues: I love these slim packs of tissues. Something about the plane brings out the runny nose in kids.
Stickers: Especially for toddlers, this book can provide so much entertainment. Plus, bonus points for exercising their fine motor skills. Each page of stickers is followed by a page where they can place the stickers.
A Board Book: Especially if I'm trying to get Ever to nap, having a board book is a way to maintain some of our nap time routine and give her those cues that she is used to.
Coloring Activities:I love these water coloring books for kids on a plane. They're a perfect mess-free plane activity and you don't have to worry about an entire pack of crayons rolling down the center aisle.
Something for Bribing: This will look different for every family but in our family it's the red packs of Annie's fruit snacks. I hide them away and pull them out only when I really need them.
Something for Consoling: Parker had a lovey that she adored at Ever's age so we never left home without it. Ever doesn't really have one thing that she's attached to that way, but she does love baby dolls so I try to always pack a small one for her.
Air Pods: It's laughable that the only thing I pack for myself amidst this sea of things is a tiny set of air pods! If the kids are content, I'll listen to a downloaded podcast, make notes on my phone or take the time to delete the photo bursts in my phone library that my kids leave me or other unnecessary data.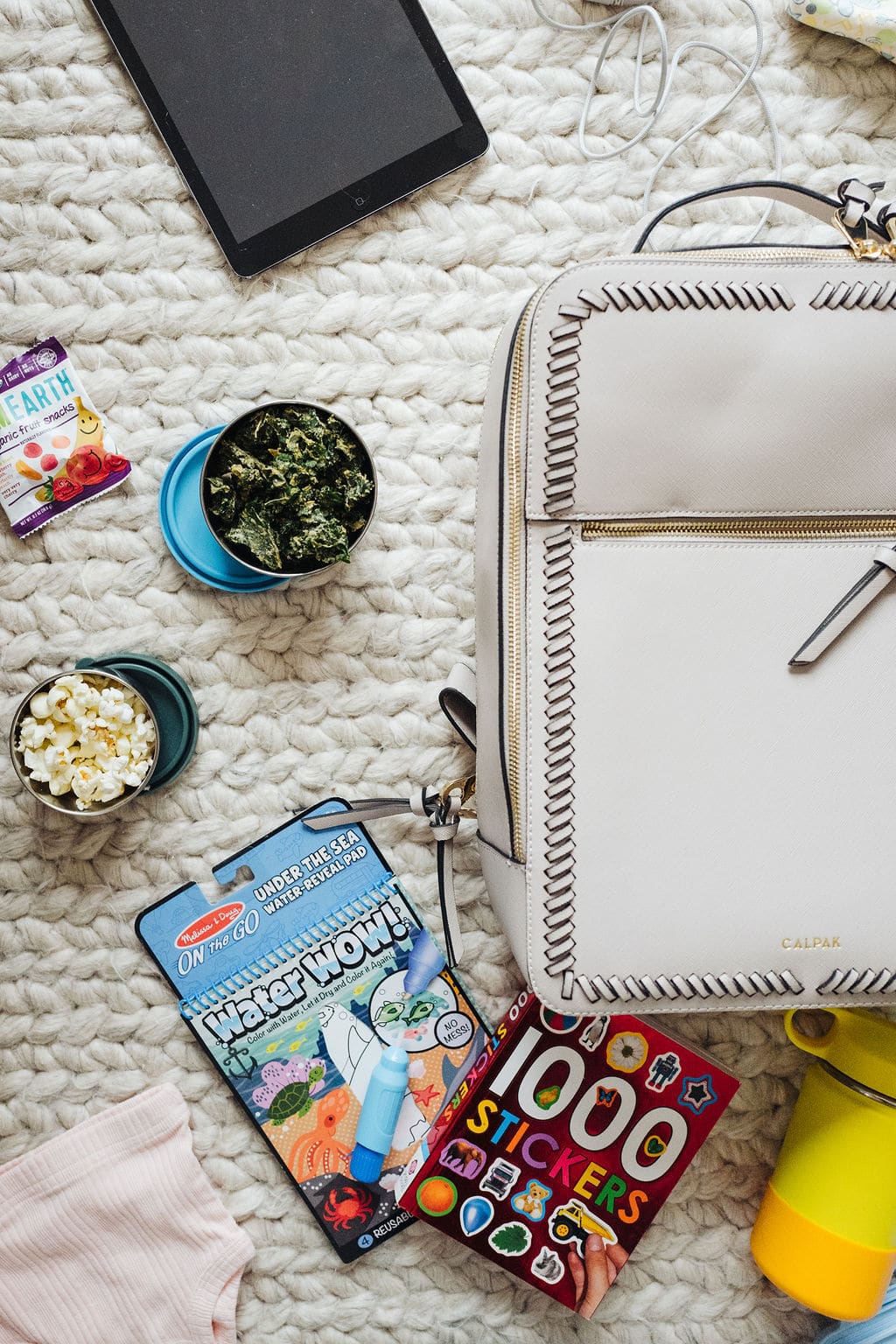 Airplane Activities for toddlers (ages 2-4):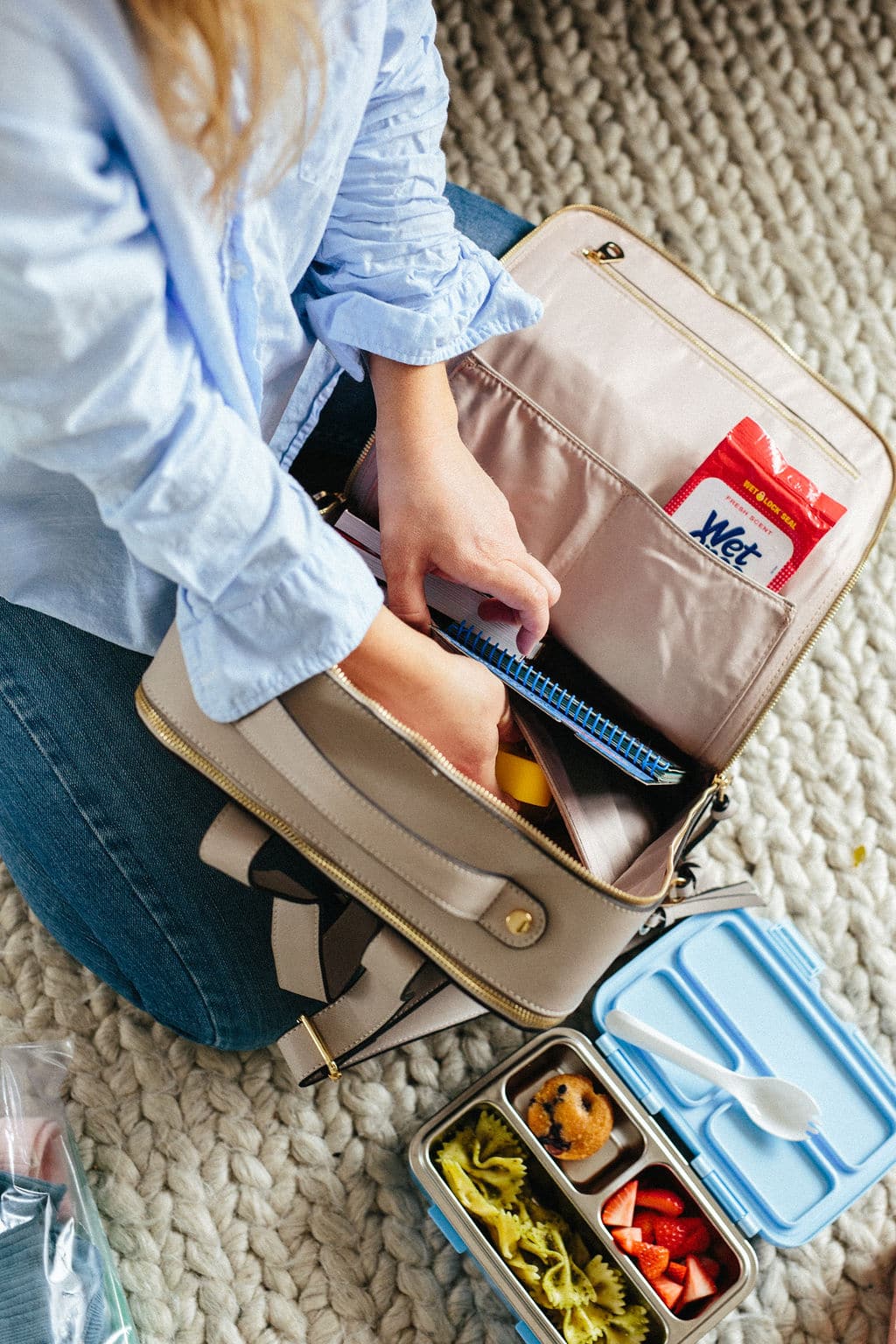 Airplane Activities for kids (ages 5-8):
stickers
coloring books + colored pencils
beads and strings to make jewelry
playdoh
washi tape
tablet with headphones
highlights, national geographic and bravery magazines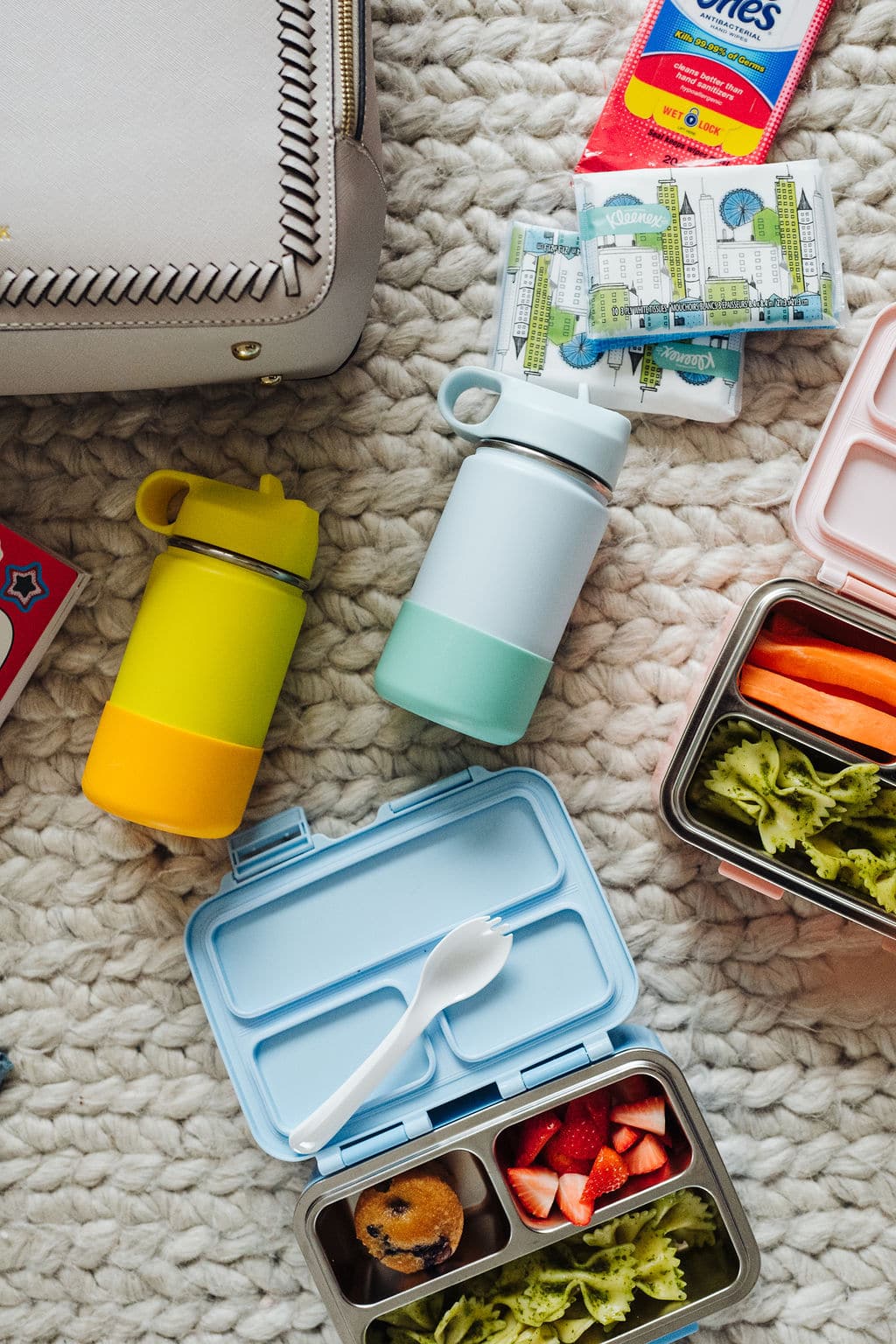 Plane Snacks for toddlers and kids:
goldfish
veggie straws
bowtie pasta
popcorn
tortilla chips
cucumbers
pretzels
toast
bananas
grilled cheese
cheese quesadillas
fresh fruit
kale chips
hummus
fruit snacks
granola bars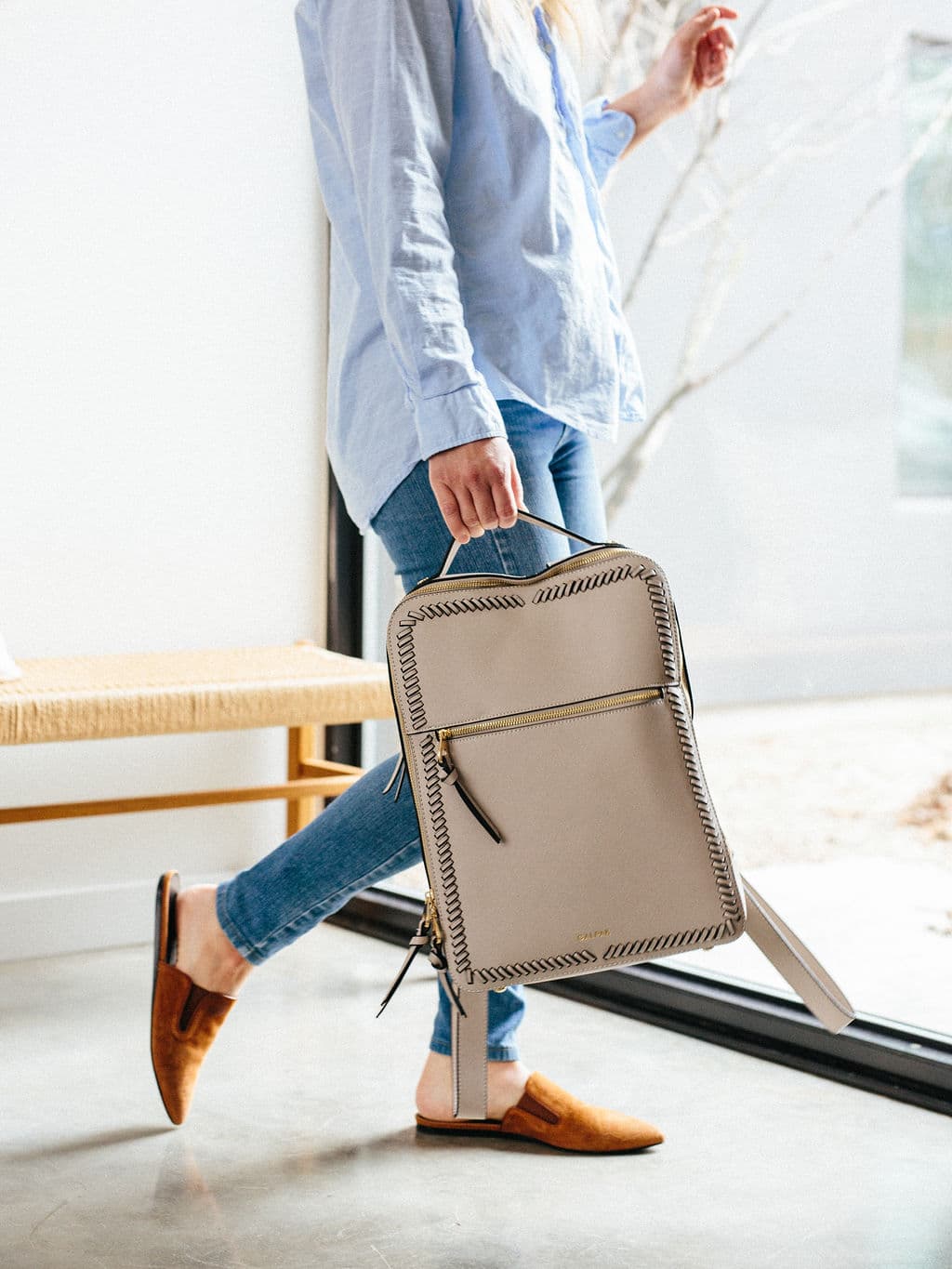 My favorite travel backpack (featured!) is by Calpak
Photography by Katie Jameson
TRAVELING WITH KIDS? YOU MIGHT ALSO ENJOY THESE POSTS:
How to Travel with Little Kids
What to Do in Washington DC with Kids
8 Tips for Taking a Family Trip
What to Do in Mexico City, A Travel Diary