09/06/2018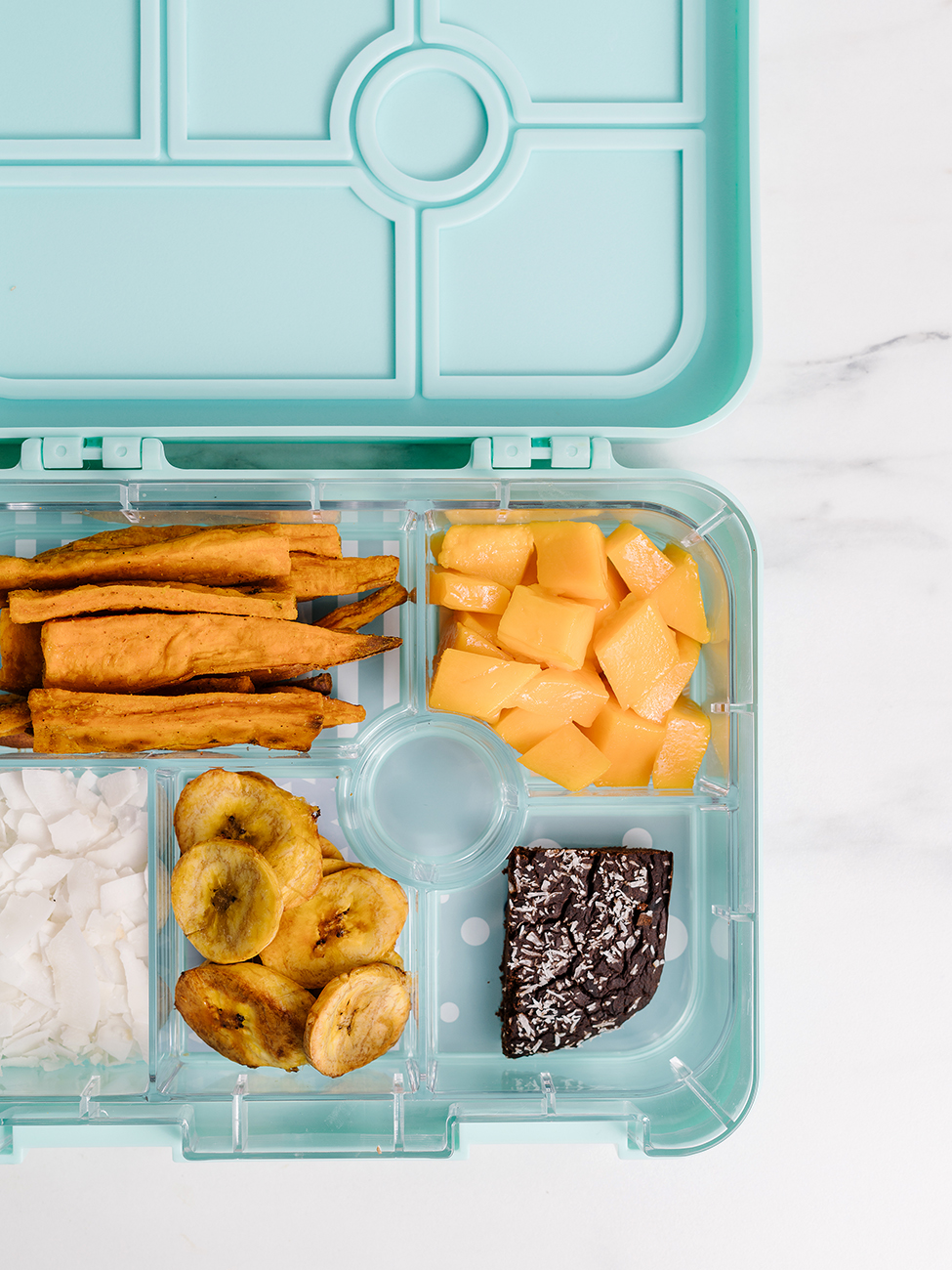 Labor Day might be behind us, but our last leg in the School Lunch series is taking us somewhere seriously fun. This time I (Lauren Daniel) am taking some of my favorite flavors and making them a bit more kid friendly. This flavorful lunch has serious caribbean vibes and will (hopefully!) keep your little ones interested:
Roasted plantains

Baked sweet potato fries

Mango chunks

Unsweetened coconut chips

Black bean brownie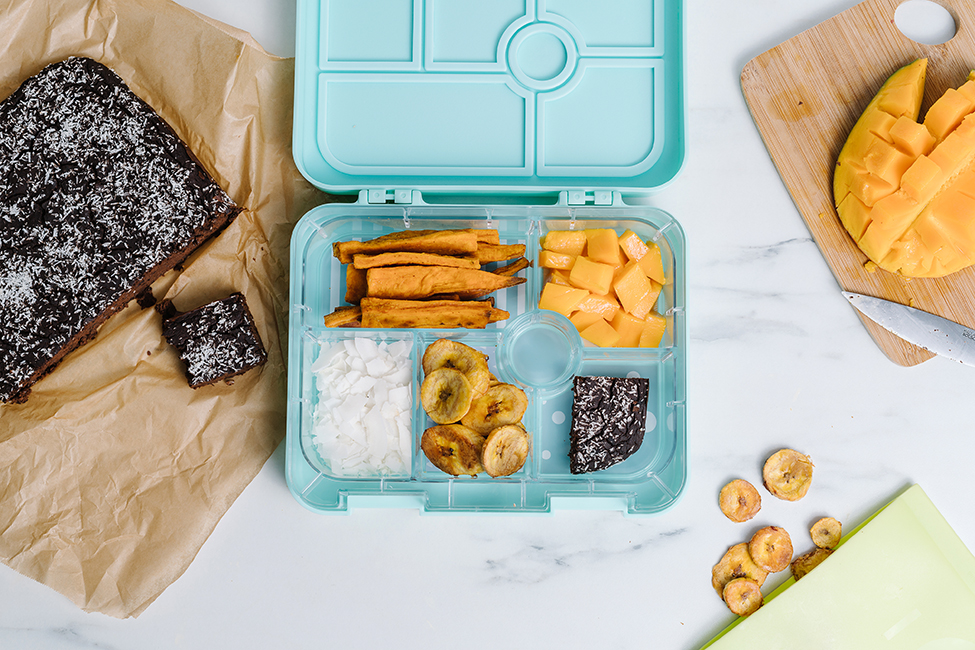 To start, I'll touch on plantains and why these are perfect addition to lunch. Whether you go with the crunchy chip version or have them roasted and seasoned, plantains are a great source of fiber, vitamins A, C, and B-6, plus offer magnesium and potassium. Unlike their sweet counterpart the banana, plantains must be cooked first. I recommend this recipe for crispy "chip like" plantains or for store bought, this brand is minimal ingredients and really yummy. If you like them softer and chewy, here's how I make them:
Roasted Sweet Plantains
Ingredients:
2 plantains

2 tbsp coconut oil

Salt or Cinnamon, depending on your preference.
Instructions:
When choosing a plantain you will want one that is yellow with brown spots.

Set oven to 350F.

Cut plantains into thin, even slices. Coat with coconut oil.

For savory, lightly sprinkle salt and toss. For sweet, sprinkle with cinnamon and toss.

Place on a lined baking sheet and spread out flat and evenly.

Baked for 10 minutes and then flip, bake for another 10-15 minutes. Until a bit crisp on the outside and tender/soft on the inside.

Store in an airtight container or bag for up to 1 week. (I like to store mine in the fridge because I like them cold, but it's not necessary.)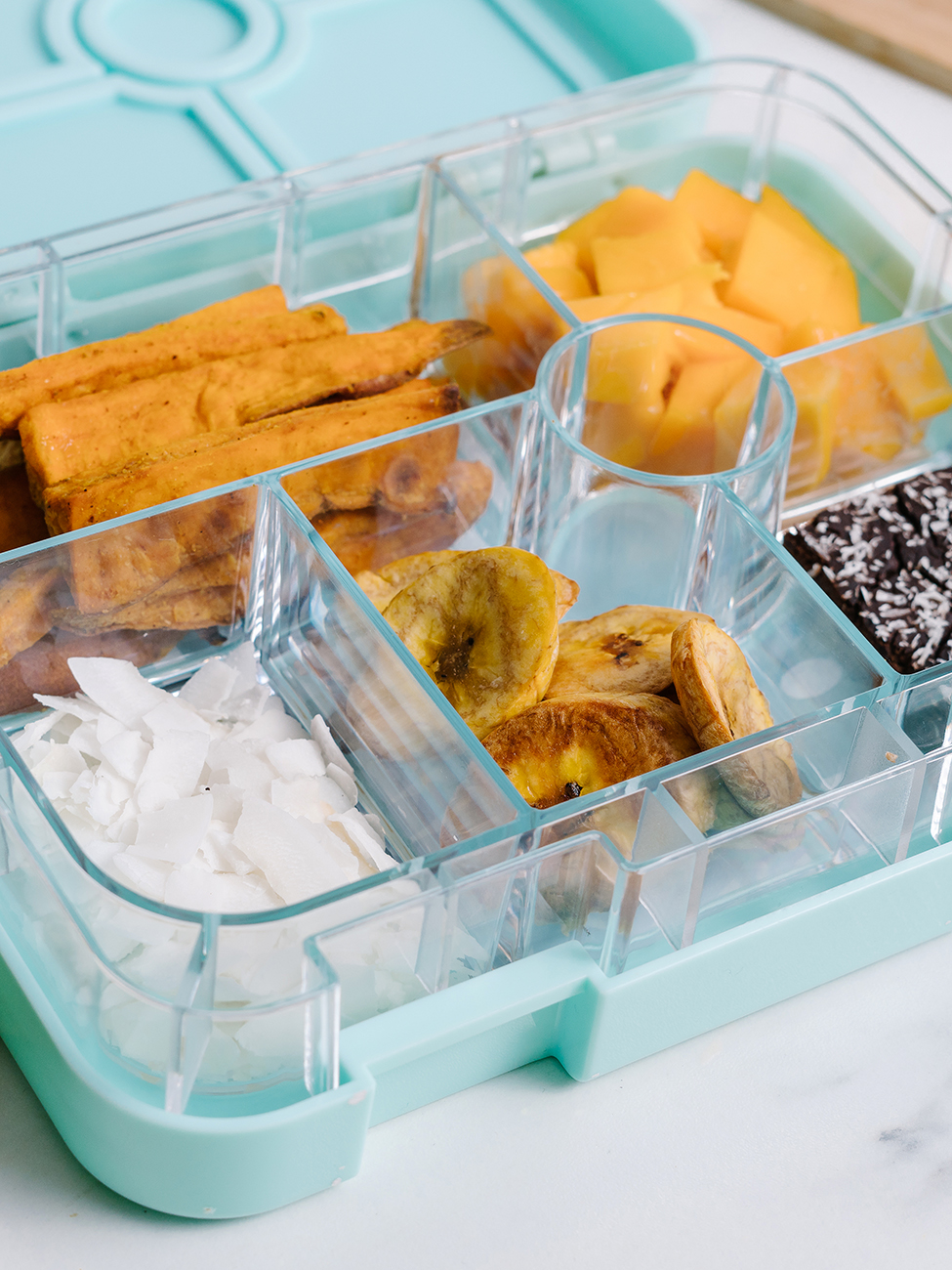 Baked sweet potato fries is any easy choice. What kid (or person for that matter) doesn't love fries? These are savory and so yummy. They are an easy make ahead at the beginning of the week and taste great as is, no microwaving needed. For my fries, I like to keep the skin on since sweet potato skin is full of antioxidants which help protect the body, just be sure to give your potatoes a good scrub under fresh water before you cut them. This recipe is a favorite in our house, Flora cannot get enough of these baked beauties. They are seasoned just enough to give them lots of flavor that will keep you coming back for more.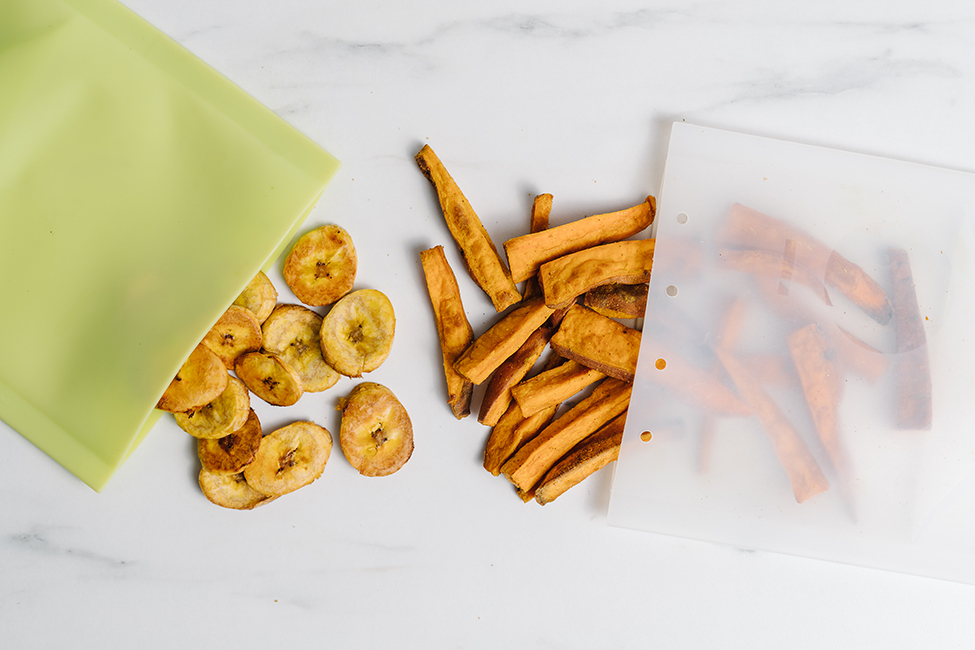 Baked Sweet Potato Fries
Ingredients:
2 Sweet potatoes

Avocado oil (or oil of choice)
Seasonings, I used:
¼ tsp Cumin

¼ tsp Turmeric

¼ tsp Garlic powder

¼ tsp Chili powder

Pinch of Salt
Instructions:
Set oven to 375F and line a baking sheet.

Cut potatoes into fry chunks, try to keep them about the same size.

In a small bowl, toss fries in oil and then sprinkle with seasons and toss again.

Spread evenly across baking sheet.

Bake for 10 minutes and then stir to move fries around a bit and then bake for another 10-15 minutes until crispy but tender.

Store in an airtight container or bag in the fridge for up to 1 week.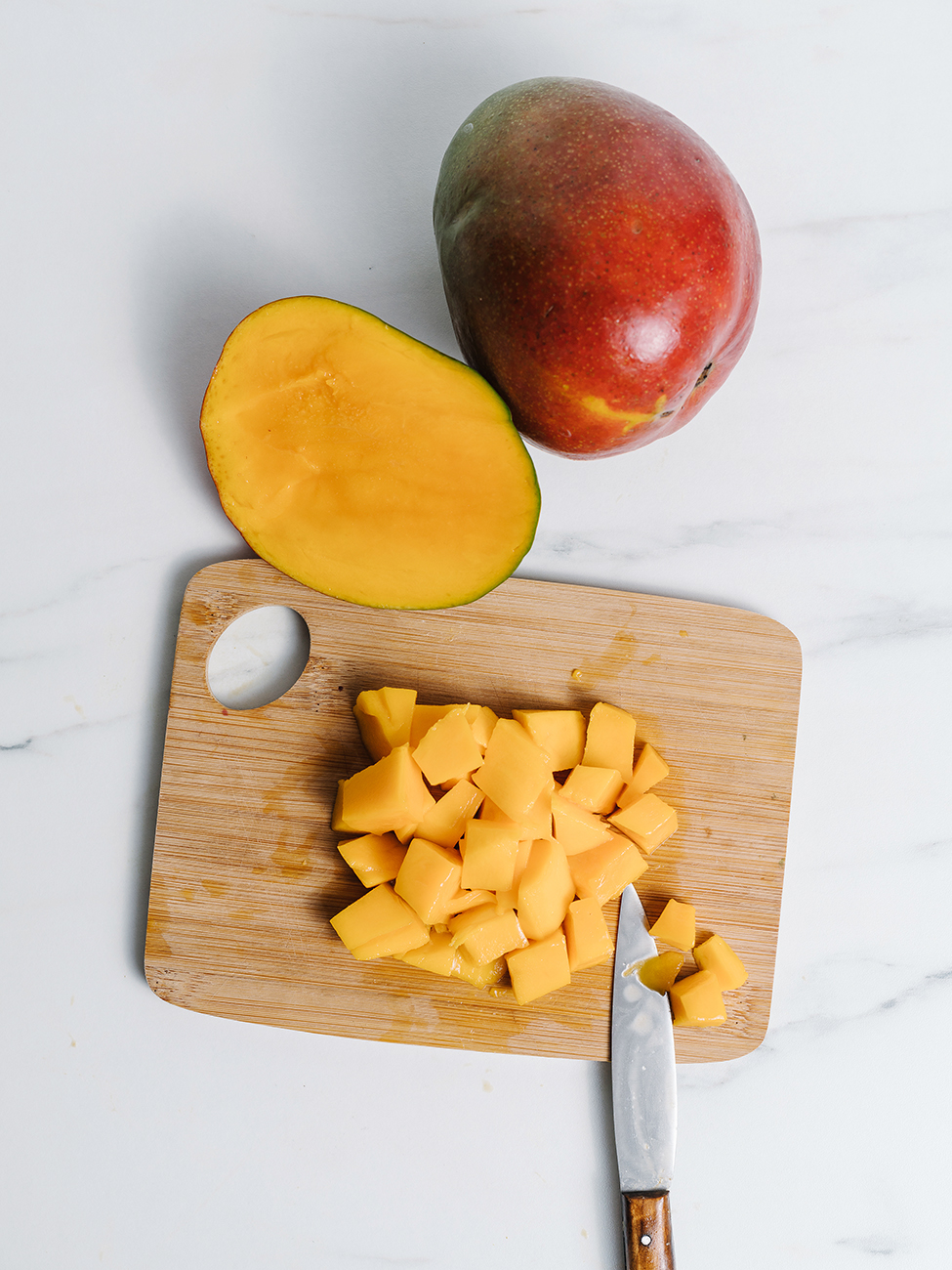 Just offering a little variety with mango fruit and coconut chips is sometimes the perfect touch to keep your child's interest. These flavors will feel familiar yet exotic. They'll love the mini chip-like texture of coconut, not knowing that they offer tons of fiber and essential vitamins. I like this brand. And I don't think there are many fruits that can quite compare to the tropical sweetness of a beautifully ripe mango. For my favorite cutting technique, refer to this post.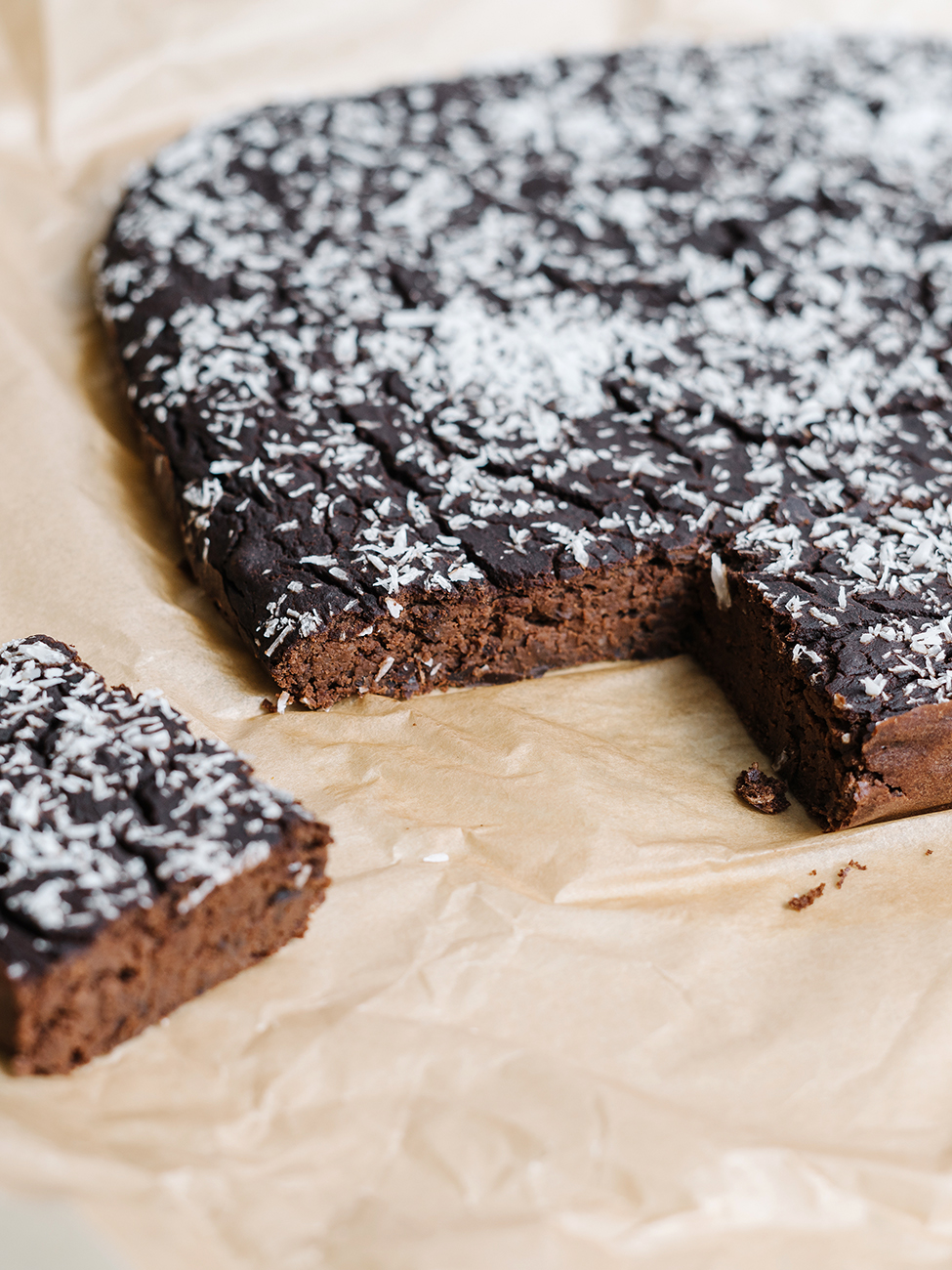 Last but not least we come to the black bean brownie. Similar to my sneaky veggies post from last week, this dessert is deceiving–these brownies taste like a moist brownie but offer plant based protein. I mean they're delicious, so it's not a trick, right? These remind me of those Little Debbie brownies that had the icing and sprinkles on top from when I was a kid, minus the intense sugar high and undoubtedly terrible-for-you ingredient list. They are light, yet super moist and make the perfect mini sized brownies.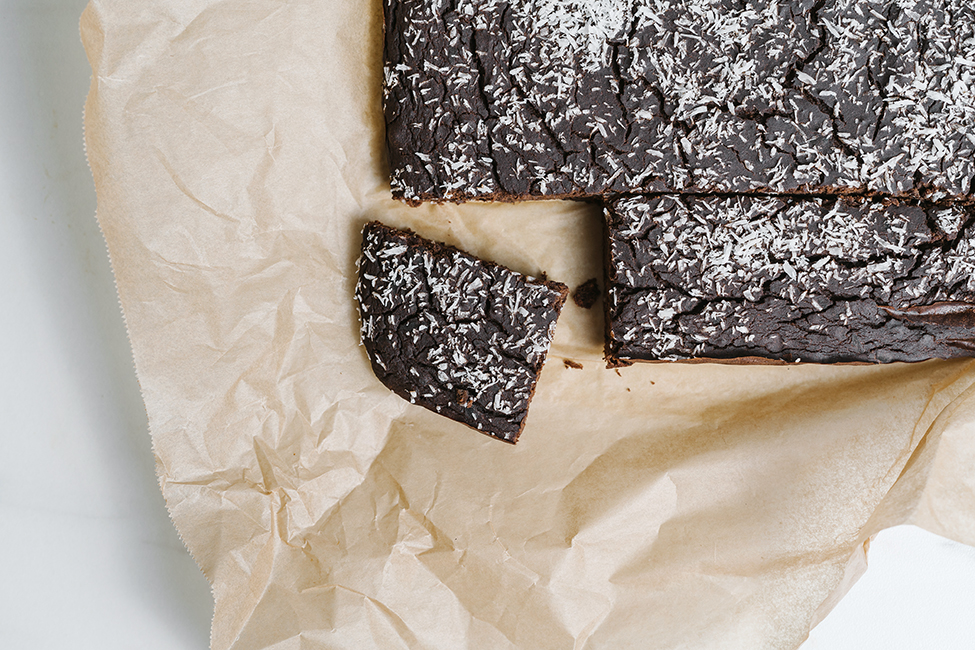 Black Bean Brownies (GF, DF, Allergy Friendly)
Ingredients:
1 (15 oz) can of black beans, rinsed and drained

2 room temperature eggs or 2 flax eggs

1 ripe banana, mashed (about ½ cup)*

1 tbsp coconut oil, melted

1 tsp vanilla extract

1/2 cup cacoa powder (or cocoa powder)

1/2 teaspoon baking powder

1/4 teaspoon baking soda

Pinch of salt

3 tbsp – ⅓ c** of coconut sugar (or brown sugar)
Optional: 1/3 cup chocolate chips (dairy free or regular) and/or shredded coconut
Instructions:
Preheat oven to 350 degrees F. Line an 8×8 inch baking pan with parchment paper.

Place all ingredients (except chocolate chips) into a blender or food processor. Process or puree until ingredients form a smooth batter.

Add in 1/3 cup chocolate chips and fold into batter (if using).

Pour batter into prepared pan, sprinkle with shredded coconut (if using).

Bake for 20-22 minutes, cool completely in pan. Store in an airtight container or bag or up to 1 week.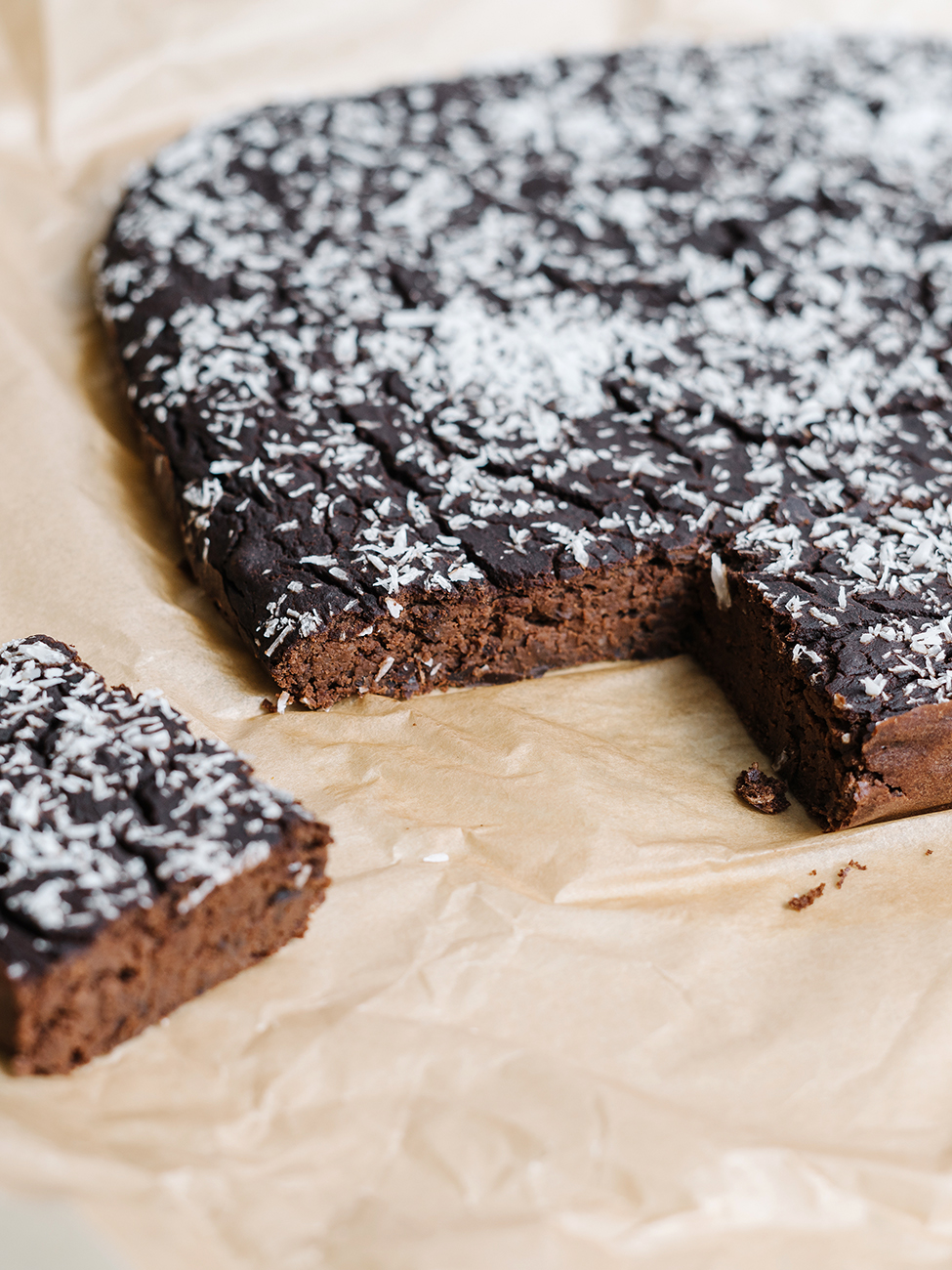 **Note: The reason for the variance is just depending on how sweet you want them. My little one has never had refined sugars so 3 tbsp was plenty sweet for her, but you can go up to ⅓ cup of sugar if you prefer them to taste closer to a traditional brownie.
*Avocado can be substituted, just use the full amount of sugar to help increase sweetness.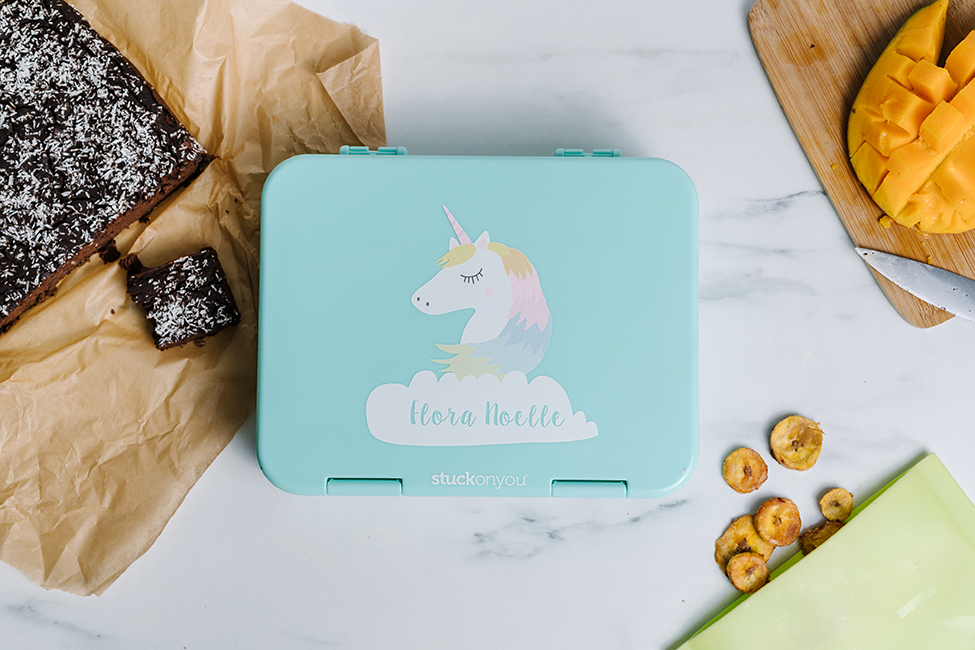 I think a bento box style lunch box is a perfect for this fun menu, we love this brand because your kiddo can design their own. These boxes are perfect for travel too. Getting them involved in the process of preparing and packing their food can help prevent pickiness and encourage them to be excited for mealtime. For storage day to day, I like to use these or these. It's a great example to set when choosing what to package your lunches in by cutting down on your one time plastic use, plus these are easy grab-n-go if needed.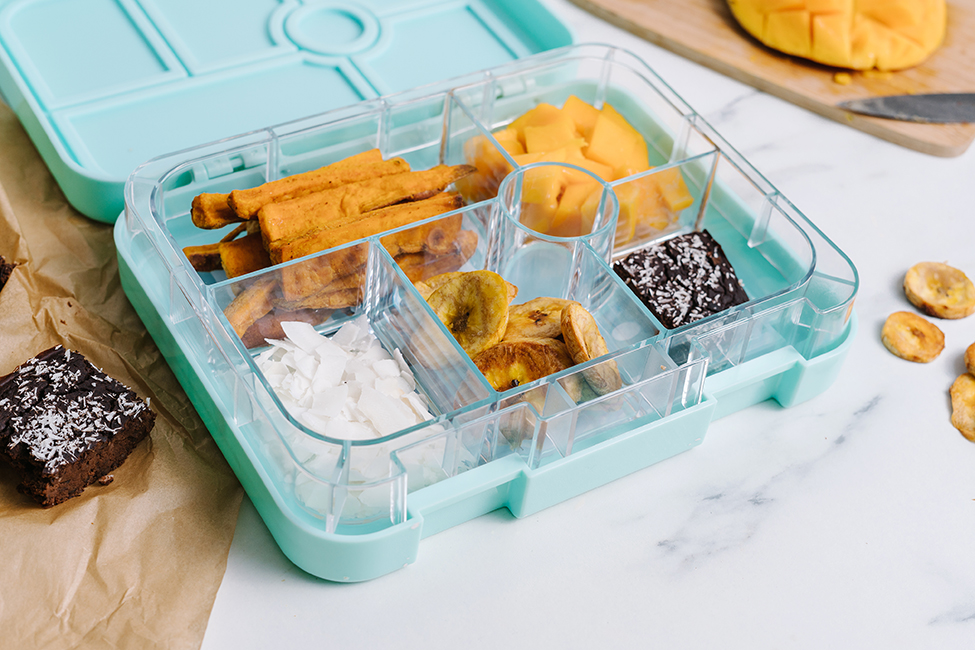 Photography by Chase Daniel
(For the other posts in our kids lunch series, see here!)