(In case you missed it, we're talking easy lunches for the kiddos, check out part 1 "breakfast for lunch".)
If you have a picky eater, I (Lauren) know getting them to eat their vegetables can be tough. I was a nanny for 7 years and this was always a challenge--not just vegetables, eating in general can just be a full on production, so I've always tried to make it fun and interesting but still healthy. This week I'm going to share some of my favorite tricks for getting little ones to eat those veggies, I call this week's menu "sneaky veggies". My favorite part about this meal is it's packed with plant based protein, nutrition, and is easy beginning-of-the-week prep.  It's just as easy served in a lunch box at school as it is on a clever baby-sized plate at home, just adjust for their age.
Here's what's on the menu:
Pasta with cheese sauce  (aka vegetable pasta with cashew cream sauce)
Veggie dippers (aka hummus and veggies)
Chocolate muffins (aka zucchini superfood muffins)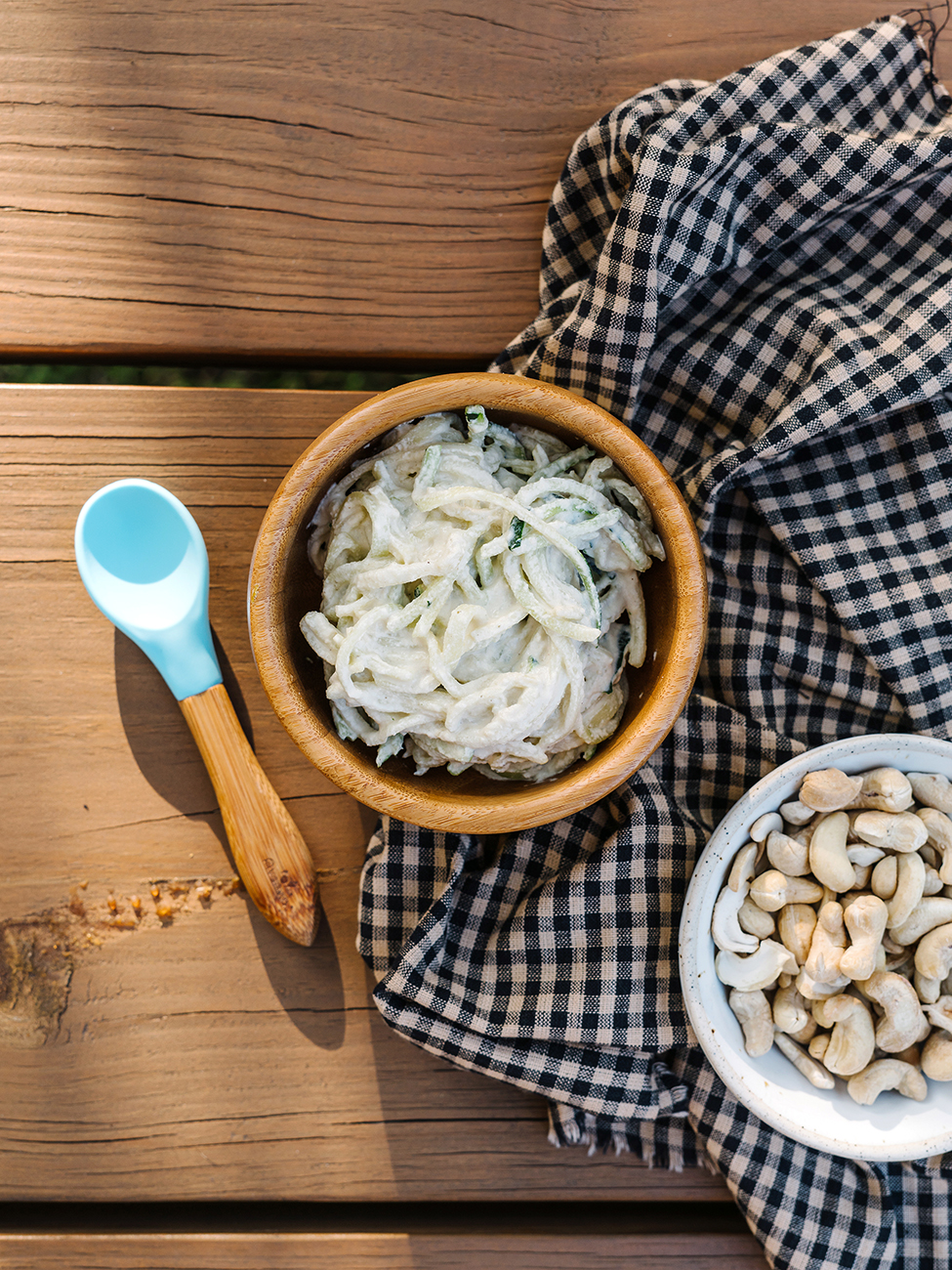 So to start, let's talk pasta and cheese. I mean, what kid wouldn't like to see this in their lunch. This super easy dish is so yummy and flexible. For the pasta base there are so many options, lentil pasta with is packed with protein and allergy friendly (like this one, or this one), you could also use zucchini or spaghetti squash which has a great texture and flavor, or try a supergrain pasta (like this one). I went with zoodles for this shoot but Flora also absolutely loves lentil pasta.
As for the sauce recipe, I promise after soaking the cashews, it takes less than 5 minutes to throw together. Your little one will love this creamy, unique "cheesy" dish-- they will have no clue they are eating the healthiest pasta dish ever!
Plant Based "Cheese" Sauce
Makes about 1 cup of sauce
Ingredients
1 cup raw cashews, soaked and drained

¾ c chicken stock

4 tablespoon nutritional yeast

1 teaspoon thyme

1 teaspoon oregano

1 teaspoon sea salt

Squeeze of lemon juice
Instructions
Place raw cashews in a bowl and pour boiling water over until covered, soak for 30 minutes.

Place all ingredients in a bullet or similar blender/food processor and blend until creamy, about 2 minutes.

Serve warmed over pasta.

Can be stored in an airtight container in the fridge for up to one week.

*If your child can't have nuts here's

another option

.
Now I know "veggie dippers" may sound like an obvious choice for a healthy veggie filled lunch, but I think simply using this type of terminology can do wonders for a little ones eating habits. By allowing them to do the "dipping" it gives them control and choices. Plus, if they choose to cover the entire carrot stick in hummus, well, they're eating a protein packed bite, so no harm there. I think the snap peas are a great choice because they are super crunchy, like a chip or cracker and a little sweet. You kiddo may be surprised to see they can eat the entire pod. I like to cut carrots into thin stick but you can simply use baby carrots for ease. If you have a very little one who doesn't quite have those back teeth for chomping, just steam the veggies slightly and smear a bit of hummus over them.
For homemade hummus, check out this recipe.
Great options to offer for "dippers":
Sugar snap peas

Carrot sticks

Zucchini slices

Baby tomatoes (cut in half for littles)

Cucumber slices

Sweet pepper slices

Plantain Chips
Last but certainly not least, some would even call this recipe dessert, but this is one healthy version of dessert, which is why it's so great for kiddos lunches! These muffins are packed with vitamins, minerals and even some plant based protein but to the naked eye they are just delicious, moist, chocolate muffins.
I use cacoa powder in this recipe because it's a superfood and acts just like cocoa powder but is WAY better! Cacoa powder is minimally processed, chock full of antioxidants (more than blueberries!), has more calcium than cow's milk, offers the highest plant source of iron, is full of magnesium for brain health, and is a natural mood booster. You may even say yes when your little one asks for a second muffin because they want more chocolate goodness but you know it's simply nutritious goodness.
Chocolate Zucchini Muffins
(grain free, allergy friendly, refined sugar free)
Makes 9 full size muffins or 20 mini muffins
Ingredients
2 eggs, room temp (regular or flax)

1 tablespoon coconut oil

1 teaspoon vanilla

1 tablespoon apple cider vinegar

1 cup shredded zucchini, excess water squeezed out

¾ c almond butter, room temp (seed butter can be substituted)

1 ripe banana, smashed (about ¾ c)

4 tablespoon cacoa powder (unsweetened cocoa power will work too)

3 tablespoon coconut flour

½ teaspoon cinnamon
Optional:
3 tablespoon maple syrup or honey

⅓ c chocolate chips or chunks
Instructions
Set oven to 375 and line with cupcake liners or well grease a muffin tin.

In a bowl add eggs, oil, vanilla, apple cider vinegar, zucchini, almond butter, banana and mix until well combined.

Also add sugar if including.

Add cacoa, coconut flour and cinnamon stir until mixed well. Fold in chocolate chips is using.

Scoop batter into muffin pan about ⅔ full.

Bake for 18-22 minutes until a toothpick pulls out clean. Let cool in muffin pan.

Store in an airtight container or ziplock in the fridge for up to one week.
Photography by Chase Daniel