Though my little one isn't school aged yet, she is eating us out of house and home already (or so it feels at times). Meal planning and prepping now includes a sweet little mouth to feed and offers the challenge of creating healthy, filling, and enticing choices. So this month, as your kids head back to school or you settle into a new routine, I'm sharing some of my favorite mini mouth lunch meal ideas.  Trying to think outside the (lunch) box can be difficult when it comes to kiddos, but I feel like you can't go wrong with breakfast for lunch. Even the pickiest little one can get on board with this idea. Plus this basic outline is easily adjustable to preferences and the time you have on your hands.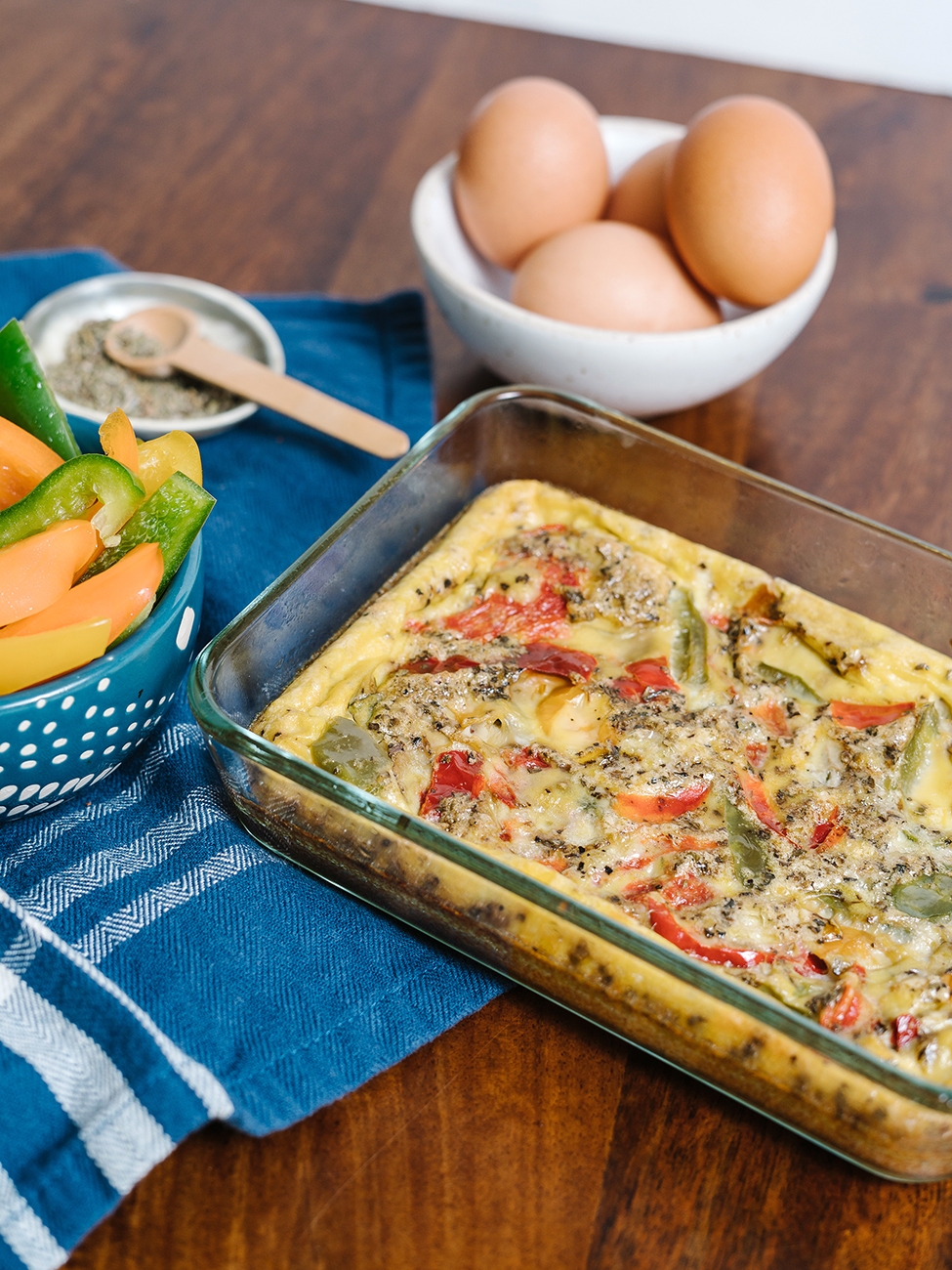 Here's the basic outline of breakfast for lunch:
Mini crustless quiche (quick fix option: hard boiled eggs)

Mini grain free, sugar free blueberry banana muffins

Chia pudding (quick fix: yogurt with berries or granola)

Mandarin orange slices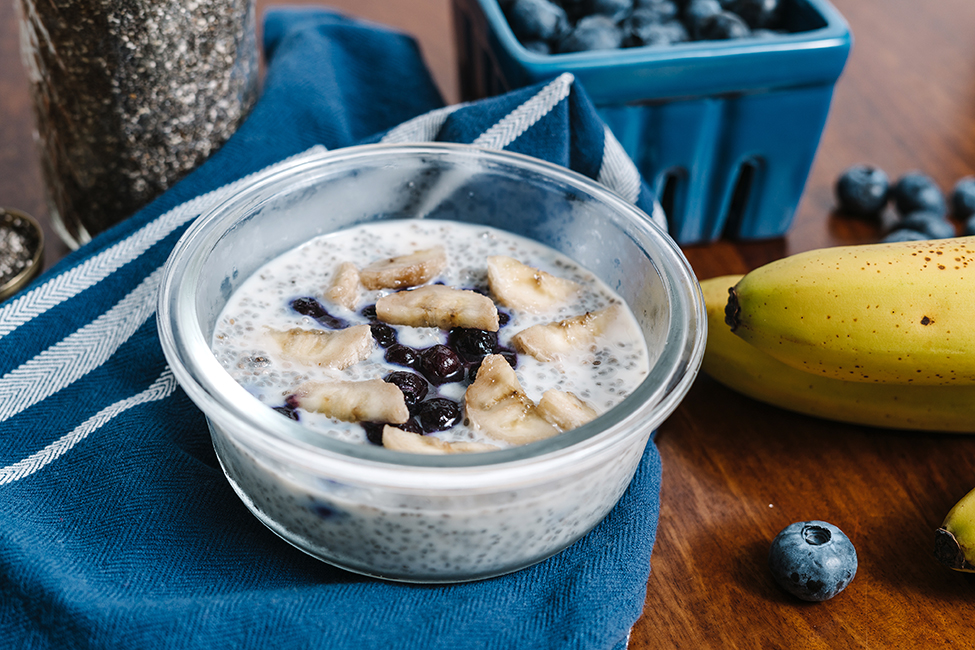 What I love about this lunch is you can easily prep most of it at beginning of the week. For the mini quiche, I keep it really simple: eggs, one veggie, herbs, and a splash of dairy free milk. I use a 3-cup oven safe glass storage container (like this one or these), that way once it's cooled I just snap on the lid and stick it in the fridge. I like the 3-cup because it is the perfect size for cutting handheld size strips. You can also use the one-cup sizes for easy travelling to daycare or school, plus your kid will think it's totally awesome they have their own personal quiche.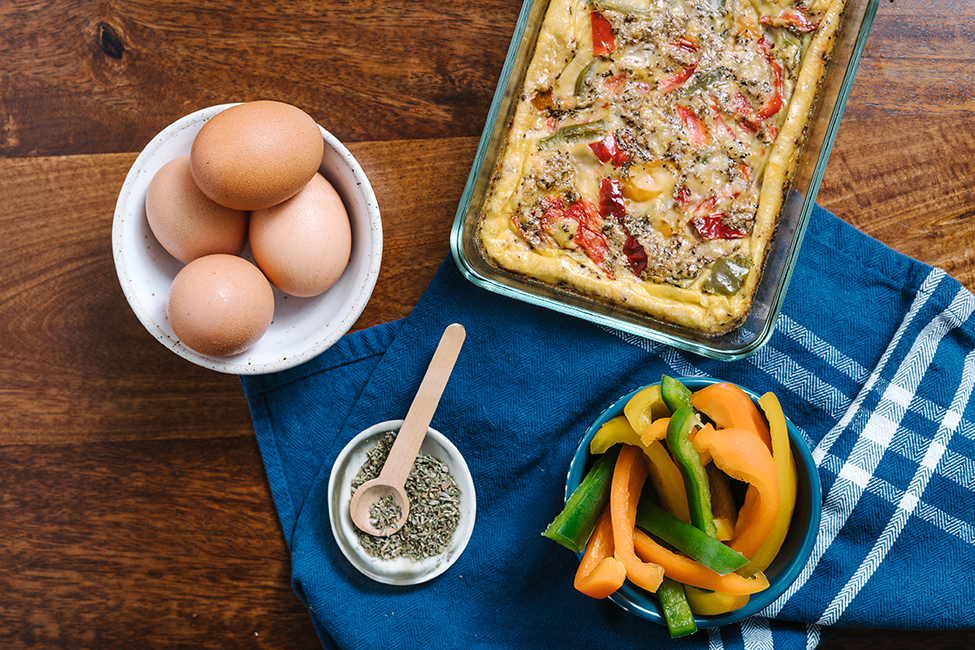 Mini Crustless Quiche
4-5 eggs

2 tablespoon milk of choice

¼ c steamed vegetable, chopped (I used sweet peppers)

1 teaspoon italian seasoning

Pinch of salt
Instructions:
Preheat oven to 350.

Place steamed vegetable into a well oiled 3-cup glass container (or glass container of choice).

Whisk eggs, seasonings, and milk in a small bowl.

Pour over vegetable.

Bake in oven for 25 minutes.

Store in refrigerated in airtight container for up to 6 days.
Next we've got grain free mini blueberry banana muffin. Yes of course it's easier to walk down the bread aisle and grab those premade mini muffins, but seriously I would not look at the ingredients list if I were you. Most of those shelf life baked goods are filled with preservatives and tons of processed sugars which will send your little one on a sugar high only to crash and burn later--aka bring on the tantrums. Instead, you can make these super easy mini muffins at the beginning of the week, grain free, refined sugar free and oh so delish. These babies offer protein, fiber, and minerals with only 9 ingredients.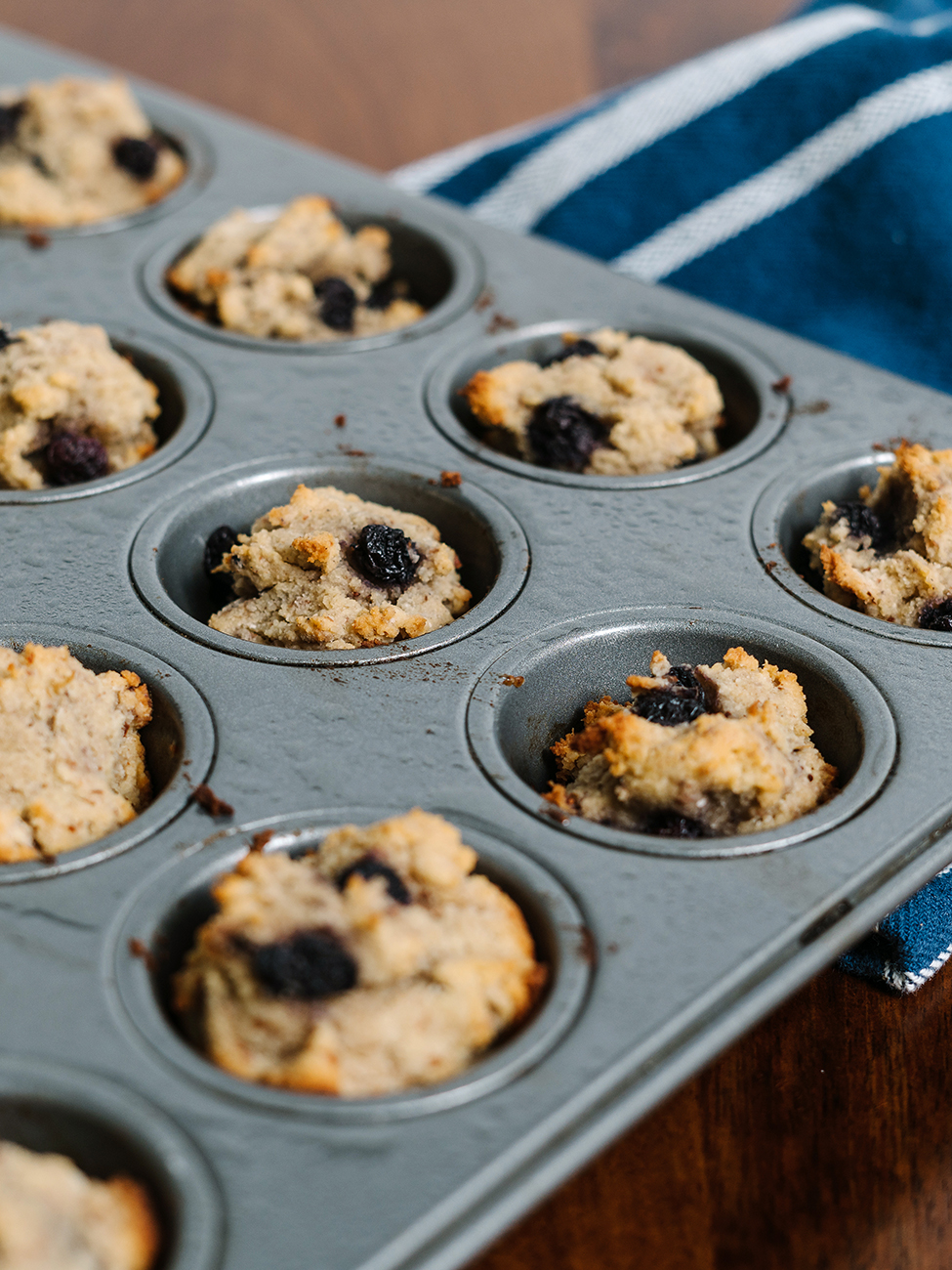 Mini Blueberry Banana Muffins - GF DF Sugar Free
(Makes about 24 mini muffins)
2 ripe bananas, mashed

2 eggs at room temp

3 tablespoon coconut oil, melted

½ teaspoon vanilla

1 ½ c almond flour + a little extra

½ c coconut flour

1 teaspoon baking powder

½ teaspoon cinnamon

1 c fresh blueberries*
Instructions:
Preheat oven to 350 and spray muffin pan.

Place wet ingredients in a heavy duty mixer and combine on med-low.

Add dry ingredients and mix well on med low.

Sprinkle some flour over your blueberries until pretty well covered.

Gently fold into your batter, it should be pretty thick/sticky.

Spoon out into muffin pan about ¾ full.

Bake for 20 minutes.

Allow to cool. Gentle run a knife around the muffins and then use a small spatula or spoon to remove the muffins.




Store in an airtight container or ziplock in the fridge for up to 1 week. Or you can freeze them for up to 3 months, thaw at room temperature before eating.
*Frozen will work too, just be sure they are thawed and well dried.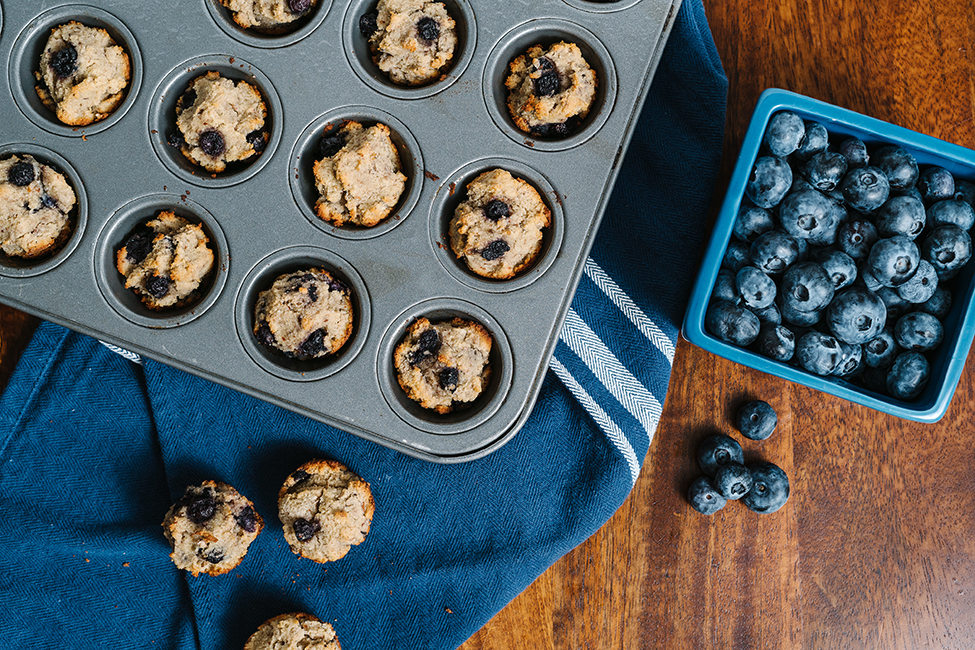 Chia pudding is a favorite around our house. This is so easy to make, plus these tiny seeds are packed with nutrients, fiber, antioxidants, and omega fatty acids. Your kiddos may think this is a cooler version of yogurt and love the texture. This recipe is easily adjustable to what your little one prefers.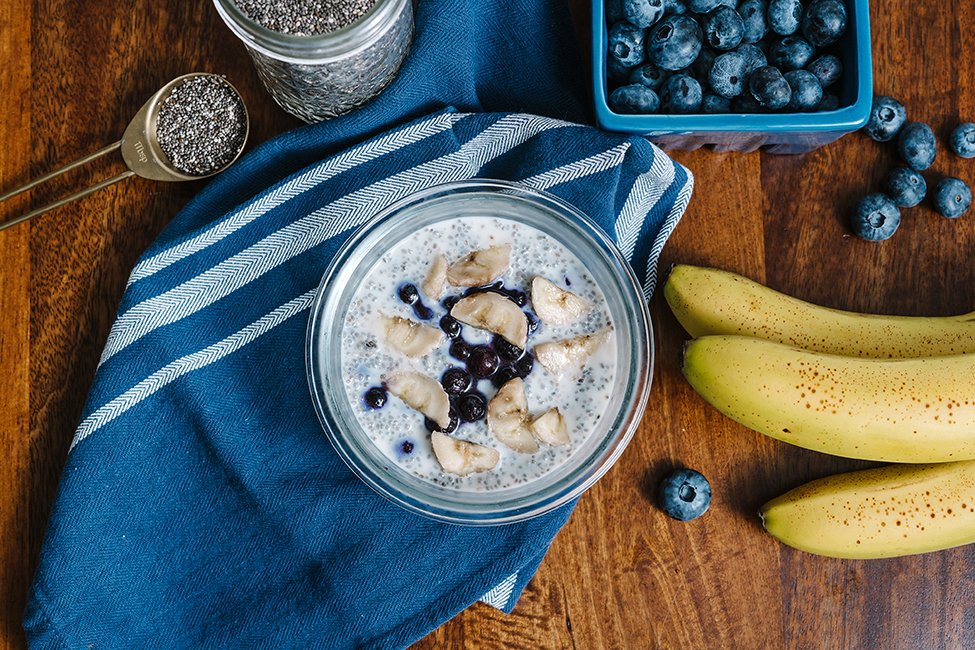 Berry Chia Pudding
(Approx 4 - ¼ c servings)
1 c milk of choice (we love almond, cashew, or pea protein milk)

2 tablespoon chia seeds

2 tablespoon blueberries*

½ banana cut into pieces

1 teaspoon honey or maple syrup (optional)
Instructions:
Mix all of the ingredients and let set up over night.  Store in a glass airtight container in the refrigerator for up to 5 days.
*I used frozen berries. Fruit can be substituted to preferences.
Finish this special lunch with a couple of easy peel oranges and you're all set. Don't be afraid to get creative with this one. Try using it one week per month, and just switch up the type of quiche you make, maybe make apple muffins instead of blueberry, or peach chia pudding. Just those small tweaks can bring a lot of variety for your kiddo but make your lunch planning much easier.
Have bigger mouths to feed? Check out Lauren's Capsule Pantry Series!  Want more kid-friendly eats?  See here!
Photography by Chase Daniel