Animal masks are a great way for your kids to dress up for Halloween! They are fuss free and can be worn with their every day clothes and can be popped on an off as they please! Perfect for kids of all ages, from toddlers to teenagers!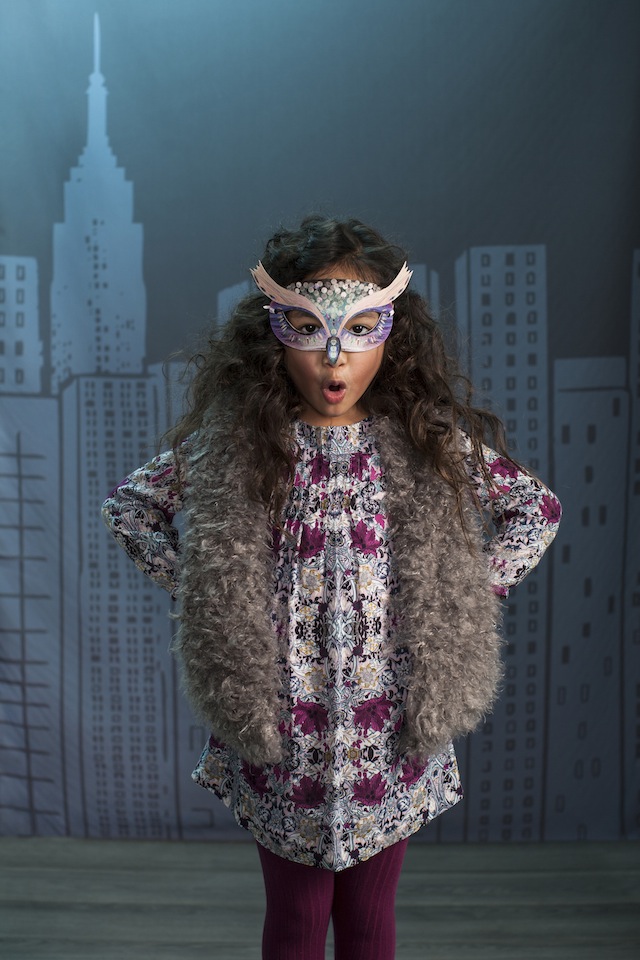 Did you catch our Halloween party we threw last week with Minted?  I wish October was a longer month because I could have created and shot Halloween content with these kiddos for weeks and weeks on end! We thought that today we would share the details of the kids costumes with you!
Fuss Free Kids Halloween Costumes
When planning this shoot, we figured there had to be some middle ground between buying a packaged costume from a big box store and spending hours diy-ing something uber interesting that your kid may or may not wear.  I became obsessed with all of the different animal masks you can find on etsy and decided to translate the animals in an editorial fashion.  The best part is, sans mask, your kiddos can wear these looks all season long! (How great is this cityscape photo backdrop by Minted?  You can view them all here!)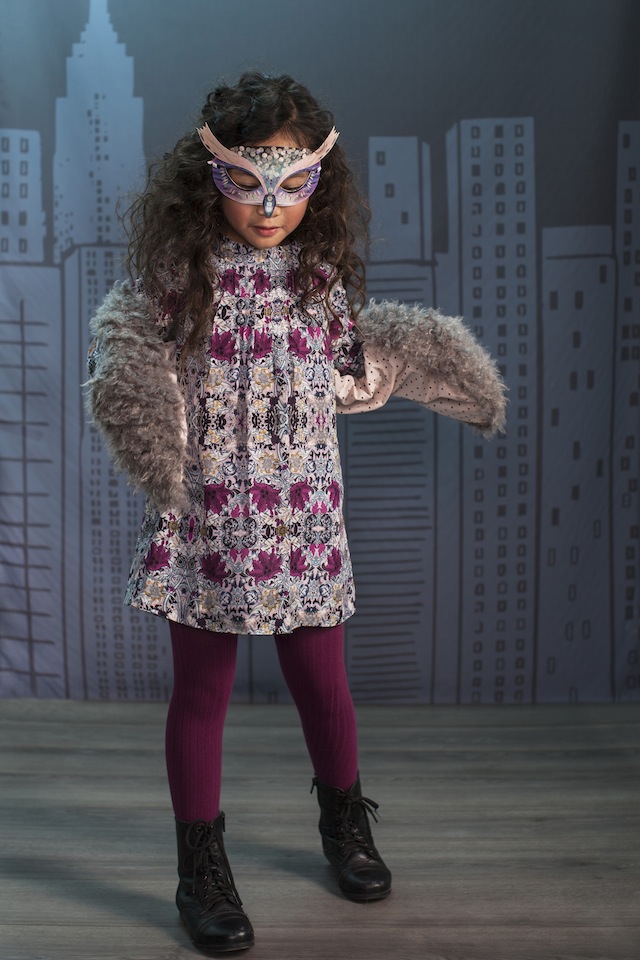 Cailey the Bird // tights, dress, boots, mask, vest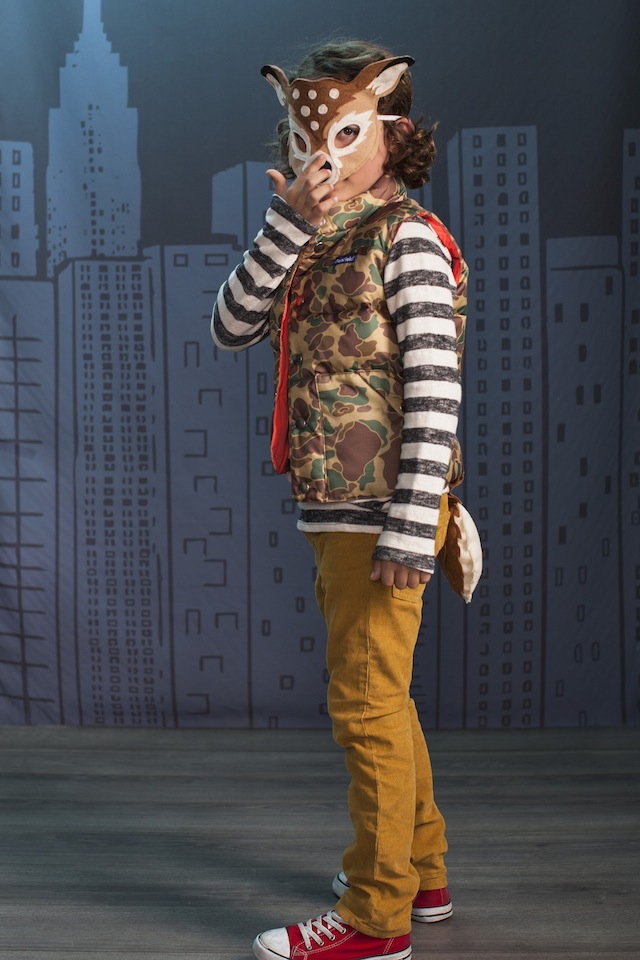 Aiden the Deer // jeans, shoes, shirt, vest, mask and tail
Brooklyn the Sheep // jeans, sweater, ears and tail
Romeo the Raccoon // pants, shoes (similar), shirt, mask and tail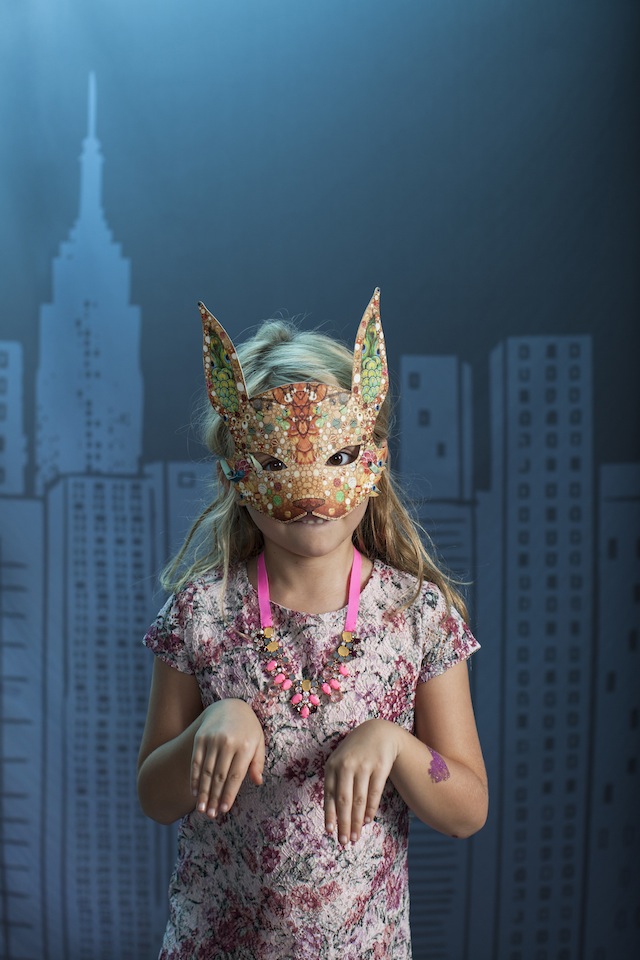 Elizabeth the Rabbit // dress, necklace, tights, mask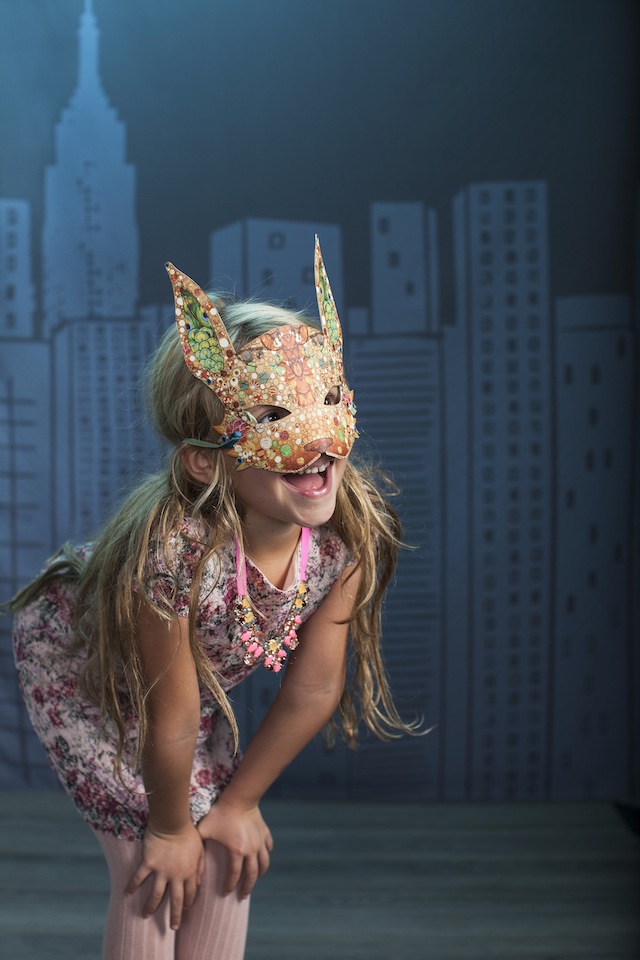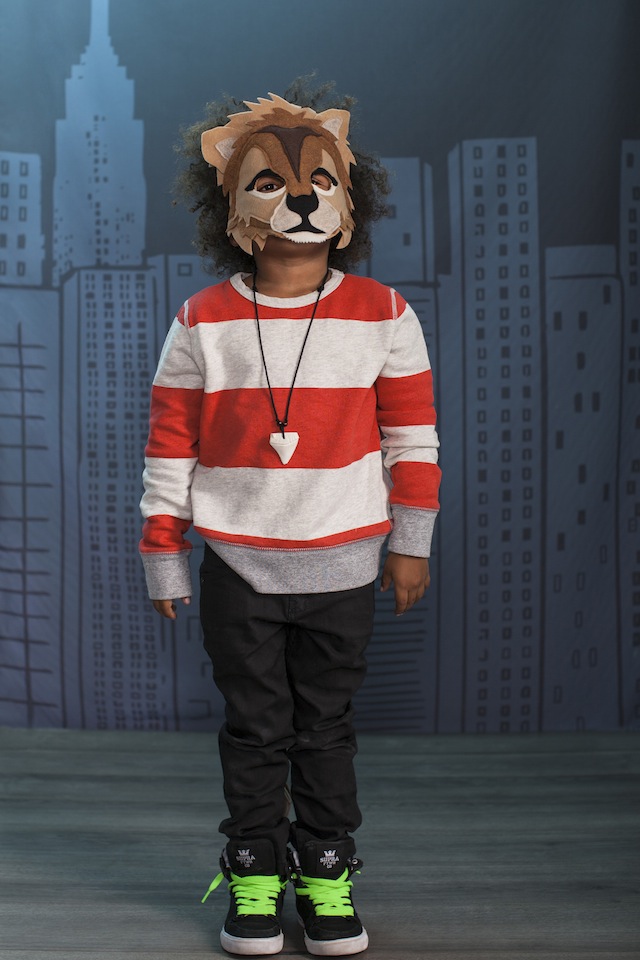 Ashton the Lion // jeans, shirt, shoes, necklace, mask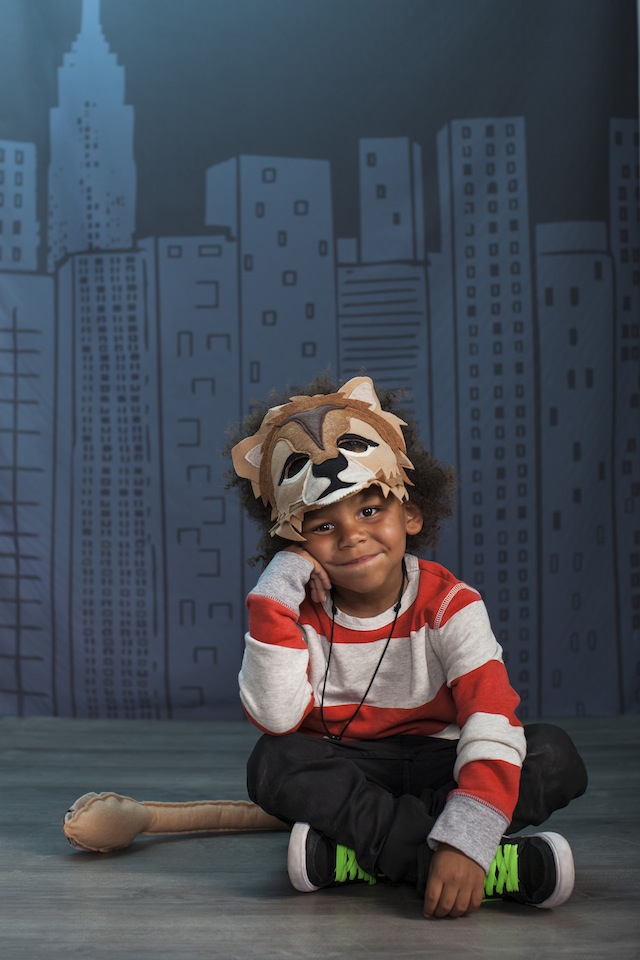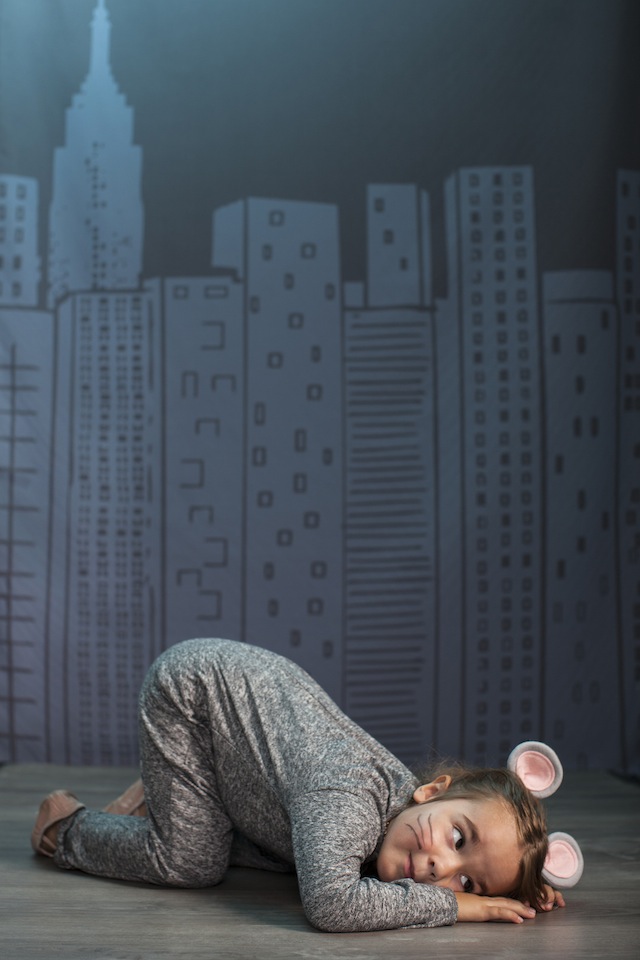 Eden the Mouse // jumpsuit, shoes, ears, necklace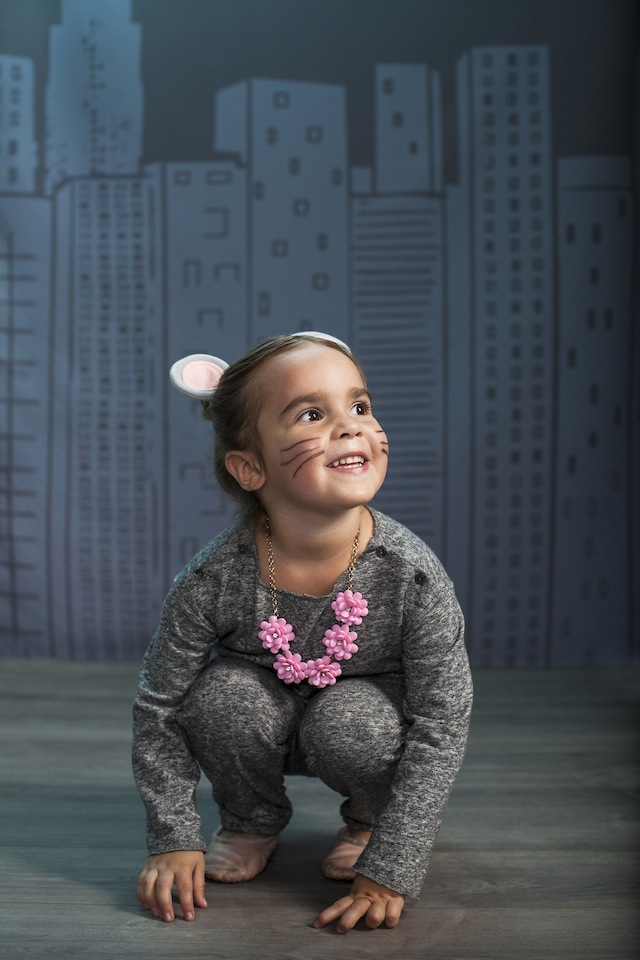 Rowan the Fox // cords, sweater, shoes (similar), mask and tail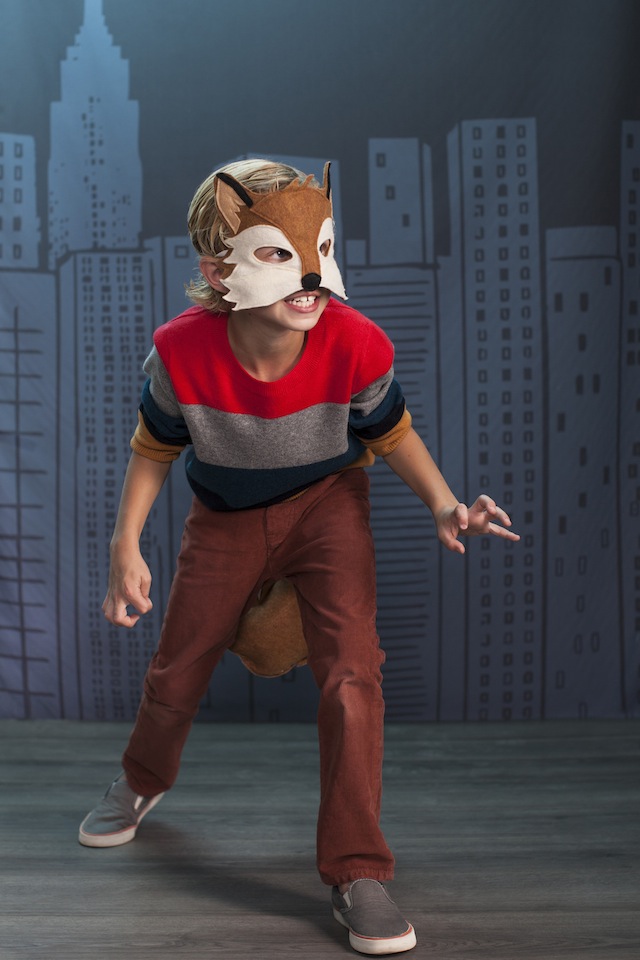 Animal Masks Make  Great Last Minute Halloween Costumes for Kids
Animal masks are such a great go to if you have a last minute party or totally forgot that Halloween was tomorrow! It's so great to have a little stash of masks in your arsenal and they're are great for impromptu dress ups too!
Animal Masks are great for kids of all ages!
There's a reason that masks have been part of dressing up for so long! Pair them with clothes you already have and you have a great costume in a matter of minutes! They are great for toddlers as they are easily slipped on and off, and your teenagers can pair them with their favorite outfits.
  photography by
Jess Koehler
photo backdrop by 
minted
styling: 
jen pinkston
hair styling: 
lauren mckeever
production assistants: 
brooke odom
 and kat garner children: zuri model and talent  
Be sure to check out these other fun kids costume ideas - perfect for Halloween!
DIY Halloween || Paw Patrol Skye Costume
DIY Halloween || Chocolate Chip Cookie Costume
16 Best Halloween Costume Ideas // Kids, Couples, and Gals
DIY // Kids Peacock Halloween Costume
This post is sponsored by Minted.  Our favorite source for invitations, greeting cards, party decor, and all things paper!  Thanks for supporting the sponsors the make this content possible!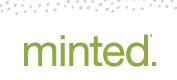 I would love to hear what you think of these looks! Has it got your creative juices flowing? Be sure to leave a comment below!