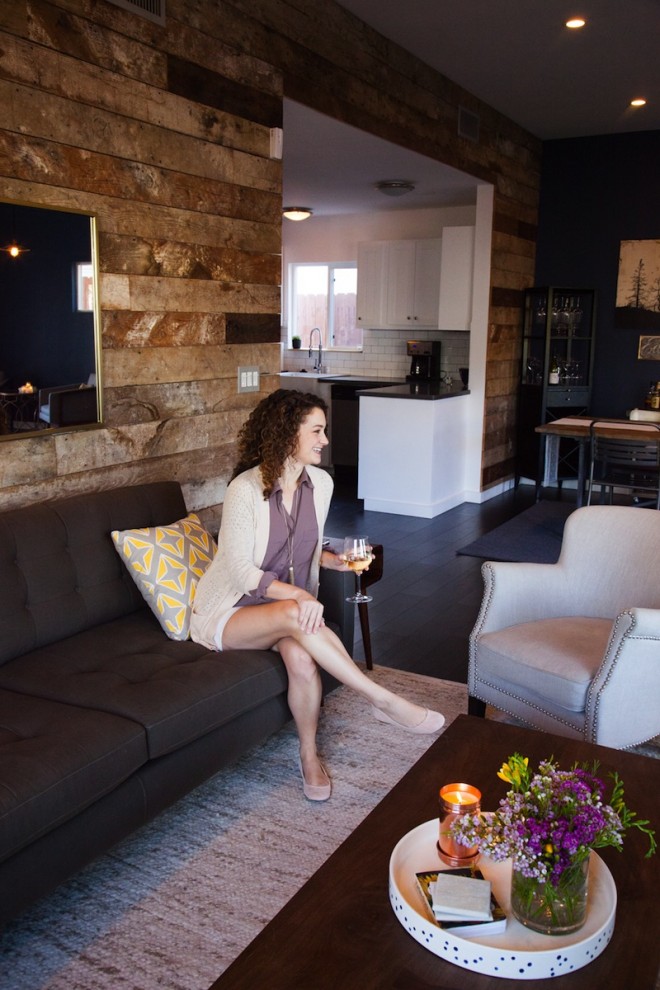 How were your weekends, friends?  This one, I have to say, was pretty great!  It was in the eighties all weekend here in LA so we ventured out to Malibu both Saturday and Sunday.  We walked El Matador Beach and explored the caves, had fish tacos out on the deck of Malibu Seafood, and toured the incredible Getty Villa, among other adventures.  It was a perfect pre-spring weekend that felt exactly like summer!  Speaking of touring homes, Kate's Highland Park casa here in LA is one of my favorites.  She is a natural hostess, so it's warm and inviting with all kinds of chic, interesting design details. From the reclaimed wood wall that they built themselves to the navy blue dining room complete with rustic bar cart and gallery wall, there is something to catch your eye around every corner.  Keep reading to  find out how it all came together...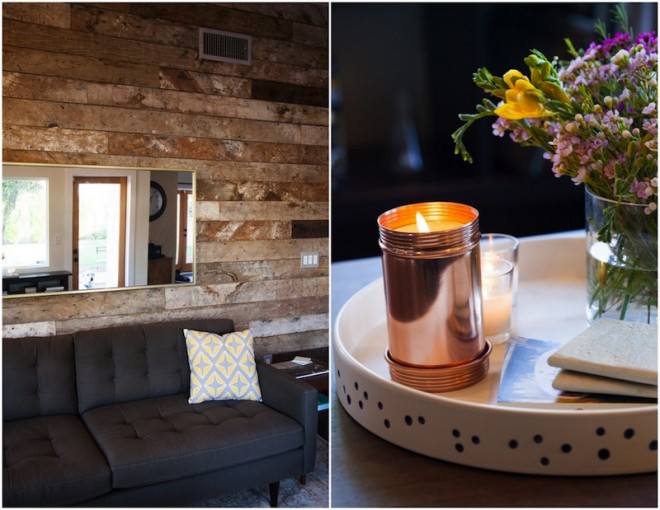 Jen: I love the open concept of your house and how all of the living and dining space flows so freely. When you first moved in last July, what was your design process like for pulling it all together?
Kate: Having an open concept can be a challenge when it comes to the design process.  You want things to flow together, but you don't want it to be "matchy matchy". We ended up focusing our whole space around our wall collage. The textures and colors on that wall are used throughout the space. Picking one thing to base the design off of was really helpful when selecting furniture and accessories.
J: The reclaimed wood wall that you and your husband, Taylor, built is such an incredible statement in the space. Any other big diy projects you're planning?
K: Taylor and I have many ambitions to do some more DIY projects around the house. Our next priority is creating a great outdoor entertaining space. We love to host gatherings with friends and family, so having another place where guests can hang would be fabulous. Since our house is positioned on the back of our lot, we plan on extending the front patio to take up about half of our yard. We'd love to build a seating and dining area. I also have dreams about adding a fire pit, but we will have to see on that one!
J: Do you and Taylor have similar interior styles? What has been your biggest disagreement when it comes to furnishing your place?
K: Taylor and I definitely have similar interior styles, however he does prefer pieces that are more industrial and masculine. Sometimes I need to add a little flair of femininity. I usually do that with candles, flowers, and pillows. I also love putting masculine pieces with something really feminine. For example, our dining room table is a very strong piece so we put a softer lace runner on it to blend our two styles.
J: What was the most challenging piece in the room to make a decision on?
K: Our most challenging piece to make a decision on was our couch. We actually got it as a wedding gift from my grandparents. It was a difficulty decision because we knew we'd have it for years. Couches are so expensive, so we wanted to pick something that would stay in style for a long time.
J: What is your favorite piece in the room?
K: My favorite piece in our house is the map of Paris on the wall collage. Taylor and I got that map while visiting that city on our honeymoon. We got it from a sweet vendor on the Seine River. I just love how it's a reminder of such a special time in our lives.
J: In three words, how would you describe your interior design style?
K: Industrial-rustic, neutral, and clean.
J: Buying a home in LA is crazy challenging. After going through the process last summer, any advice for others looking to buy right now?
K: I think my biggest piece of advice is to trust your gut. There was a home that my husband wanted to put an offer on, but I just didn't feel right about it. In the end, we definitely ended up in the best home for us. It all works out in the end. My other piece of advice is to have some wine around…buying a home was one of the most stressful things we've ever done. A good vino can work wonders.
J: Finish this sentence: "My favorite thing about coming home is..."
K: My favorite thing about coming home is seeing my husband, but since this is about the casa I would have to say that my favorite thing about coming home is feeling proud of the space we've created together. Photography by
Jordana Sheara
Sofa, Crate and Barrel  / Chairs, HD Buttercup /  Coffee Table, CB2 (no longer available) / Rug, West Elm / Round Tray, Target / Throw Pillows, Target / Lamp, CB2 / Mirror, West Elm / Dining Room Table, Restoration Hardware / Dining Chairs, Restoration Hardware