This is the third in our series of room reveals with entrepreneur, Jessica Honegger. You can read all of them here or follow her here!
When I found out during my second pregnancy that I was having another girl, visions of a shared room danced in my head. Two years later, that vision has since to be realized because, well, some things are easier dreamed than done. When I talk to other moms whose kids share a room, there is a common thread of strategic design that runs through all of them. Double the kids plus double the stuff can sometimes be a recipe for disaster, but Jessica Honegger shares the thought process that went into her recently re-designed shared boy's bedroom today. Keep reading for all the details...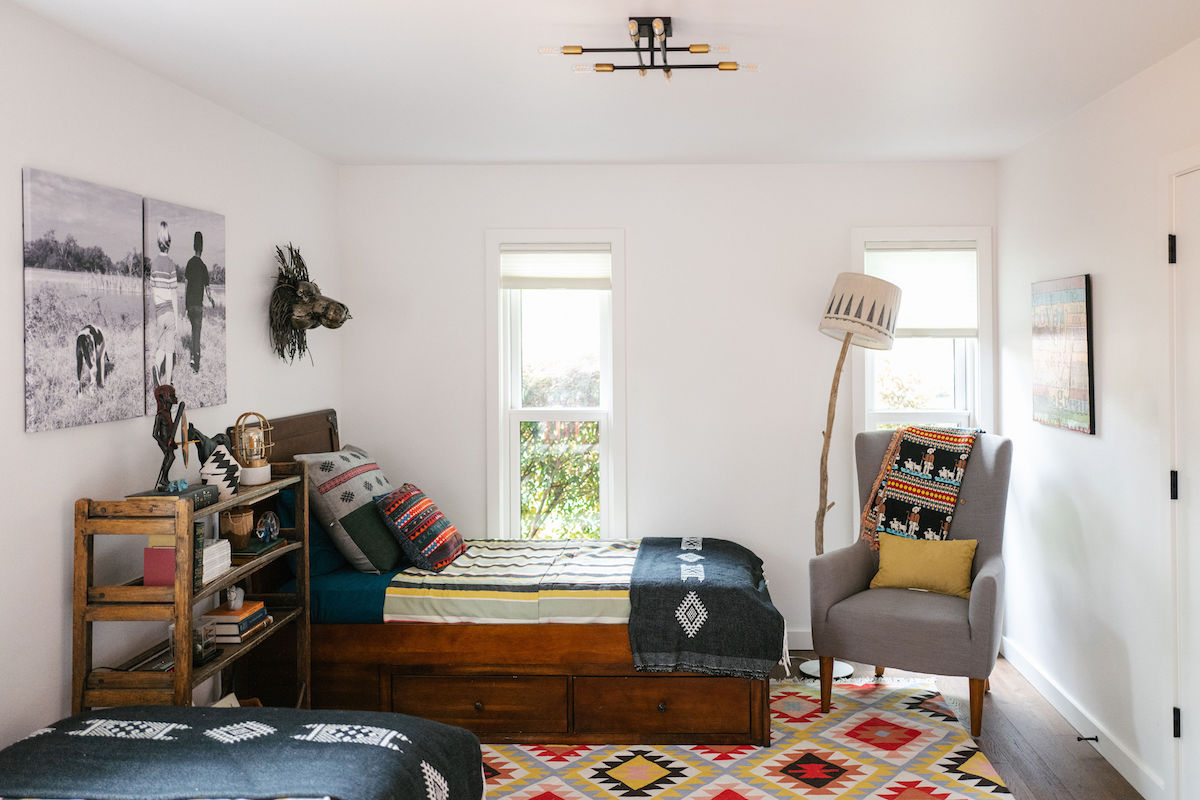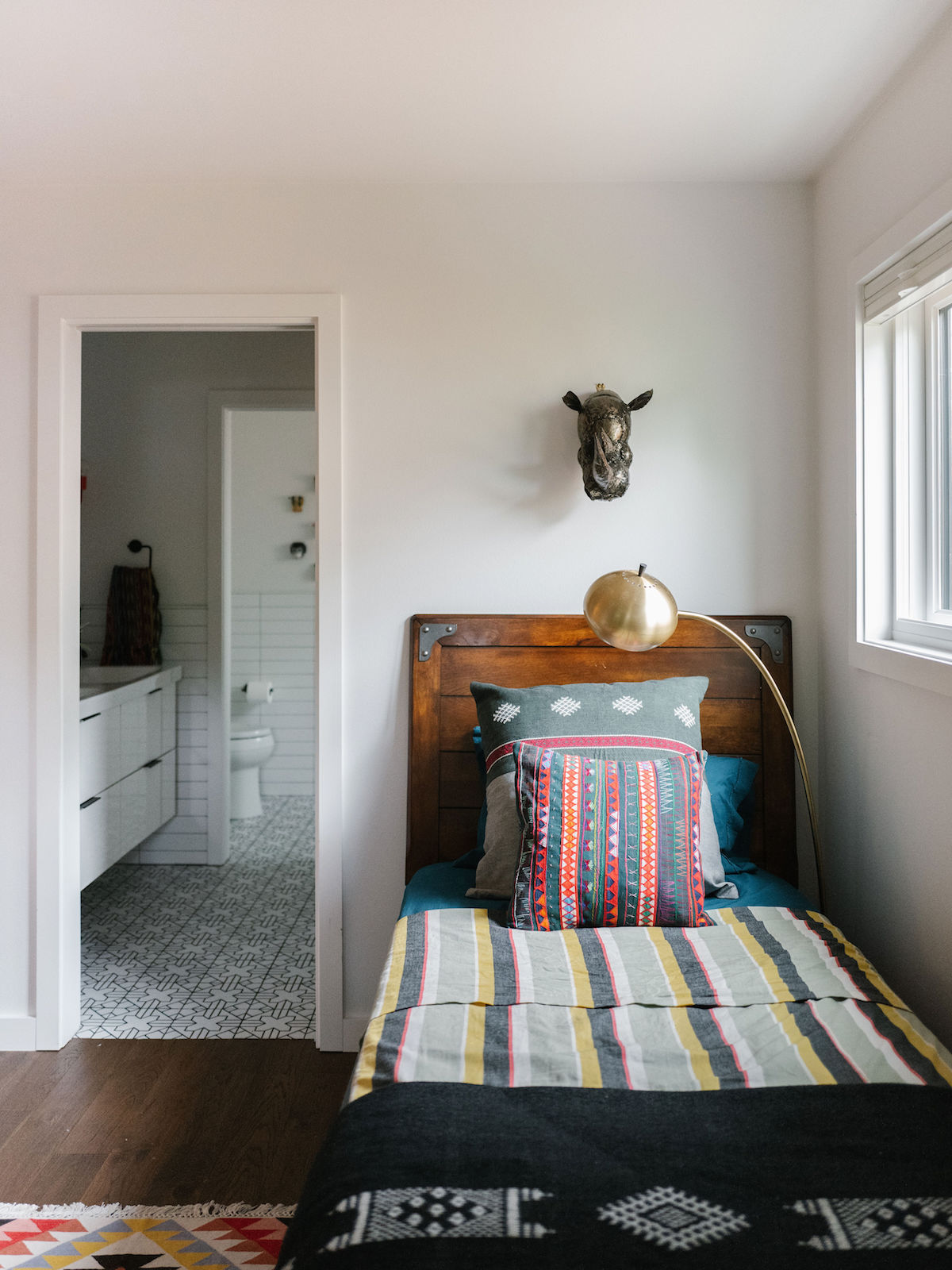 Jen Pinkston: How long have your boys shared a room?
Jessica Honegger: They've shared a room from the beginning—ever since we adopted Jack and he came home from Rwanda at age 2.5!
JP: What are the challenges with sharing a room?
JH: When two boys share a room, there are challenges for them, and there are also challenges for their parents. Case in point: When we brought Jack home and moved the boys in together, they were both at their absolute smelliest stage of life! And they had the habit of both pooping at the Exact. Same. Time every day, which resulted in a very smelly wing of the house. Today, those challenges look more like sweaty clothes on the floor and un-flushed toilets. A challenge for the boys is that they have definite differences in living styles! Holden is orderly and Jack is not, so we'll regularly hear Holden imploring Jack to come pick his clothes off the floor.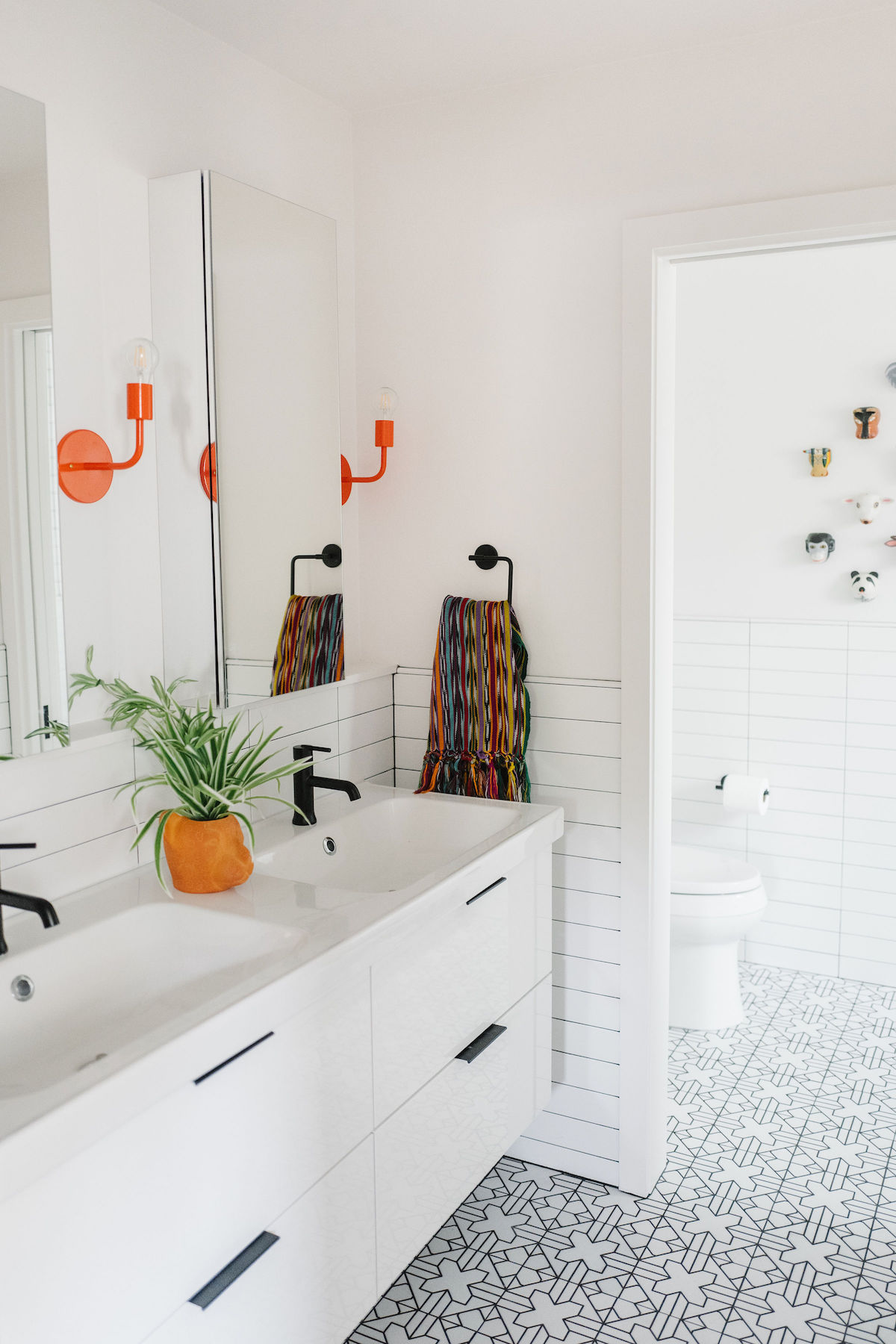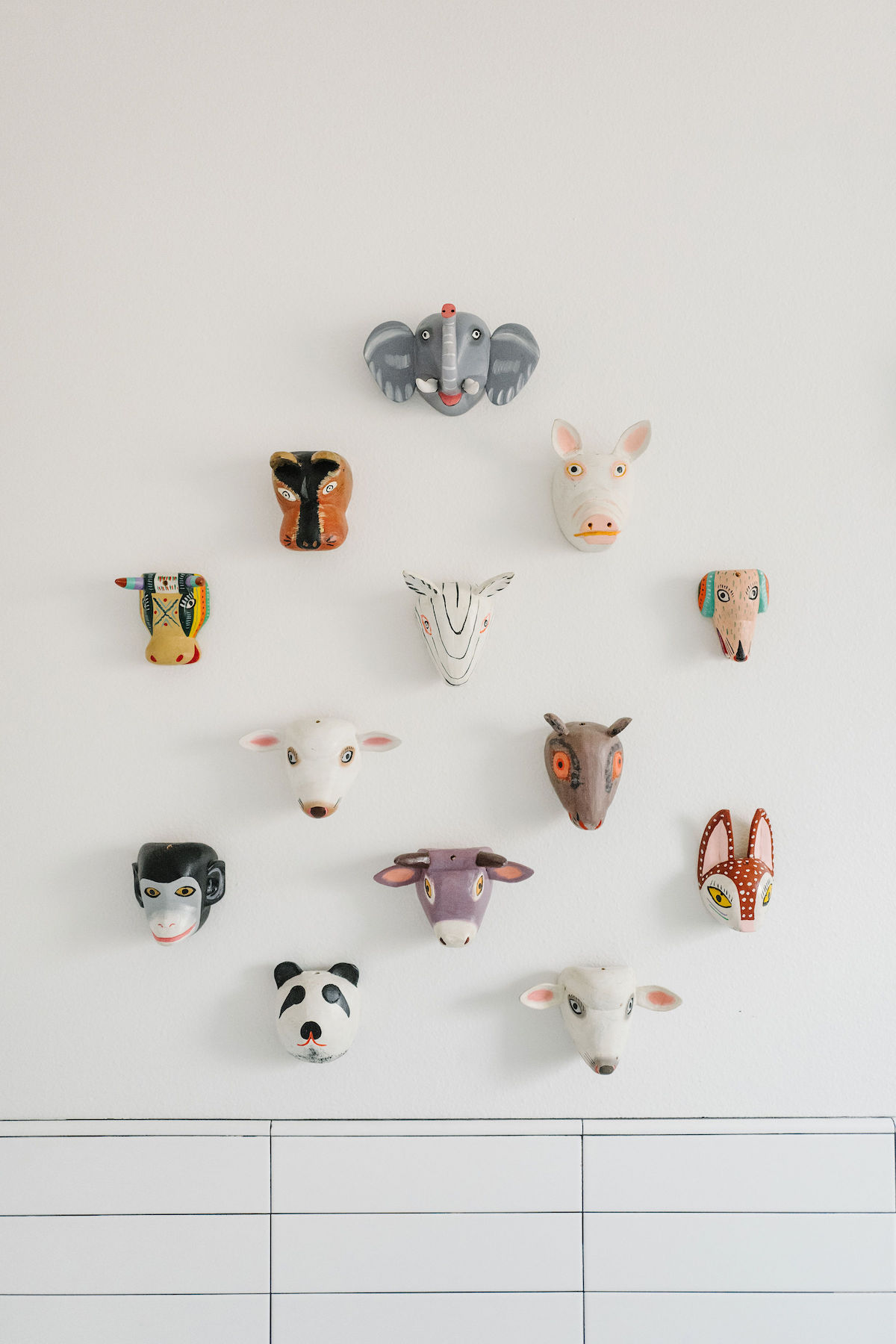 JP: What were you guys hoping to do with this renovation in their space? Any design solutions to things that were an issue?
JH: One thing we wanted to solve for is that the boys were using the hall bathroom that our daughter Amelie was also using. But just adjacent to the boys' room, attached to the guest room, was a huge 1960s layout bathroom that was originally the master bath for the home. Our guests definitely loved it, so it was a hard choice, but we felt it would be put to better use as the boys' bathroom. So we broke down the wall and made the weird guest closet/bathroom into the boys bathroom. It's probably my fave room in the house now, honestly. It's where I shower since we don't have a bathroom during phase two of our reno, and it has a huge shower. The other thing we wanted to solve for was that the boys were sharing a closet, and we were able to build another closet so they each have their own space.
JP: What's your favorite part of the room and bathroom? Theirs?
JH: My favorite thing about the bedroom is that everything is truly sourced from some market I've been to – Nepal, Thailand, Jaipur, Rwanda. It's the most global place in our home. When I collect things from my travels, I don't usually have an end in mind for them. So it's nice to get to pull these things out that didn't have a home and pull them together. The Guatemalan masks in their room have been all over the house and in my office, but it feels like now they finally found their home.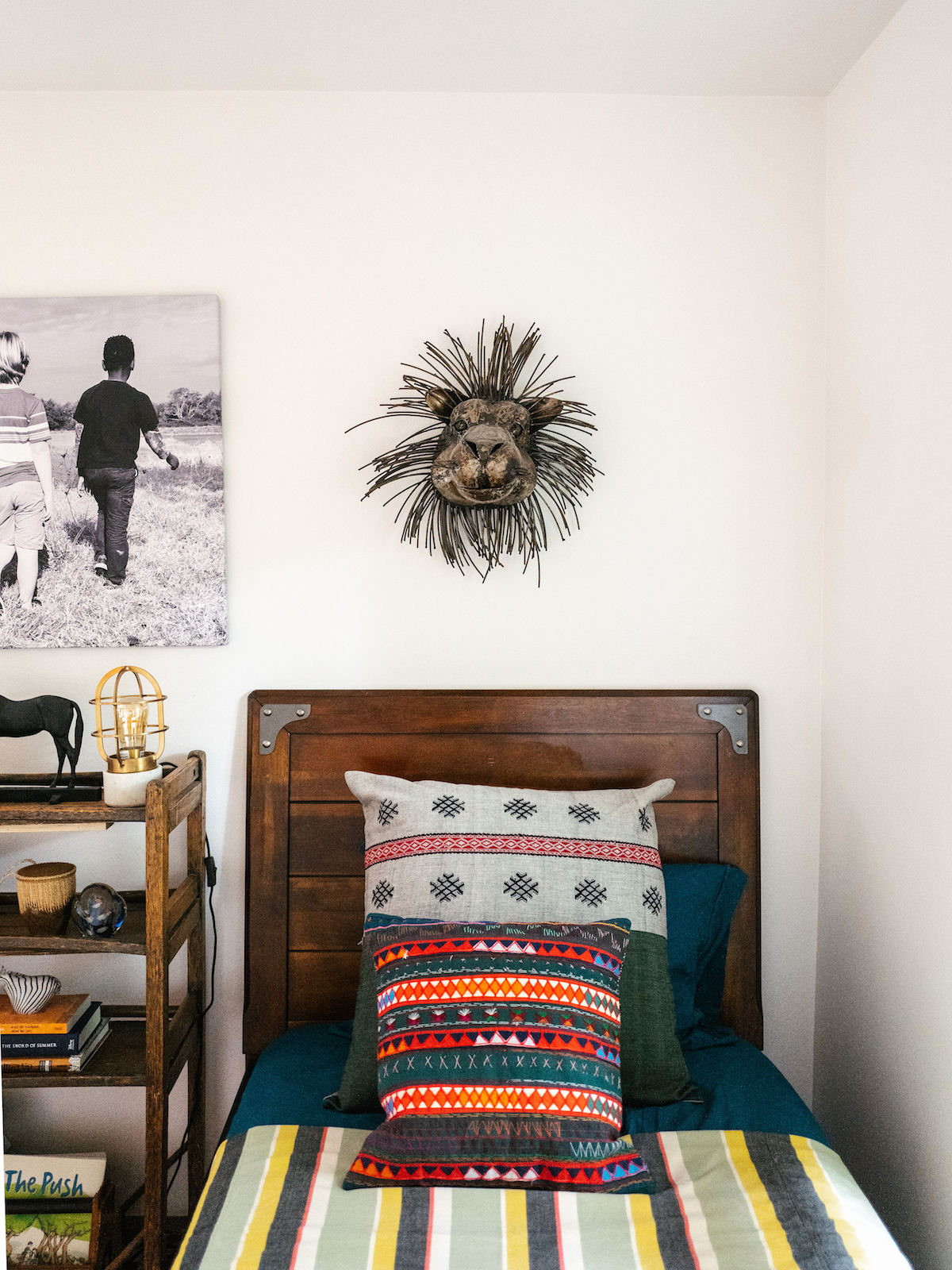 JP: How much say did they get in the design process?
JH: Zero! Haha. It's funny because with Amelie, she wanted a lot of input. But with the boys, they were just so excited to be getting a bathroom, and to each have their own sinks & closets. For the first time in their lives they were getting their own spaces—so they were happy with whatever choices we made!
Photography by Katie Jameson
Bathroom Sources: Animal heads, Marketplace in Antigua, Guatemala (Similar) || Floor Tile, Fireclay Tile || Wall Tile, Floor & Decor || Sink Faucets, Delta || Shower Faucet, Delta || Light Fixtures, One Forty Three|| Medicine Cabinets, Ikea || Vanity, Ikea ||
Bedroom Sources: Coverings, from Nepal (Similar) || Throw on the end of the bed from Morocco (Similar) || pillows from Nepal and Thailand (Similar) || Rug, Artisans in Jaipur (Similar + Similar)|| Light Fixture, Trent Austin Design || Animal heads, Kenya (Similar) || Bookshelves, Antique store (Similar)