This interview with Jessica Honegger embodies precisely why she is one of my favorite people. No matter what it is, whether discussing a recent home remodel, raising children, marriage or any number of other topics, you get all of her. You get all of her wisdom, experience, pitfalls and thoughtfulness and it's all so good. Jessica and her husband, Joe, recently completed phase 1 of their 1970's ranch home remodel here in Austin, Texas and are currently knee-deep in phase 2. We decided to reveal the pool room first because it feels like the central dwelling point of the home-- a true communal family space. Keep reading for all of her tips, observations and details on she put together this team and the design for this pool room.
(This article was originally published in 2019. Jessica is the founder of Noonday Collection, a fair trade fashion brand. You can see more of her here!)
Talk to me about this room. What did you imagine would happen in here when you were planning the renovation? Is that the reality now that it's complete?
As we planned the renovation and what this pool room would become, I imagined it being a bright and welcoming space that I'd hang out in with my family every night. And that is exactly what we are doing. It's a central spot for everyone to land. During the day, especially in the summer, it is full of kids and craziness. At the end of the day, it is a place for us to put up our feet and watch a movie together. We spend so much time in this room.
Now, let's be honest, we are still in the messy middle of our home remodel, so this is literally one of the only spaces for us to all hang out (other than the pool!), but nonetheless, we love this room so dearly. It is such a dream come true for me, because it is a perfect space for our family to do life together.
You worked with both a female architect, Sarah McIntyre, and a female designer, Shannon Eddings, on the renovation and design of your home. Were you intentional about working with a female team or is that just the way things worked out?
Yes, it was a very intentional decision to work with a female architect and designer. Not only did I want to work with females, but I specifically wanted to work with moms. A mom understands how a home is used with herds of children running all over the place.
I love working with Sarah because she is direct and has a strong point of view, and it is helpful for me to bounce ideas off of someone with her level of creative direction.
I also adore working with Shannon because I really appreciate how she is able to collaborate with me and ask the right questions to help me understand what I would really want for a space. During this project, there were certain aspects that I had strong opinions about, and there were other elements that I just trusted Shannon to run with. She always delivers!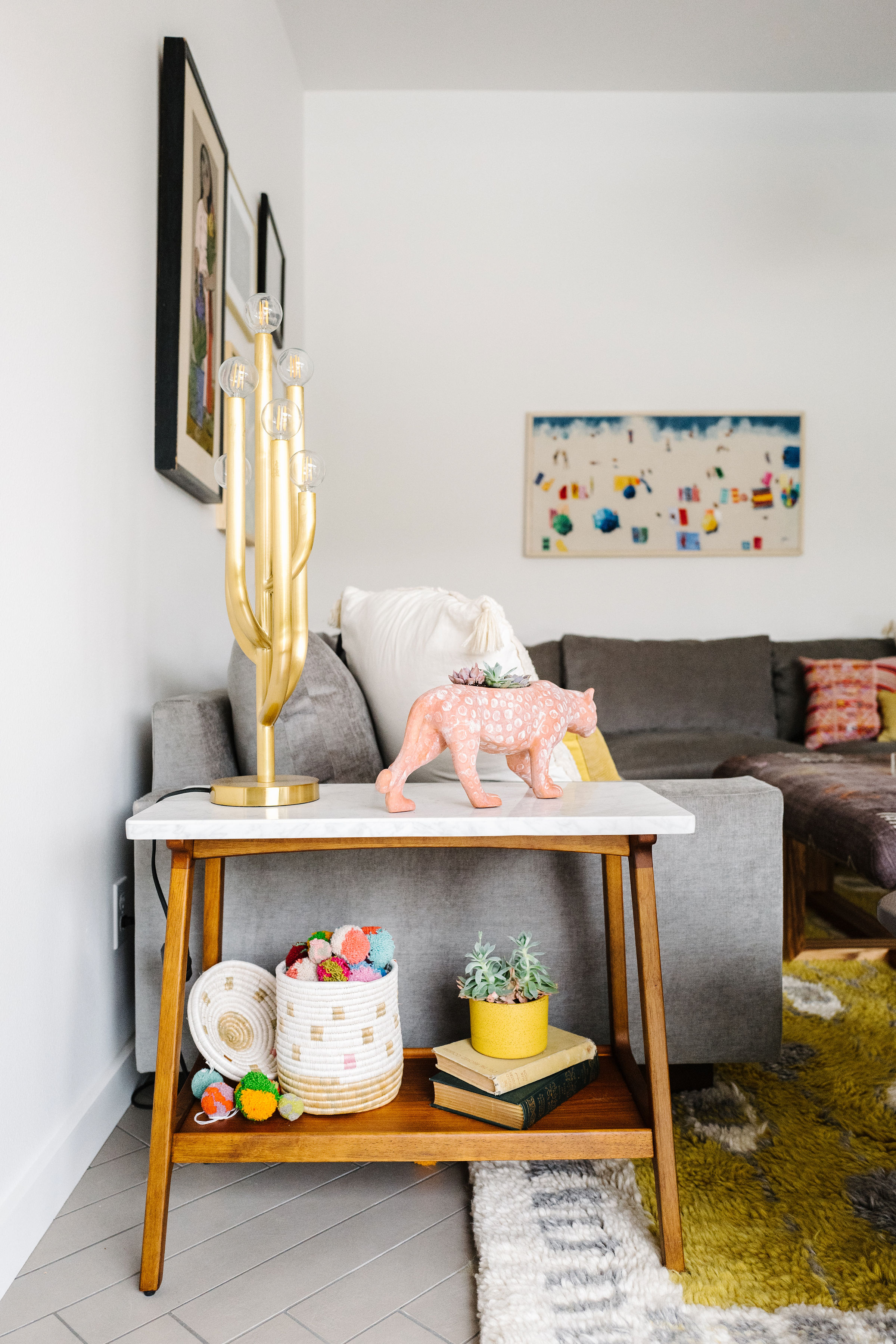 What's your favorite design feature of this room?
My favorite design feature of this room is our big ottoman at the center of the room, which my husband Joe made out of zebra wood and a Moroccan rug that I had picked up on a trip to Morocco a couple years ago. It feels so special because ever since I met Joe, he has always wanted to be a wood-worker and this gave him the opportunity to flex his creative muscles.
I know how many feet are going to be resting on this ottoman for years to come, since this is really our family room. So, I love that the upholstery applied to the ottoman is lovely but also durable. I had no idea that when I picked up this rug in Morocco three years ago that it would turn into this, but I am so glad it did.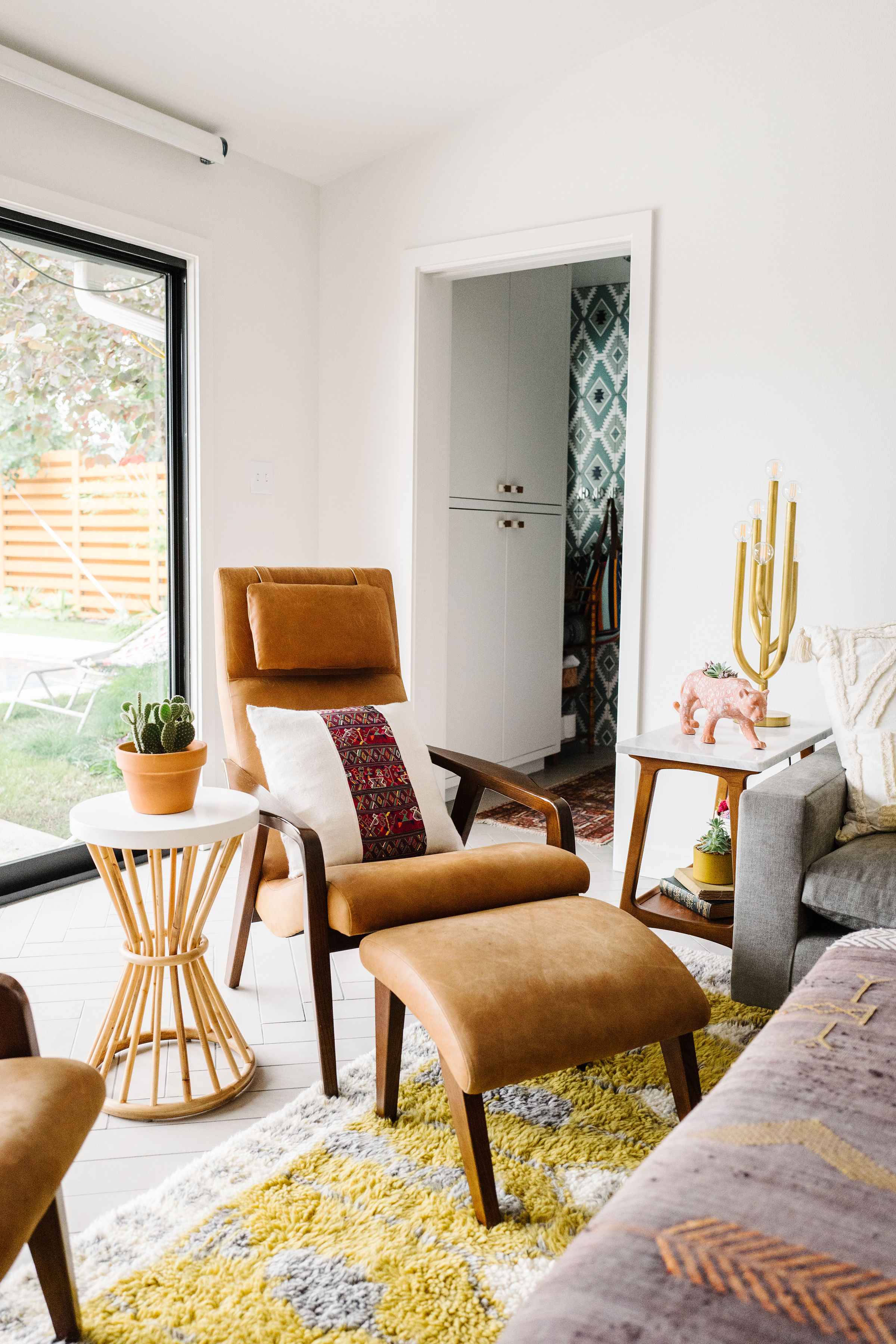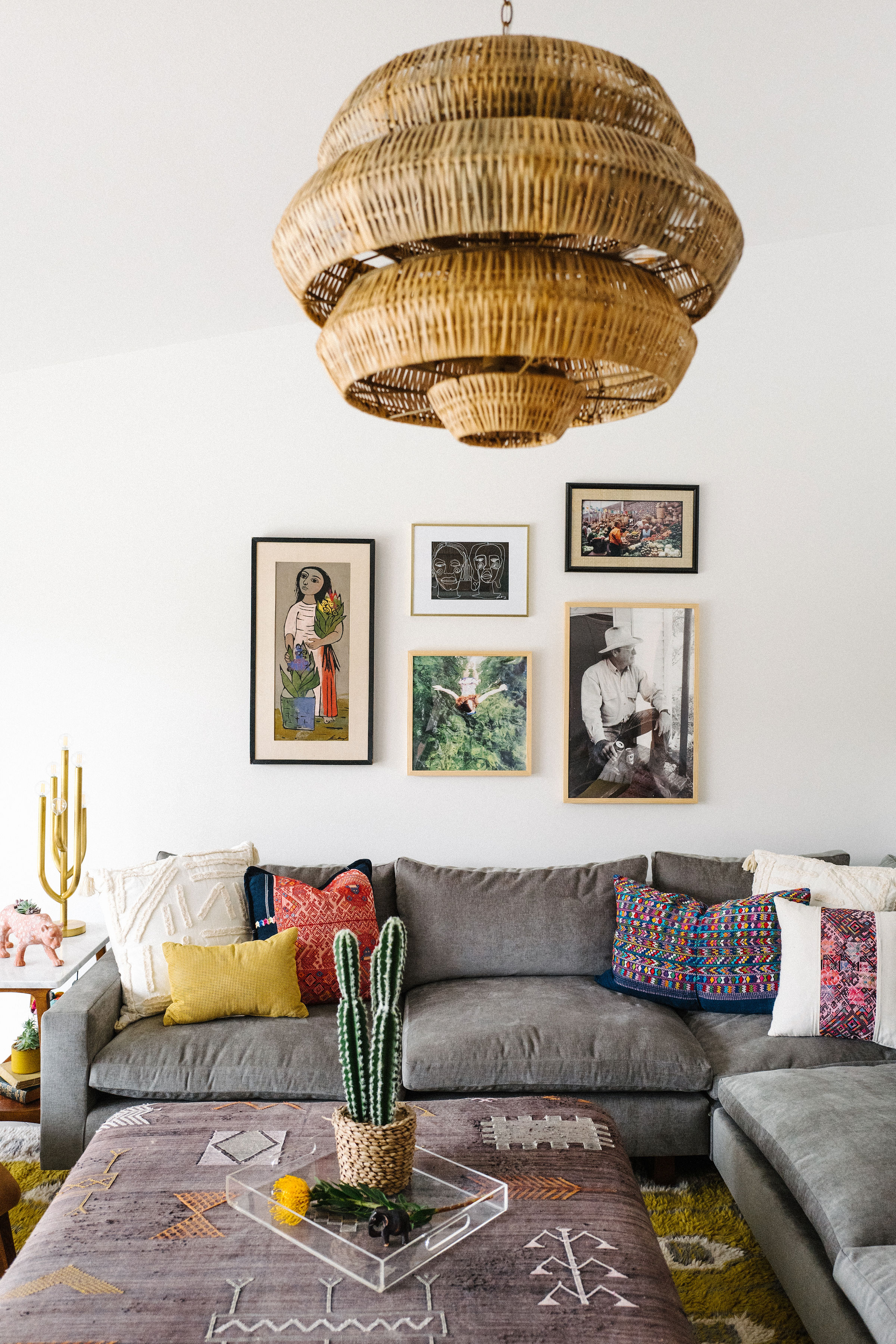 Is there anything that people advised you against that you did anyway? Are you happy with the way it turned out?
I am so happy with the way this room turned out. This area of our home used to be the guest bedroom.
We love to have extra room in our home to host family and other guests, so it was a really hard decision to make it into a different kind of space. However, as we discussed our vision for the renovations, we really wanted this space to be a central part of our home.
We were initially going to put in a sofa that turned into a bed for guests, but we couldn't find one that could also accommodate our whole family for day-to-day life. Since our vision was for this to be a space where we could all hang out and host others, we ended up buying a large sectional that can fit at least 10 kids! And we ended up buying an airstream, which Joe and I are currently living in while we finish the remodel, and that will eventually be used as our guest bedroom.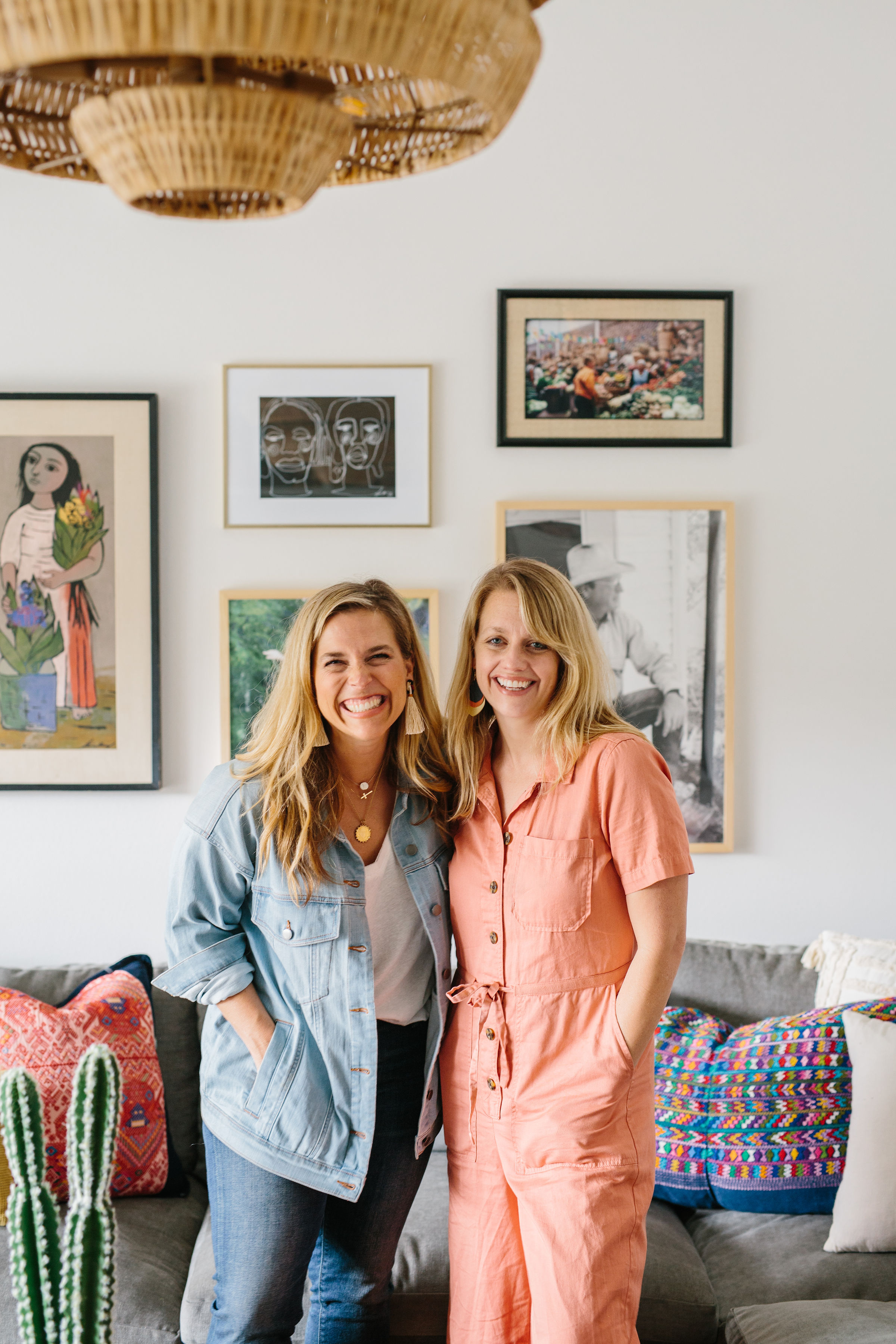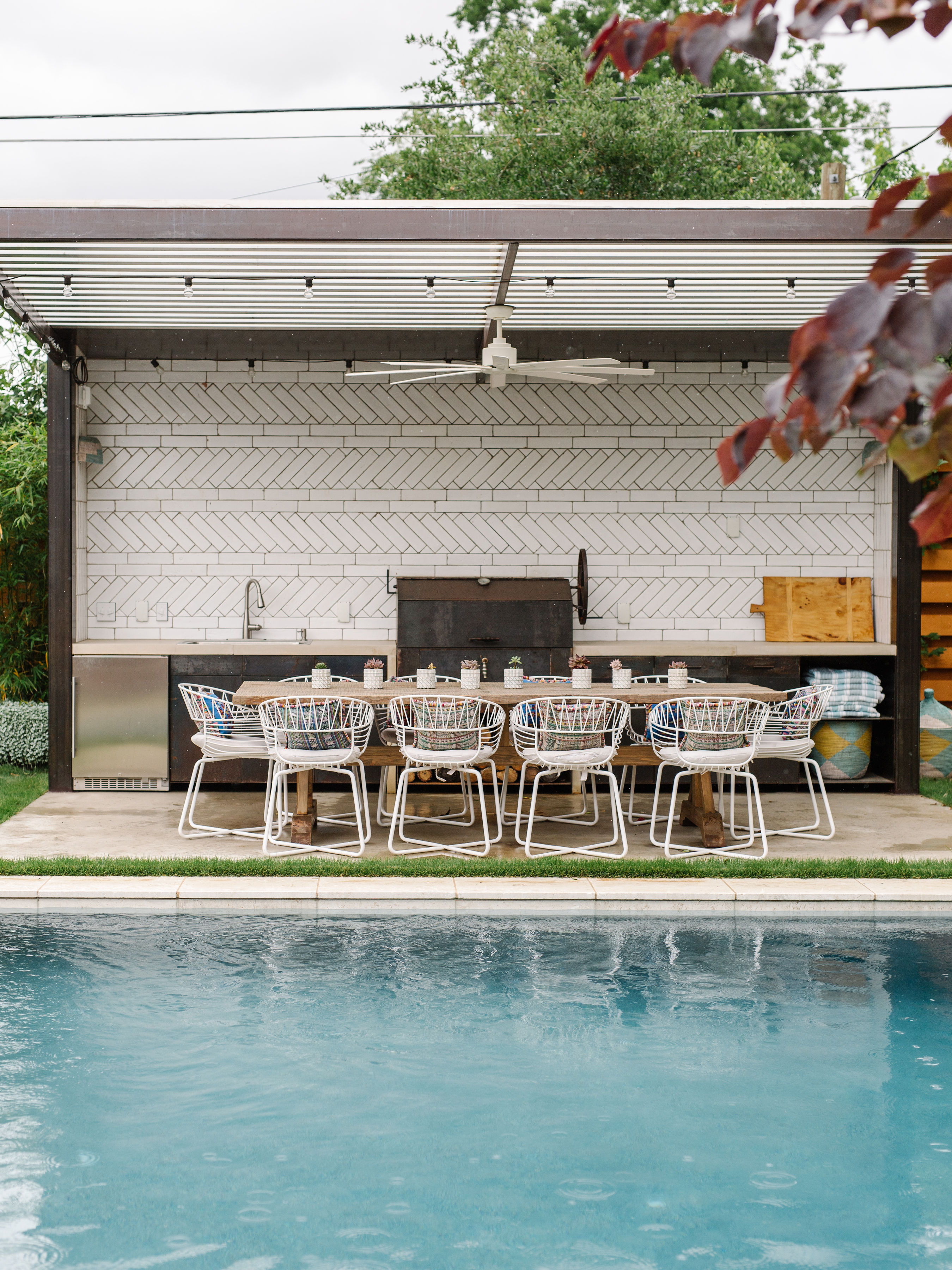 Is there anything you would go back and change if you could? Any lessons you learned in the process?
I wouldn't change anything about this space, but I will say that I am SO sad that my cat is demolishing our fabulous leather chairs with his claws. I think they are my very favorite chairs that I've ever purchased, but I am having some crazy cat lady problems.
I learned a lot through this process. This project in particular was extremely challenging because it was all happening last Fall while I was launching my first book, running my business, my dad fighting cancer, and my children were sleeping in the living room and in the spare closet. There is a certain amount of intense decision making that comes with a full remodel, and being in the middle of making so many decisions in other areas of life made it such a stressful time.
Now that we are into phase two and in a different season, I am really enjoying having more space to make creative decisions.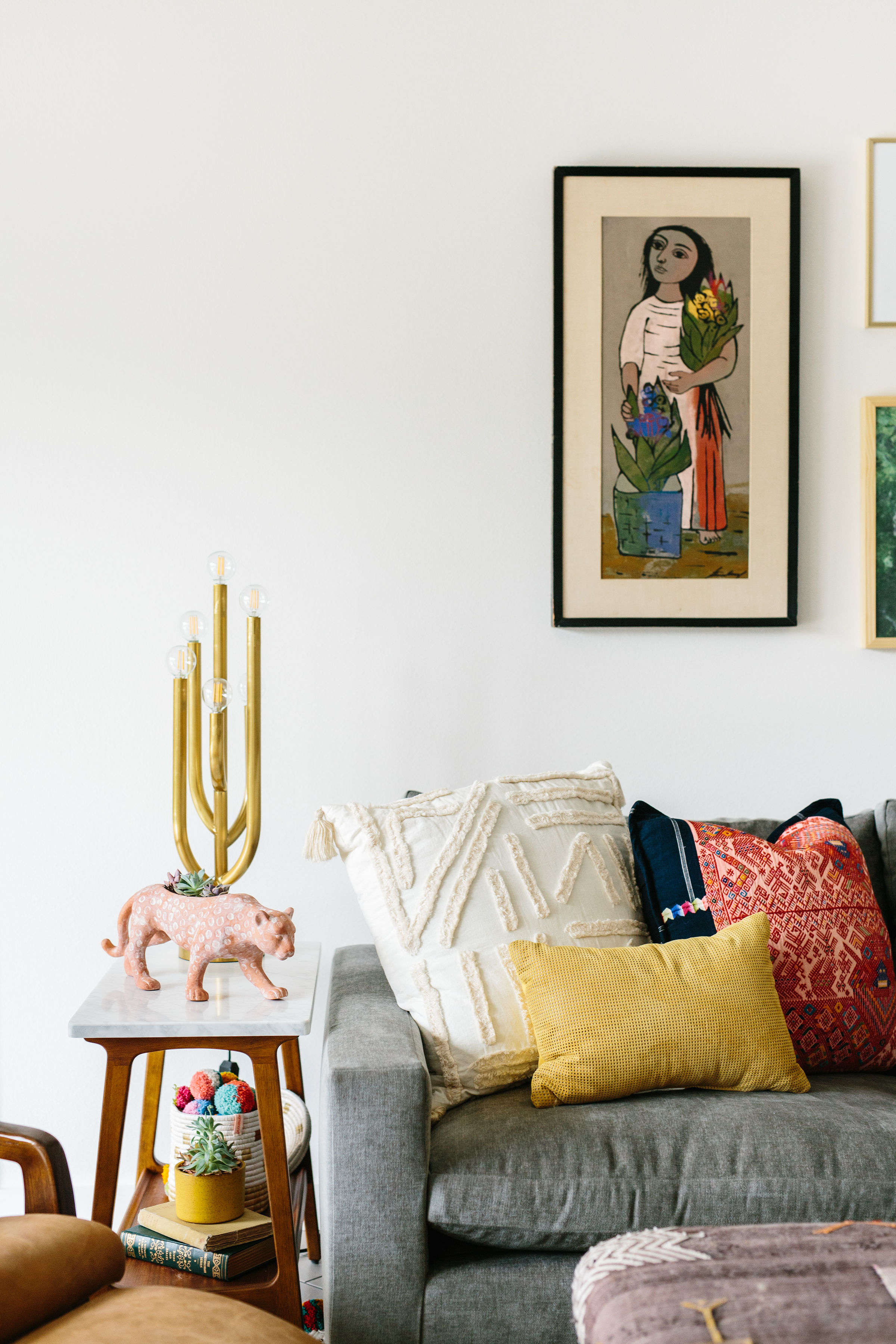 My takeaway would be to create margin when doing a big creative project. Now, I'm not saying there would ever be a "perfect" time for something like this, because life is always a little nutty, but I did experience how my frame of mind and my level of stress impacts decision making. Thankfully, I had people that I could lean on and trust when I didn't always have the capacity to make big decisions.
In general, I love optionality in the design process (where my enneagram 7s at?!), and when I think about the process for how we design a new collection at Noonday, the team might present 300 designs and I select 60. Usually that brings me so much joy! But I'm reflecting on this phase of the home remodel, and realizing that when I was faced with decisions, I didn't have as much capacity to explore that level of optionality, so I leaned into the people I hired. I remember a specific instance when Shannon showed up to my house with a cabinet paint color and just said "Let's do this." She gets me. As the chief creative officer of a fashion brand – I usually have all the opinions! But I was able to confidently trust their creative direction through this whole process and I am so grateful for that.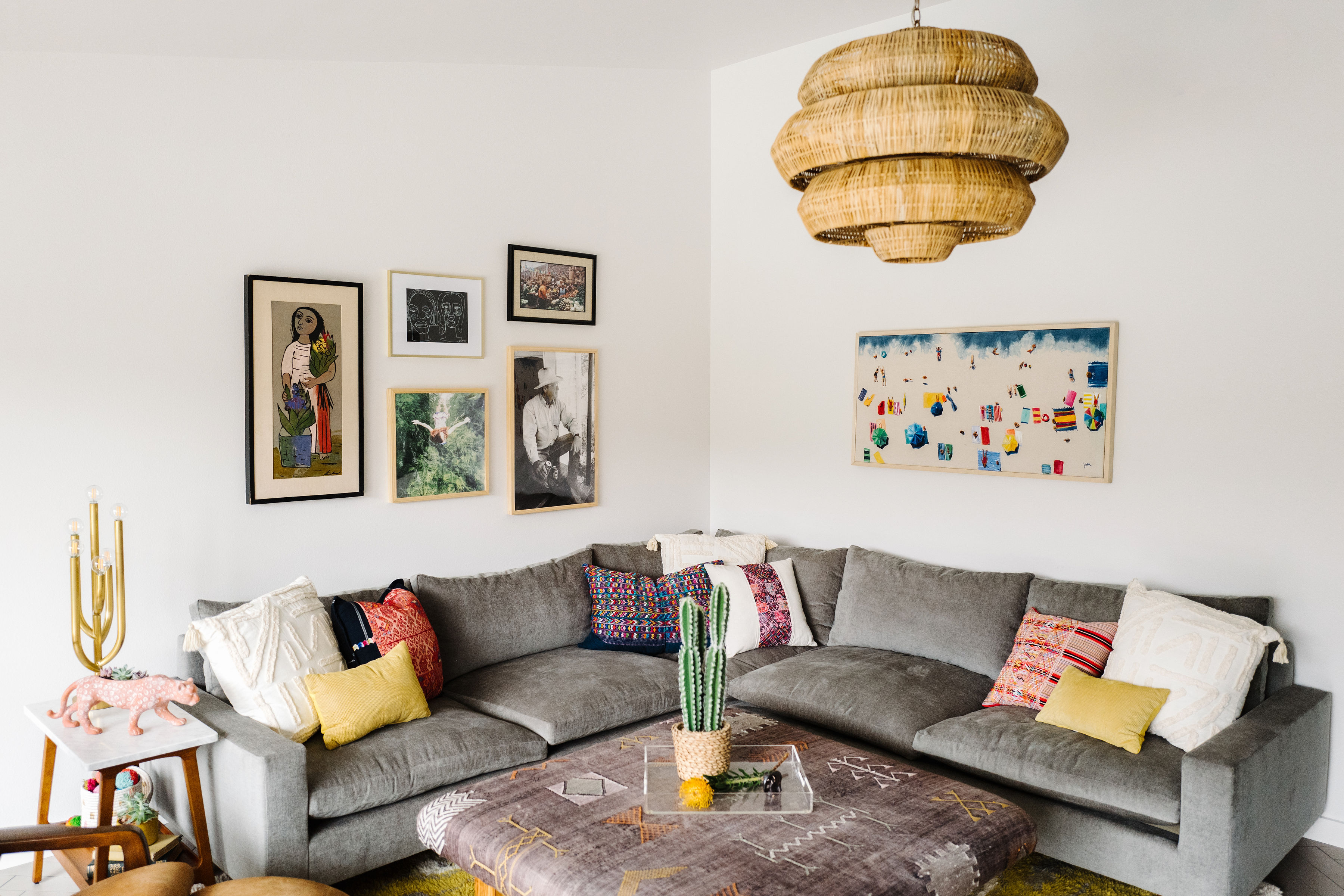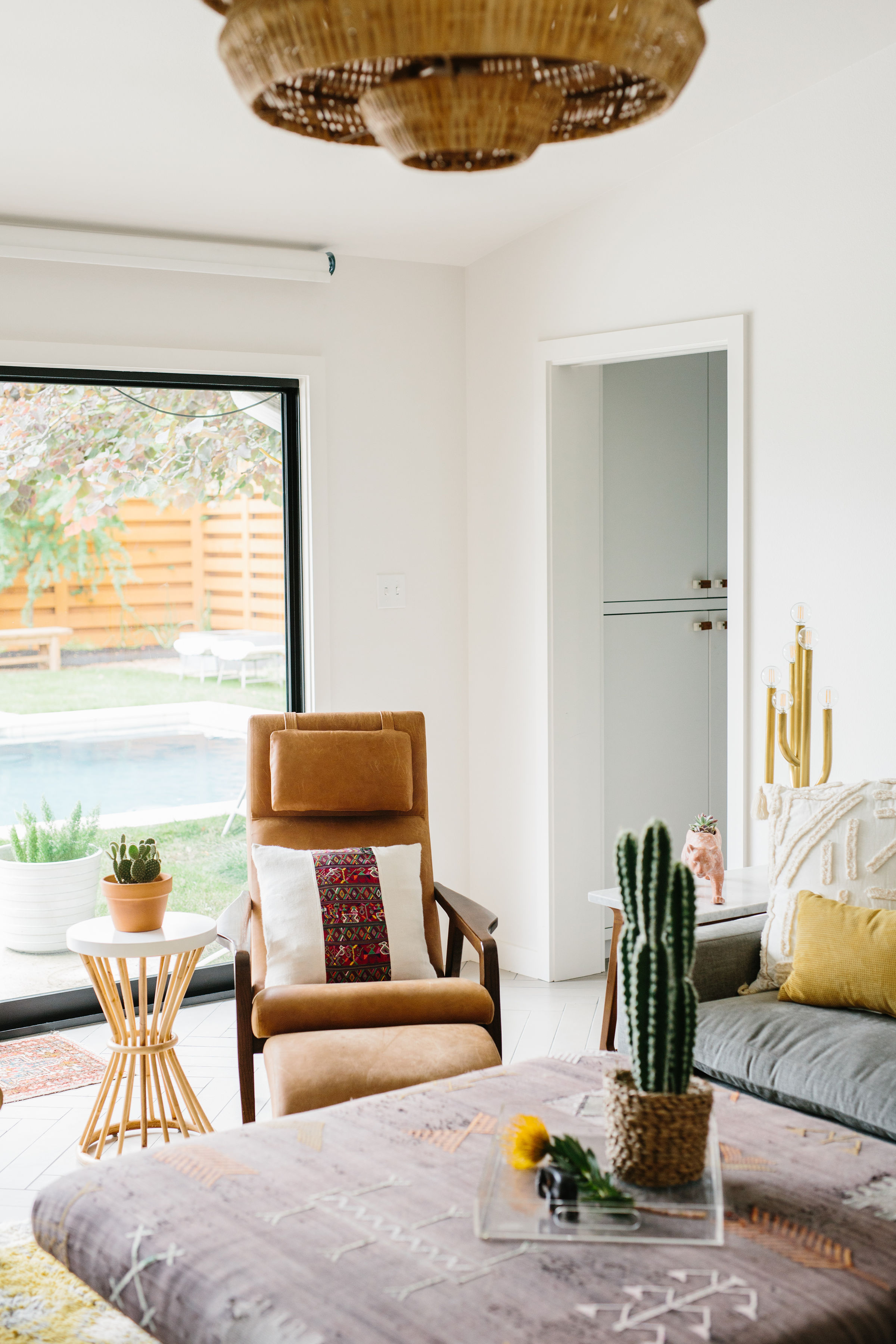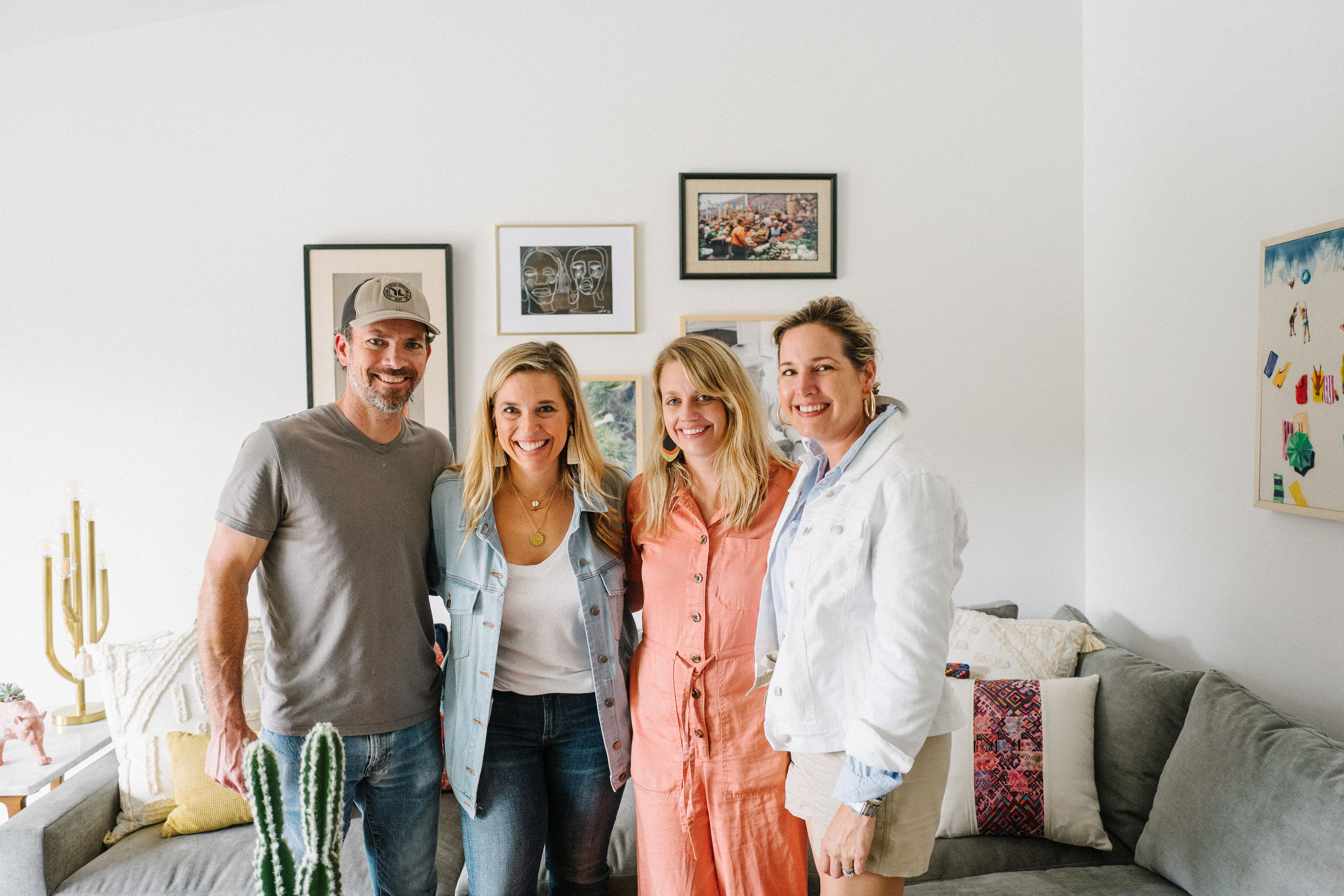 Sources: Cacti Lamp, CB2 || Sectional, West Elm || Coffee Table, Handmade || Rug, West Elm || Chairs, William Sonoma Home || Side Table Between Chairs, Target || Side Table Next to Sectional, West Elm || Assorted Pillows, Target + Custom || Light, Antibes Chandelier by Currey and Company || Paint for Cabinet, Iced Marble, Benjamin Moore || Paint for Wall, Snowbound, Sherwin Williams || Floor Tile, Block in Greige by Marazzi - cut to custom size
Pool Room Photography by Katie Jameson