Today I'm so excited to introduce you guys to Sara Barney.  She's an austin-native who spent time in LA before coming back here 8 years ago, so we have similar stories in that respect.  She is also an incredible interior designer and I'm so excited for her to share her expertise with us!  So without further ado, I'll let her take it away!  I hope you enjoy her as much as I do!
Hi everyone! Let me just start by saying I am so thrilled to hanging out over here at The Effortless Chic! As an interior designer (and a Gemini!), I am absolutely hooked on the drama of a good before-and-after. Think of it…the oohing and ahhing, the visual adrenaline, the excitement of making something old new again…it really gets my little ol' design heart going. This STUNNING kitchen remodel comes to us from the home of interior designer, Jen Cavorsi, located right outside of Boston, Massachusetts in the town of Milton. I mean this was what she was working with when she started:
Dark? Check. Drab? Yup. Outdated? You betcha. This kitchen was absolutely screaming to be gussied up again.  Jen saw the potential in brightening up this wide galley kitchen and create a space that could be highly functional for her and her family. They completely gutted the entire kitchen and reworked the layout. Moving the placement of the range, refrigerator and a door. They also took down some walls to open it up and created a pantry wall in a space that used to be an odd room that led to the back porch. The kitchen was very outdated, with horse hair plaster walls and a 2-inch thick tile floor that was damaged and needed to be replaced.
In order to really make use of every nook and cranny, once she redesigned the layout, she created a built-in table that can serve as both an island and dining table. Um hello? That's genius!  They also managed to squeeze a beverage fridge to make up for the smaller main refrigerator that they had space for and still keep plenty of cabinet space.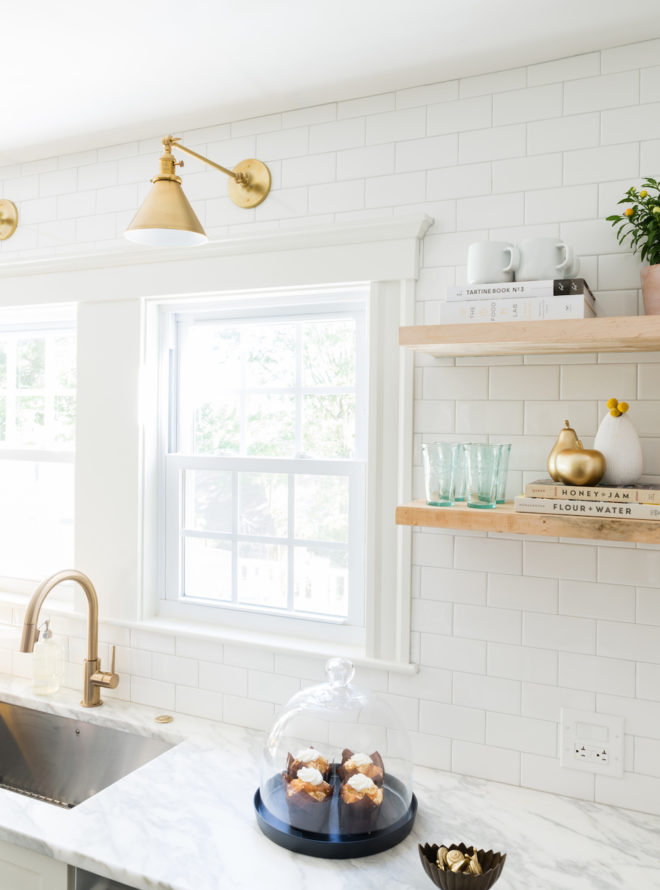 Jen also wanted to be sure to stay true to the integrity of the house. The previous owner, who lived in the home for 65 years, was an interior designer. She adored her home but it was due for an update.  Jen says, "We were able to repurpose the butcher block countertops into floating shelves and a tabletop for our kitchen table. I love that they have a story."  She brought so many amazing, up-to-date elements in to her kitchen remodel without completely deterring from the style of the home. Do you think she'll mind if I come over for brunch?
SOURCES:
Photography: Jessica Delaney Photography
Design: Jennifer Cavorsi Design
Cabinetry- CliqStudios || Countertop- Calcutta Carrera Marble MSI Boston || Flooring- MS International Slate Home Depot || Brass Hardware- Lews Hardware Collection || Stools- Serena & Lily Riviera Stools || Faucet- Delta Champagne || Wall Sconces- Schoolhouse Electric || Pendant Light- Visual Comfort || Appliances Bosch- Dishwasher   Microwave/Oven Combo  Fridge || Bertazzoni Range and hood- 36" Range   Heritage Series Hood || Pantry Cabinet Color- Benjamin Moore Cape May Cobblestone || Woods Wallpaper- Cole & Sons