Do you have an Instant Pot? After hearing dramatic murmurings about it like, "It's changed my life!" and "This is the greatest invention!" I finally bought one myself.  I already have a slow cooker and a dozen other small kitchen devices and appliances taking up precious space in the kitchen so it took longer than I wish to actually try it out myself.  Roasts come out so moist. You can even sauté in it! There are a handful of recipes that I make in it that are on constant rotation, but this one is a fan favorite in our house! (I love having it for lunch the next day as leftovers, too!)  In the meantime, keep reading for the most delicious chili that (sans garnishes on top) is Paleo, Whole30, Gluten-Free and can be made in less than 30 minutes from start to finish!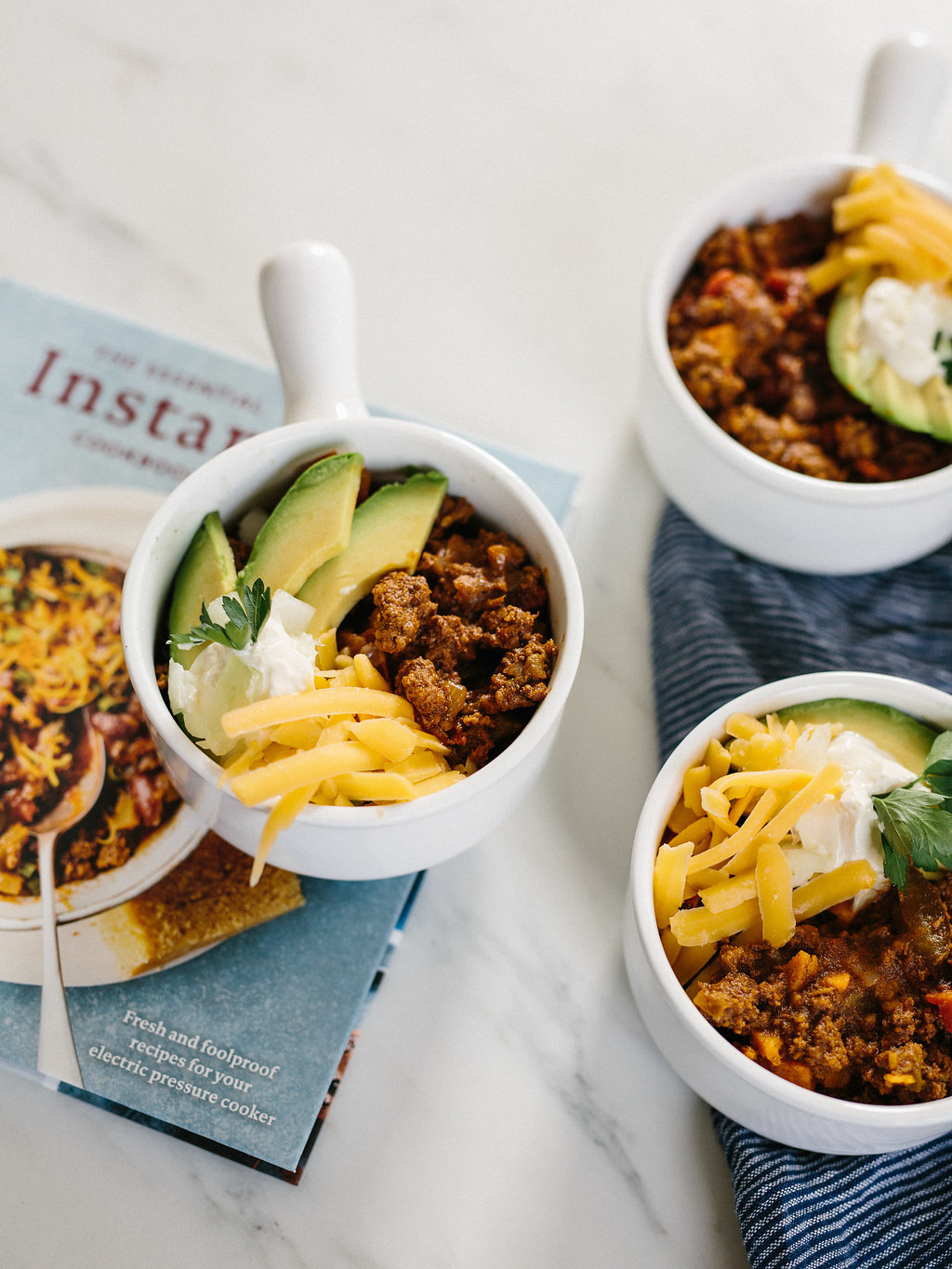 Instant Pot Ground Beef + Sweet Potato Chili (Paleo, W30 + GF)
Ingredients:
2 tablespoons avocado oil
1 large yellow onion, diced
1 small green bell pepper, diced
1 small red bell pepper, diced
1 large sweet potatoes diced
2 teaspoons kosher salt, divided
2 tablespoons tomato paste
4 garlic cloves,minced
1 pound grass fed ground beef (I used 90% lean)
3 tablespoons chili powder
1 tablespoon dried oregano
1 tablespoon ground cumin
1 tablespoon chilis in adobo sauce
1 (14.5 ounce) can fire-roasted diced tomatoes, drained
½ cup chicken broth
2 tablespoons apple cider vinegar
1 tablespoon maple syrup
Toppings for garnish (these are not all Whole30 or Paleo compliant):
chopped onion
avocado, sliced
sour cream
italian parsley
Directions:
Press the sauté button on the Instant Pot and wait for the screen to say hot. Once hot, add avocado oil.
Wait about one minute for oil to heat up, then add veggies-- sweet potatoes, bell peppers, and onion-- and 1 teaspoon salt while cooking.
Allow to cook for 5 minutes until tender
4. Add garlic and tomato paste and stir for 1 minute
5. Add ground beef and rest of salt. Stir and break up the meat until cooked through. (About 5-6 minutes)
6. Stir in spices and adobo sauce, followed by the tomatoes, broth, and apple cider vinegar
7. Mix well and then close the lid and cook on high pressure for 15 minutes.
8. Before serving, taste to see if it needs more spicing. Serve with your favorite toppings!
Photography by Katie Jameson
Instant Pot, Williams-Sonoma || Cookbook, Williams-Sonoma