Now that I'm playing the role of working mom with a seven-month old, I relish whatever "me" time I get to sneak in between photo shoots and swim lessons.  Whether it's every couple of months to get a hair cut or even just a new lip color, it's the little things in self-care that go a long way to making me feel a little more done.  When Crest asked if I wanted to try out their Crest 3D White Whitestrips Luxe Supreme FlexFit I jumped at the opportunity.  Two weeks to a much whiter smile?  Absolutely!  Here's how it went down...
I should begin by saying that my favorite things in life are wine and coffee-- both working against me in the white smile department.  I have been meaning to do something about the ever-more apparent discoloring for some time and just never got around to it, so this was the perfect opportunity!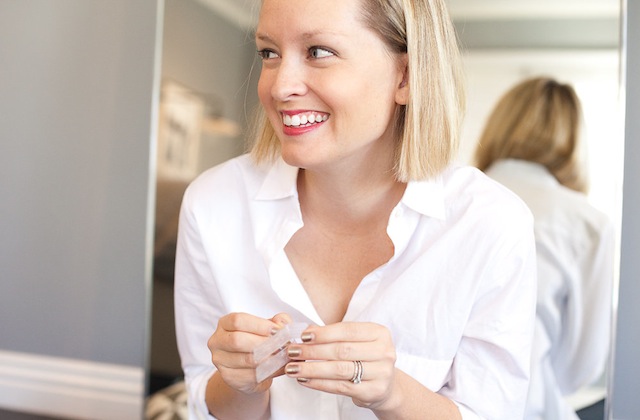 You begin by peeling off one of the flex-fit white strips from the package and stretching it around your top teeth, beginning at the gum line, and then fold the excess strip around the backs of your teeth to keep it secure.  I found it to be super easy and not at all uncomfortable.
Leave them on for one hour while you clean the house, watch Netflix, cook dinner, catch up on emails or a myriad of other tasks that make the time fly by.  Then remove them, discard, and brush your teeth.  It couldn't be easier and I noticed a difference after the very first usage!
I couldn't recommend these more!  Check out those pearly whites!
Photography by Stephanie Godfrey