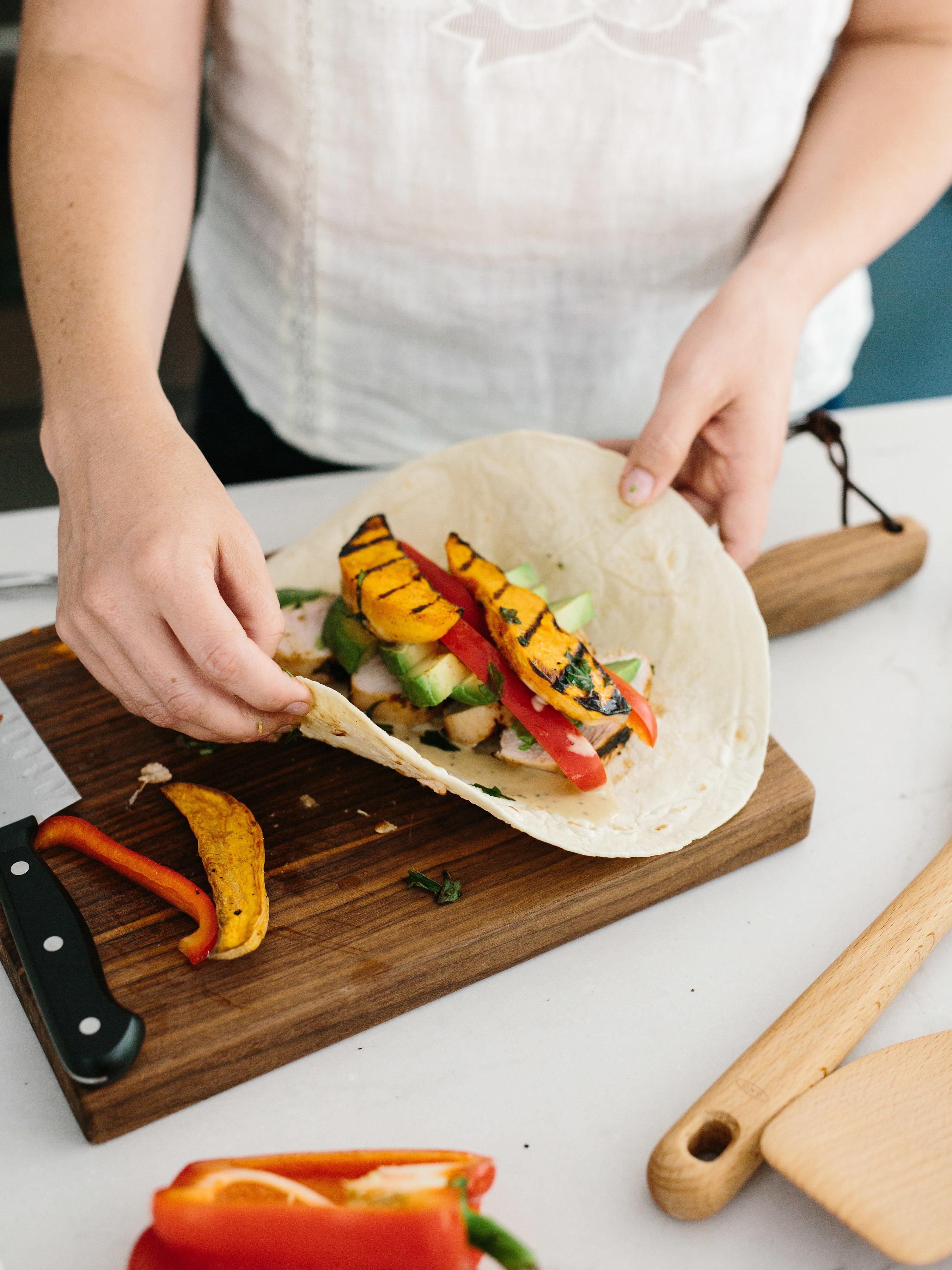 (This post is sponsored by OXO, a brand we love and use in nearly every room in our house!)
The tan lines and new freckles that adorn my nose make it hard to deny that summer is still in full swing, yet in just a couple of weeks we will be back to weighing in on if the shoes are on the right feet and helping to adjust backpack straps as we scurry out the door.  This summer was so full.  The squares on the bucket list were checked and then some. Rather than lamenting summer's end, I'm actually really looking forward to this next fall chapter. This season tends to be the busiest for me on the blog and is always full of creative projects, so I'm already plotting the girls' school and babysitter schedules and adding plenty of slow cooker recipes to my Pinterest boards.  For me, working primarily from my office at home, lunch is always the hardest meal.  I am always knee deep in copywriting or photo shooting and it's sometimes feels hard to tear myself away for lunch.  When I do, I'm always in search of something that will take up as little time to prepare as possible. As we continue into August and towards fall, I'm determined this season to make time on Sunday to prep for the week.  While we were shooting one day this summer, our whole team took to cooking, prepping, and recipe testing the easiest take-on-the-go lunch recipes packed away nice and neatly in what are 100% the best lunch containers ever by OXO.  (There's a salad container, too!) The result?  3 Days of lunches in less than 1 hour of prep!
What We Made:
Jen's Grilled Chicken & Sweet Potato Wrap
Britt's Apple, Quinoa & Hummus Bowl
Lauren's Arugula & Grilled Chicken Salad
What You'll Need:
1 8 oz package of arugula
1 cup quinoa (if not already made, start this at the beginning so that it cooks while you prep everything else. You'll still be within your one hour goal.)
1 lb chicken breast
2 small sweet potatoes
1 red bell pepper, sliced thin
2 tbsp. hummus
2 tbsp. sliced almonds
1 red apple, chopped into one inch pieces
1 large wrap-sized tortilla
2 small avocados
Your favorite salad dressing—can be homemade or store-bought. (If I'm not making it homemade, I love Tessemae's.)
For the Chicken Marinade:
⅓ c. Extra Virgin Olive Oil
3 tbsp. Fresh Lemon Juice
3 tbsp. Coconut Aminos
2 tbsp. Balsamic Vinegar
1 tbsp. Dijon Mustard
1 tbsp. Honey
3 Garlic Cloves, minced
1½ teaspoon Salt
1 teaspoon Pepper
2tbsp. Fresh Parsley, chopped
Begin by marinating the chicken.  While the chicken marinates, grill the sweet potatoes. (You can also bake them in the oven, but grilling is much faster and that outside gets really nice and crispy.)  You can follow the grilling instructions found here.
Next, grill the chicken. (You can follow the grilling instructions found here.)
Once the chicken is removed from the grill, let it rest for at least 10 minutes.
While the chicken is resting start prepping your lunch containers.  I love the way these lunch containers separate out the dry and wet ingredients so your dry ingredients won't get soggy. The salad container has it's own leakproof dressing container, which means I don't have to worry about dressing leaking out before it's time to eat. The containers themselves are also leakproof, so bringing them on-the-go or to work is easy and mess-free.
For the Bowl:
Add one cup quinoa and layer ½ cup of arugula on top. Rough Chop two sweet potato wedges and add along with the chopped apple and sliced almonds or any other nuts you have on hand. Top with hummus.
For the Salad:
Add 2 cups of arugula to the salad container and top with grilled chicken, sliced bell pepper, chopped sweet potato, and almonds.  (For photos we sliced up the avocado, but store your avocado whole with your lunch container until you're ready to eat it.)  Add the salad dressing to the salad dressing container.  You can also add any cheese or herbs you have on hand, but we kept ours dairy-free.
For the Wrap:
Spread open one large tortilla and add a handful of arugula, sliced red bell pepper, grilled chicken and sweet potato wedges.  Top with light salad dressing and store with a small avocado that you can slice and add to the wrap when you're ready to eat.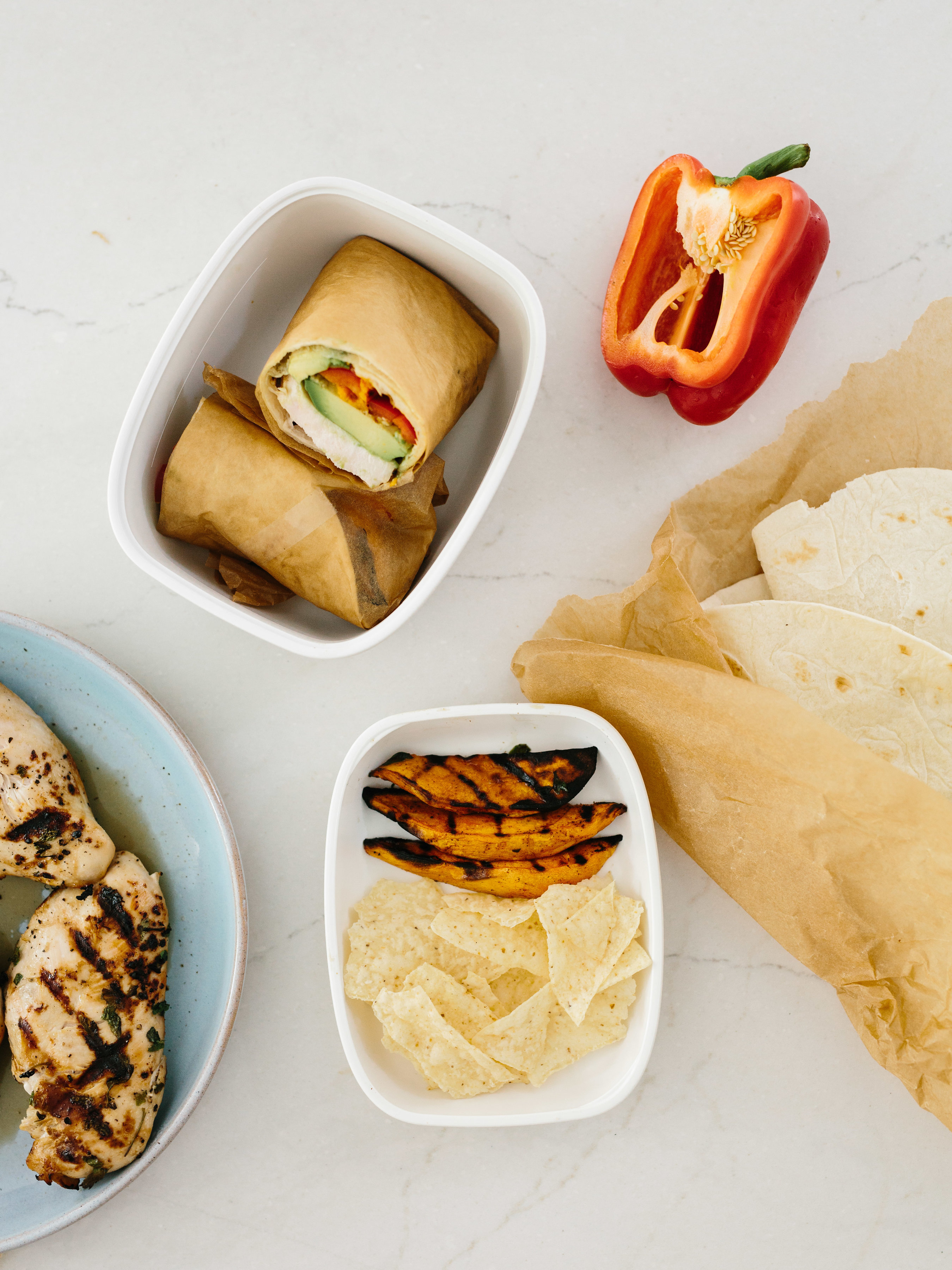 Happy back-to-school month, friends! What are your favorite weekday lunches?
Photos by Katie Jameson