As a wardrobe stylist, you amass quite a large stock of things.  Things you might expect like clothing, shoes, and accessories.  And other things like the collection of variously colored tape measures that I'm not sure why I own or how I collected so many that they have their own bin.  Either way, it's super important that it all stays organized so that you can actually use it when you need it and it's easy to grab and take to shoots.  I've always used muslin hangers for organizing belts and mens ties, but just started using them for jewelry a couple of years ago and it's been a game changer!  I usually keep everything organized by category-- necklace, bracelets, rings, etc.  Then pull out jewelry stories for specific looks when I'm on a job and put them on their own hanger so that they hang right on the rack along with the look.  It's how I keep my personal jewelry organized at home too.  I've never been a fan of seeing it visibly in my room somewhere like on a stand or dangling from the wall and I like being able to see it all in one place with my clothes. They're pretty basic, but here's how a fun way to make them your own, plus tips for organizing them: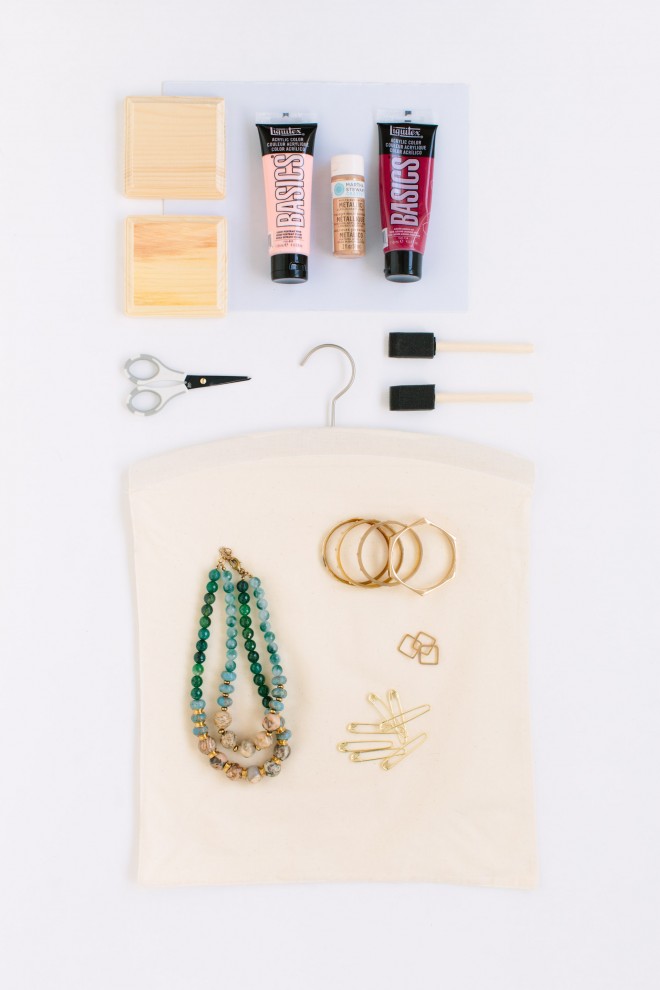 What You'll Need:
Instructions:
Cut out the shape of your choice from the foam sheet.  We did one with alternating stripes and another with triangles, but the possibilities are endless!  You could even just do a simple monogram at the top or you could stamp them 'necklaces', 'bracelets' etc.
Using the adhesive side of your foam cut outs, place them on the wooden block to create your own custom stamp.  Then apply the paint color of your choice using the foam brush.
Use your stamp to create your own design on the muslin hangers, reapplying paint as necessary. (Hint: you may want to do this on top of some newspaper or some other surface to protect the flooring or table you are working on.)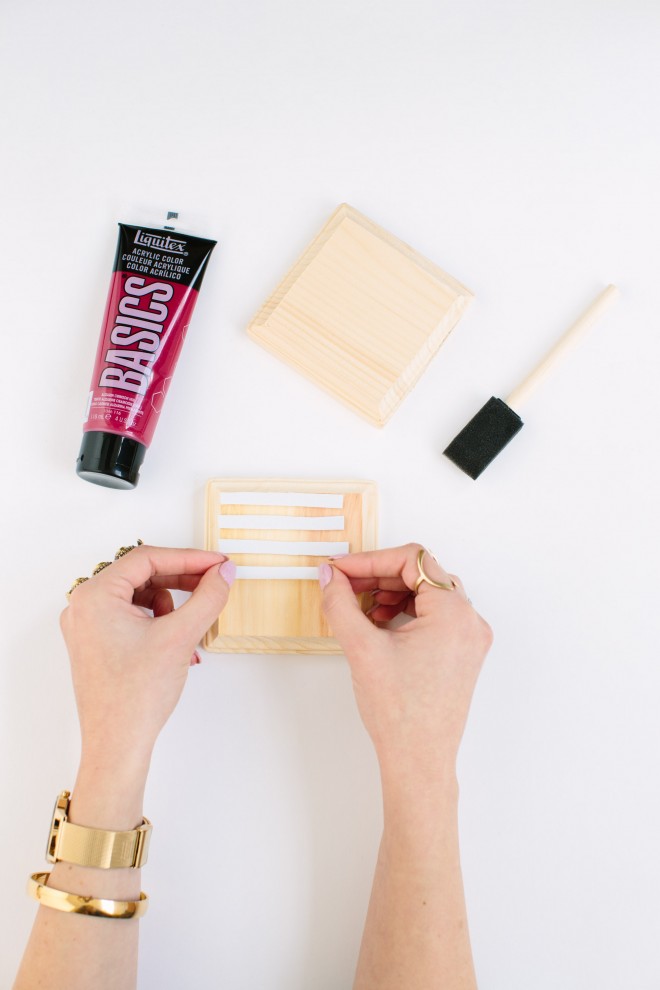 Now it's time to organize that jewelry....
Using the gold safety pins, hang each piece as you would like it organized.  For pieces that don't have closures like bracelet cuffs, you can place them in a ziploc bag and safety pin the entire bag to the hanger.  You could categorize them by necklace, bracelet, etc or consider putting them together in stories like "everyday jewelry", "special occasions", "tribal", or "color pops".
Enjoy!
photography by Mary Costa