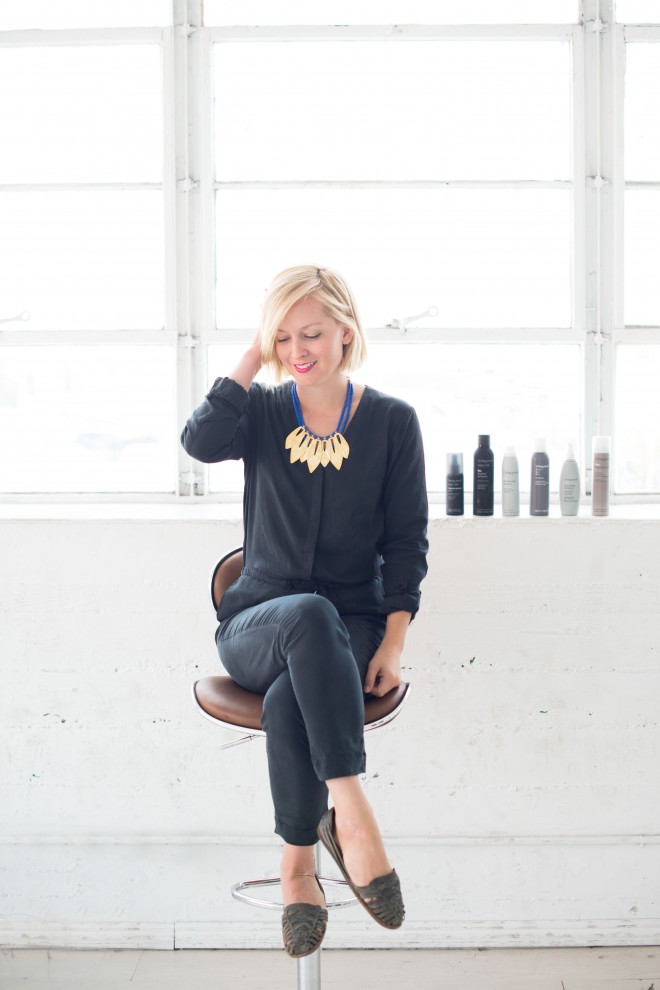 I'm a firm believer that the best blog posts begin with a big confession, so here goes:  You know how sometimes all of a sudden I go for weeks at a time where I only wear my hair wavy?  Well, it's because it's super grown out and I haven't had time to get it cut, so it just looks tremendously awful any other way.  That's why I make it messy and wavy beyond belief and hope you don't notice.  Some of you, though, have actually asked in the past for a tutorial on that messy, wavy 'do, so when Living Proof-- Jennifer Aniston's hair product line-- asked about collaborating, I knew just what we were going to do.  Also, I thought it was time that I attempted the wavy look with healthy, freshly cut hair!  (For another tutorial, see this post!) So let's start with the healthy hair part of the equation...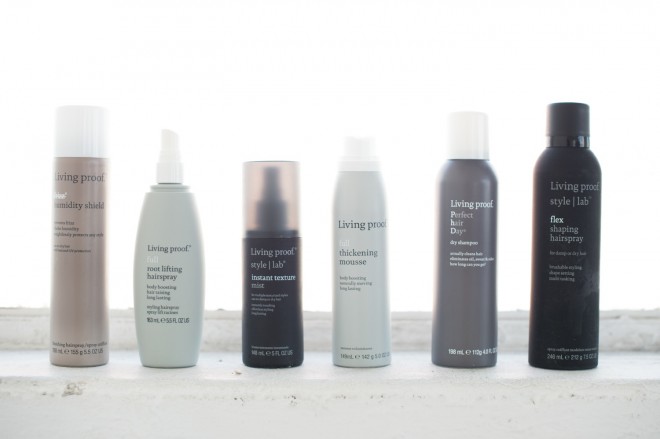 You can go on the Living Proof site and use their product selector tool to find the right products specifically for your hair, which I did, and came up with the above products (plus shampoo!).   Also, can we talk about the packaging above?  I would be totally okay if everything in my life were in that same palette.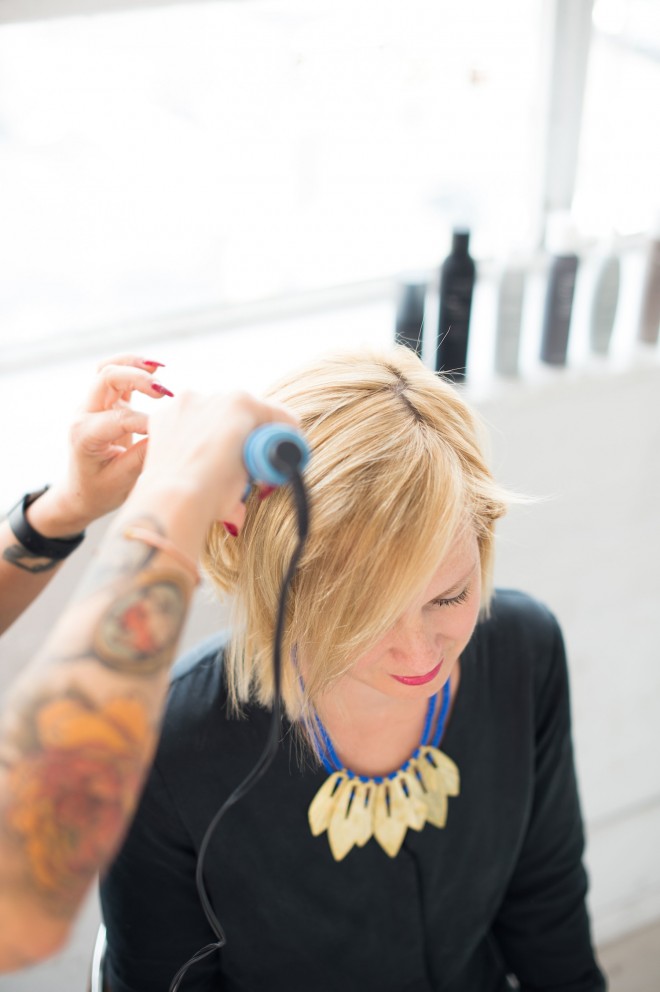 Here's how we achieved the look:  I washed my hair that morning with Living Proof's Full Shampoo and skipped on conditioner, so that my hair wasn't too silky smooth and could hold some curl.  For me, shampoo is a less is more thing.  I want something that smells fresh and not too fragrancy and leaves my hair feeling clean and without any kind of residue.  This one checked all of those boxes for me.  Also, my hair actually felt fuller after shampooing which I didn't think was possible.  I was still afraid that my hair would feel too clean and not hold texture (straight hair problems), so after shampooing, I used the Full Thickening Mousse and Full Root Lifting Spray from the same line.  Sometimes it's hard to tell if root lifting sprays work because it's not usually a very dramatic difference, but I loved the thickening mousse.  My hair did instantly feel thicker after blow-drying and felt like it already had a nice texture.  (Kind of like the greatness of second day hair without the oiliness at the roots!)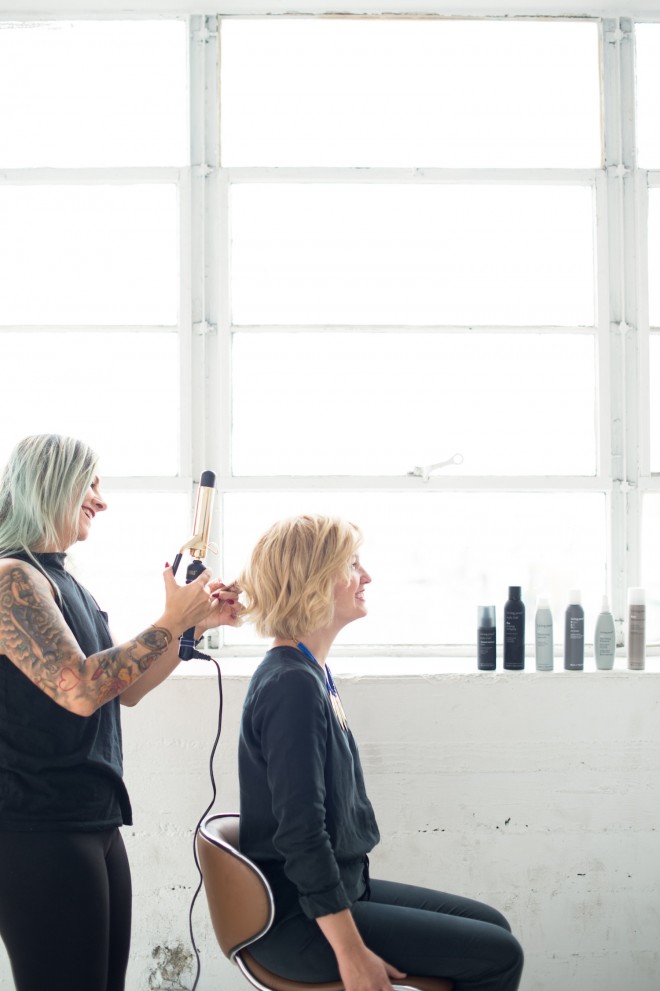 I should probably mention that upon consulting my hairstylist friend, Kelly, she informed me that the beachy wave felt a little done and that we should put our own spin on it, which she called  "The Cool Girl Wave".  Essentially, it's all about creating texture and volume in your hair with some sporadic, imperfect body and wave.  Kelly started by heating up two different sized barrel curling irons, so that the waves would feel asymmetrical and not too perfect.  Be sure to start the curls/waves in different places-- some closer to the scalp, some further down.  Again it gives it a more perfectly imperfect look.  Keep the barrel of your curling iron almost always moving so that they nothing gets too tight and ringlet-y.  Also don't curl all the way to the ends, leave them a little straight or just bent.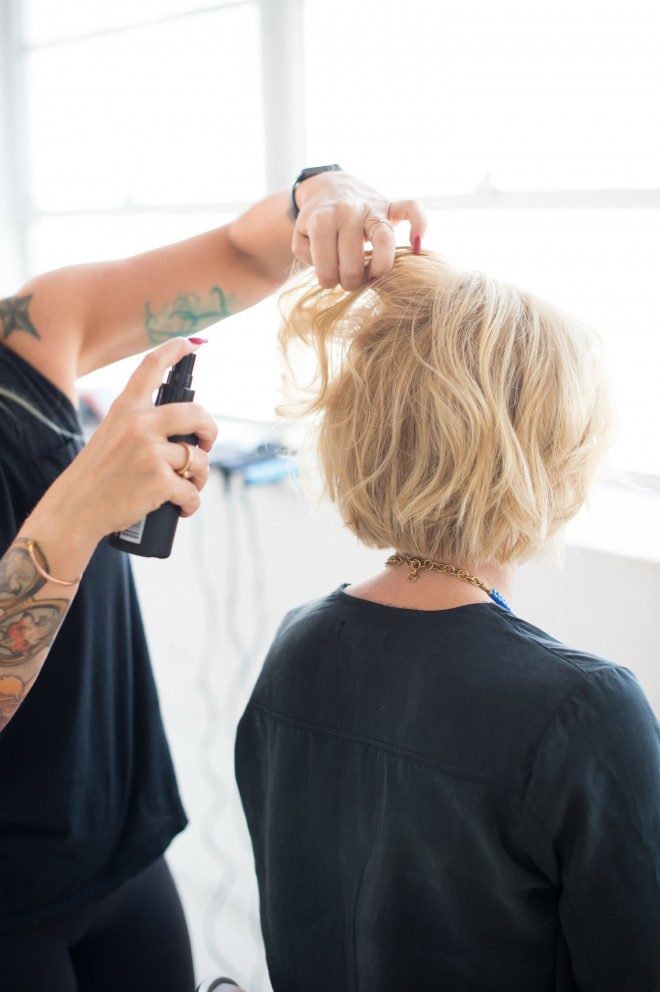 Once the waves were in, we added Living Proof's Instant Texture Mist all around, from the roots the ends and did some serious scrunching and twisting to get that cool-girl texture.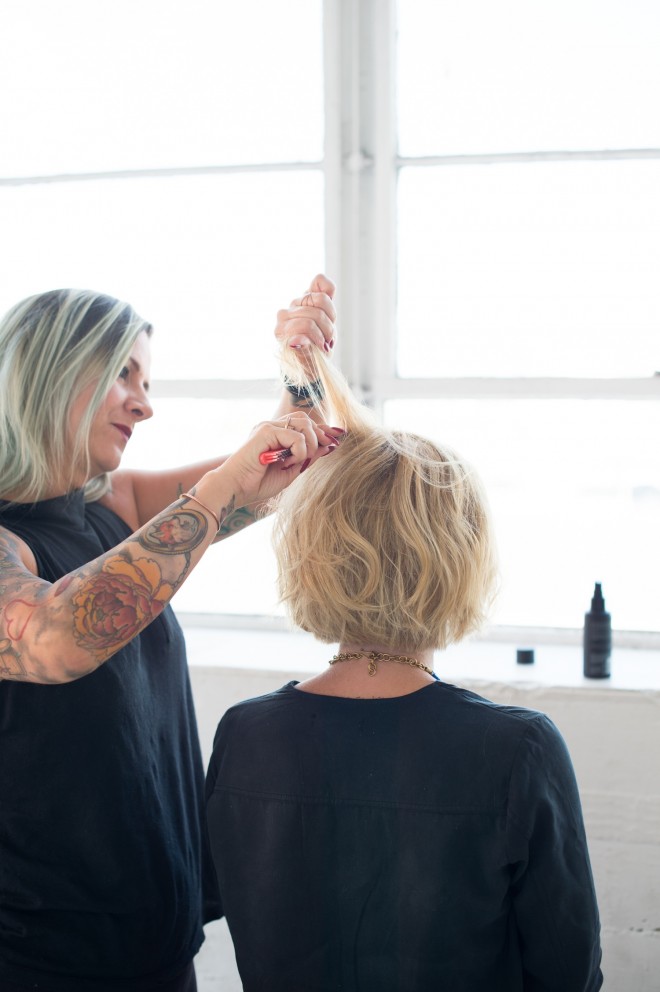 Next, Kelly teased different sections of hair from about an inch above the root down to give it more volume.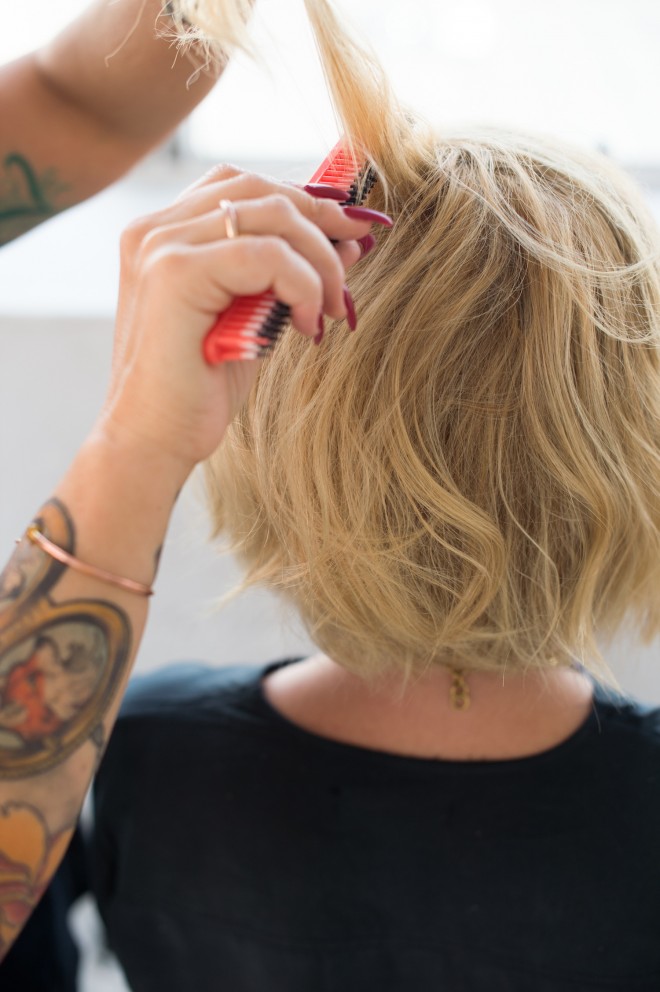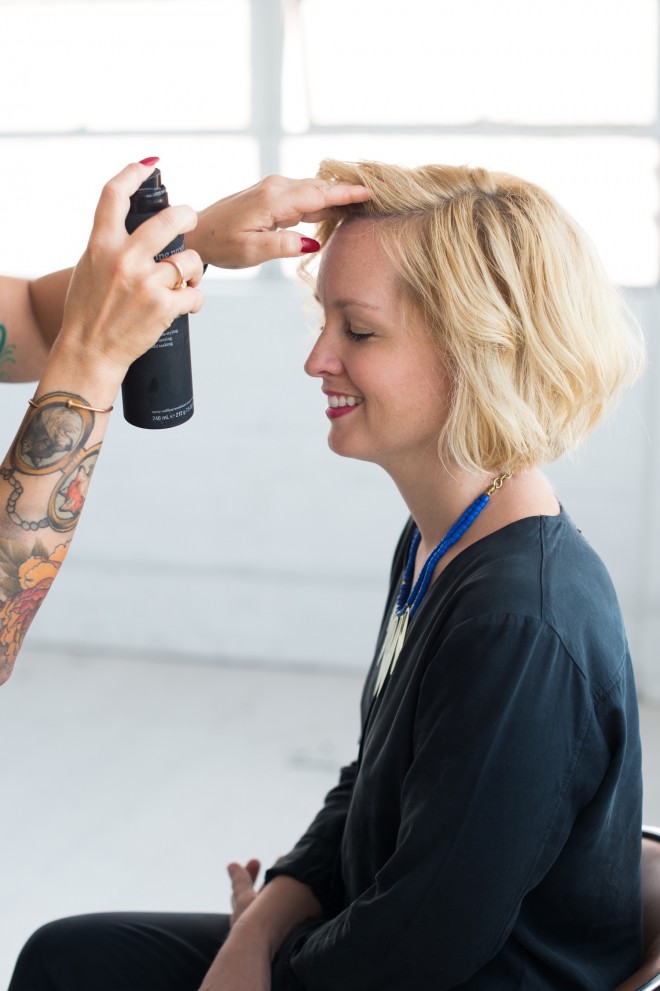 Lastly, we made sure all of this handiwork would last throughout the day and sealed the deal with the Flex Shaping Hairspray.  It turns out it really works because I skipped washing my hair this morning and the waves are still going strong!  Here's the final look:  It actually made me want to grow my hair out another two inches or so, because I think you could get so much more movement out of the look.  In the meantime, though, this is my new go-to look...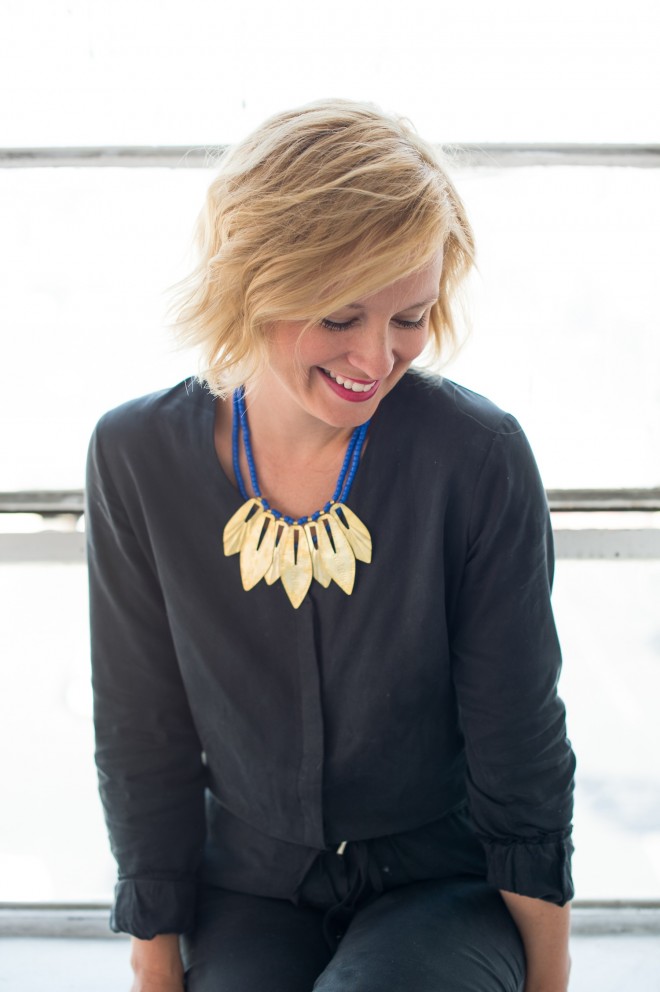 Also, lest you think this is my first interaction with Jennifer Aniston's hair, you should know that our hair history goes all the way back to me wanting to copy her most famous of hairstyles back in the 90s and my stylist at the time telling me that my hair wasn't thick enough to pull it off...which was probably true!  The irony, though, is that as we were leaving this shoot, I was scrunching my hair and in my hands and literally said out loud, "My hair has never felt thicker in my whole life!".  It's totally true.  If volume and thickness is what you're after, Living Proof is totally the way to go!
Photography by Amanda Gallant
Hairstyling by Kelly Shew
This post is sponsored by Living Proof.  Thank you for supporting the brands that allow us to create new content for you!