(This post is sponsored by Casper and the new Wave mattress.)
 My closest friends regularly give me a hard time for my love of a good eight hour night's sleep, but all joking aside, I know I do my best work and best momming when my tank is full and for me that means a good nights sleep. (I may not be the friend who is going to dance with you at the bar until the wee hours, but I will be the friend who will meet you for coffee after preschool drop-off or volunteer enthusiastically to watch your kiddo so that you can get a hair cut.) With a baby that rises early and days that are full like everyone else's days, that afternoon slump is real if I don't get enough rest at night.  When we first moved into our home 11 months ago, I started tackling our master bedroom styling right away and had the clearest vision for this space: It needed to feel peaceful, serene, and like a retreat from whatever had happened earlier in the day. A place we could come to and truly unwind and it truly is that. In case sleep seems to be eluding you, I thought I would share six things we've incorporated into our bedroom design to bring on the zzz's!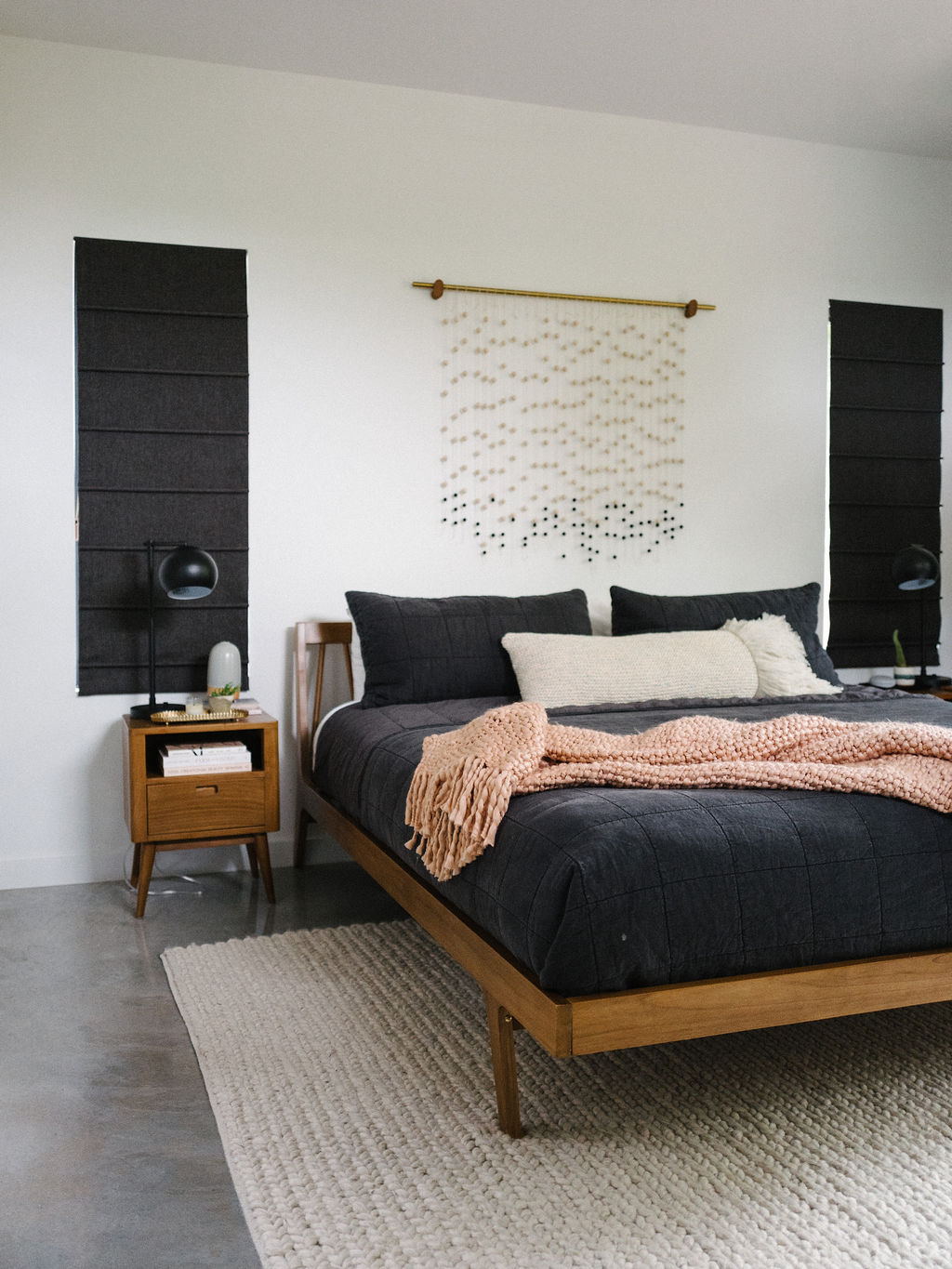 Consider a ceiling fan: This is a taboo topic amongst design enthusiasts, but I personally believe it's a necessity in a bedroom. The combination of the constantly moving air and the slight white noise hum it creates as it whirs quickly around is much better than counting sheep.
Buy a new mattress: If you can't fall asleep, or frequently wake up during the night and adjust positions, it could be time to replace your mattress. We replaced our old mattress with Casper's new Wave mattress and it might be the closest thing to bed heaven I've ever experienced. It's really soft and comfortable to the touch, but actually really supportive and firm at the same time. The humidity-fighting cover is designed to keep you cool and comfortable throughout the night and the advanced ergonomic system promotes healthy posture and relieves pressure.
Choose colors and tones that are neutral and soothing: There's a time and a place for pattern play and stimulating color combinations, but I would argue that the place is not the bedroom. We layered dark dark graphites, creamy oatmeals, and camel and rust accents for a look that has a lot of texture, not a lot of bright punchy color.
Say goodbye to the TV: Everyone thought we were crazy for not wiring our house for a tv in the bedroom, but we have been in the no-tv-in-the-bedroom camp since we got married. If we want to watch something we can go to the living room or even watch it on a laptop on occasion but I love not looking up from my bed and seeing a screen.
Use an essential oil diffuser: Nothing kills a good nights sleep like a sniffly nose. Diffusing blends of eucalyptus, mint, and other essential oils will help keep sinuses clear and blends that include lavender help promote relaxation and an easier time getting to sleep.
Choose high quality window draperies: The most obvious reason for draperies is for keeping the light out if you're going to bed while it's still light out or trying to sleep past sunrise. However, covering your windows with thick, quality drapes also creates a sense of privacy and calm, and the yards of woven textiles do so much to warm up a space and create one that feels calm and inviting.
Happy snoozing friends!
Photography by Katie Jameson
(For shopping resources, see here!)