Can we talk about how beautiful these cookies look?  The disclaimer for the above picture is that the sisters who make and decorate these perfect cookies from Clearly Cookies do them quite perfectly and I insisted on going all kinds of icing crazy for this photo.  Can you blame a girl?  I got swept away by all of the bright, poppy colors and the result is something similar to a silly string fight.  My point, though, is that I used to think you would need to take a special class or be born with some innate baking talent to create something that looked so impeccable and delicious, but these gals are going to break down how to create this exact cookie in your very own kitchen...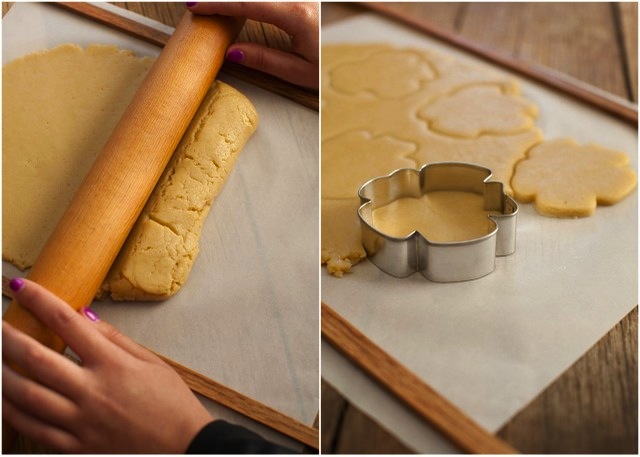 Perfect Spring Cookies
parchment paper
2 sticks margarine (room temperature)
1 cup sugar
1 teaspoon vanilla extract
½ teaspoon almond extract
1 egg
3 ½ cups flour
1 ½ teaspoon baking powder
½ teaspoon salt
1. Preheat oven to 350. Mix all dry ingredients together in a large bowl. Set aside. Cream margarine and sugar together in mixer until light in color. Add vanilla, almond extract, and egg. Mix until combined. Gradually add dry ingredients. Mix until dough pulls away from the sides of the bowl.
2. Roll out dough between 2 pieces of parchment paper using ¼ sticks to make even. Place sheets of dough in freezer for 20 minutes to chill. Cut into desired shape. Place on parchment paper on cookie sheet. Bake 12-14 minutes.
 For The Icing:
4 cups powdered sugar
1 tablespoon light karo syrup
3 tablespoon meringue powder
5 - 8 tablespoon water
Beat all ingredients slowly adding the water in. (7-10 minutes at low speed with a heavy-duty mixer, 10-12 minutes at high speed with a hand-held mixer).
Add your desired gel food coloring to the icing to color it.
Thinned Royal Icing (for flooding): To thin for pouring, add 1 teaspoon water per cup of royal icing. Use a spoon to stir slowly. Add ½ teaspoon water at a time until you reach proper consistency.
Put icing in a decorating bag with a #3 icing tip attached to the end. Outline the shape of the cookie. Flood the inside of the cookie using the thinned icing. Let cookie dry over night. Add any additional decorations on top as desired.
Cookies by Clearly Cookies
Photography by Jess Koehler