(This post is sponsored by Soraa Home, the only LED lighting on the market that shows light in it's full spectrum of color.)
I didn't discover Basquiat until I was in my early twenties, decades after his name had become household among the world's art elite. Living and working in LA, Aaron and I often times found ourselves in the homes of people whose living room art collections rivaled a gallery at the Guggenheim. On one such occasion, Aaron was shooting photos and was directed to "move his ladder further away from the Basquiat". With art on every side of him and no familiarity with the works of the late artist, he had to admit that he didn't know which direction the ladder should go. He was sent home that day after the shoot with a copy of this documentary and strict instructions to watch it immediately.
That wasn't the first time that real art piqued my interest—I was the kid who asked to go to galleries on family vacations-- but that was the first day that I recall a strong desire to start collecting real art of our own, even if our budget was modest. How to collect art? I wasn't quite sure yet...
To clarify, I wasn't imagining the day when we would sit at a Sotheby's auction, elevating a paddle in the air for a piece to the tune of six figures or beyond like some collectors. I was imagining replacing our big box store framed prints with original pieces that would move me the same way the pieces in the halls of some of my clients did. Art that would exemplify our point of view and aesthetic in the same way that clothing choices or furniture do.
When we were designing Our Austin Casa, I tried to be thoughtful about where we would want art and to plan the lighting accordingly. This is one of my favorite spots in the house, partly because of those sconces that I adore, but mostly because of this Clare Oswalt piece that Aaron gave me for Christmas last year. (I have followed and love her work for years, since we were in Los Angeles.)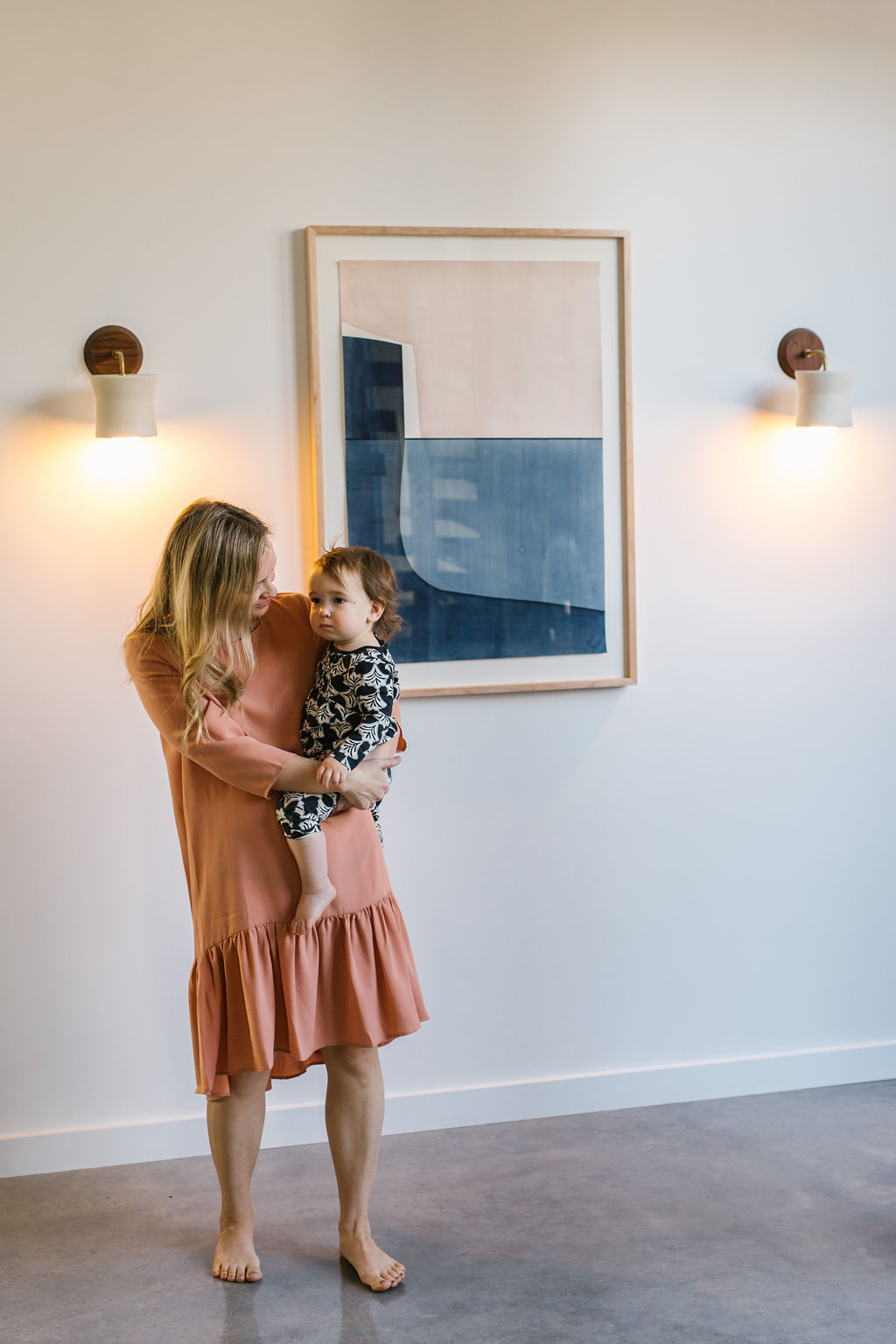 I recently swapped out the LED bulbs in these sconces for new Soraa Radiant bulbs and immediately did the same for other sconces. It made such a huge difference. The light radiates from the Soraa Home bulbs in such a beautiful, non harsh way and the colors of the art appear so much more vibrant and saturated. It turns out that most LED bulbs have color gaps. They don't show deep reds and true whites, technically referred to as R9 and RW. These gaps make everything feel washed out. Only Soraa Radiant shows the full spectrum of color.
(Below: old bulbs on the left, Soraa Radiant bulbs on the right. All of the colors are more saturated with the Soraa Home bulbs and the glow of the light is much harsher with the older bulbs. The difference is actually much greater in person!)
Ready to start your own collection? Here are 5 Tips on How to Collect Art on any Budget:
Buy what you love. There's certainly an argument to be made for buying artists on the rise whose works will undoubtedly double in value in the near future, but focusing on art that is compelling to you is a surefire way to create a collection of art that you love and will also likely still increase in value over time.  Not sure what you love? Visiting Museums and galleries is a great way to discover the kind of art that speaks to you and your own unique perspective.
If you're not in a big city, you can still go online. How to Collect Art? Sites like Artsy and Paddle8 make collecting art from Banksy to that up-and-coming artist with a tiny studio in Queens accessible to anyone. Also, save those nickels and dimes and plan a trip to the Affordable Art Fair.
Ask questions. When making purchasing decisions, asking questions about an artist's background or why a gallery has chosen to represent that artist will give you some insight into their career and trajectory, and perhaps even the subject matter.
Give yourself a budget. If you're just starting to figure out how to collect art, you will first want to know how much money you can spend. Know the amount you would like to invest in art this year and stick your budget. Go for quality over quantity. Use that budget to buy one truly spectacular piece and grow your collection next year when you have allocated another part of your budget to your collection. The first purchase can be daunting, but there's no better time to start collecting than now.
Let it shine. Once you have your piece, be sure to have it professionally framed if need be. For works on paper, matting materials should be acid-free. Traditionally there's a glass layer over the front, but acrylic is another option that has the advantage of being shatterproof and lightweight. Although it does scratch much more easily than glass. Whatever the material, be sure that it's been treated to protect from UV rays. For paint on canvas, skip the glass (and possibly the frame, too) so that you can fully appreciate each and every sweep and stroke of the brush. For the best possible viewing experience, be sure to opt for Soraa Radiant Light bulbs, the only bulbs that guarantee you're viewing your piece in it's full spectrum of color.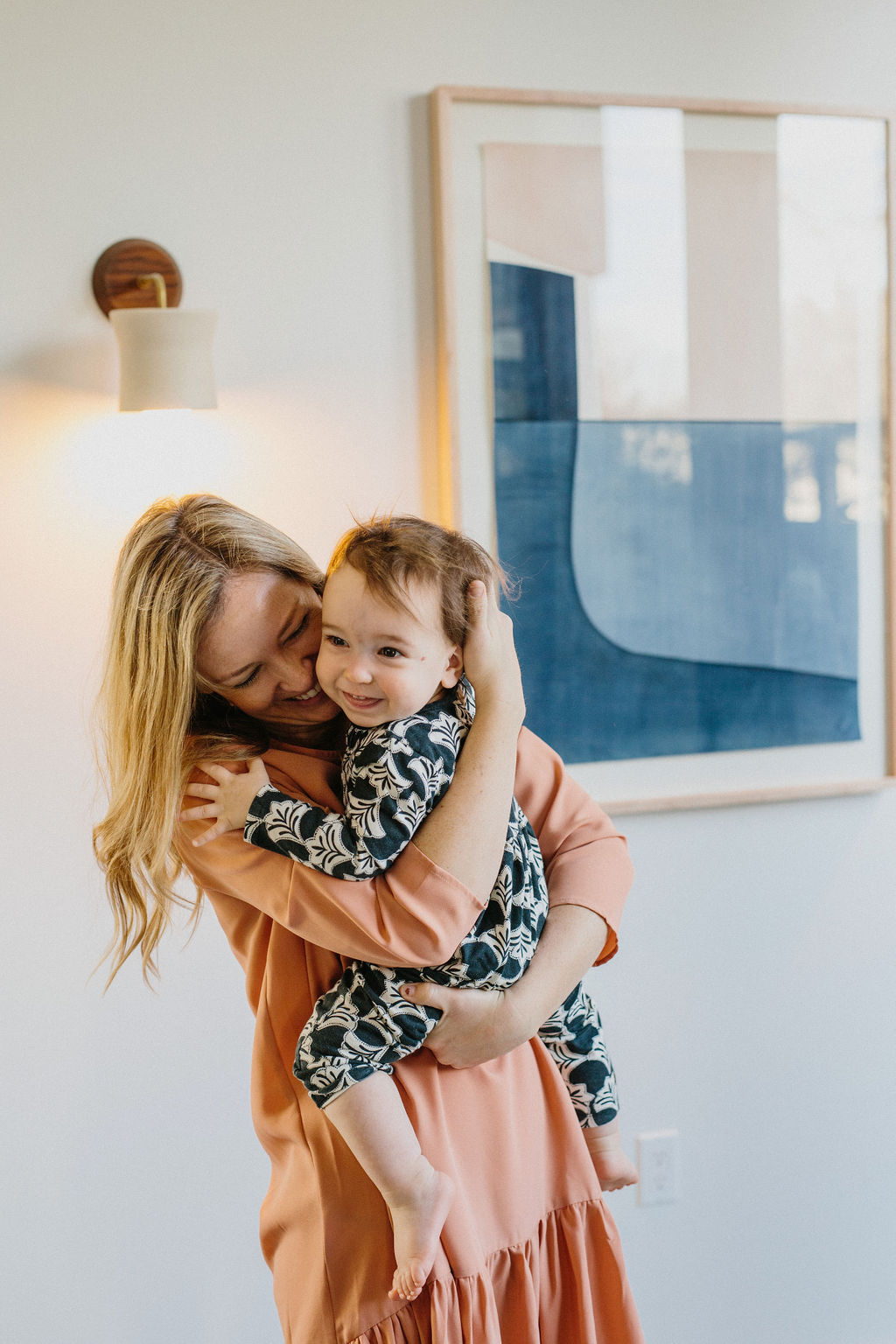 Photography for How to Collect Art by Katie Jameson