One of the most popular questions I get asked is how do you work as a fashion stylist. It's an exciting career with so many opportunities, but it can involve a lot of hard work and late nights! Find out what it takes to become a wardrobe stylist and how to start working in the fashion industry.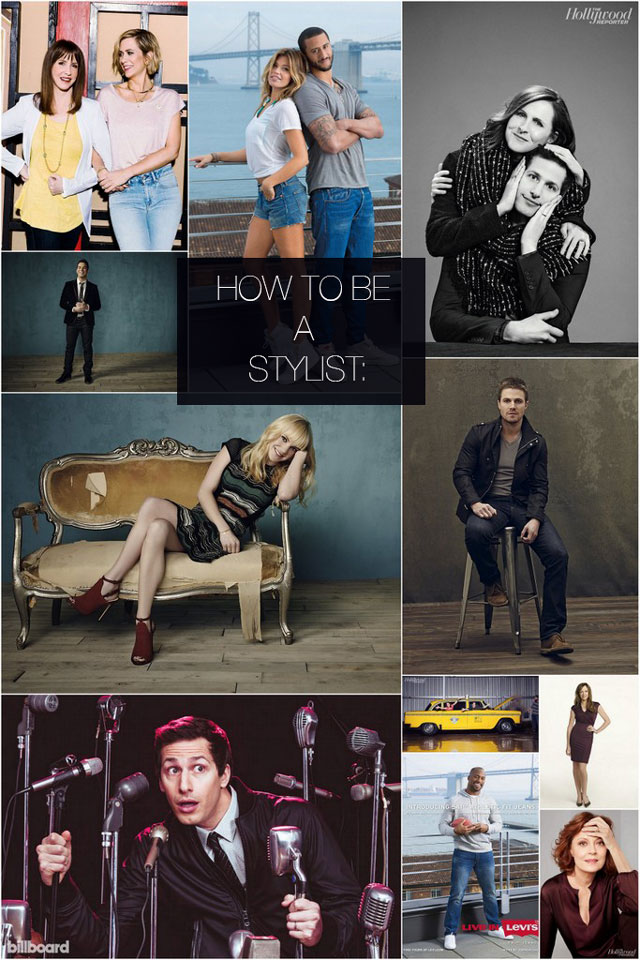 I'm not sure why it took me three plus of years of blogging to write this post.  (I'm proofing this and now I realize it's because it took me hours of writing and re-writing! Ha!)  It's the most frequent question that I get asked over email or coffee and I feel like the answer actually applies to a lot of different fields.  So here goes.  This is the where to start, who to email, and what to expect of becoming a wardrobe stylist.  Above are just some of the images I have styled recently (you can see more of my portfolio here).  Seems simple enough, right?There are some serious perks: traveling to cool places, getting to work with interesting, talented people, private car services and planes, exclusive behind the scenes access to events and award shows, gifted clothing, and designer discounts.  For every perk of the job, though, there are countless hours spent schlepping garment bags, sweating profusely and stressing over fedex boxes or missing garments.  Still interested?   Well, here is what has to happen before the first photo can be snapped:
How do you get work as a fashion stylist?
First, you have to get the job.  Most stylists have agents who bring them jobs.  Once you've landed the job, you'll get on a call with all involved parties to get an idea of what the creative is for the shoot.  Sometimes they'll send you images or inspiration boards to give you an idea of what they're looking for with wardrobe.  Other times they'll describe what they want and ask you to put together mood boards to make sure every one is on the same page.
How do you find the clothes for styling?
Now you need the clothes for the job.  This process is different depending on whether it's an editorial job (for a magazine and clothes will be credited), print advertising, press, commercial, or red carpet.  Most of the time you will be pulling from studio service departments at stores.  They have your credit card on file and allow you to pull a certain amount of clothing for a finite time period and then only charge you for what you keep or a restocking fee (usually 20%).  Like I said, the process varies by store, designer, talent and job.  For most red carpet jobs you will be sending out press requests directly to designers or showrooms looking for dresses they will loan you for the talent you are dressing.
What does a fashion stylist do before a shoot?
So you have the clothes now, right?  You've made your way to set, schlepping all of the clothing with you as well as your kit and possibly rolling racks and a steamer if the studio doesn't have them on set.  (Hope you have a big car!)  Now comes the fun part!  You go through the racks and present your favorite looks to agency / client / director / photographer / model / talent-- whoever applies to the job you're doing.  Together you will establish what the looks of the day will be and the model or talent will go into hair and make up.  Then all of the looks will need to be steamed out.  You should also prep back up looks.  Sometimes things won't look right or fit right or give off the right vibe once on camera and you'll want to have a back up option ready for a quick change.  Once your shoot is wrapped, the really fun work of returning all of the clothes begins. (This statement is oozing with more sarcasm than you can possibly imagine!)  All of the clothes must be organized by where they came from, steamed out if need be, and bagged nicely in order to be returned to the stores or showrooms.  If you're lucky enough to have an assistant on your job, the brunt of this work usually falls to them so that you can move onto the next job.  Once the photos are published or released, you or your agent will add them to your portfolio.  Your portfolio gives possible future clients an idea of your aesthetic and other jobs you have done in the past.  It's incredibly important to landing jobs!
How do you start working as a wardrobe stylist? Be ready to intern!
Still interested in being a stylist?  In order to get started, you'll likely need to begin as an intern or assistant.  This is SO important.  You really don't want to skip this step because it's how you build contacts and relationships with stores, showrooms, and designers.  You will also have the advantage of learning from your boss's mistakes.  We all make them and hopefully you will be better for having seen them as an assistant.  This is also how you'll learn the tricks of the trade like stain removal, keeping a steamer from spitting out water, and how to make an extra long or short shirt cuff appear the perfect length under a jacket.  Don't try to skip this step.  You'll be a better more well connected stylist for having a couple of years assisting under your belt.  A lot of my first jobs even came from a former boss.  Not all bosses will be that generous, but some will.
How to find a job as an assistant stylist?
How to get started as an assistant?  If you don't know any stylists personally or through mutual friends, do some research online and email them to offer your services for free.  A lot of people don't want to work for free, but try to think big picture here.  You're sacrificing making money for 3 or 6 months in order to get a total education in the styling business and the ability to some day possibly make really good money doing what you love.  Make yourself so valuable to your bosses that they'll eventually pay you to keep you around because you make their job so much easier.  Be persistent to get your foot in the door, but also be incredibly thoughtful and kind.  How to be the best assistant ever?  Arrive 10 minutes early always.  Be painfully organized and always keep every receipt and piece of paperwork.  Offer to get coffee.  Smile.  Be enjoyable to be around.  Be detail oriented.  Go above and beyond.  Always offer to do more.  Look like you're enjoying yourself even if you're not.  Be resourceful.  Try to find an address or contact yourself before asking for help.  Sound exhausting?  It is.  But it's worth it to have a career that you're passionate about.
How much does a stylist make?
Salaries for an experienced wardrobe stylists vary wildly depending on the type of job you are working on. Daily fees can range anything from $500 a day to $5000 a day.
How do you become a celebrity fashion stylist?
Not every stylist works with celebrities, and it can bring it's own set of challenges. To work with celebrities, you need to intern and assist stylists who work with them. You need to be approachable and have a can do attitude.
Be sure to check out these other career and lifestyle posts
How To Set Life-Changing Visible Goals for Yourself
Money Talk || Do You Talk About How Much Money You Make?
So, those are the cliffs notes.  Any questions?  Anyone else have tips for being the best assistant ever?! Be sure to comment below!
Top image photo credits to Ramona Rosales, Smallz and Raskind, and Jeff Katz, styling credits Jen Pinkston