Last week was Aaron's week-long hiatus that he gets every spring and since I was way too pregnant to fly or, quite frankly, to even sit in a car for hours on end, we gladly spent the week enjoying our last days just the two of us here in LA.  We have been married for almost four years, and up until now our date nights are usually planned last minute.  One of us will say, "Hey, want to drive to Malibu for dinner and a little walk on the beach?" or "Why don't we do Pace tonight for dinner."  With this little babe on the way, though, I have a feeling our on-a-whim date night mentality is about to have to get a lot more intentional.  Enter HowAboutWe.
I've been checking out the HowAboutWe for Couples site since they launched in New York last January and was so thrilled when they arrived here in Los Angeles a few months ago.  It's a whole site of carefully curated dates for two, so it's the first place I checked out when Aaron let me know when his hiatus would be.  This cocktail lesson with a master mixologist sounds like so much fun, but I will have to save that one for a post-baby date along with this stand up paddle boarding lesson.  Of course these VIP tickets to the CoolHaus anniversary party caught the eye of my insatiable sweet tooth, but in the end we ended up keeping it casual with this Taco Sampler date at Yuca's in Los Feliz, followed by a quick trip up the street to stroll around the Griffith Observatory at sunset. (I should note that every dinner ends with a post-meal stroll these days in hopes that it will coax this little one to come out into the real world!)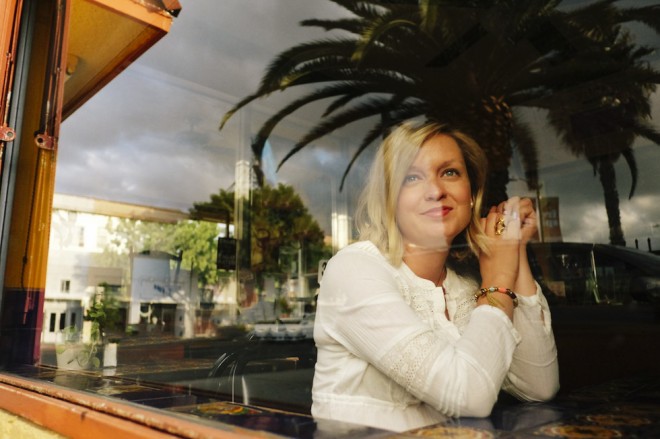 Growing up in Texas, I'm no stranger to mexican cuisine.  In fact, when Aaron and I were dating the first meal I ever made for him was a slow-cooked beef brisket taco recipe out of Food & Wine magazine-- a recipe that's now framed and proudly displayed in our house!  In a way, this little pre-baby date felt like our relationship had come full circle.  Plus, I love the fact that our date forced us out of our usual go-to spots and into this eclectic little taco shack in one of our favorite neighborhoods.
Things are moving right along here in baby world and there is a very good chance we will meet her this week!  Date nights will be put on the back burner for a couple of weeks as we will probably prefer baby snuggles to fancy restaurants.  However, next time we do hit the town, I hope we are doing this...  It's been way too long!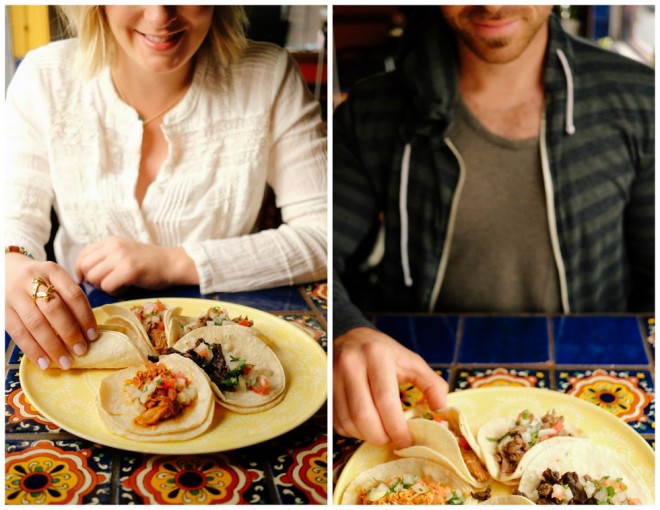 If you're looking a change of pace, click here to get $50 off your first HowAboutWe date! It's free to join and look at dates, and membership gets you special pricing on their treasure chest of dates (they call it a "DateBook"), plus a free date every month. This taco date actually came free with our membership!
Any mamas out there with advice for date night after baby?
Photography by Aaron Pinkston