Remember when we featured this incredible boys room?  (I'm still dreaming of that wallpaper and delicious color palette!)  Well, Shannon of Shannon Eddings Interiors is back today and this time she's sharing her stylishly curated and incredibly practical family room with us.  I rarely call living rooms family rooms, but this room is just that.  She's managed to make a space just as conducive for lounging, glasses of wine and adult conversation as it is for three rowdy kiddos that also call this place home.  Keep reading for all the tips and tricks and details on how this room came together...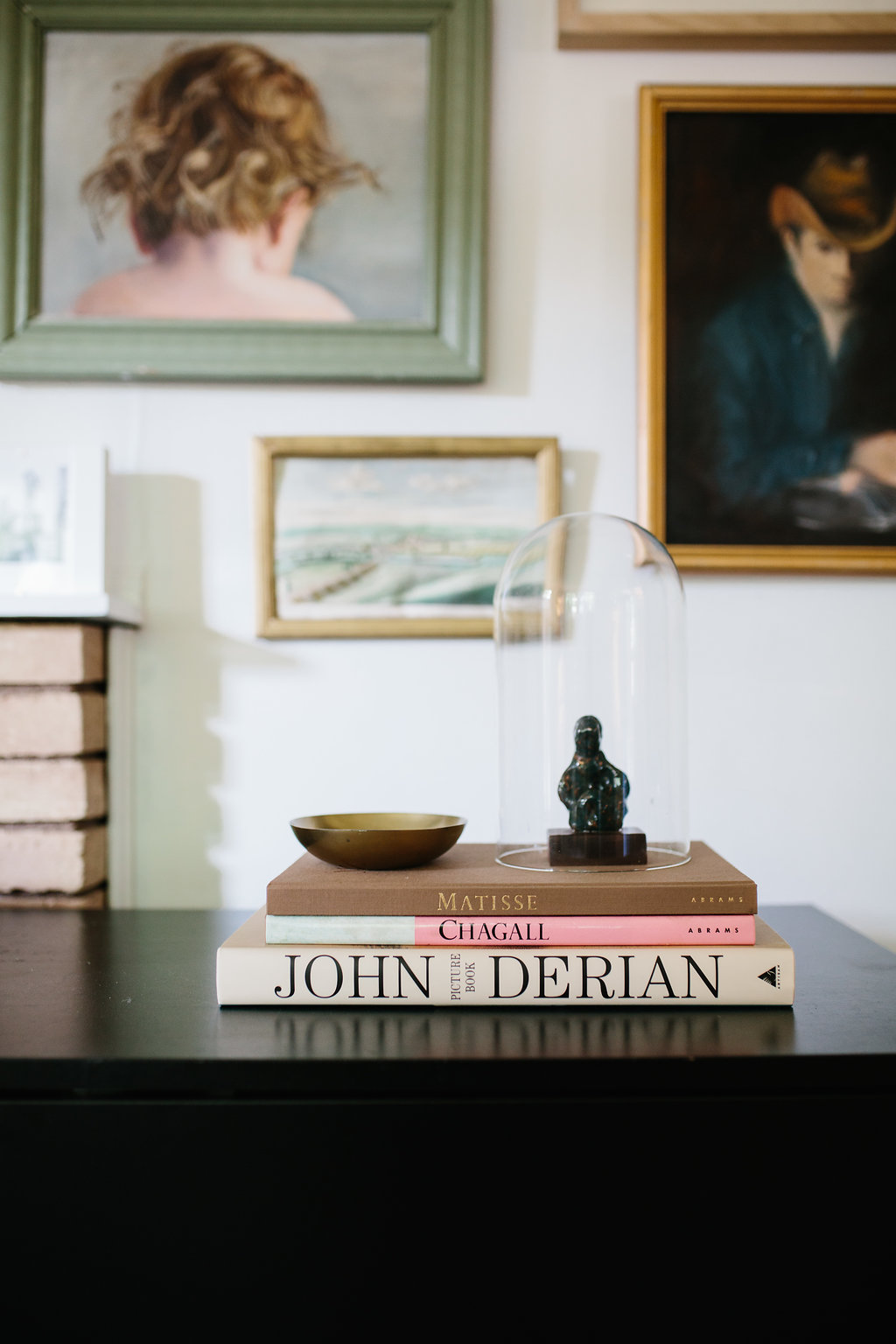 Where did you start with this space? What piece really drove the design direction for you living room?
I started with the pair of mid century wood chairs that I recovered in a Brunshwig & Fil Green Fabric.  We have a black ikea media console that we have had for 12 years now - we bought it the first year of marriage!  So that also dictated the space.  I am a big fan of the color green so overall that plays into how I decorate my own space.  Clients love blue and cooler colors usually so home is for me to experiment!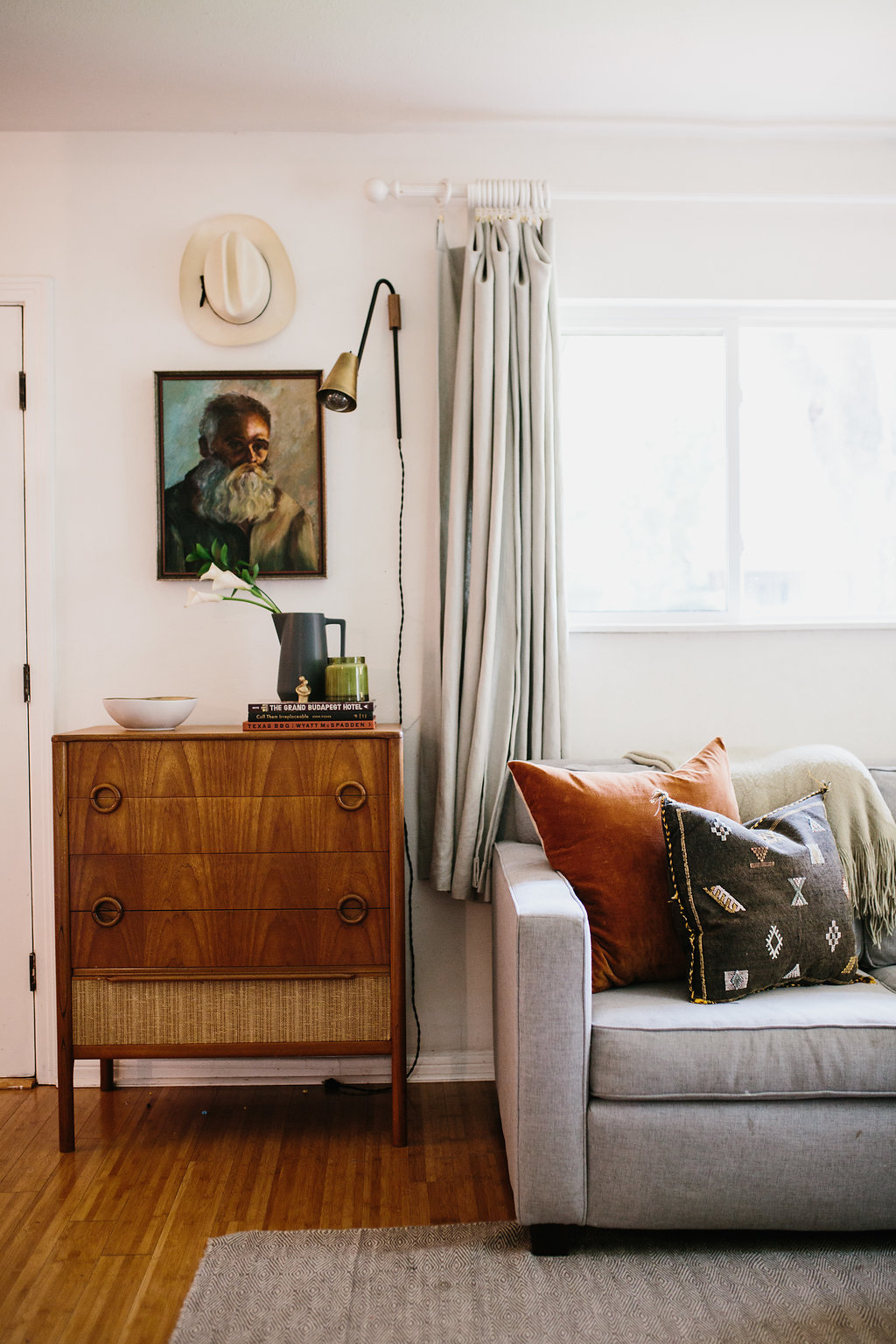 You have three young kids at home.  Any tips for people designing a living space that's both stylish and functional for a family? 
Yes!  Wait on higher end, investment pieces (unless you know yourself and know you can handle it).  Go for a rug that is durable and made from wool... it's easier to clean and longer lasting.  Something with a pattern is helpful as well. Choose fabrics that are durable and easier to clean (but never do microsuede in my opinion -- it can feel like 'giving up')  I'm the type of mom that likes to "live in" our house as opposed to enforcing serious rules to keep things super tidy so I'm always going to go for practical pieces that are still stylish and beautiful.
I know rooms are always evolving.  If you could change one thing, what would it be?
In our living room 'as it is' I would replace our grey sofa with a camel colored leather beauty and lighten things up by switching out the previously mentioned black credenza for something in a light wood or lacquered white finish.  But if I were to dream big then let's just say I'd vault the ceilings and add some space to the living area!  We are trying to remodel our kitchen and do a  small dining room addition so I'm on hold with furniture purchases for a while.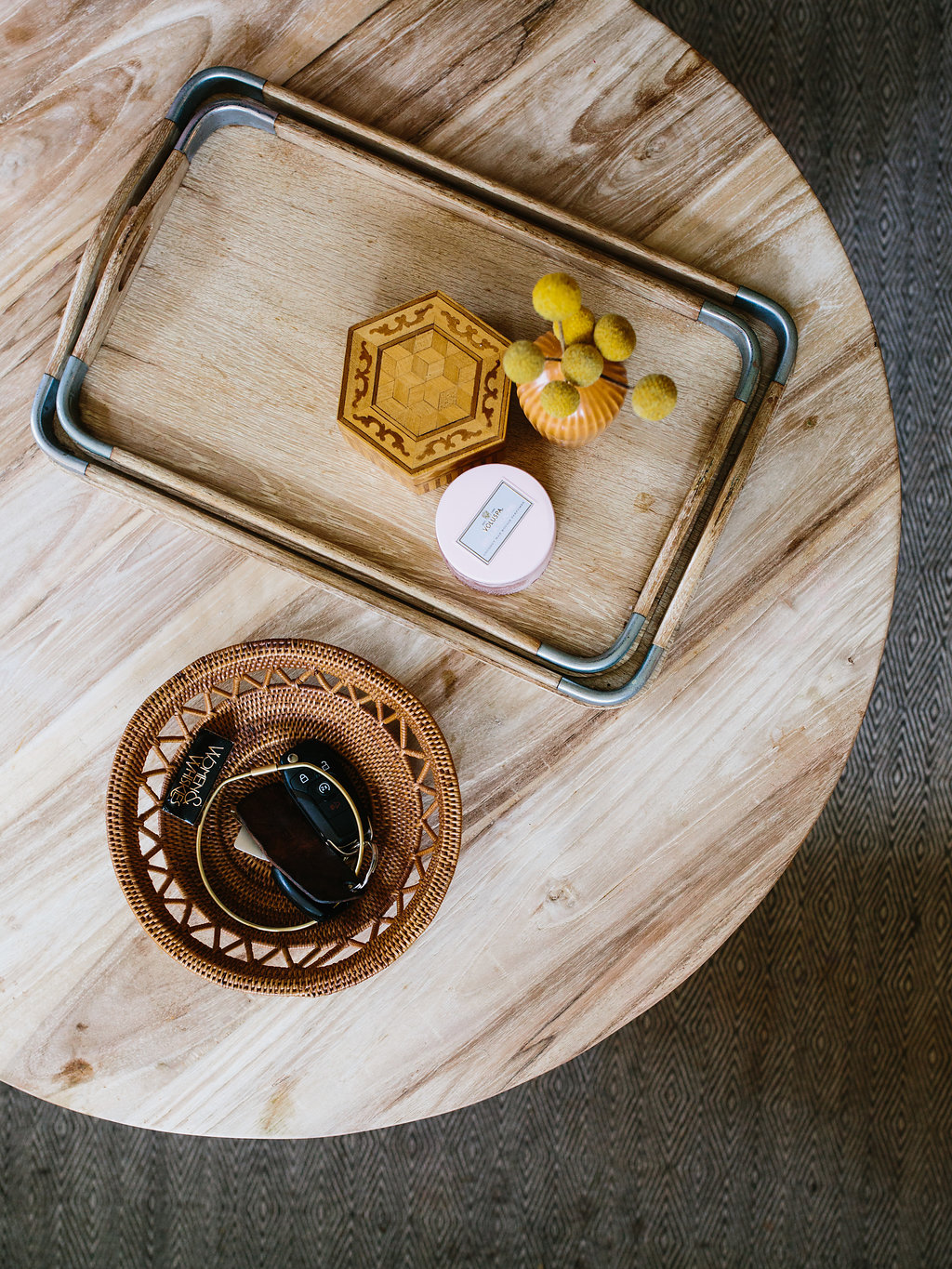 Knowing you, I feel like you are always in pursuit of one-of-a-kind vintage pieces. If someone is looking to veer away from big box stores and find more unique pieces, where do they start? Ebay? Flea Markets? Goodwill?
Yes to all 3 that you mentioned.  Except Goodwill maybe... you really have to have a good eye to find something at Goodwill.  I really like Chairish right now for art, furniture and decor.  You can shop by city to see what you could just pick up locally.  I have a Chairish shop and a lot of other designers do too so it's a good place to find nice pieces that aren't send everywhere.  Etsy is also a good option for perusing good finds.  Here in Austin I always stop by our local antique spots and Uptown Modern to see what they are brining in that's new.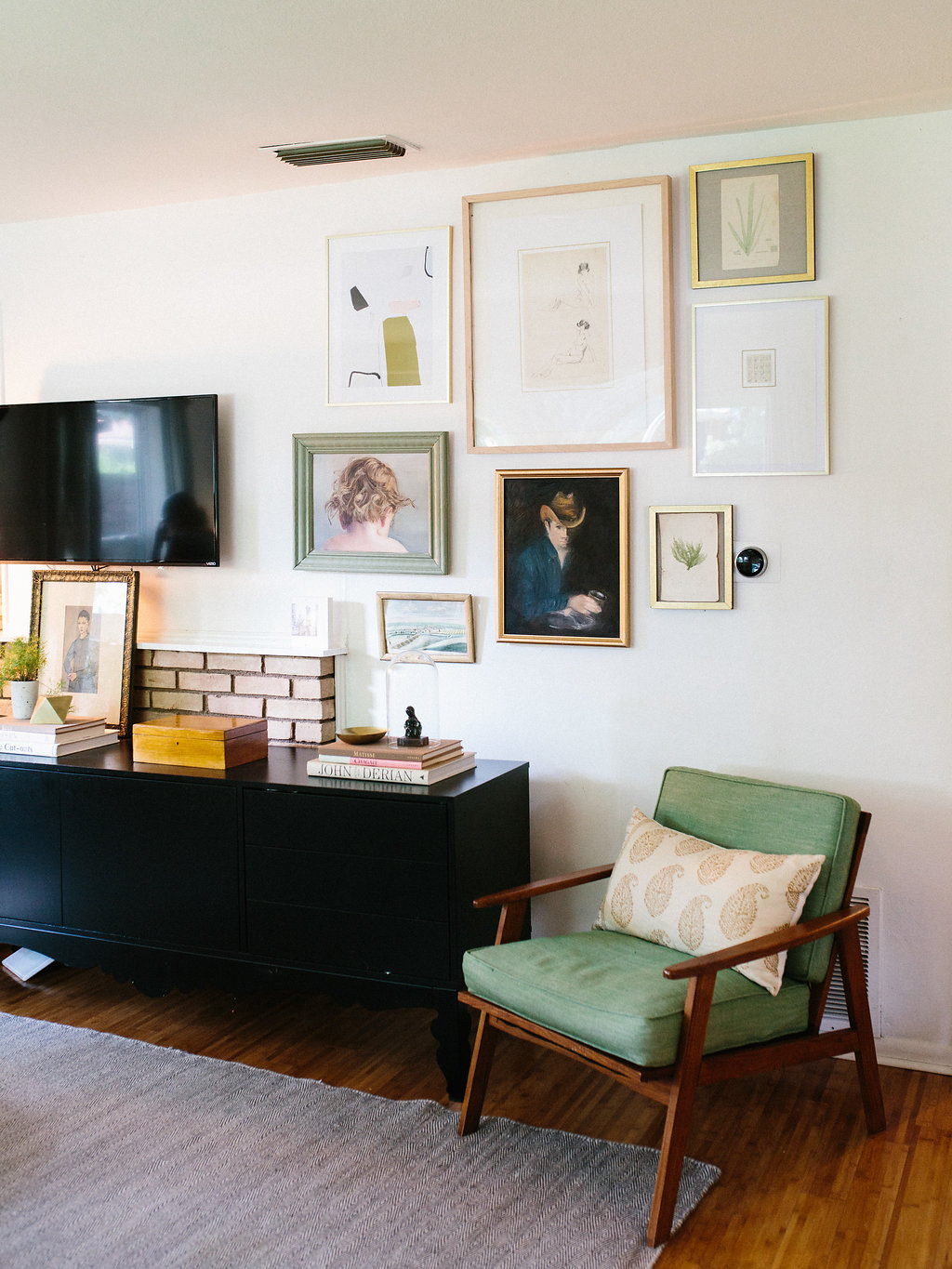 How do you pull together so many different vintage pieces and make it look cohesive? Is there a secret? Or is it different with every space?
I think my background in studio art actually helped me here.... it's a basic color study practice!  Work with colors that are complimentary and keep the palette minimal unless you are a real color pro.  Same goes for mixing materials and furniture styles.  You can pull from a few different eras but keep it limited - don't go for all the decades mixed into one or it just feels hodge podge.  And it is different with every space but mostly because each new space brings new people that are drawn to a unique color palette and style.  I like to think of my house as a canvas that I'm always tweaking and refining until it's 'just right' ... this is totally the cheesiest thing I've ever said.  But it's true!  I restyle our living room shelves regularly and switch out pillows with client overflow on a  whim.  I don't recommend that for everyone but it works for me.  Since my living room was shot by your team I have added a cool vintage leather chair and replaced those pillows (whoops).
Photography by Katie Jameson
Sources: Copper pillow, CB2 || White lamp is an old one from Arteriors || Sconce next to my old man painting || One Forty Three || Coffee Table, Anthropologie || Rug, Loloi || Grasscloth wrapped side table, Bungalow 5 || Small stool, Wisteria || Curtains (handmade), West Elm (similar) || Sofa, West Elm || White Bench, West Elm || Some of my pillows are Peter Dunham fabric (Hollywood at Home).  I love his stuff. || Tall black lamp, Overstock