And just like that, the first sneak peek of our home office!  This isn't exactly what it looks like today, but it's similar and we are going to be sharing the full reveal here very soon.  Here's the back story:  Back in December I received an email from a location scout asking if they could come check out our home for a shoot they were producing here in Austin for Design Within Reach .  We hadn't even moved in yet!  They came by for the scout and we decided to partner on this office space, which will also be featured in their 'New Mover' catalogue coming out this month.  I was beyond thrilled!  The furnishings that Design Within Reach carries are right up both of our alleys and totally fitting with the style of our house.  While the pieces are far from budget buys, they are so thoughtfully designed and well-made and I always know when we buy something from DWR, we are going to have it for a very long time.  They're forever pieces.  Keep scrolling for a few more photos from the shoot and be sure to check back in here to see how the space looks now, a few months later!
I doubt that there is any space in our home that was more contemplated during the design process than our office.  Our house has four bedrooms, but with Aaron and I both working from home (when he isn't traveling) that means one is an office, one a master bedroom and the kids each have their own at the moment.  That equals zero guest rooms, if you're doing the math.  I love being able to offer up a place to stay to visiting friends and family, so we got creative when it came to furnishing the space that we do have.  (One of the reasons why we have two beds in Parker's room.)  The Nelson Daybed, ironically, was the first piece we chose for the office!  I love it here.  We've also added custom Calico draperies since this shoot, which means there's ample privacy if we get a house guest who wants to rest their head here over night.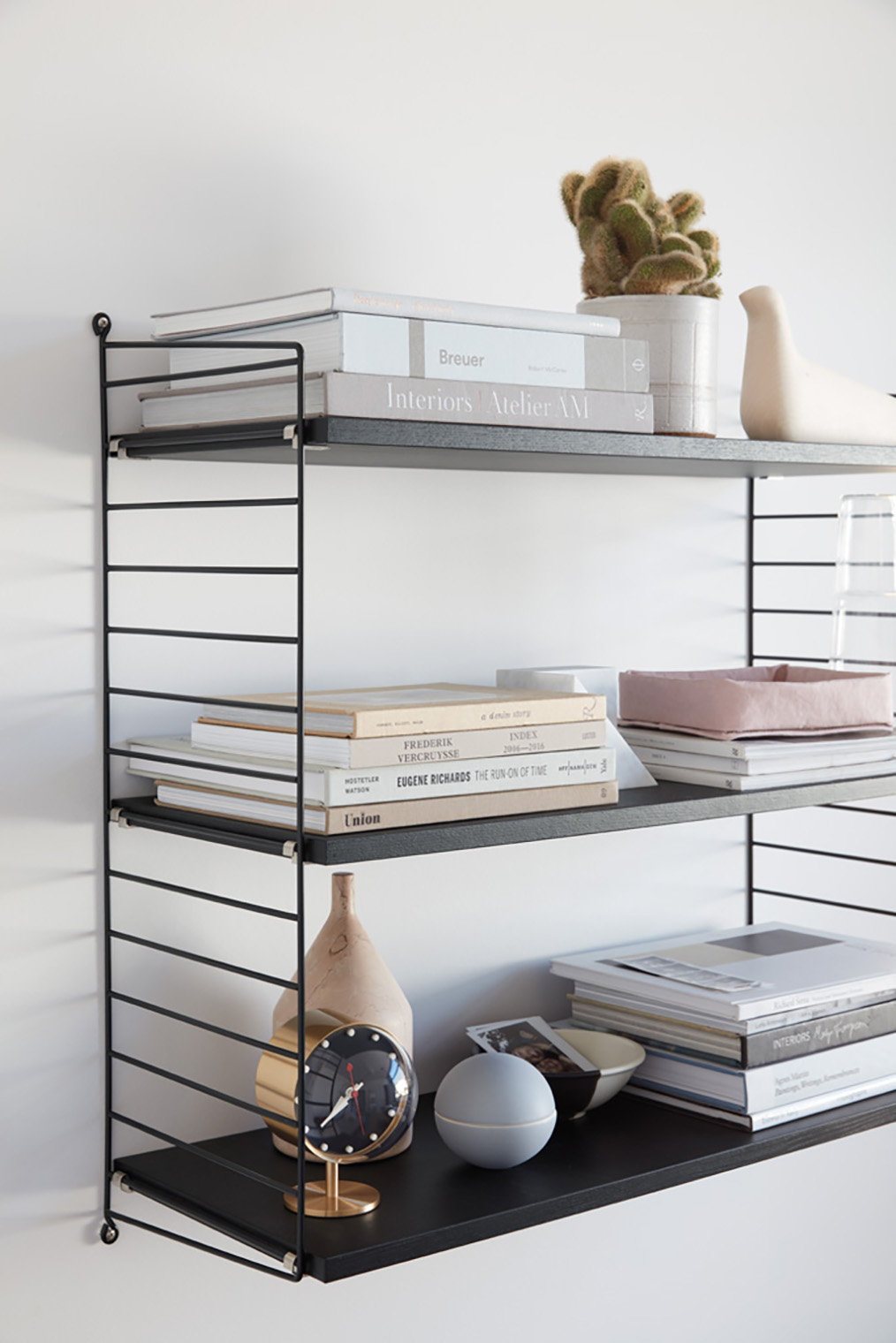 This String wall shelving was originally designed in 1949.  (I actually saw a vintage one at Lawson-Fenning when we were in LA last month!)  It's cool because you add to it at any time if you need more space and it works in a lot of different rooms.  I love the way the prop stylist, Natasha, styled these shelves in really cool, monochromatic tones.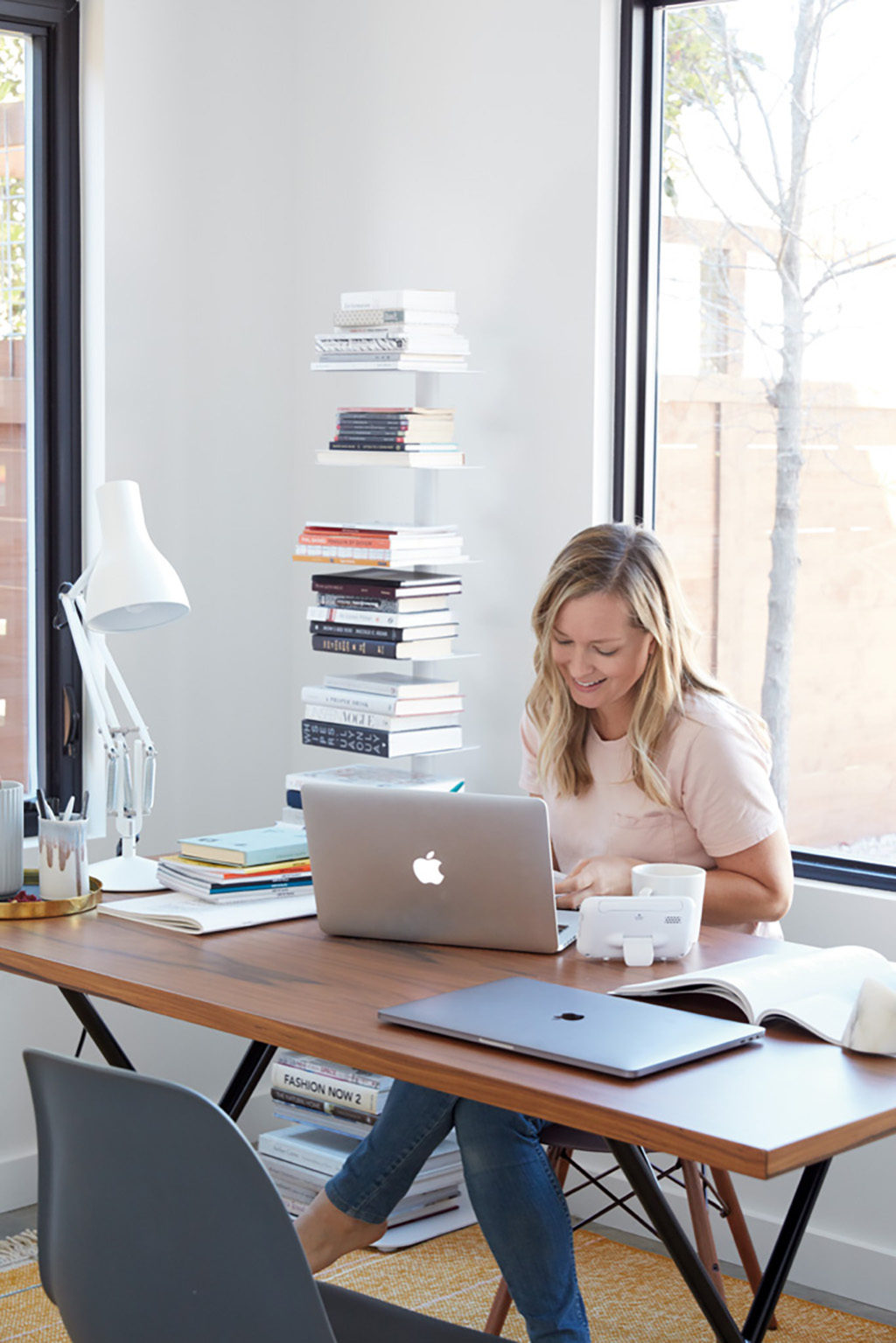 The desk is the Nelson X-Leg Table.  The size is perfect for these two Eames chairs on either side and not too large for our compact office.  Plus, we can pull more chairs around it when we need and sometimes people work from the daybed, too.  The combination of pieces has made it really flexible for all of the people we have coming in and out throughout the week.  The lamp is the Type 75 Task Lamp in white-- I also love the mint color way that it comes in!  Everything is anchored by this rug, which might just be my favorite in the whole house!  (Have you noticed that I'm having a major yellow moment?!)  These sheepskin rugs are layered for added interest and this bookshelf holds court in the corner.  The ceiling fan is the same we have used in the other bedrooms from Lamps Plus.
Photography by Mark Seelen for Design Within Reach
Nelson Daybed || Nelson X-Leg Table || Eames chairs ||  Type 75 Task Lamp || Rug || Sheepskin Throws || Bookshelf || Lamps Plus Ceiling Fan || String wall shelving