One thing I (Blair) love about living in Los Angeles is that everyone I meet here has amazing talents. This city is like one big melting pot of creativity. It just so happens that my lovely friend, Molly, is the master DIY-er. The moment I stalked her instagram, I had a feeling we would hit it off just nicely! Not only is she from my Midwestern hometown of St. Louis, we both share a crazy love for crafting. After I saw the glitter Missouri state hanging in her bedroom, I knew we would have to plan our next do-it-yourself day immediately!
Supplies:
-Scissors
-Modge Podge (Matte or Gloss will work)
-Gold Glitter
-White card stock and a piece of colored card stock that will fit in the frame
-Frame (we used an 11x14)
-Heart brackets (found in the scrapbooking section)
-Hot glue
-Mod Podge Brush
-Hair spray or clear gloss spray
-Google image search of outline of state
-Box or bin to use with the glitter (optional)
-Double stick tape (optional)
1. Print out an outline of the state you want to use and the size that you want. If possible, flip the image vertically so that when you trace it onto the card stock, the tracing lines can't be seen.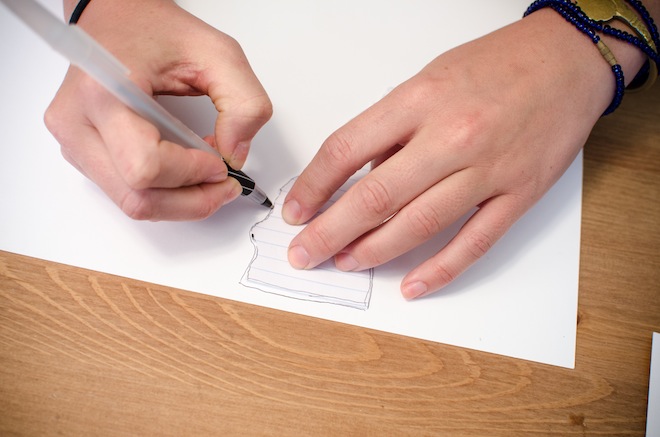 2. Cut out the state and trace it onto white card stock, then cut the card stock version out.
3. Next, completely cover the outline of the state in modge podge, but make sure it's not too thick! Or else it will take forever to dry.
4. If you have a box or large tupperware container, it is nice to put the state inside of that before you use the glitter, then cover the modge podged state with glitter.
5. Wait for a few minutes and shake off all the excess glitter... if there is any spots that look a little bare you can dap a little more modge podge and add more glitter.
6. After letting the state dry for about ten minutes, spray a coat of hair spray or gloss over it to make sure the glitter stays put.
7. Next, take one of the heart brackets and cut off the little arms on the back. You will then use a very small dot of glue from a hot glue gun to put the heart on whichever city you want to emphasis.
8. Attach the glittered state to a piece of colored card stock with either double stick tape or hot small dots of hot glue.
9. Finally,  put the finished product into the frame and voila!!
We of course used Missouri and California since those states hold special places in our hearts, but you can choose any state on the map! Craft away!
xx Blair
Photography by Jamie Lied