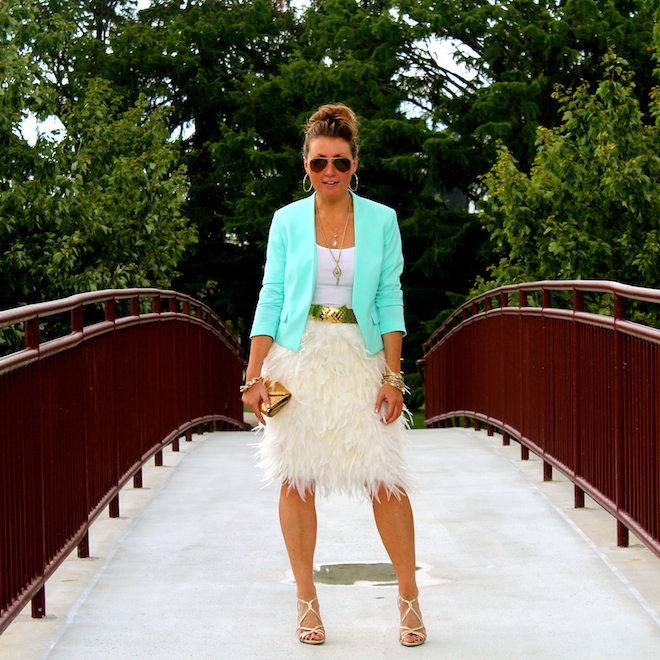 If you live on the east coast and you aren't already familiar with Stephanie, allow me to introduce you.  Stephanie runs a top-tier styling firm, Bradshaw Styling,  in Baltimore that handles event planning, image consulting and interior design.  She also has an amazing and eclectic style so she is picture perfect for this week's Her Style!
How would you describe your style?
My style reflects my every day life, and my travels. I would best describe it as eclectic with a little edge.  I dress much like I decorate with a mix of patterns and colors, layers of texture and lots of gold jewelry and accessories. I especially love vintage jewelry as well.
Does your work influence your style or vice versa?
My style absolutely influences the work I do, whether it's subtle touches in a wedding tablescape, a piece of accent furniture or a fun print for a clients' living room...or a few textural pieces for another clients' wardrobe. 
What are your current must-have pieces?
I'm currently obsessing over Rebecca Minkoff's new bag collection, studded jewelry and accessories and I have an undying love for anything gold.  A pair of leather leggings and/or peplum top are on my list for fall as well.
Do you have a style icon?
A few women I look to for style inspiration would be Sarah Jessica Parker for taking risks, the always fun and edgy Kate Moss and the chic Olivia Palermo. 
Where are your favorite places to shop?
I have a list of consignment shops I travel to regularly in the Baltimore area for fun vintage finds and I can not turn down a good treasure from Loehmanns!
What is on your wishlist for fall?
My Fall 2012 wish-list grows by the day! My top three choices are the Rebecca Minkoff Ostrich Embossed Swing bag (in gold of course!), anything from Nicole Ritchie's House of Harlow 1960 jewelry line and a pair of YSL's new metallic pumps!
As a style expert, what piece of advice would you like to pass along?
The best style advice I can give someone is to wear what makes you the happiest. Confidence is the key factor when presenting yourself to anybody so always make sure you are making a lasting impression. 
Stephanie is wearing a feathered skirt by BHLDN, tank top from Target, H&M mint blazer, gold pumps by Guess, vintage belt, bag found at Loehman's, long necklace also vintage (from my Grandmother) and starburst necklace vintage, bracelets from  
Stella & Dot
 and  J.Crew, Ray Bans aviators, and her manicure is Essie's "Good As Gold"
(Photography by Jake Nevins)