Today's Her Style damsel?  The one and only Megan Gilger of Hitch Design Studio.
Megan is a Graphic Designer and blogger. Not only does she own 
Hitch Design Studio
 but she also runs the blog 
The Fresh Exchange
 and is one of three founders of 
Blog Brunch
, an online community for bloggers focused on learning and building strong relationships within the lifestyle and design blog industry. Phew!  She is one busy designer!  Lucky, I was able to catch up with her for a bit and ask her some questions about style:
How would you describe your personal style?
Total tomboy chic. I like to take basic structured pieces that are inspired by menswear and then add fun patterns, textures, and accessories. I like to keep things simple, though. I admire girls who can wear tons of patterns I am working on getting braver cause I feel it would bring depth to my day to day style.
Do you find that your style is influenced by your work or vise versa?
Absolutely. I would say it is more work influencing style. My style and love for color in my own work flows into my wardrobe all the time. I will be working on a certain client, and their color palette and style for their design will begin to show up that week in my wardrobe. My love for style and fashion has really become seamless with my work in the last couple years and I see it happening more and more.
Do you have a style icon?
Yes! A couple actually. I have such a girl crush on Clemence Poesy. I love her laid back carefree style that still feels put together. Jules from 
Sincerely Jules 
has been a more recent influence. Her combo of patterns, accessories, with a loose laid back feel is completely me. I am constantly watching her style. Her take on fashion very much inspires me! Finally 
Emerson
 from Emerson Fry has been a long time style icon. The classic lines mixed with timeless fabrics, colors, and textures just make me giddy. I am sure you can see a trend here in my passion for that tomboy chic.
Where are your favorite places to shop in your city?
I live in a small vacation town on the shore of Lake Michigan so shopping is few and far between but we have some crazy awesome vintage stores and boutiques. I go to Goodwill on a regular basis along with other resale shops. People come from all over to Traverse and always leave behind amazing treasures. When I want to really treat myself I head downtown to local boutiques such as 
Ella's
, 
Huzza
, and 
Cali's
  There is always something amazing and unique to make my closet feel fresh.
What is on your wish list for summer?
White cropped jeans, 
A Merry Mishap
 necklace, a great pair of wide leg trousers to pair with some of my favorite wedges, a few more dresses that are easy to dress up or down, and more patterns. A lot more patterns.
What is one piece of style advice you would give someone?
Wear what you feel comfortable in. When you feel confident in something you will feel better about yourself and it will show to other people. Make sure to wear things that compliment your shape and your best features. Don't try to be someone else or compare yourself. We are all individuals. Simply be inspired by someone else's sense of style not how it looks on them.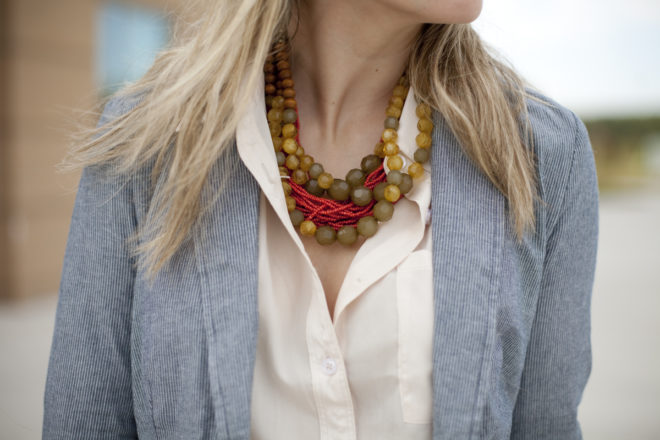 Thank you so much, Megan!