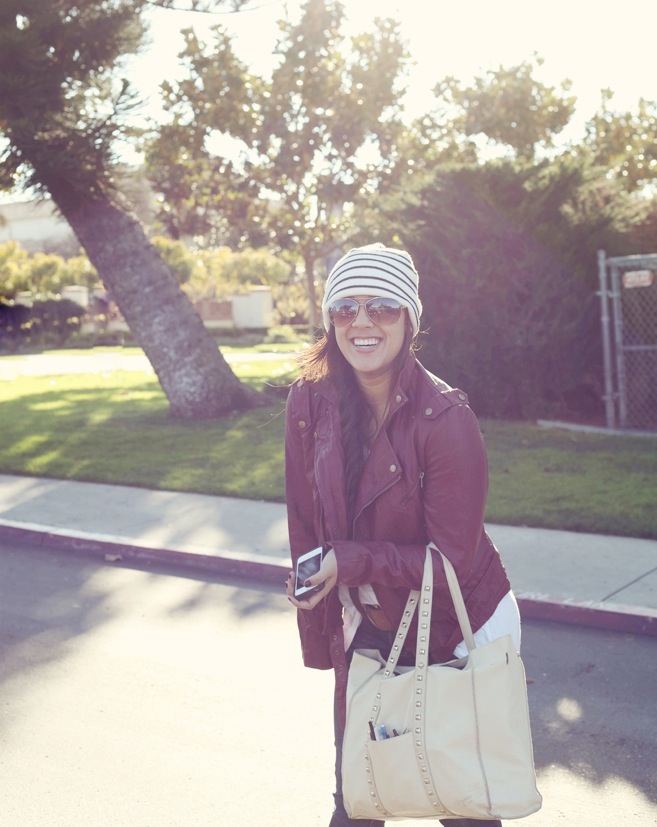 Back in the fall, I was featured in a
piece by MSN
alongside 9 other super stylish gals.  Not only did the piece look great, but I was introduced to many sites for the first time!  
Kailani's Korner
was one such site.  There are so many people who have blogs and do style posts, but I especially love the ones that have a genuine personal style element to them, as opposed to those that feel a little too contrived.  Kailani's laid-back San Diego style comes leaping off the page as soon as you enter her site.  While she is a full time college student at UCSD, Kailani manages to offer daily doses of inspiration 5 days a week, as well as her running her photography business Kaputure by Kailani.  Here's what she had to say about her own personal style...
How would you describe your personal style?
Although I can not be defined by one style or trend... my fashion motto is comfort. If you aren't comfortable in what you are wearing it shows! My style is a dynamic combination of J. Crew and Urban Outfitters.  Most days my style is based on my mood... days that I am feeling edgy I will sport a leather jacket with combat boots and on days I am feeling preppy I will wear a sweater and collared shirt.
How has your personal style evolved over the years?  What things have influenced that?
I have always been a free spirit in what I wear. Even in my teens I wore what I wanted and didn't let other peoples opinions affect the way I dressed. I think its important to be true to yourself.  My personal style has definitely evolved as I have gotten older and more comfortable with my body.
Do you find that your work influences your style or vice versa?
Both of my businesses, as well as being a college student, definitely influence my style. Like I said before, I base all of my outfits on comfort. Being 5'2" I have always been a huge fan of pumps, wedges and anything else that gives me that extra height, but most days ,when at a photoshoot or at school, 5 inch platforms aren't ideal... I have recently adopted a love for oxfords, sneakers and boots. They make my life much easier when running around town or across campus.
Where are your favorite places to shop?
One of my favorite places to shop on the web is StyleMint/ShoeMint. They have great essential pieces for great prices.  Other online favorites of mine are TopShop and Zara.
What is your most recent fall purchase?
My last couple of purchases have definitely been winter inspired. I purchased a classic cape that will be a timeless piece a couple weeks ago, maroon flare jeans, a faux fur coat and a polka dot blouse.
What is one piece of style advice you would give someone?
As I have mentioned before, I am a very free spirited person.  As much as I love keeping up with trends, I think the biggest piece of advice I would give someone is to stay true to your personal style. Also, keep in mind that you don't have to wear Prada heels and own a Hermes bag to be fashionable. Being a college student, most of my clothes are from Forever21, Target, HM, Topshop, Zara and (sometimes) J. Crew.
(Photos:  I have the most amazing best friend and photographer in the world. She is my biggest fan and my support system while I am away from my family and hometown. She is so talented and the only person I trust when capturing outfit photos. We do it so often that it is such an easy process.)