I could not be more excited to introduce you all to this week's
Her Style
gal!  Alle is one of my favorite people to work with when it comes to pulling clothes for styling jobs.  She is the principle at
Bollare Communications
-- a fab beauty, fashion, and lifestyle public relations firm that is located here in LA, as well as on the east coast.  Not only is she super sweet, but she is also oh-so-stylish!  Every time I am in Bollare I find myself complimenting her style so I figured all of you would appreciate it just as much as I do!
How would you describe your personal style?
Classic Californian, I have such a love for the contemporary fashion space, the elevated, yet wearable and often novel pieces that can be coordinated with a blazer for work or a bikini for the weekend!
Do you find that your work influences your style or vice versa?
Absolutely! I have the best gal job in the world…on a daily basis I am working with aaamazing contemporary fashion and accessories brands, previewing their collections and helping highlighting their amazing work within the Hollywood and editorial communities.  Having such proximity to these talents inspires me and often activates ideas on what to wear to where!
What sort of pieces are you most into lately?
Bright colored denim (clearly!)
Do you have a style icon?
The gals on the Bollare team – one of my favorite things about coming into the showroom/office everyday are seeing the gorgeous and creative looks that the gals put together from a variety of style perspectives.
I love the team's looks so much that we created a pose just to showcase and share.
Where are your favorite places to shop?
-I love checking out the jewelry from
JewelMint
-For fun weekend wear, I am always cruising
Rad+Refined
-For special & splurge pieces, Satine in LA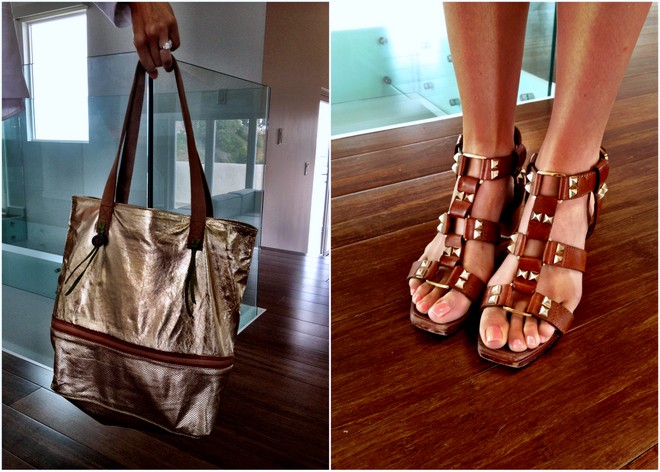 What is on your wishlist for Fall?
What is one piece of style advice you would give someone? 
Dress for your body type versus what's 'on trend' - well fitting and well suited pieces are always in style!
Alle is wearing a Kimberly Ovitz blazer, C & C California tank, Big Star USA denim shorts, George Gina & Lucy gold bag, Chibi bracelets iPhone case by Boostcaseand Sonia Ryikel Sandals.
  Thank you so much, Alle!
{For more of Alle and the happenings around Bollare, be sure to check out their
facebook page
.}