I've scoured the internet to bring you the best Halloween costume ideas around! These are all so fun, creative and unique, and if these don't float your boat, I'm sure they will give you a tonne of inspiration for your own fun Halloween costume!
The best Halloween costume ideas for kids!
Clockwise from L to R: Sarah Illenberger, Oh Happy Day, Sarah Illenberger, Oh Joy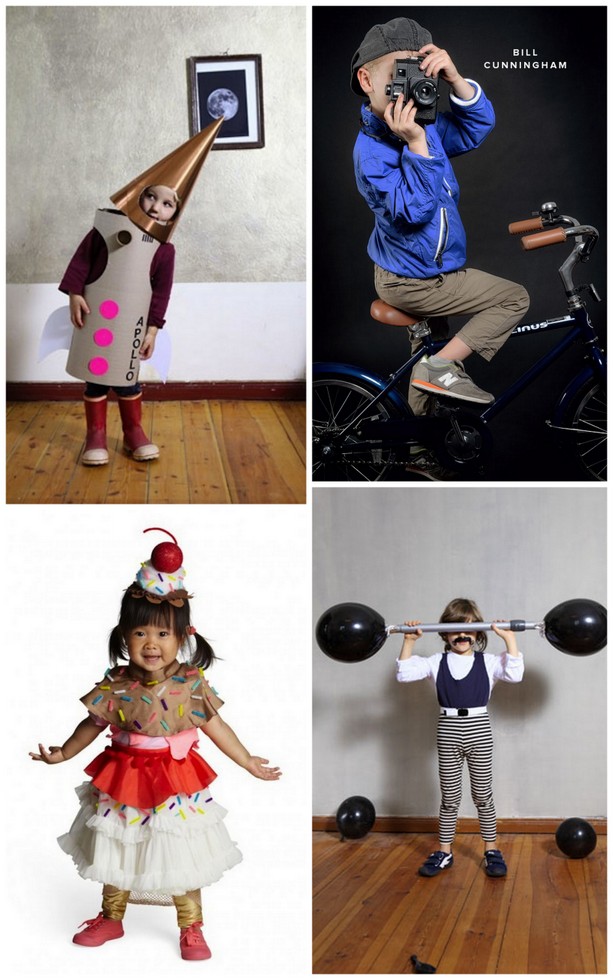 Do you all have big Halloween plans this week?  For years when I worked on a show, our itty bitty wardrobe department would costume dozens and dozens of people for our big Halloween show which taped the day before Halloween.  I'm talking racks and racks and racks of all sorts of clothing, costumes, and props!  Needless to say, by the time Halloween rolled around the next day, the last thing I wanted to do was look at another costume.  (Last year, this was my "costume"!)  Have you come across any genius costume ideas?  My dad is going to be out of town next weekend, so my mom is going to a party with another couple dressed as rock, paper, and scissors.  I thought that was pretty clever!  Here are more ideas from around the web if you're still looking for that perfect costume...
The Best Halloween Costume Ideas for the gals!
Clockwise from L to R: A Beautiful Mess, Fashion Gone Rogue, Studio DIY, Camille Styles
The best couples and men's Halloween costumes!
Clockwise from L to R: A Beautiful Mess, Say Yes To Hoboken, Say Yes To Hoboken, BuzzFeed
Clockwise from L to R: BuzzFeed, BuzzFeed, Huffington Post, Huffington Post
Fun and unique DIY costumes!
I love how imaginative these costumes are! Some will take a bit more effort than others but they are sure to stand out in a crowd! I love the idea of going as a couples costume - so fun!
For more costume ideas for the whole family, be sure to check out these other posts!
The Easiest DIY Halloween Costume for Friends: A Rainbow and The Sun
DIY Halloween || Mermaid + Merman Couples Costume
Kids Halloween Costume Ideas // Urban Jungle Animal Masks for Kids
DIY Halloween || Paw Patrol Skye Costume
Do you know what your costume is going to be for this year yet? Let me know in the comments below!