Hi, friends!  How are your weeks going?  Somehow, because I am so far away, you guys feel very far away.  That doesn't even make sense does it?  This is my first visit to Australia and after a week here, I can report that it is a really rad place.  While both Melbourne and Sydney both boast great food, coffe, and super friendly people, they couldn't be more different, which I didn't expect at all!  Melbourne feels more urban-- a lot of street art, tiny cafes and restaurants, and amazing shopping.  Sydney on the other hand feels more laid back, picturesque, and has an all-around more beachy vibe.  My first morning in Sydney I beelined straight for the opera house (1).  I was dying to see it.  It really is breathtaking-- as was the walk through the harbor to get there!  Speaking of the harbor, our hotel room looks right out onto it (2).  Not a bad view, right?  Aaron has been working pretty much all day every day here, but I loved this morning moment we had together before he had to run!  Meanwhile, back in Melbourne I took an afternoon to walk to the other side of the Yarra river and check out the urban skyline from that vantage point (3).  The most remarkable thing about this photo to an Angeleno, of course, is the lack of smog!  How do you guys do it?!  Teach us your ways!  After scoping out the opera house in Sydney, my next check off the list that day was the walk between Bronte and Bondi beaches.  Gorgeous views, an ocean breeze, and naturally I finished off the walk with a delicious margarita upon arriving to Bondi!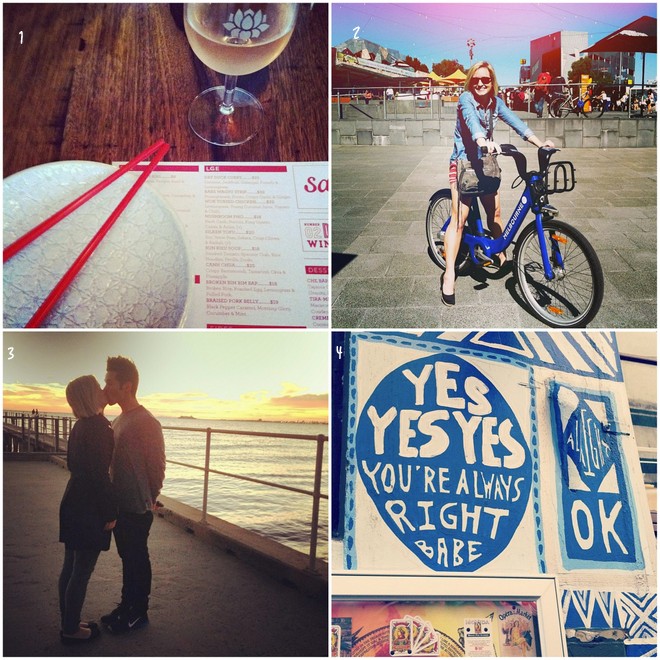 I don't know if I am allowed to admit this as someone who loves food and trying new things, but I had my first Vietnamese food experience in Melbourne at Saigon Sally and it was amazing (1)!  I had no idea what I had been missing out on all this time!  While central Melbourne is really quite congested, I took a bike out with a couple of friends and explored some of the outer areas like Fitzroy (2).  There were such cute shops there!  I have also been observing what beautiful graphic design and typography both cities have.  You can tell there is a real appreciation for craftsmanship here.  Aaron might be busy, but he turned 30 while we were here so we had to celebrate!  We drove out to St. Kilda beach and had dinner with 5 other friends at Donovan's.  We arrived to the sun setting on the beach so we ran down the pier to snap some shots before dinner (3).  I love this guy so much.  If you are ever in Melbourne, you have to try Donovan's.  It was such a wonderful experience.  Back in the city, though, I still can't get enough of the inspired street art.  How's this for wisdom? (4)
We are here for a little while longer, so follow along here for more of my Australian adventures!