09/20/2017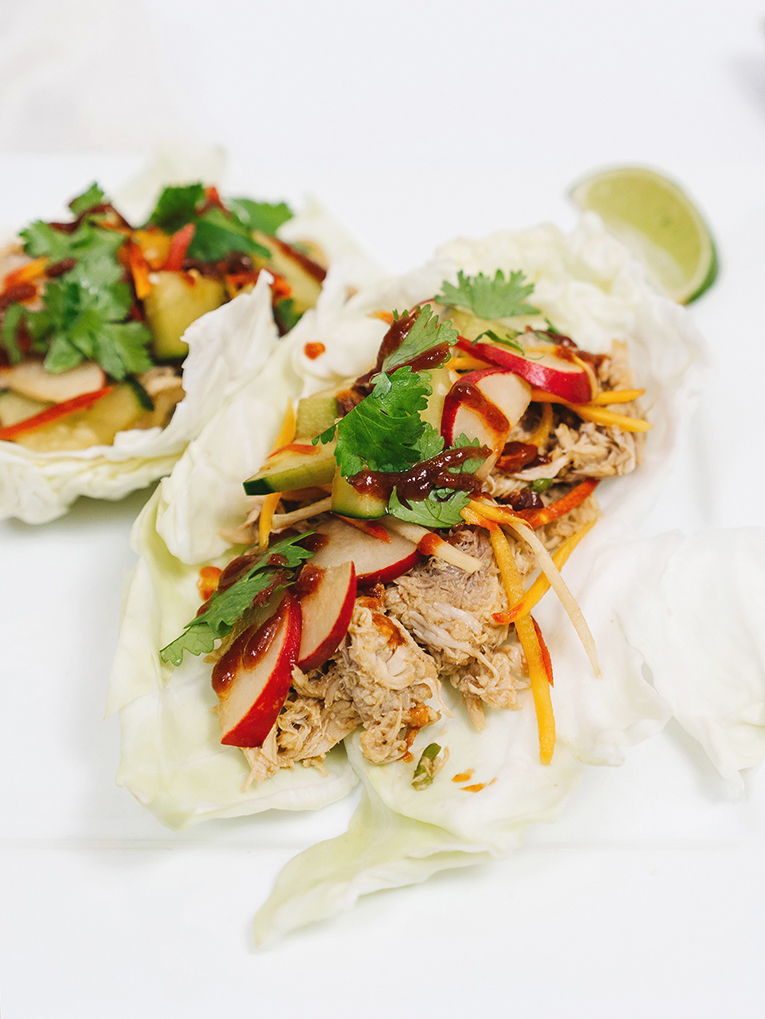 Sometimes I (Lauren) think the concepts of meal prep and slow cookers get a bad rap. I often hear people say they make for rushed or bland meals, but if you like to eat healthy and have a busy life, I think you have to master both of these. I obviously disagree and believe that not only can you make flavorful, delicious meals–you can enjoy a variety of styles of food.  I love to cook Asian flavors. I am no master of them yet but I really enjoy experimenting and learning new techniques. Banh Mi is the Vietnamese word for bread. Bread, or more specifically the baguette. Unlike the traditional French baguette, the Vietnamese baguette is made with rice flour along with wheat flour. Ironically, my banh mi has absolutely nothing to do with bread. More than the bread, I am pulling from the flavors of the traditional, delectable banh mi sandwich, that consists of a savory meat, fresh or pickled vegetables, and condiments.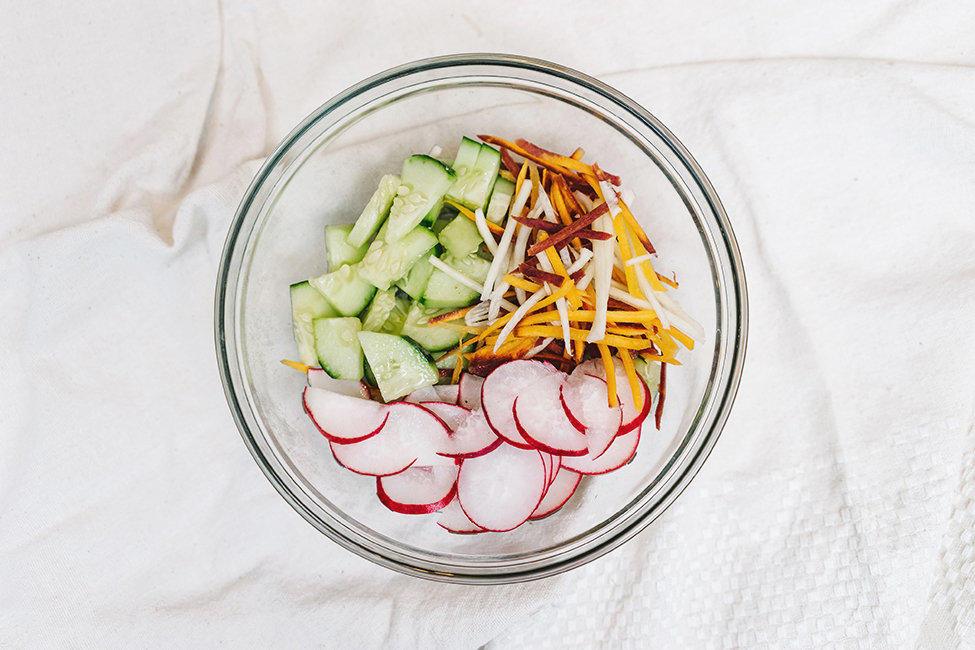 I love this recipe because it really is easy. I usually prep the pickled veggies the night before or in the morning before work. And then let the crock pot do the rest. Once it's time for dinner, really all that's left is assembling the wraps. This dish packs so much flavor, it's always surprising how good they taste!
Banh Mi Cabbage Wraps
Makes 6-8 wraps
Ingredients
Pickled Veggies:
½ cup matchstick carrots
½ cup radish, sliced
½ cup cucumbers, sliced and quartered
¼ cup rice vinegar
¼ cup apple cider vinegar
3 tablespoons water
4 tbsp coconut sugar
1 tbsp honey
Banh Mi Chicken:
1.5 lb chicken (I like to use thighs)
½ cup chicken broth
2 tablespoons coconut aminos
1 garlic clove, chopped
2 green onions, chopped
1 tsp lime juice
1 tbsp maple syrup
1 tsp chili paste
1 tsp cumin
½ tsp ginger
¾  tbsp coconut oil
½ tsp salt
¼ tsp pepper
Wraps:
Head of cabbage (both purple or green work great), pulled apart to create wraps
Garnish: Fresh cilantro, fresh green onion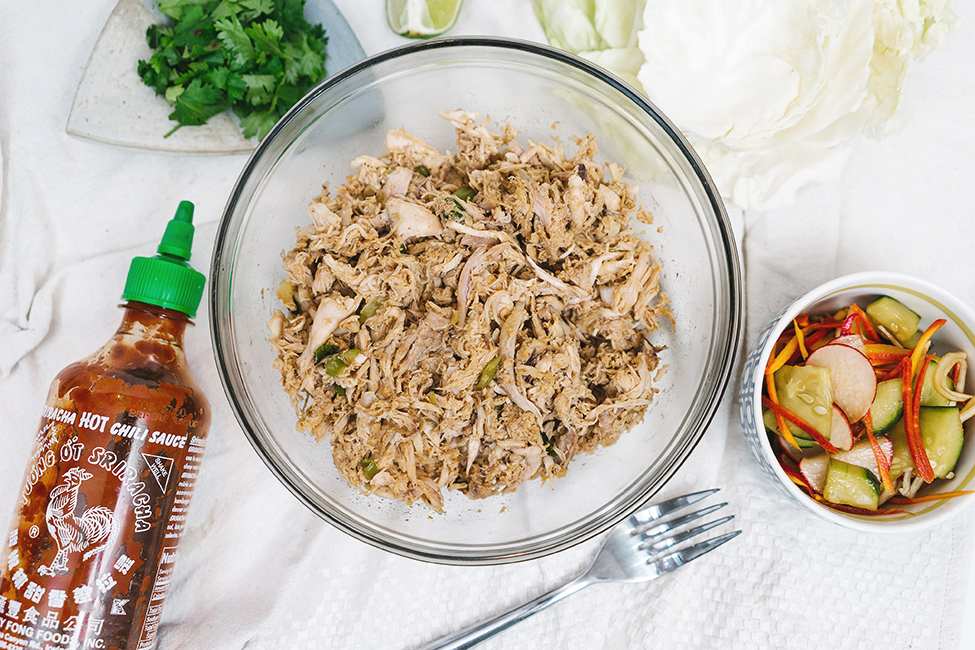 Instructions:
Make pickled veggies by combining the vinegars, water, honey and sugar in a saucepan over med-high heat. Let it boil for about a minute then pour over the carrots, radishes, and cucumbers. Let marinate in the fridge for a few hours or overnight.
In your slow cooker combine all bahn mi chicken ingredients. Set on high for 3 hours or low for 5 hours.
Once chicken is done,  shred the meat and mix with the sauce in the slow cooker.
When you're ready to assemble, drain the pickled veggies.
Fill your cabbage leave with the banh mi chicken, pickled veggies, fresh cilantro, green onion, and sriracha.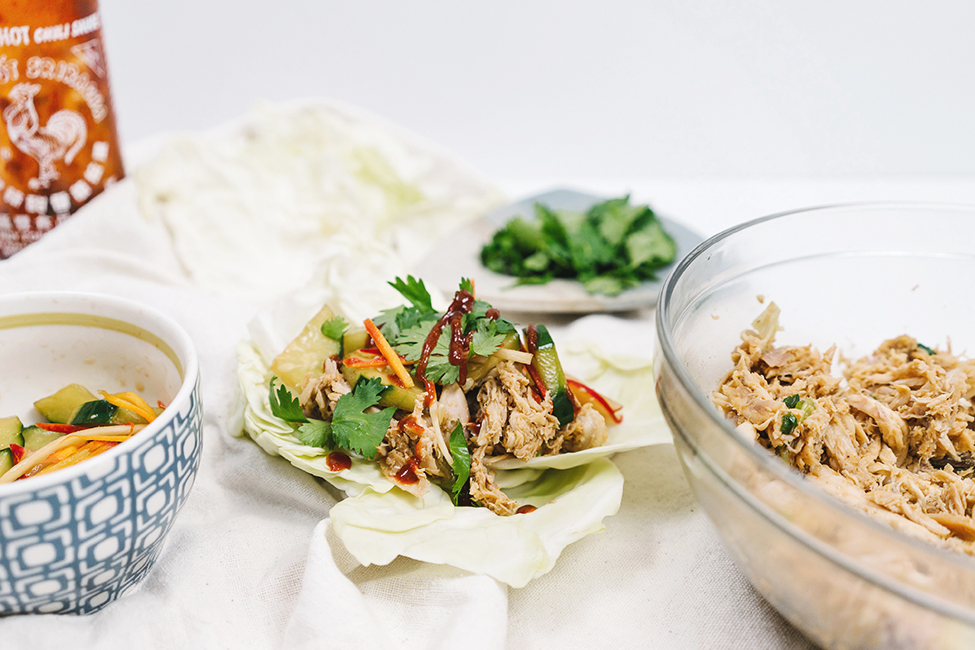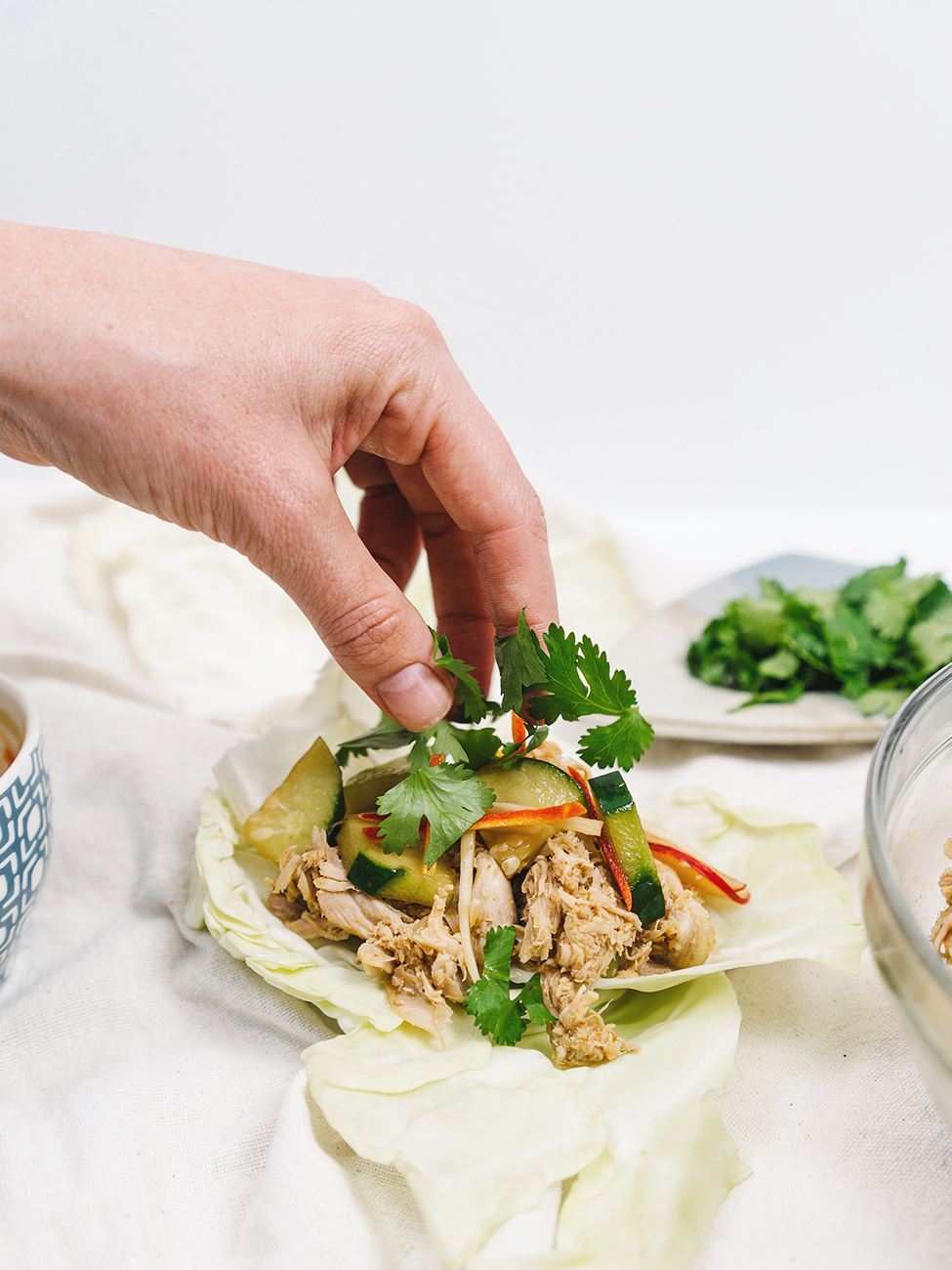 Note: You can double this recipe and use an entire chicken. I love to do this during busy weeks and then I have these for lunch all week.
Photography by Chase Daniel