11/01/2018
These pumpkin spice cinnamon rolls are perfect for Thanksgiving morning and lazy weekends. They are spicy, nutty, sweet and oh so cozy. Perfect to pair with a cup of coffee, they're literally a dream! This is the pumpkin recipe you need this fall!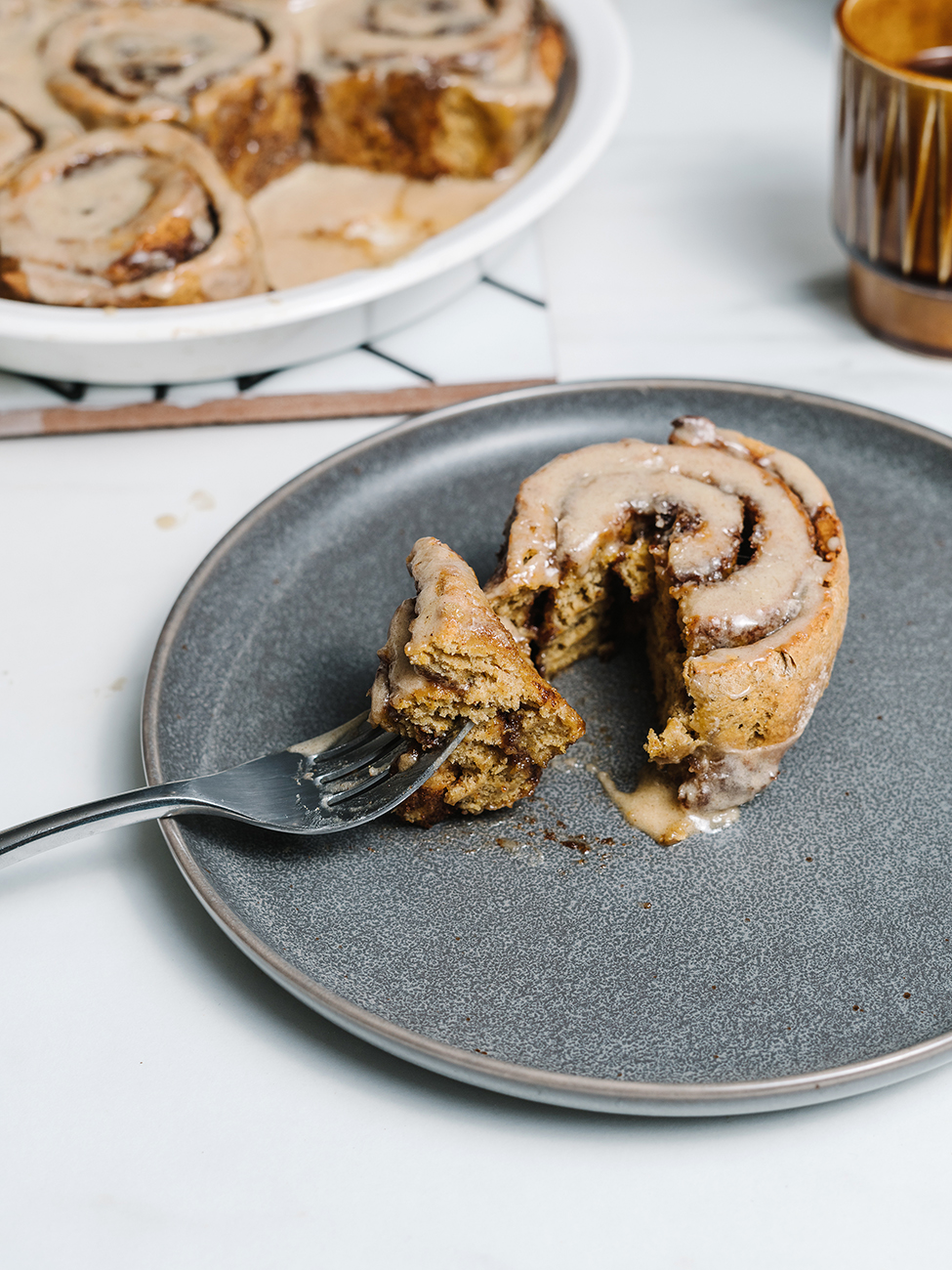 November is here! I feel like every year I cannot believe how quickly the holiday season arrives. Last year we had our newborn little sweetie and so opted to spend our first Thanksgiving holiday in Austin. My parents flew in and it was different but very fun to enjoy the holiday at home. I made my first turkey (with a lot of help from my dad) and my mom covered pretty much all the other delicious fixings.
Overnight Pumpkin Spice Cinnamon Rolls for an easy breakfast
What I couldn't figure out while planning the day, was what to have for breakfast. You don't want to have a big breakfast and spoil your appetite but what's a food-based holiday without a decent breakfast? This year, determined to come up with the perfect little something to tide you over (and since pumpkin pie isn't necessarily the "appropriate" choice for breakfast, from what I'm told), I've come up with this easy Pumpkin Spice Cinnamon Rolls recipe, that is gluten free and can be made the day before and then easily popped in the oven the next morning for breakfast. They can also be made anytime, anywhere, but if you're looking for an excuse, Thanksgiving morning seems like a good fit.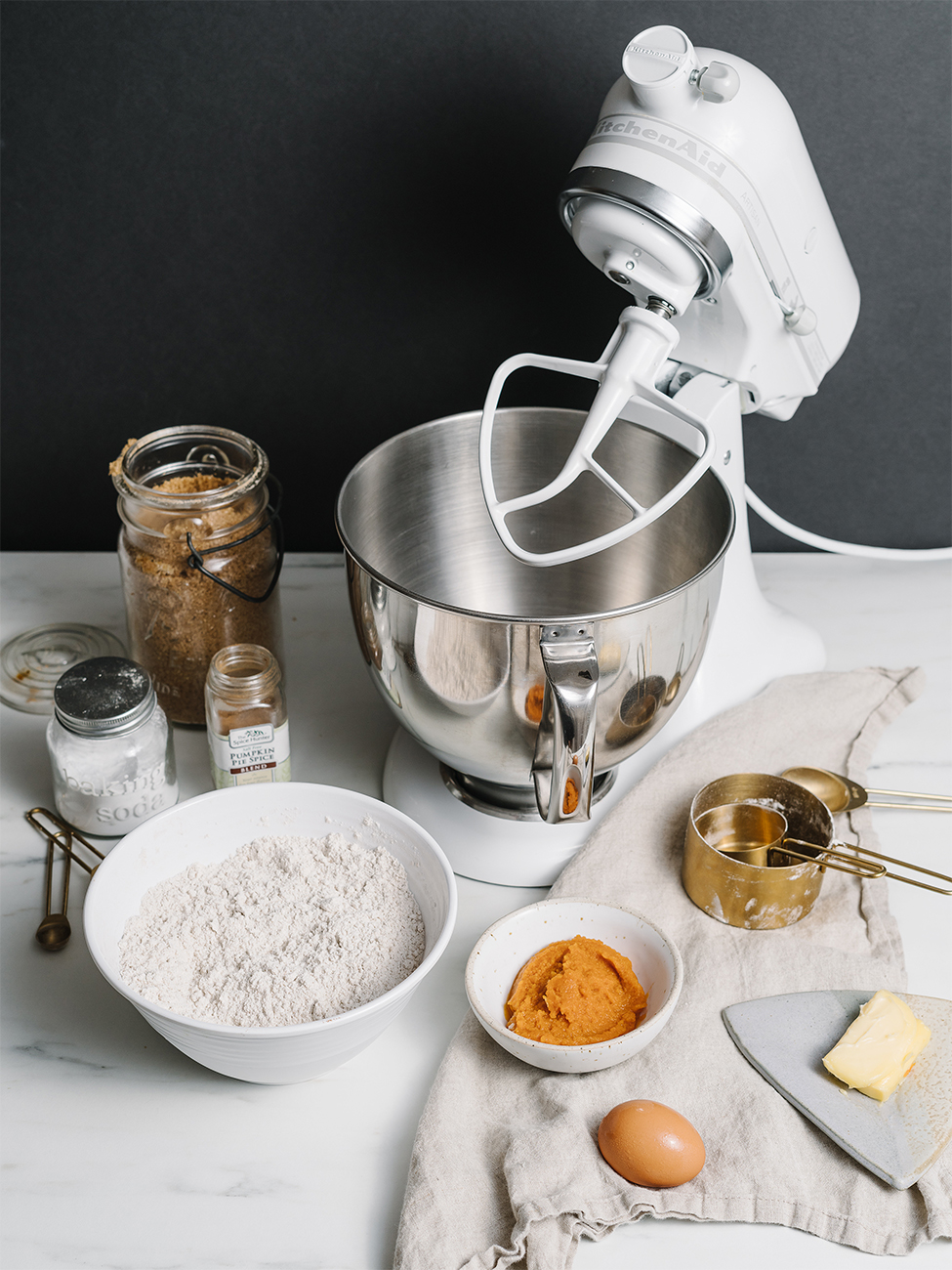 Easy Gluten Free Cinnamon Roll Recipe
In case you're feeling overwhelmed at the thought of making cinnamon rolls, I want to offer some reassurance. You can do this. Because they are multiple elements and involve yeast, I know the automatically just seem like a ton of work, but I promise they are easier than you think. I have these down to a science and can get them rolled and in the fridge in less than 30 minutes, this is with lots of practice of course, but it's just to say don't let them scare you away. And just to prove that I'm not a baking extraordinaire, I can openly admit that I don't own a rolling pin and use a wine bottle anytime I need to roll something out. I know, I know, it's embarrassing, am I really a food blogger? See I'm willing to go to the lengths of embarrassing myself just to make you feel empowered to make these cinnamon rolls.
How to make Gluten Free Pumpkin Spice Cinnamon Rolls – step by step
Combine warmed milk, yeast, and 1 tsp sugar, set aside.
With a mixer, cream butter and brown sugar together until well combined.
Add egg, pumpkin puree, vanilla, and mix on medium for 2 minutes.
Pour in yeast and milk and mix on low for a minute.
In a medium bowl whisk together gf flour, baking soda, baking powder, pumpkin spice.
Add dry ingredients to wet and combine well at medium speed. It should ball up into a dough, scrape down sides of bowl and off beater once to ensure well mixed.
In small bowl combine filling ingredients.
Tape plastic wrap or parchment paper on your rolling surface and sprinkle lightly with gf flour.
Place your ball of dough in the center, lightly flour, and cover with plastic/parchment and roll out into a rectangle (more of less 12" x 10").
Spread the filling evenly across the rolled out dough.
Starting along the long end, use the bottom sheet of plastic wrap to lift the edge of the dough and roll it up, forming a long cylinder. Pull tightly in a downward motion. You can flour your hands and adjust if need.
Use a thin knife to cut into about 1.25" rolls, place into a buttered pie pan and cover with plastic wrap and place in the fridge*.
Before baking, let sit at room temperature for a half hour. Preheat oven to 400 degrees.
Bake for 25-30 minutes.
While baking whisk together all icing ingredients.
Allow to cool and then top with icing.
Serve immediately. Warm in the oven if needed.
 Why is this the best cinnamon roll recipe?
These cinnamon rolls, they are spicy, nutty, sweet and oh so cozy. Paired with a cup of coffee these are literally my dream pastry. This dough shouldn't be overly sticky, however like with most gluten free doughs, it's slightly stickier than a traditional dough. So that's why in the instructions and photos you see me using a plastic wrap barrier on the both the rolling surface and between the roller and dough. This just makes it so much easier and less messy.
Pumpkin Spice Cinnamon Roll – variations
I offer some allergy friendly options in the recipe too just scroll down to notes. I want to note that I have not tried this recipe with any other gluten free flours as of right now. If you look through the majority of my baking recipes, this is my go to flour blend.
How do you know when cinnamon rolls are done?
It takes around 25-30 minutes to bake these buns. After 25 minutes, insert a toothpick into a bun, and if it comes out clean they are ready. If the buns start to brown too quickly, you can place some foil over the top of them and continue baking.
Top tips to make Gluten Free Pumpkin Spice Cinnamon Rolls
Make the roll the night before and keep it covered in the fridge for a fuss free breakfast the next day.
 Be sure to use plastic wrap when you roll the dough – much less mess and easy to manipulate.
Let the rolls come to room temperature before baking them for the best results.
These pumpkin spice cinnamon rolls can be made vegan – check the recipe notes below for substitutions.
Pumpkin Spice everything is my motto this season, I hope you enjoy these beauties as much as we do around our house this time of year!
For more tasty pumpkin recipes:
Pumpkin Risotto with Goat Cheese,
Maple Spiced Pumpkin Glazed Donuts,
Pumpkin Spice Cake with Salted Caramel.
If you have tried this recipe, be sure to leave a comment and a star rating below!
Pumpkin Spice Cinnamon Rolls Recipe Photography by Chase Daniel